Rating: 93.
Rating index:
Extraordinary (96-100)
Outstanding (93-95)
Very good to Excellent (89-92)
Above average to Good (86-88)
Below Average to Average (80-85)
Avoid (below 80)
More info >
The Ledbury was first brought to my attention a few years ago by Linden Wilkie of The Fine Wine Experience. From time to time The Ledbury hosts TFWE events and I noticed that Linden (famous for being a great wine connoisseur but not half-bad as a gourmet either) spoke very highly of this restaurant. In fact he asked, rhetorically, why it hadn't been awarded a second star yet. Well, in 2010 Michelin did bestow this honour on Brett Graham's Notting Hill restaurant which had opened its doors in 2005 and was awarded its first star in 2006 already. Brett Graham, who is of Australian descent, worked at The Square for a number of years before opening his own restaurant at the tender age of 26. At that time, he had already been Young Chef of the Year in 2002 and there has been no shortage of accolades since then. The Ledbury won the National Restaurant of the Year award in 2010, was the highest new entry in The World's 50 in 2011 at number 34 and made the number 4 spot in The Times Top 200 list 2011.
I therefore simply had to visit The Ledbury and I had dinner there on 31 July 2011. I will not comment on the terrible events that occurred only eight days later - suffice it to say that I too was shocked and appalled by this shameful criminality and moved by the restaurant's indomitable decision to keep calm, carry on and open for lunch the next day as usual. Bravo!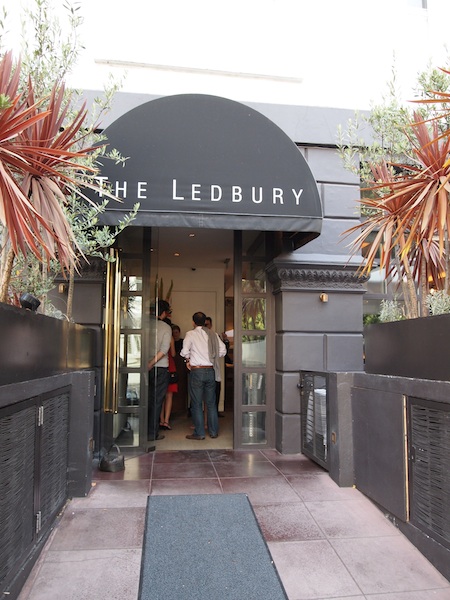 With the exception of lunch on Monday, The Ledbury is open 7 days a week for both lunch and dinner. For dinner you can choose between the a la carte menu, a 7-course tasting menu (£95) or a 7-course vegetarian tasting menu (£85). My table-companions (my husband and a friend) and I unanimously opted for the tasting menu.
The first amuse bouche was a delicious duck liver parfait with a gooseberry jelly - perfect size, gone in an instant. The second amuse bouche was Quail's egg, Greek Kataifi pastry, pea puree, bacon. A lovely soft-boiled quail's egg served with a fantastic clean and pure pea puree with a nice crunch from the pastry and the bacon pieces.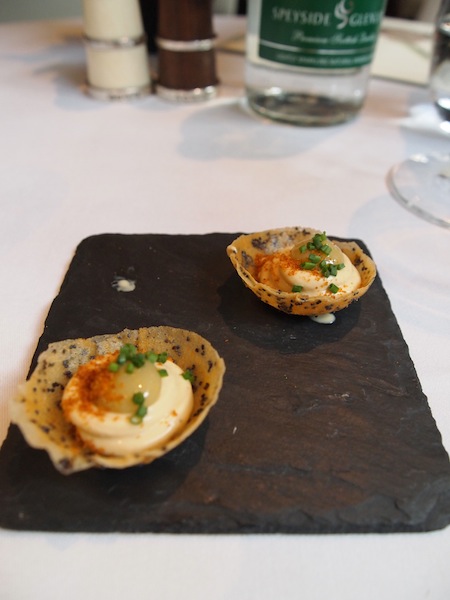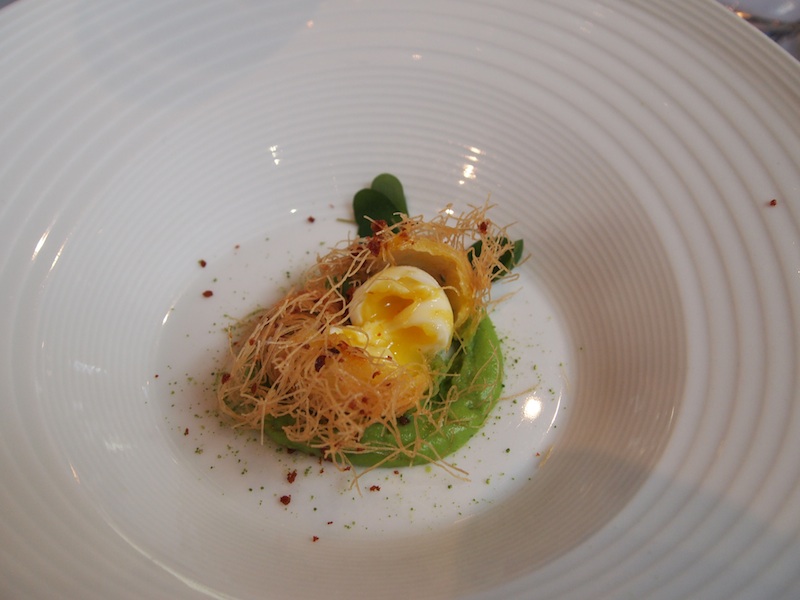 The first course of the tasting menu was Hand picked crab, wakame oil, thinly sliced courgette, frozen Parmesan. Incredibly tasty crab that went beautifully with the thinly sliced courgette, the sea weed and the wakame oil; the frozen Parmesan brings it all together. Although crab and courgette is a great combination you rarely encounter it on restaurant menus. The courgette is from the same family as the cucumber but for some reason chefs seem to find it easier to pair crab with cucumber than with courgette, Fortunately not in this case. A refined dish that was the perfect start of a tasting menu.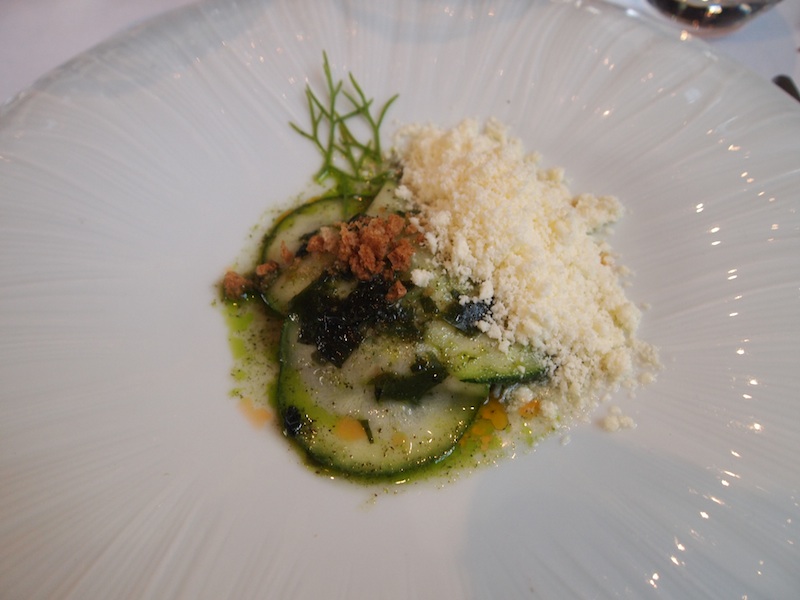 Second course, Hampshire Buffalo milk curd with a consommé of mushrooms and grilled onions served with Saint Nectaire truffled toast. Lovely curd served with a fantastic consommé that had the most elegant onion flavour. The onion was not in any way overpowering. Also wonderful textures from the mushroom and crisp onion pieces. But then THE TOAST. Perfectly crisp toast with a light and foamy bechamel and St Nectaire cheese and fresh Tuscan truffle. Sublime and moreish.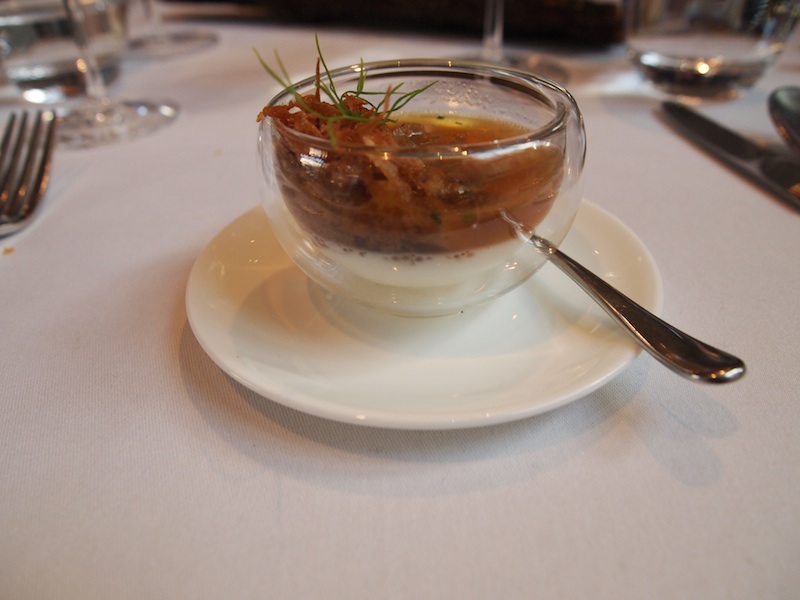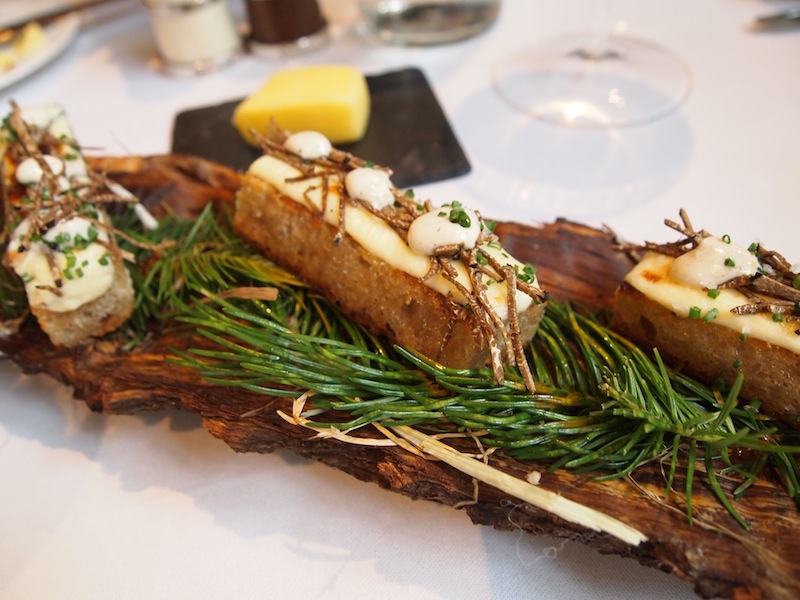 As the a third course we were served Frog's leg beignets, puree of Jersey Royals, coco beans, broad bean veloute, parsley jelly, mushrooms and broccoli crumbs. An absolutely fantastic dish with beautifully layered flavours and textures. A delicious crisp frog's leg beignet with herb butter inside. Wonderful broad bean veloute and a stunning parsley jelly. Underneath the jelly was a gorgeous parsleyed (I don't think this word actually exists in English so perhaps French speaking linguistic purists might prefer the conjugation persillée) creamy Jersey Royal puree. Also loved the carefully judged hint of lovage in this dish. Somewhat surprisingly, the vegetables (loved the broccoli crumbs) were the real stars of this dish but the body, warmth and texture of the frog's leg provided perfect balance.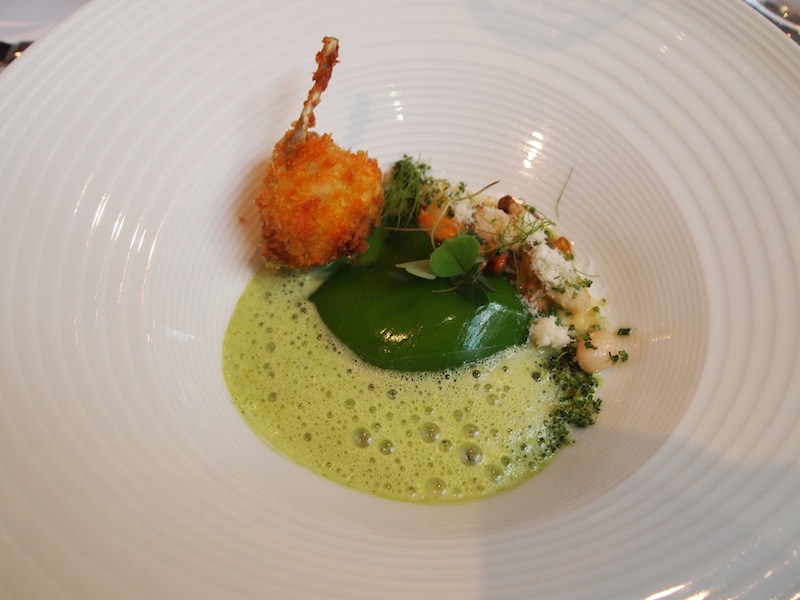 Next up, the fourth course, Roast Cornish cod with watercress emulsion, potted shrimp, Romanesco cauliflower, persillade, grated egg, chives and sourdough crumbs. Beautifully cooked, fabulously crispy cod. The cleanest of flavours - especially the persillade - lovely brinyness from the potted shrimps and again a dish with a wonderful choice of vegetables. Rich and elegant, with intense flavours.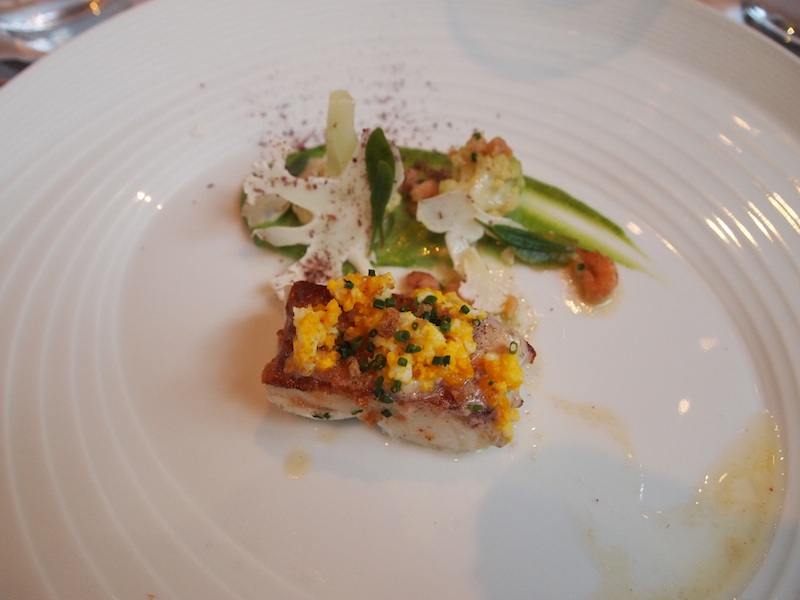 The fifth course, Pork jowl cooked in spices. This pork jowl had been cooked for 8 hours with star anise, liquorice and cloves. The pork was served with carrot puree, chicory and Pedro Ximenez jelly. Gorgeous succulent pork with absolutely fantastic crackling. The spices really fortified the pork's flavour, enabling it to match the strong and powerful flavours from the chicory and Pedro Ximenez.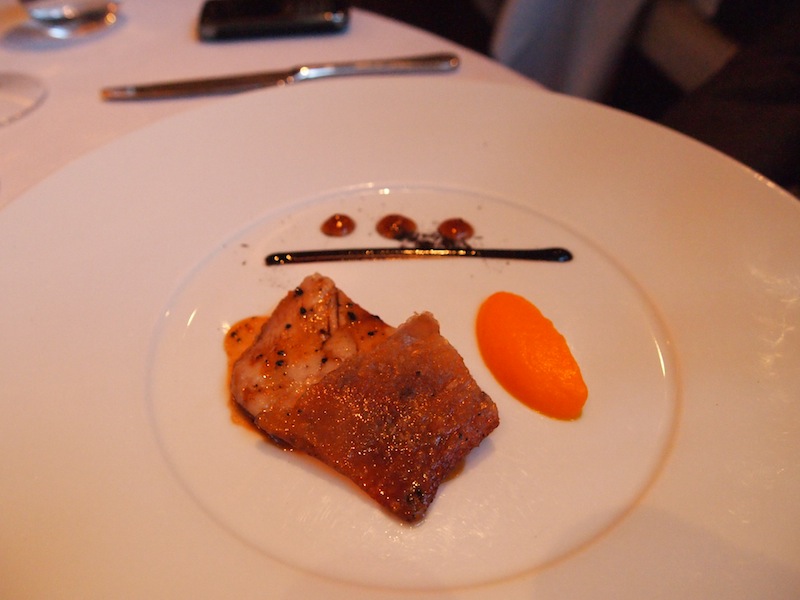 Sixth course, Feather blade of Ruby Red beef, cooked for 8 hours, celeriac in ash, horseradish, pickled walnuts and bone marrow. Gorgeous beef with rich and dark flavours and a wonderfully delicate texture. The celeriac had been cooked with herbs and spices and brushed with ashes which gave the celeriac a beautiful depth of flavour. A very rich main course which strived to be balanced by the horseradish and the delicious, crisp potatoes.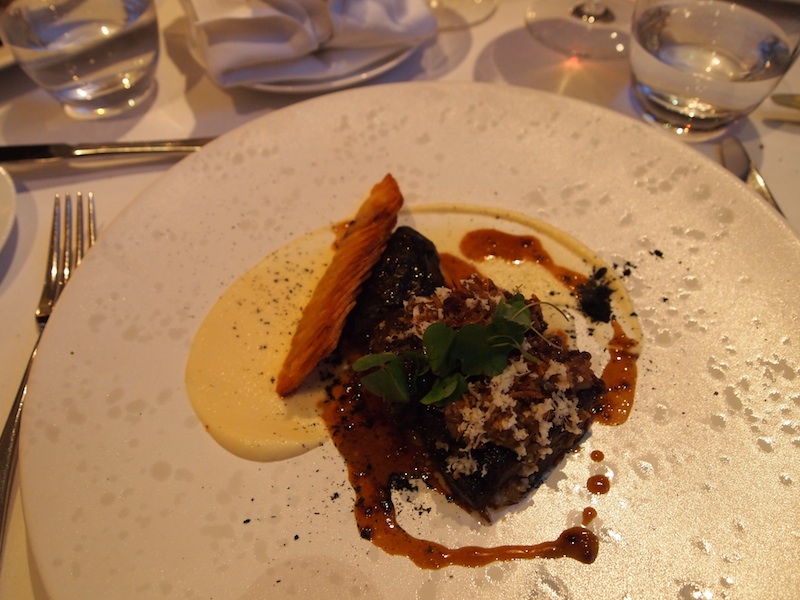 Before our desserts we were served a palate cleanser: Panna cotta, white peach, hibiscus. A wonderful creamy and light panna cotta with a lovely refreshing hibiscus granita. A lovely dish that served its purpose admirably.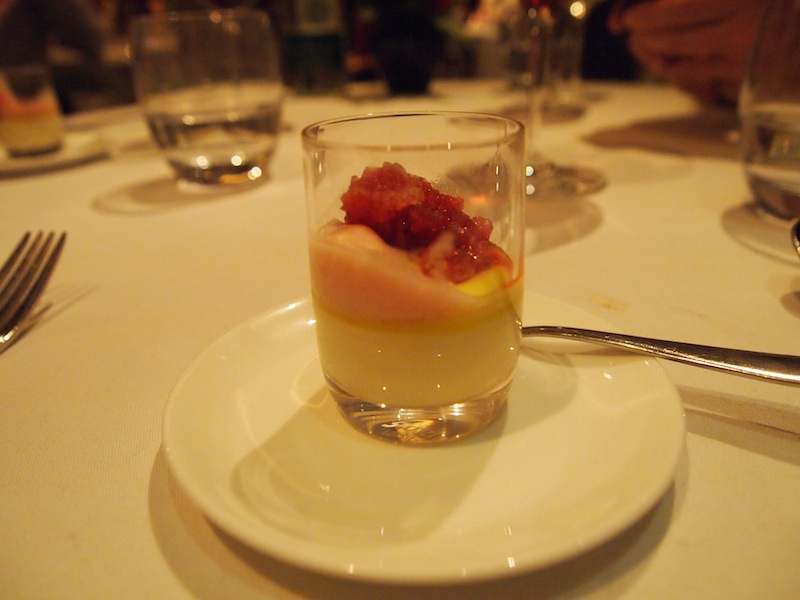 Last course and dessert, Pavé of chocolate, lovage ice cream, burned milk puree. The chocolate pave was brilliantly executed. Gorgeous rich and dense chocolate mousse on a delicious, more solid, crumbly textured base and with a fantastic glossy topping. The refreshing lovage ice cream was sensational in its originality and execution and I loved the bright green colour next to the dark chocolate. The burned milk puree's warmth provided a nice counterpoint.
I have confessed before to my love of desserts that combine savoury and sweet flavours. Conceptually they may seem to be a novelty and perhaps in a way they are, but they are not without historical precedent. Readers of George Saintsbury's 1920 "Notes on a Cellar Book" will be aware of the late Victorian and Edwardian custom of ending a(n elaborate) dinner on a savoury note rather than a sweet one. Soufflé glacé au chocolat would e.g. be followed by canapés d'anchois au fromage (1884) or raspberry sponge by celery cream (1908). Whatever there may be of such historic notions, I was very pleased to find a sweet-and-savoury dessert here that was the perfect ending of this outstanding tasting menu and not only for the digestive qualities of the lovage.
During my visit, I clearly sensed that The Ledbury is a place that vibrates with the energy and enthousiasm of a team of young people - both in the kitchen and in front-of-house. Teamwork is clearly important and not only when chasing away looters... The restaurant manages to combine a neighbourhood feel with a very high standard of service. Brett Graham's food is classically based and he employs modern techniques with confidence but only when they are functional. This approach allows him to present technically strong and complex but uncluttered dishes. Vegetables are much more than just accompaniments in his cuisine and his visually attractive food is not afraid to err on the controversial side from time to time. His accomplished cooking almost belies his youth but one senses that in Brett Graham's cooking, in spite of his already considerable experience, the synthesis of creativity and classicism has only just started a long and fruitful development.