Rating: 97.
Rating index:
Extraordinary (96-100)
Outstanding (93-95)
Very good to Excellent (89-92)
Above average to Good (86-88)
Below Average to Average (80-85)
Avoid (below 80)
More info >
The first time I encountered Daniel Boulud's cooking was in March 2010 during the Rheingau Wein & Gourmet Festival in Germany, an annual two-week food and wine festival with an impressive line-up of German and international chefs. At the 2010 festival Daniel Boulud cooked a stunning 5-course dinner and after dinner I was fortunate enough to meet this charming man. 2010 was also the year when Daniel Boulud opened his first European restaurant, Bar Boulud at the Mandarin Oriental in London, which is especially famous for its glorious burgers. But there's more to Daniel Boulud than burgers.
In 1982 Daniel Boulud moved from France to New York City and within a few years he became executive-chef at the famous le Cirque restaurant. In 1992 he left le Cirque to start his own restaurant ' Daniel' which opened its doors in 1993 and the restaurant was awarded four stars by the New York Times in 1994. When the first edition of Michelin Guide New York City was published in 2006, Daniel was listed with 2 stars. In the 2010 edition of the Michelin New York City guide Daniel was awarded a third star and Daniel currently holds the 11th position in the World's Top 50.
Other restaurants by Daniel Boulud in New York City are: Cafe Boulud, DB Bistro Moderne, Bar Boulud, DBGB Kitchen and (since May this year) Boulud Sud and Epicerie Boulud. Furthermore Daniel Boulud has restaurants in London, Beijing, Miami, Palm Beach and Singapore. In April 2011 it was announced a Maison Boulud will open at the Ritz-Carlton in Montreal.
Ever since his arrival in the US Daniel Boulud has been one of the most celebrated chefs in New York City and Boulud and his eponymous restaurant Daniel have been awarded many accolades, including several prestigious James Beard Awards: Outstanding Restaurant (2010), Outstanding Chef of the Year (1994) and Outstanding Restaurateur (2006) but there has also been recognition for his achievements back in his home country - in 2006 the French government appointed him Chevalier de la Légion d'honneur for his contribution to the advancement of French culture.
Since 2003 the executive chef of Daniel has been Jean Francois Bruel. Classically trained Jean Francois Bruel has working with Daniel Boulud since 1996, first as chef de partie at Daniel until 1998 when he became sous-chef at Cafe Boulud and in 2001 he was appointed as executive chef at the newly opened DB Bistro Moderne. In 2002 Jean Francois Bruel received the James Beard Rising Star Chef Award.
Right, this just about sums it all up and you can imagine Daniel was in the number 1 spot of my three star restaurant wish-list for New York City. I had dinner at Daniel on the first night after arriving in New York. The photographs in this post were taken without flash in the somewhat dimly lit restaurant and unfortunately they therefore don't do the food justice, apologies for that.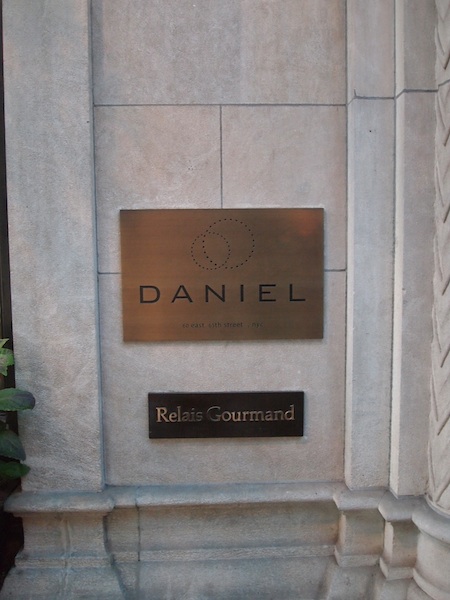 Daniel is located in Manhattan's Upper East Side and the beautiful and magical dining room has been awarded five red 'forks and spoons' by Michelin, which is very rare. Per Se is the only other restaurant in New York City that has been awarded 5 red 'forks and spoons' and as far as I am aware the Ritz restaurant in London is currently the only other restaurant outside of France with the 5 'forks and spoons'.
At dinner Daniel offers a 3-course a la carte menu ($108), a 6-course/8-course tasting menu ($195/$220) and a 3-course a la carte vegetarian menu ($108). Me and my husband had a 4-course a la carte menu.
We were served 5 pre-starters on one plate, refreshing compressed watermelon with shrimp and basil, lightly chilled Tuscan watermelon soup with a cardamom crisp, watermelon with salmon and Piment d'Espelette powder, a wonderful combination of oyster with lime cream and ceviche, celery, mango and Piment d'Espelette, a lovely not too acidic ceviche, wonderful sweetness from the mango.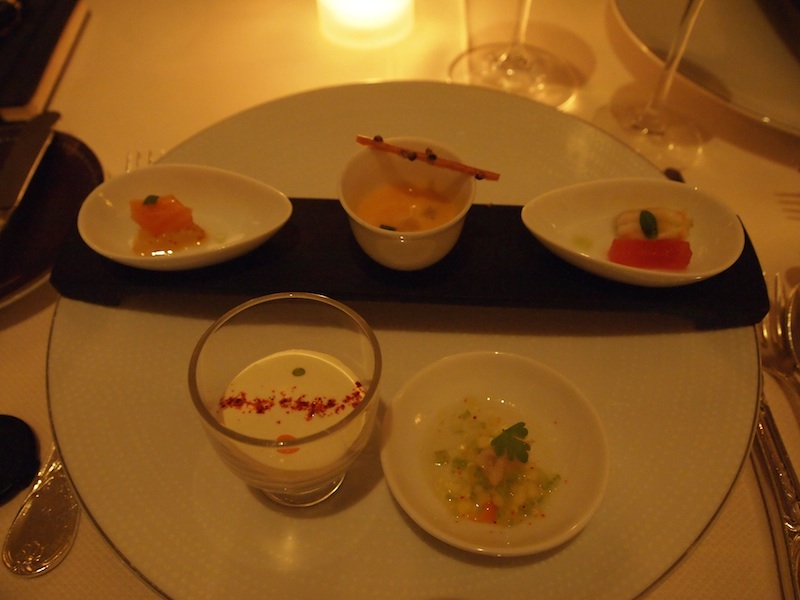 My first course was Artichoke and squid ink raviolini, littleneck clams, ruby red shrimp, razor clams, baby onions, sea beans, saffron cream, Opal basil. A beautiful dish with glorious uniform raviolini, half 'normal' and half made with squid ink filled with a creamy and delicate artichoke puree. The littleneck clams, shrimp and razor clams provided absolutely wonderful multi-layered seafood flavours. Somewhat overpowering flavours from the basil. Perfect bite from the baby onions, artichoke leaves and sea beans.The fantastic creamy saffron sauce had a stunning depth of flavour, a perfect hint of saffron and wonderful intense seafood flavours. Essence of fruits de mer in a pasta setting and a dish I didn't want to end but unfortunately it did.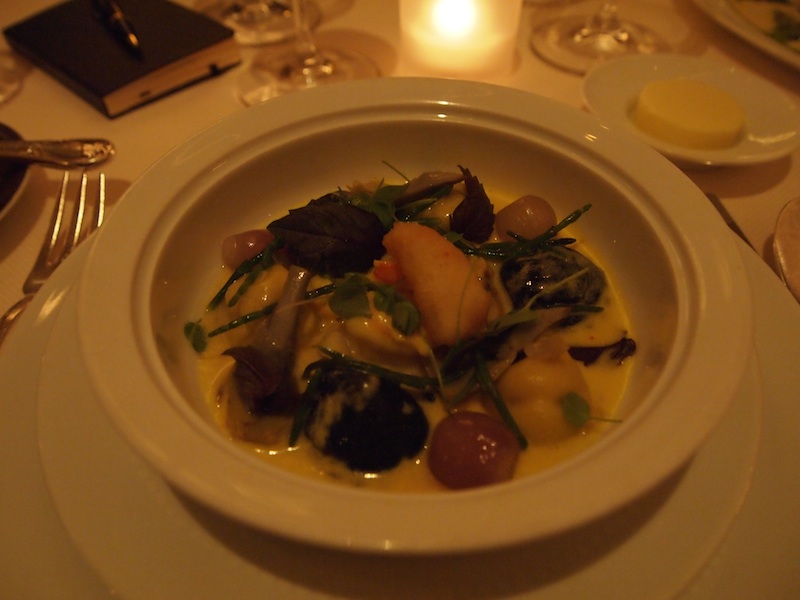 The other first course was Crispy Scottish langoustines, Old Chatham yoghurt, minted cucumber, lime gremolata oil. Gorgeous and juicy langoustines wrapped in crispy Greek pastry. Fantastic clean flavoured minted cucumber spaghetti with a perfectly balanced yoghurt and lime sauce. Terrific warmth from the gremolata oil. This dish was a fantastically complex interplay of textures and flavours around the central langoustine theme. A veritable spice route of a dish: Scotland meets India with a pit-stop in the Mediterranean.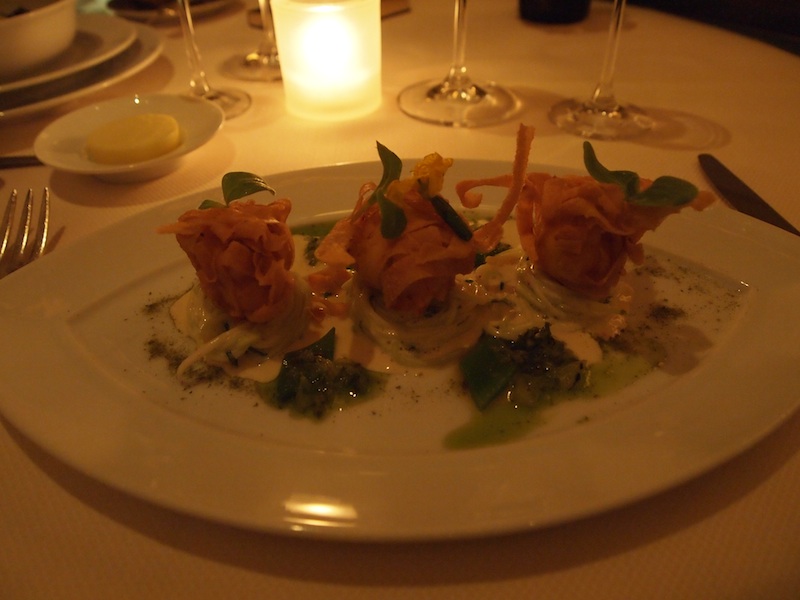 On to the second course which was Swordfish, pea puree, cipollini onions, chicken jus, fresh peas. Excellent firm piece of swordfish with a lovely pea puree. The delicious concentrated chicken jus was a perfect match for the swordfish. The onions and peas were perfectly cooked and had a lovely bite to them. A harmonious dish with well balanced flavours.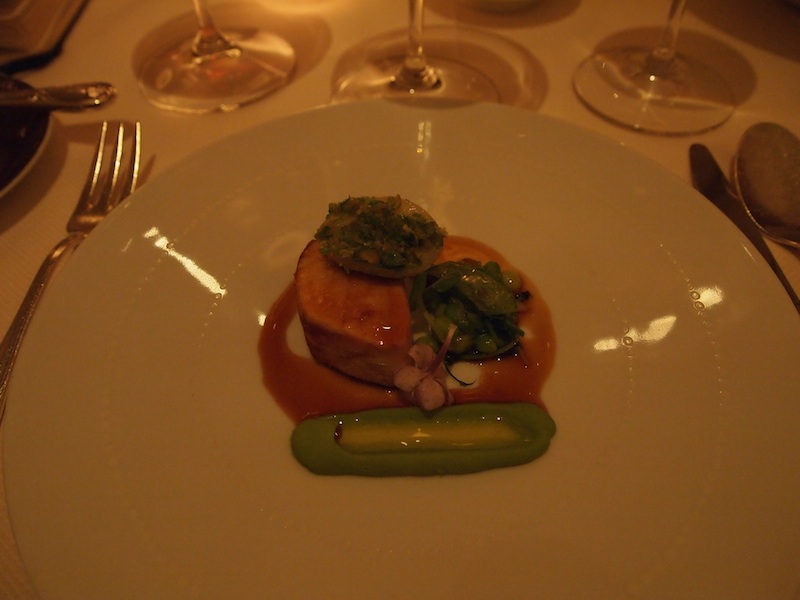 The other second course, Cod, chorizo, feta cheese, white Tarbais beans, sauce vierge, tomatoes, almonds, capers. An incredibly complex dish. Glorious cod that got a wonderful warmth from the chorizo, the perfect touch of saltiness from the feta cheese, sweetness from the tomatoes and lovely acidity from the capers. Absolutely delicious earthy flavours from the beans and almonds - the almond flavours were very subtle and the beans provided an excellent foundation. A very creative dish with strong flavours but all perfectly balanced.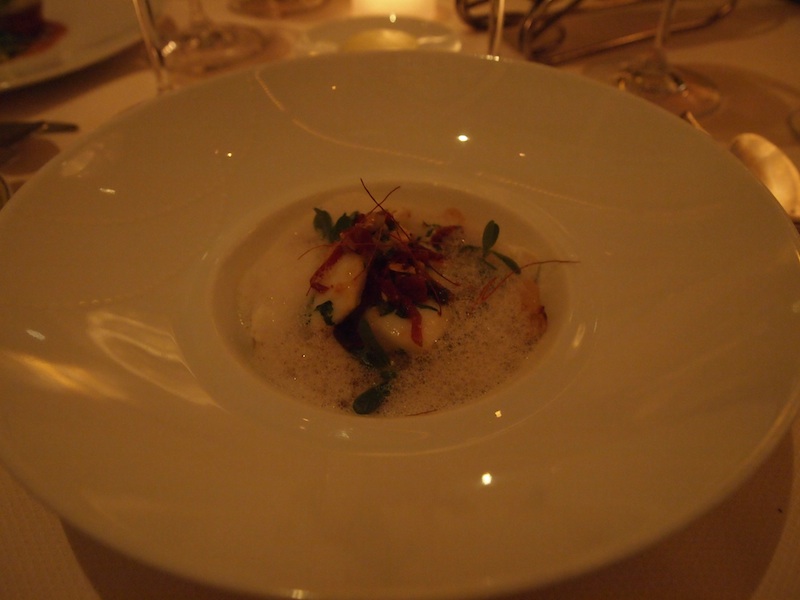 My third and main course was Trio of rabbit, rack with young carrots, shoulder with bulgur wheat, cilantro (coriander) stuffed saddle, black trumpet mushroom, Orleans mustard jus. An absolutely sensational and complex rabbit dish, each part again perfectly cooked. Fantastic roasted rack with a creamy and pure carrot puree, carrot slivers and finely chopped carrot. A brilliant combination. Wonderful confit shoulder with very tasty bulgur wheat. The cilantro stuffed saddle was simply stunning, the fantastically well judged cilantro provided a lovely freshness. All this was served with a sublime rich Orleans mustard jus which had the perfect hint of mustard. Lovely textures from the bulgur wheat and carrots. A flawless classic French dish with a modern cilantro twist.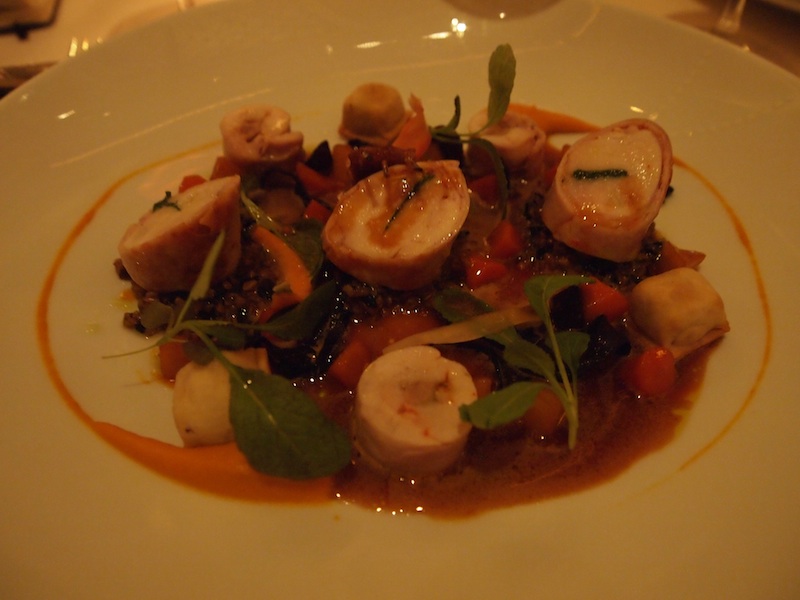 The second main course was Californian duck breast, chanterelles, sour cherries, confit of onion, cherry duck jus. Fantastic juicy duck with outstanding crispy skin and gorgeous leg craquelins. Delicious sour cherries and a beautiful cherry duck jus, the perfect sweet and sour balance. An unashamedly splendid French dish with wonderful textures.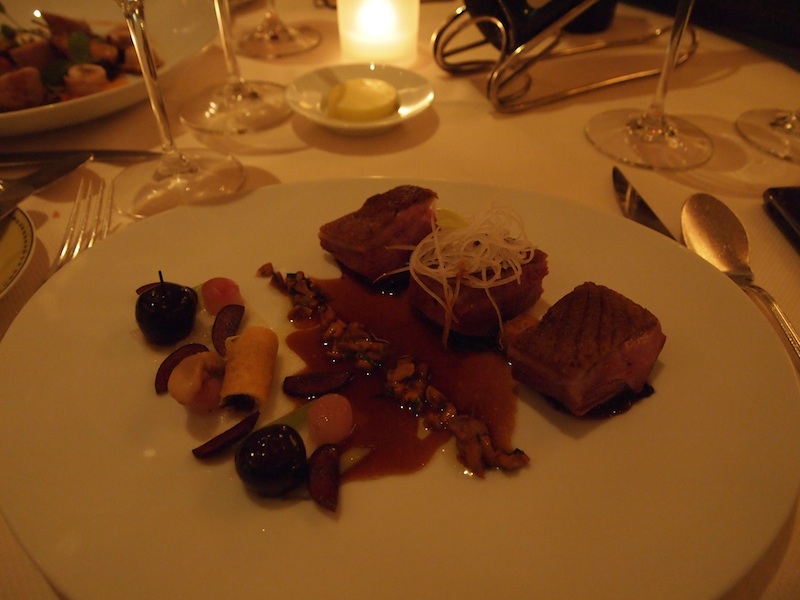 My dessert was Peanut butter custard, flourless chocolate biscuit, hazelnut ice cream. Terrific crunchy almost biscuit-like peanut bottom with a fabulous light and airy flourless chocolate cake layer, a delicious peanut custard layer and a divine milk chocolate caramel on top. All layers were divided by lovely thin chocolate squares. All this goodness was served with a wonderful hazelnut ice cream. A very complex dish with wonderful flavours and textures and every single element was perfectly executed. A heavenly three star candy bar.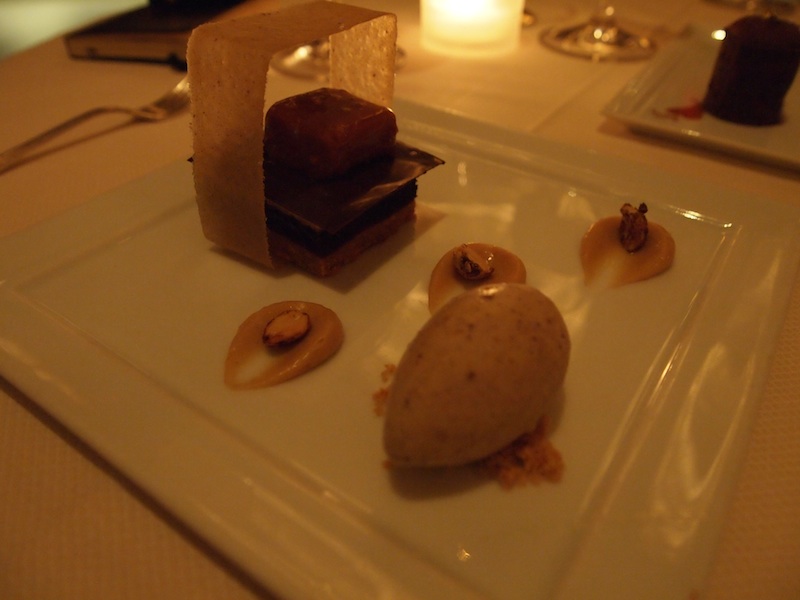 The other dessert was Lavender-honey apricots, almond milk cream, crunchy praline, apricot-saffron sorbet. Lightly roasted juicy apricots with a lovely hint of bitterness. Intense apricot flavours but not overpowering. Wonderful almond milk cream and a delicious and refreshing apricot-saffron sorbet. It all went perfectly with the terrific praline crunch.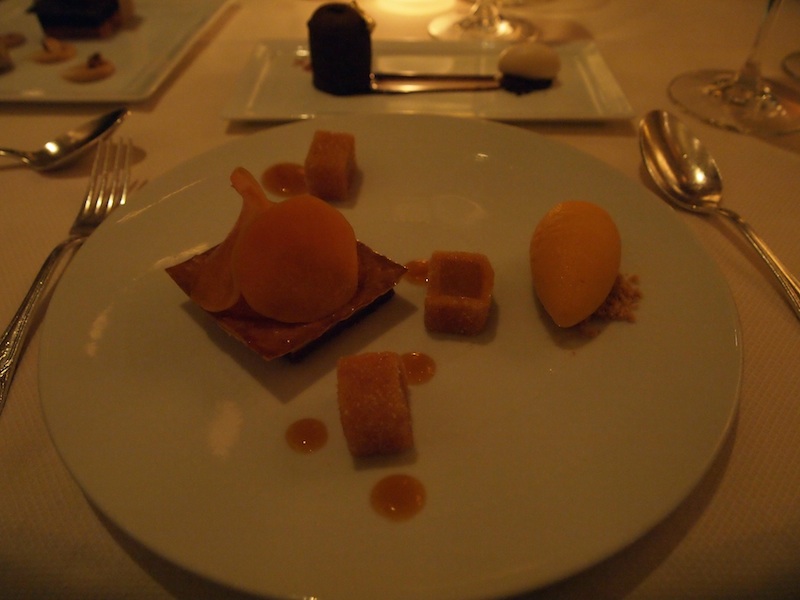 Daniel Boulud and his executive chef Jean Francois Bruel have created an outstanding menu of very complex dishes that were executed with classical skill and surgical precision. Both chefs have the talent to confidently balance seemingly contradictory flavours - light and intense, East and West, classic and modern. This results in harmonious and refined dishes in which not a single element would even dream of being overpowering. In my opinion the cod, chorizo and feta dish stood out in this respect.
The restaurant sources as much of its produce locally as possible but if top quality can't be provided locally, they source their produce elsewhere and are not ashamed to mention this on their menu; e.g. Scottish langoustines, Californian duck. My meal at Daniel has been most memorable: amazing food and excellent service. The food at Daniel showed me once again that profoundly classical cooking with an innovative twist can easily be as mind-blowing as modernistic food with all its theatrical war paint. Daniel has a unique culinary footprint and will continue to be a point of reference for me for years to come.