Rating: 98.
Rating index:
Extraordinary (96-100)
Outstanding (93-95)
Very good to Excellent (89-92)
Above average to Good (86-88)
Below Average to Average (80-85)
Avoid (below 80)
More info >
This month's cover story in Wine Spectator Magazine is 'French Cuisine, American Style'. The story is about French chefs who have made their mark in the US or as Wine Spectator puts it "who have made America more delicious". Much to my surprise one name is conspicuously absent in the line-up: Jean Georges Vongerichten. His last name may sound German but he is definitely of French descent. He was born in Alsace and started his cooking career training under legendary French chefs like Paul Haeberlin, Paul Bocuse and Louis Outhier. After a peripatetic in Asia whilst working in leading hotels in Bangkok, Singapore and Hong Kong, Vongerichten arrived in the US in 1985 were he was an instant success.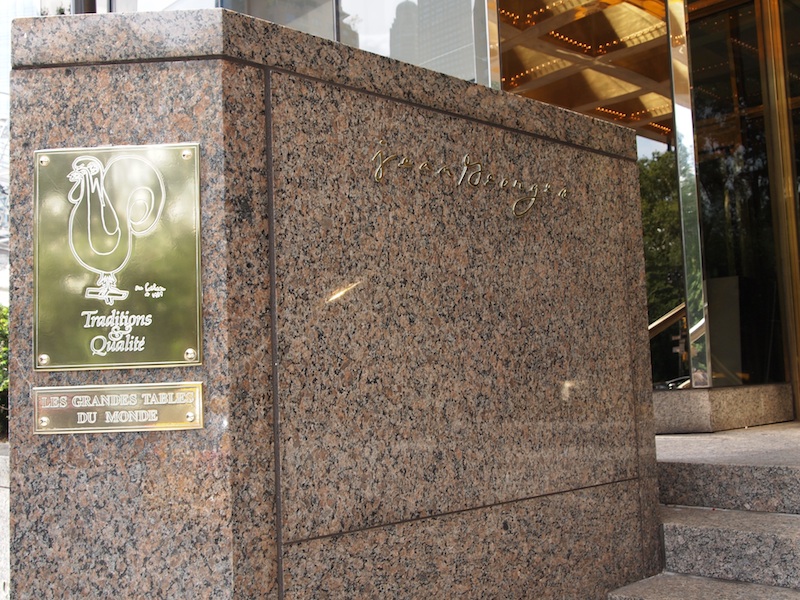 After a number of successful other ventures Vongerichten opened Jean Georges restaurant at the Trump International Hotel and Tower in 1997. Other restaurants by Jean Georges Vongerichten in New York City are Spice Market, Mercer Kitchen, Perry St, Nougatine at Jean Georges, The Mark, and Terrace at Jean Georges; there are also restaurants in Shanghai, the Bahamas, Bora Bora, Paris and London (Spice Market opened in February). Jean Georges restaurant has been awarded four stars by the New York Times and the restaurant has held three Michelin stars since the inaugural edition of the New York City Guide was published in 2006.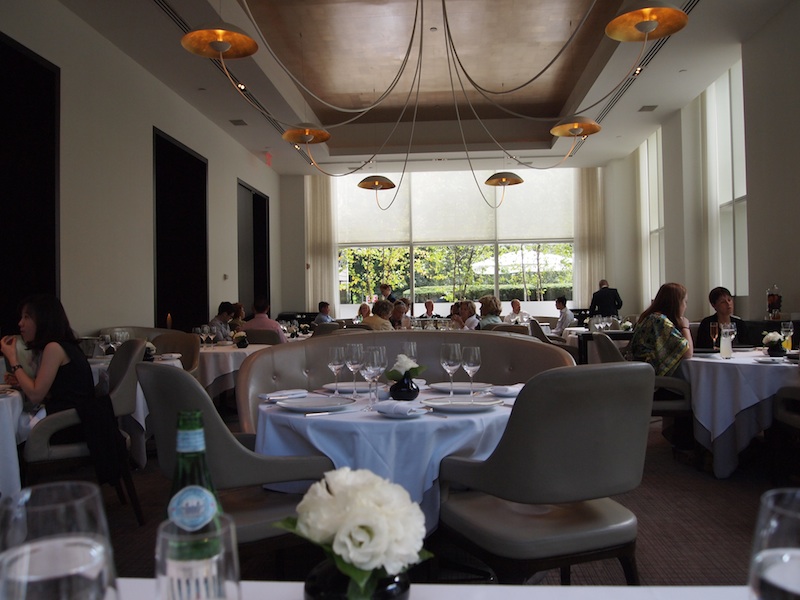 Jean Georges is open for lunch and dinner from Monday till Saturday. At lunch you can choose 'plates' from the very extensive a la carte menu or have a 6-course tasting menu ($ 98). The 'two plates' lunch is $ 38 and each additional 'plate' $ 16. For dinner there is a similar concept. Far be it from us to be greedy, so my husband and I settled for a 6 'plates' a la carte lunch.

We started with 3 pre-starters. First pre-starter, Compressed watermelon with blue cheese, refresing, sweet and spicy. Second, Cucumber with dill jelly, an elegant bite with lovely dill flavours. Third, Fresh popcorn soup with miso and rosemary, a lovely soup but quite heavy on the rosemary.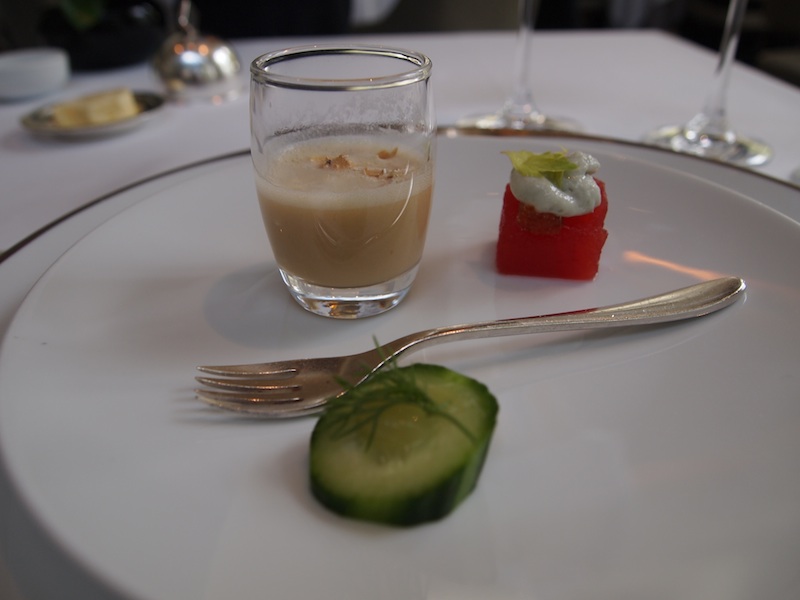 My first course was one of Jean George's signature dishes, Egg Caviar: caviar, Vodka infused whipped cream and scrambled eggs. Gorgeous soft and creamy and perfectly seasoned scrambled eggs with a generous amount of caviar. A dish where it was important to taste all the elements together especially since the Vodka whipping cream was quite powerful. On the other hand it was the whipping cream that gave the dish extra oomph and elevated it from luxurious breakfast to very grown-up indeed.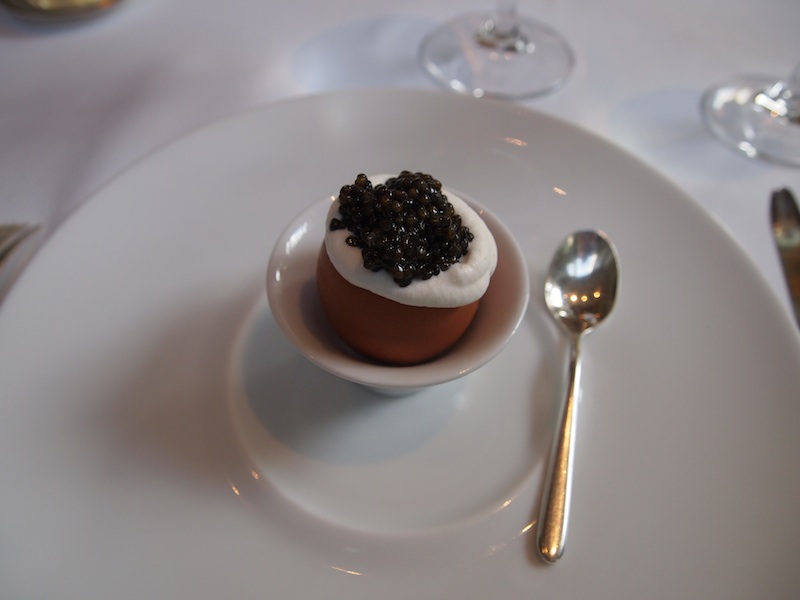 The second course was Sea trout sashimi draped in trout eggs, crispy trout skin, lemon emulsion, dill, horseradish. Outstanding sea trout sashimi served with a strong and zingy lemon emulsion that had a beautiful airy consistency. Pure and clean flavours but again it's important the taste all the ingredients together to get the point; it is a dish that certainly does not eschew bitterness.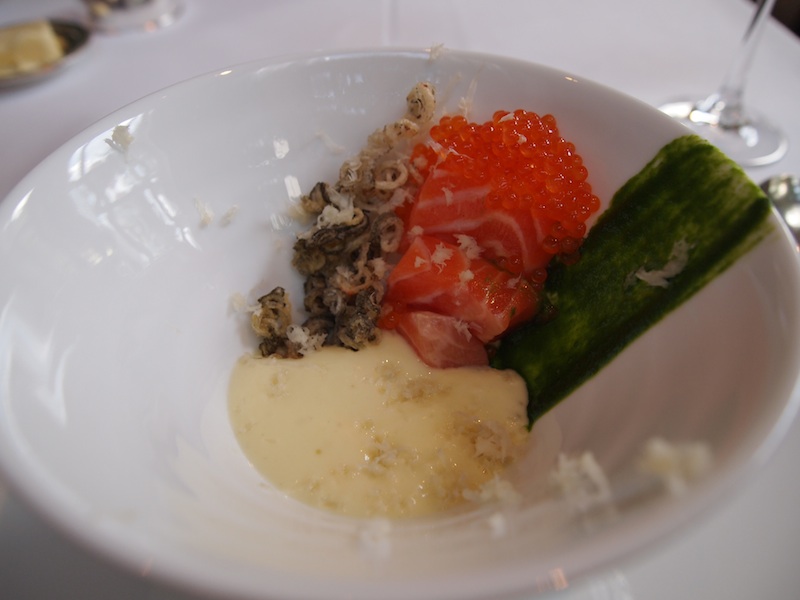 The other second course was Seared shrimp, cucumber spaghetti, avocado, chilli-garlic emulsion and orange juice. Fantastic juicy shrimp with lovely ripe avocado and terrific cucumber spaghetti. Beautiful heat from the chilli-garlic emulsion. A dish with intense flavours but all perfectly judged and the use of organge is a touch of genius, it really lifts the dish. Magical.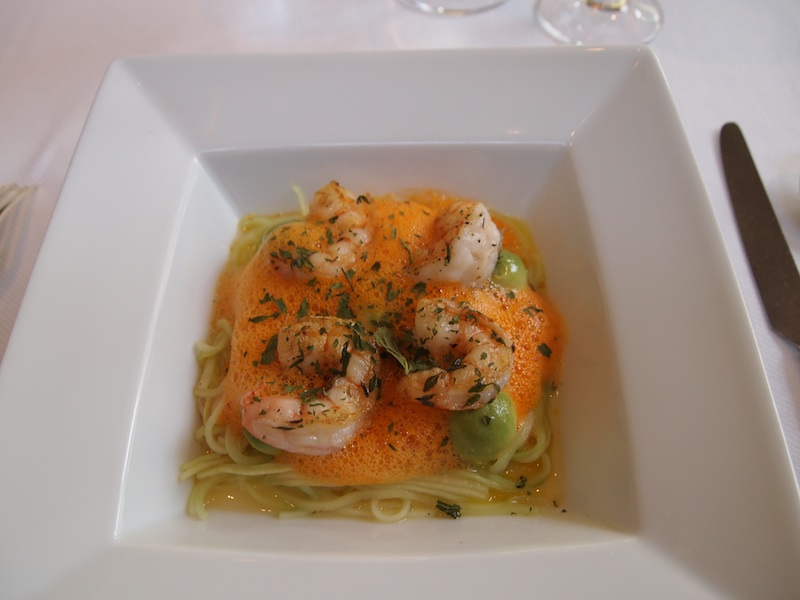 On to the third (shared) course, Parmesan risotto with mushrooms and herbs. A perfectly cooked divine risotto which was incredibly light, probably because of the lovely lemon zest and chervil. Fantastic choice of mushrooms, each type provided a different texture, from soft and succulent to firm and meaty. Definitely not your average rich and creamy risotto, in fact this version showed me that a risotto can be a light and elegant dish but pack a punch at the same time. Loved the touch of bitterness from the lemon zest.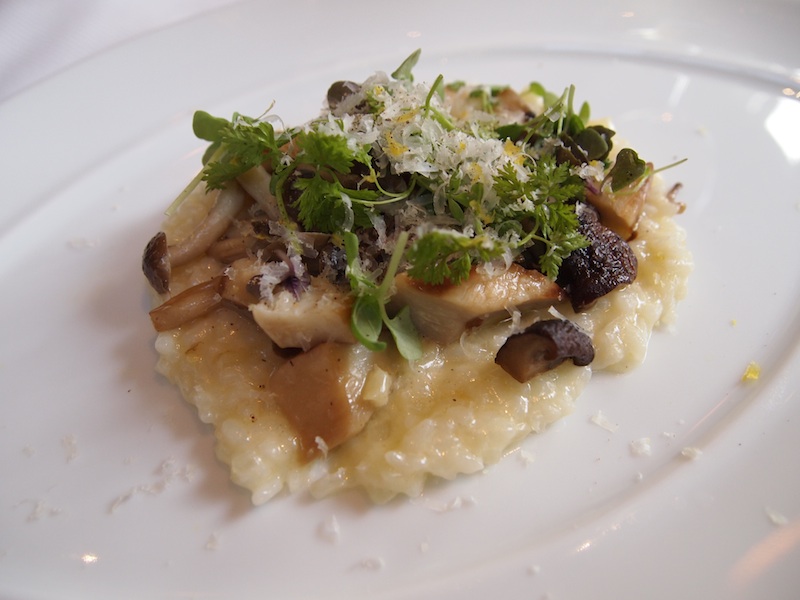 The fourth course was Charred corn ravioli, cherry tomatoes, shallot, fresh corn, basil fondue. Simply stunning ravioli with a gorgeous velvety corn filling served with a sublime basil fondue which had the perfect touch of acidity (lemon juice) and a wonderful richness from the butter. Lovely ripe and sweet tomatoes and wonderful fresh corn. The fragrance that emanated from the food on this plate was mesmerising and still lingers in my mind. The essence of summer. A brilliantly balanced and comforting dish that left me speechless at the time. I'm a convinced carnivore but if Jean Georges would cook food like this for me on a daily basis it would be happy vegetarian.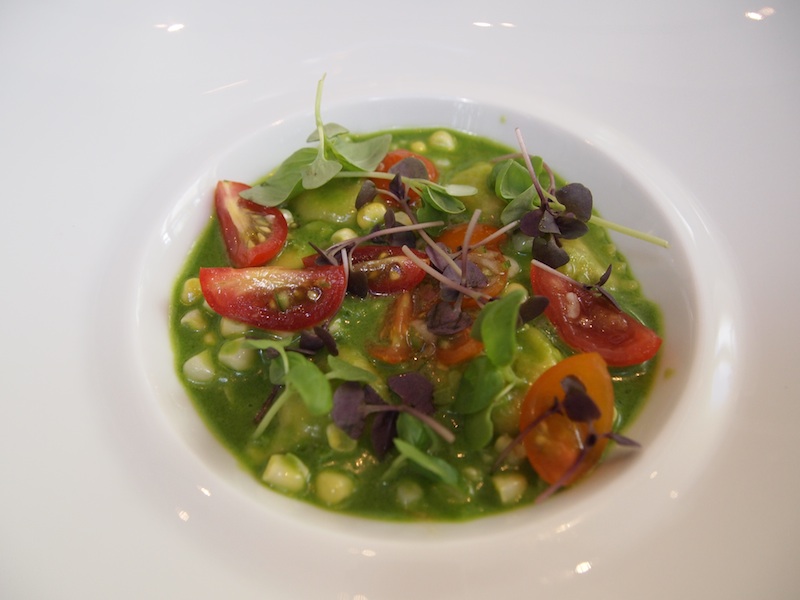 My fifth course, Salmon, basil, Heirloom tomatoes and sourdough crumbs. Just when I had recovered from the glory of the ravioli dish I was served this divine slowly cooked salmon stuffed with basil and served with the most gorgeous tomatoes. It was happening all over again. The medium rare salmon was tasty and juicy and the sourdough crumbs provided a wonderful crunch. Also loved, loved the tomato-olive oil juices which had a fantastic pepperiness to them. A light and summery dish that was stunning.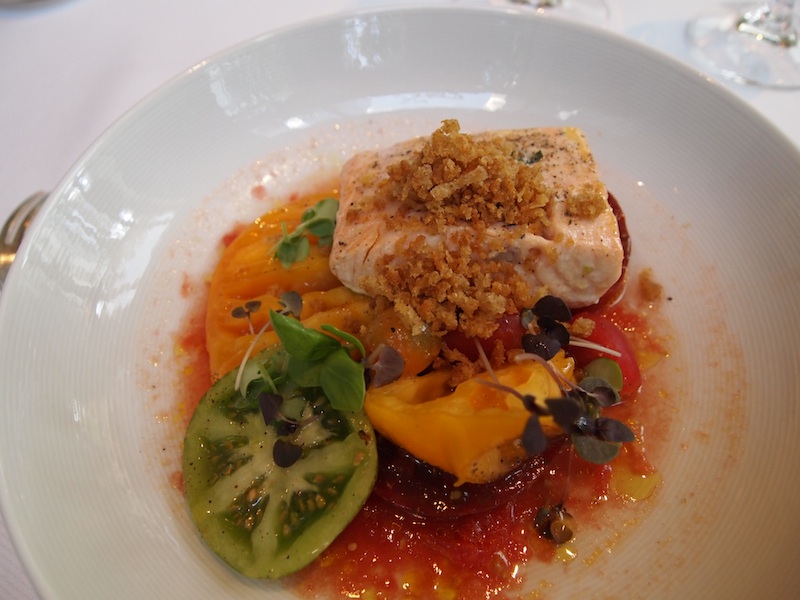 The other fifth course was Red snapper with a nut and seed crust, cherry tomatoes, button onions, sweet and sour jus. Wonderful red snapper that was again perfectly cooked with a lovely and tasty crust. Lovely bite from the tomatoes and onions. The sweet and sour jus was delicious with a beautiful hint of tarragon. Toute en finesse.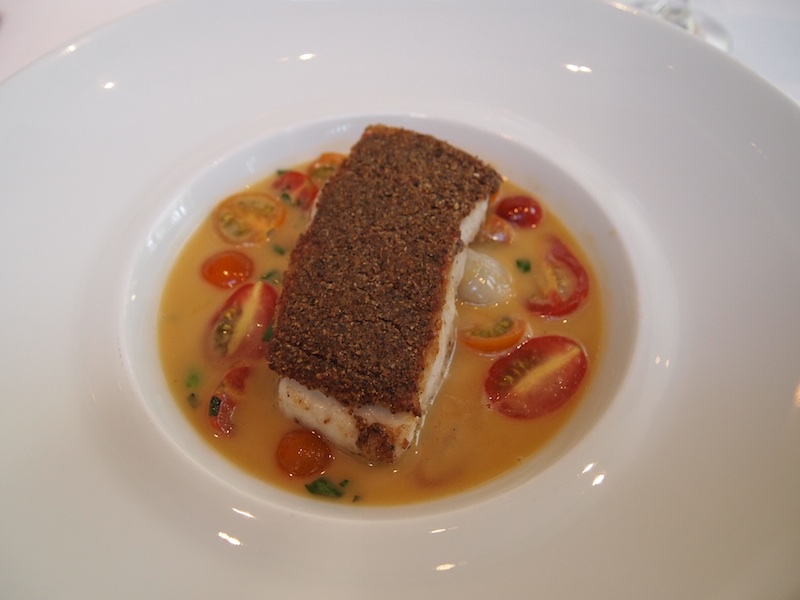 On to the desserts. My dessert was Plum sorbet, lemon, ginger and mint jelly, poached peach, almond short crust, creme fraiche. An excellent (rose water) poached peach which had a wonderful creme brulee like crust. Loved the plum sorbet which had very clean and precise flavours. A light and elegant dessert.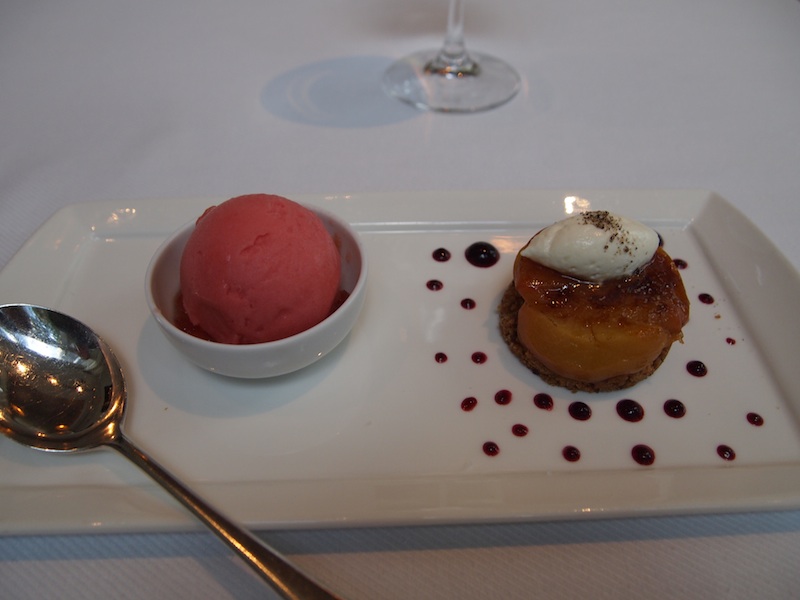 The other dessert was Chocolate cake with basil emulsion, warm cherries, cherry-lemon sorbet. A delicious chocolate dessert that was surprisingly light. Gorgeous chocolate cake with a lightly flavoured basil emulsion and fabulous cherries. The cherry-lemon sorbet had wonderfully balanced flavours, creamy, sweet and sour.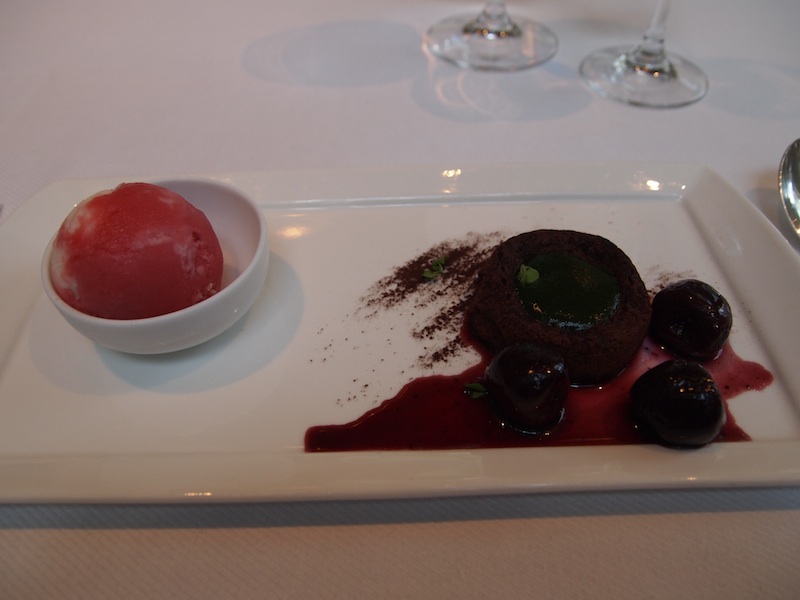 Jean Georges Vongerichten has a unique and very personal style of cooking which is vibrant and creative. For me this is contemporary cooking at the very highest level. Vongerichten prepares food that presents the diner with the naked flavours of the unadorned top-notch ingredients in all their natural splendour. The genius of this chef allows him to compose sublime dishes from these ingredients (with their rough edges) that are magically fragrant, elegant and harmonious. Vegetables are a particular forte in his cuisine - unsurpassed in my experience. Only the very greatest chefs are able to create dishes that are so distinctive that they are unmistakably theirs. Jean-Georges Vongerichten is one of them.