Rating: 97.
Rating index:
Extraordinary (96-100)
Outstanding (93-95)
Very good to Excellent (89-92)
Above average to Good (86-88)
Below Average to Average (80-85)
Avoid (below 80)
More info >
In a few weeks time Europe will have its first taste of the legendary American chef Thomas Keller when he and 14 of his staff will be in London for "The French Laundry at Harrods' 10 day pop-up. Even at a price of £250 a head for lunch or dinner the booking lines were swamped when they opened on September 1st. It must have been the only time ever that one could only book a table in London by making a call to California. The Harrods pop-up will be the first time Keller ventures outside of the US.
After starting his cooking career in the US and France (Guy Savoy and Taillevent) Thomas Keller opened his first restaurant called Rakel in Manhattan in 1986. In the early nineties Keller moved to California where he opened The French Laundry in 1994. Thomas Keller currently owns restaurants and Bouchon backeries in Yountville, Las Vegas, Bevery Hills and New York City. Per Se opened in February 2004 and entered the inaugural edition of the New York City Michelin guide in 2006 with three stars. Per Se has also been in The World's 50 top 10 for years, In 2011 it occupied the number 10 spot. 2011 was also the year when Thomas Keller was appointed a Chevalier of the French Legion of Honour for his promotion of French cuisine. This is a very prestigious distinction; only two other American culinary legends have had the honour too, Julia Child and Alice Waters.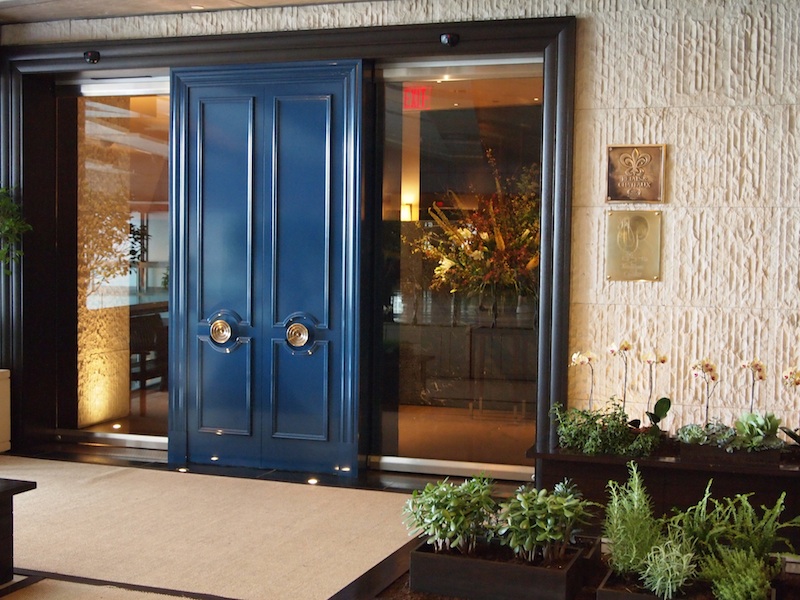 Per Se is located on the fourth flour of Time Warner building in New York City. A Bouchon Bakery can be found on the third floor. The restaurant is open for dinner 7 nights a week and for lunch Friday to Sunday. At dinner you can choose between a 9-course Chef's tasting menu or a 9-course vegetarian tasting menu. Both menus are $295 (including service), which makes Per Se one of the most expensive three star restaurants in New York City. The 5-course lunch menu is $185.
The pre-starter was a Salmon cornet. A sesame tuile, filled with onion creme fraiche and salmon tartare. A wonderful crip and buttery cornet, lovely light onion flavours from the creme fraiche and nice and fresh tartare.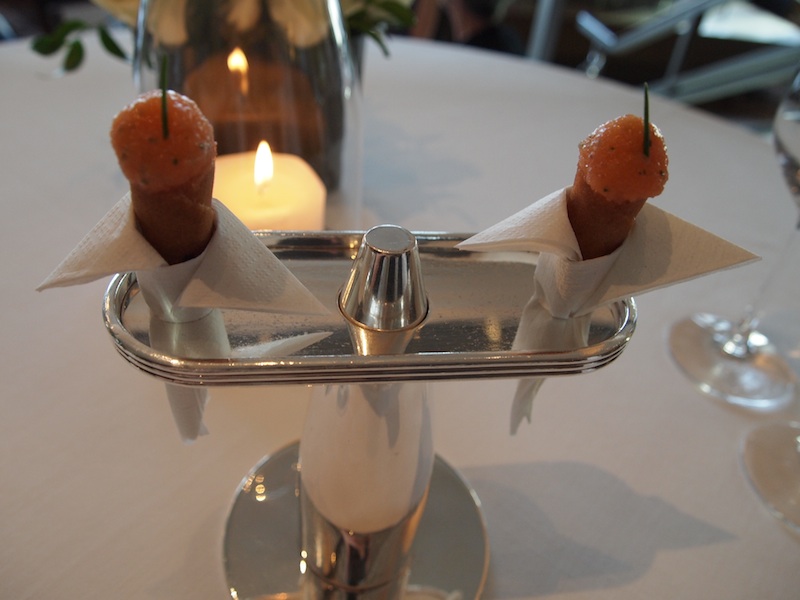 The first course was "Oysters and Pearls". This legendary signature dish from The French Laundry was sensational. Beautiful light and creamy sabayon of Pearl tapioca, with a gorgeous Island Creek oyster from Massachusetts, perfectly poached in butter and some really tasty and very generously portioned white sturgeon caviar on top. The butter sauce was exquisite. Quite a rich dish but perfectly balanced by the caviar. I loved every mouthful.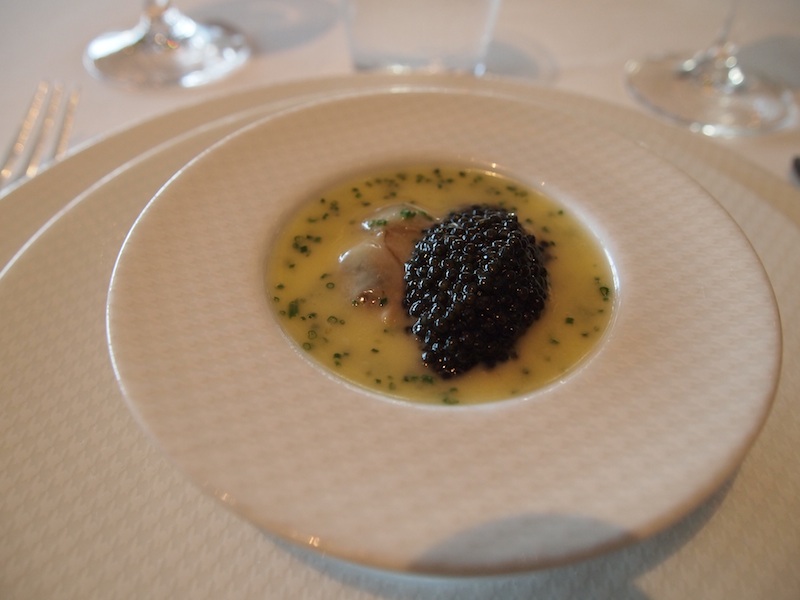 Second course, Salad of Greenmarket beets, green walnuts, hearts of palm, pickled Husk cherries, Upland cress and truffle 'Aigre-Doux'. The beets had a lovely sweetness to them and the perfect 'bite', fantastic cherries and I really loved the white walnuts. A dish with nice textures and an excellent truffle aigre-doux but in combination the ingredients didn't seem to do very much for eachother.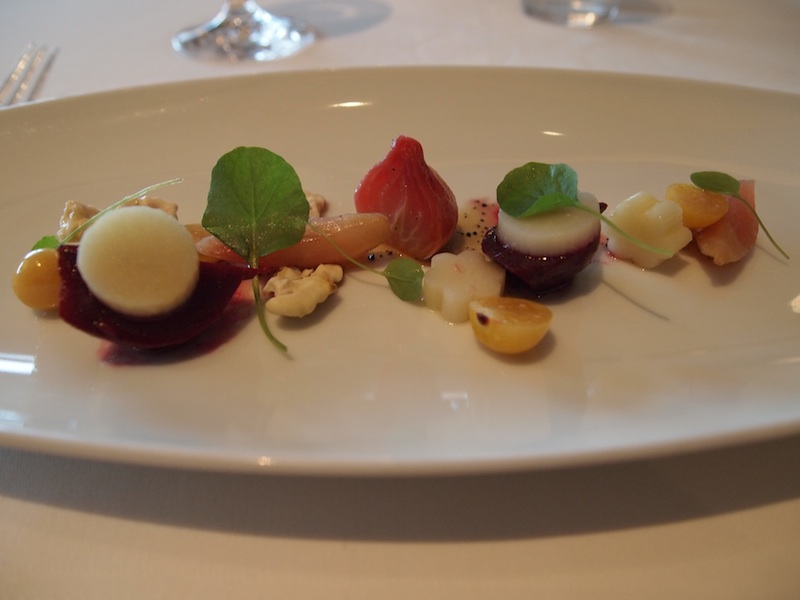 The third course was Potato crushed Chatham Bay cod, forest mushrooms a la Grecque, Hakurei turnips and pea shoots. A brilliant piece of cod with a fantastic thin potato crust served with splendid cherries, fabulous and meaty forest mushrooms (lobster mushrooms, trumpet royale, chantarelles) which had been marinated in cherry vinegar, all served with a wonderfully rich beef stock, olive oil and cherry vinegar sauce. A perfectly executed dish that was really satifying.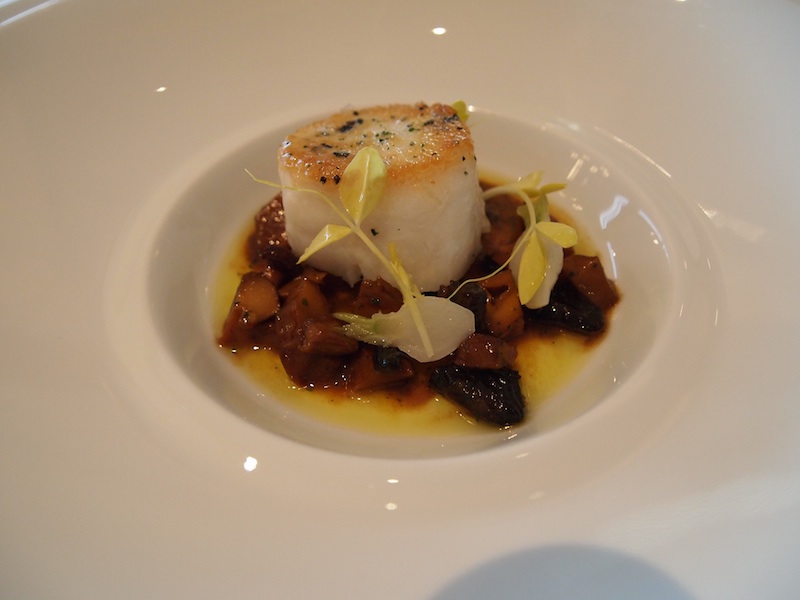 Fourth course, Butter poached Nova Scotia lobster, Heirloom radishes, compressed English cucumbers, Meyer lemon, garden basil and charred eggplant (aubergine) "Mousseline". The lobster tail and claw had wonderful buttery flavours and I especially liked the claw meat. Great to see the claw being used in a dish, often just the tail ends up on the plate. Divine smoky flavours from the eggplant mousseline and the Meyer lemon jelly had the perfect sweet and sour balance. Lovely refreshing touch from the cucumber. A well-conceived dish.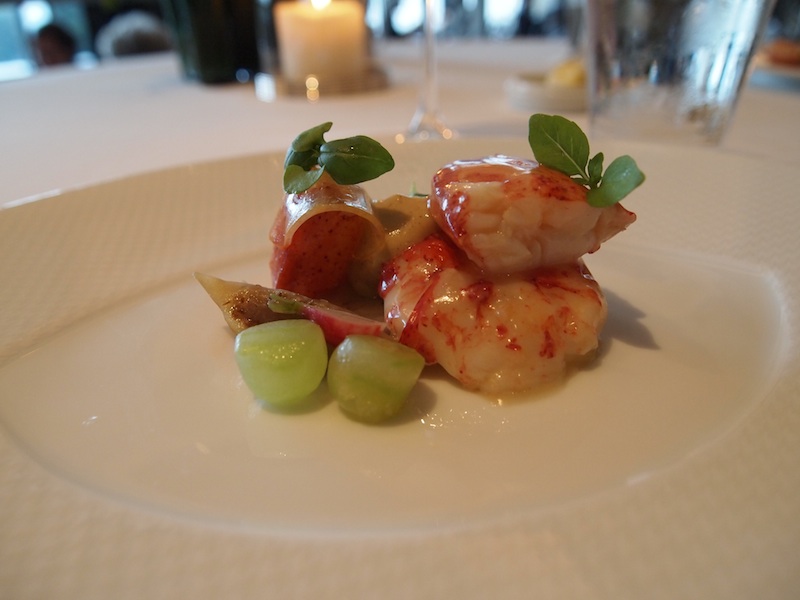 On to the fifth course, Herb roasted Thomas Farm's pigeon, Garden State peaches, crispy okra, sweet corn, Mizuna leaves and Pimenton jus.
Absolutely fantastic pigeon that went perfectly with the wonderful sweet and lightly acidic peaches and the lovely sweet corn. The sweet corn added a certain lightness to the dish. Wonderful intense flavours from the Pimenton sauce. Lovely crispy okra with the perfect thin batter. A dish with beautiful and exciting flavour combinations and the perfect example of "less is more".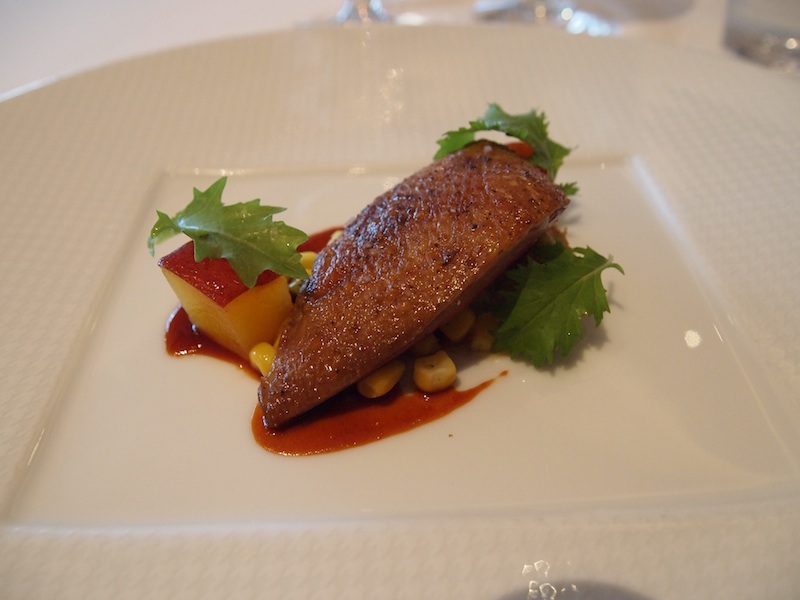 The sixth course was Bacon wrapped Marcho Farms' veal tenderloin, ragout of Pole beans, Eckerton Hill Farm's tomatoes, young fennel and Picholine olives. A gorgeous and juicy veal tenderloin with a perfect thin layer of bacon which went very well with the delicious bean ragout. Lovely and flavoursome vegetables and the olives added a wonderful touch of bitterness to the dish.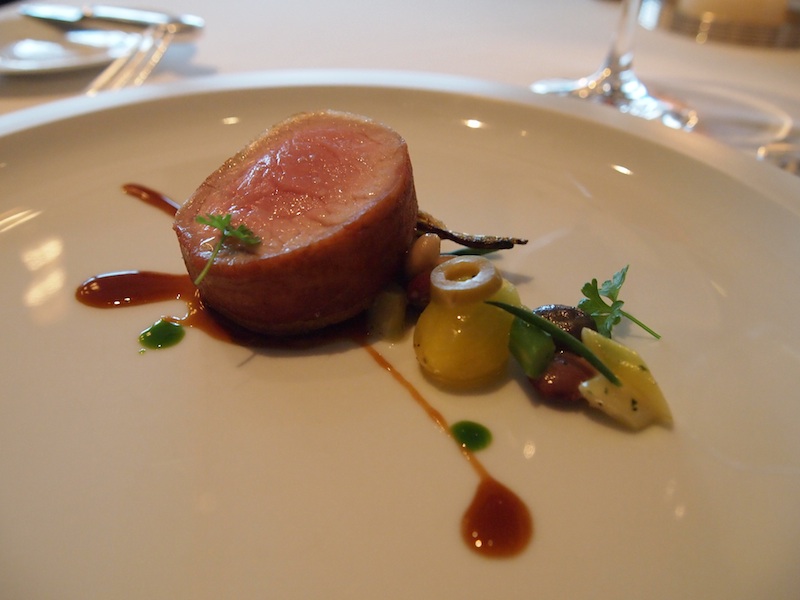 Seventh course, 'Berkswell', caramelised Vidalia onion marmelade, Burgundy mustard, White Kadota fig and mustard cress.
A beautifully presented cheese course. Well matured Berkswell and a divine onion marmelade.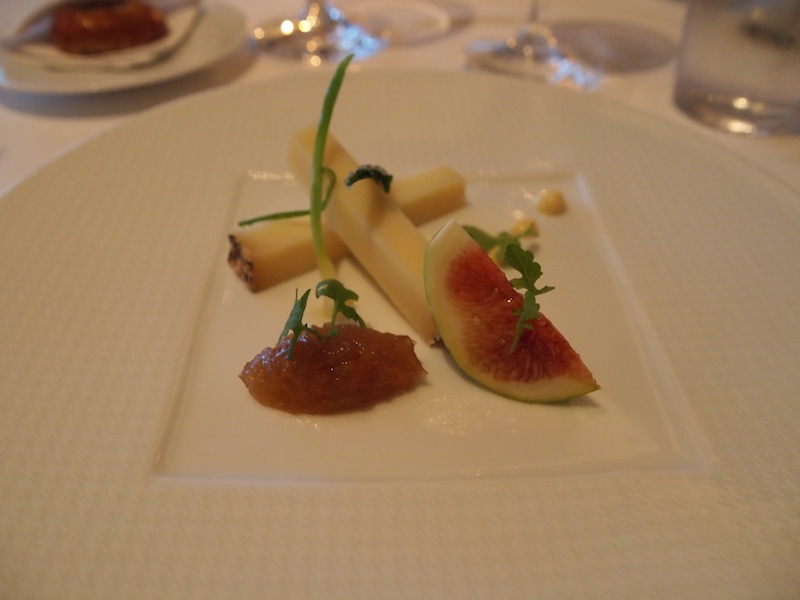 The eight course, Honeyed plums, plum compote, honeycomb, whipped plums and burnt honey ice cream. Gorgeous plum compote and delicious 'whipped plums'. Lovely honeycomb with almost mixed-spice-like flavours. A fabulous dessert with wonderful intense plum flavours which had a fantastic aftertaste.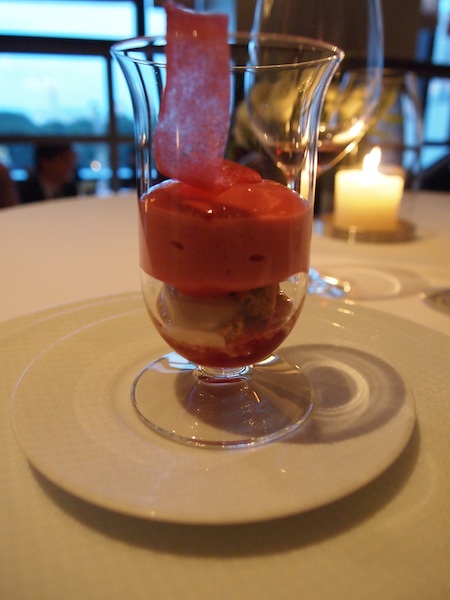 The last and ninth course, Strawberry yoghurt, Brittany shortbread, Tri-star strawberries, crystallised lemon verbena and Greek yoghurt sherbert. An excellent strawberry dessert with lovely profound strawberry flavours, each element being perfectly executed. Refreshing note from the yoghurt sherbet and great texture from the shortbread.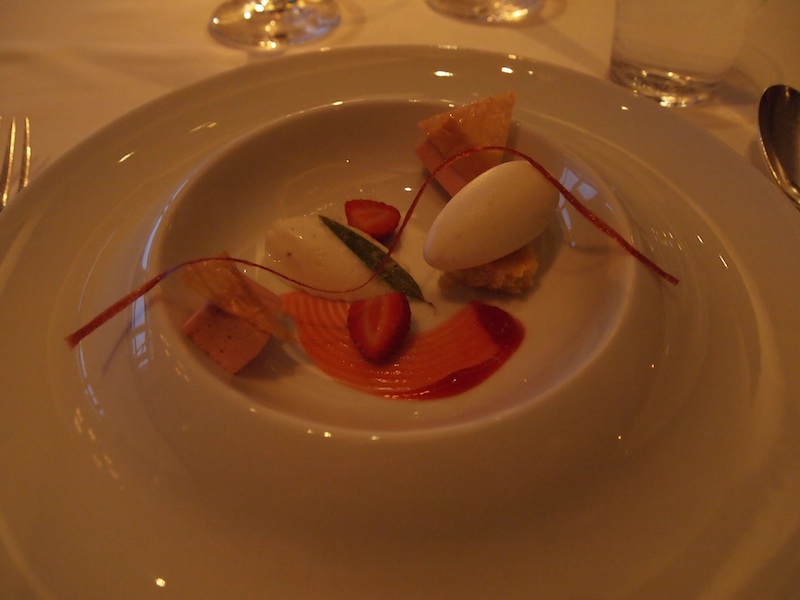 The tasting menu at Per Se is well constructed and it gives you a good impression of Thomas Keller's very precise and sophisticated cooking, This is three star cooking at the highest level. The restaurant uses outstanding (local) American produce and proudly mentions this on the menu. All dishes were brilliantly executed and beautifully presented. However, many dishes lacked a bit of soul and excitement and came accross as rather clinical and perhaps anonymous, It seemed that these dishes did not necessarily have Thomas Keller's personal signature and they inspired respect rather than love. All this faultless food was served in a wonderful dining room by very attentive and knowledgeable staff.
Unfortunately the food was served at breakneck speed and if we hadn't asked for the pace to be slowed down, dinner would have been over in under two hours. An unfortunate corollary of this "high-speed-dining" is that the staff found it impossible to ensure that the wine was actually on the table when the food it was supposed to accompany, was served. The white wine arrived well after the first course had been placed before us. When they hurried the red wine to table when the main course had already been served, the whole situation became rather painful when it turned out the half bottle they presented us with was not in fact the Domaine de Chevalier 2005 we had ordered and that they did not have it. So a new bottle had to be selected and even more time elapsed before we could start enjoying. Not good and simply unacceptable at this level. It makes you wonder what the point of having a fantastic wine list is. A propos wine list; the pricing is sometimes almost beyond belief. They are not coy about it however; the entire list and the prices can be consulted online, which is very useful.
I hope that Thomas Keller will be inspired by the Harrod's pop-up to open a restaurant in Europe so I will be able to experience his food and wine at my leisure.