Rating: 90.
Rating index:
Extraordinary (96-100)
Outstanding (93-95)
Very good to Excellent (89-92)
Above average to Good (86-88)
Below Average to Average (80-85)
Avoid (below 80)
More info >
Note: Simon Rogan's London pop-up Roganic closed in June 2013.
Every now and then a new restaurant opening in London causes a big stir on Twitter and in 2011 there have been quite a few of these. Dinner by Heston Blumenthal started off the buzz at the end of January, Jason Atherton's Pollen Street Social in April and Marcus Wareing's The Gilbert Scott in May followed it through and the most recent one to cause frantic tweeting is Simon Rogan's two year Marylebone pop-up Roganic which opened in June.
Simon Rogan is well-known for his one Michelin star (since 2005) restaurant L'Enclume in Cartmel in the Lake District. Roganic is the so-called London sister restaurant of L'Enclume. Head chef at Roganic is the 25 year old Ben Spalding, who has trained at Michelin starred restaurants like L'Autre Pied, Per Se, Le Manoir aux quat'Saisons and The Fat Duck. The sous-chef at Roganic is Andrew Tomlinson, who previously worked as sous-chef at L'Enclume.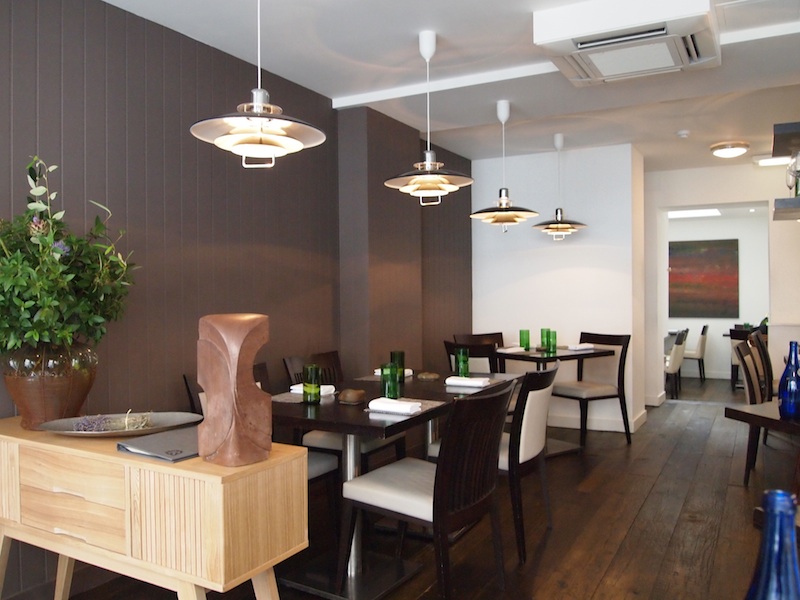 Roganic is open for lunch and dinner Tuesday till Saturday. My husband and I had lunch on a Saturday and at lunch (and dinner) you can choose between a 6-course (£55) or 10-course (£80) tasting menu. Roganic also has a weekly changing 3-course lunch menu for £29. We decided to go for the 6-course tasting menu.
Pre-starter was a Squid ink crisp with aioli, cucumber foam and some sesame seeds. A tasty crisp with a delicious and pure cucumber foam. Lovely heat from the aioli.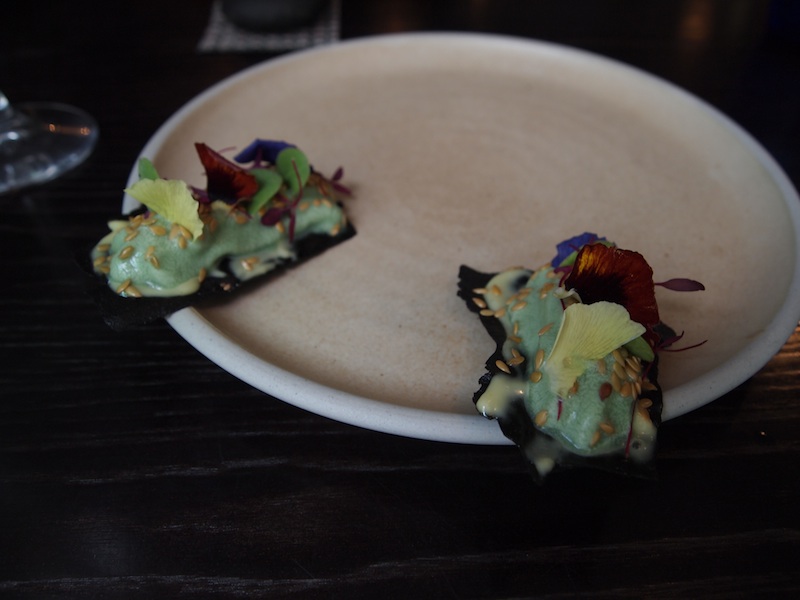 We were also served a wonderful 'foamy' meadowsweet cordial and Snow Queen vodka (from Kazakhstan no less) drink.
The first course was Millet pudding with grains, burned pear, bone marrow, kale and Devon Blue. A delightful risotto-like dish with perfectly cooked grains that provided wonderful texture. Delicious sweet and charred flavours from the burned pear. The kale was slightly undercooked but that didn't bother me. Perfect touch of Devon blue which added a lovely sharpness to the dish. An elegant and scrumptious dish that proved to me that comfort food doesn't necessarily have to be rich and heavy.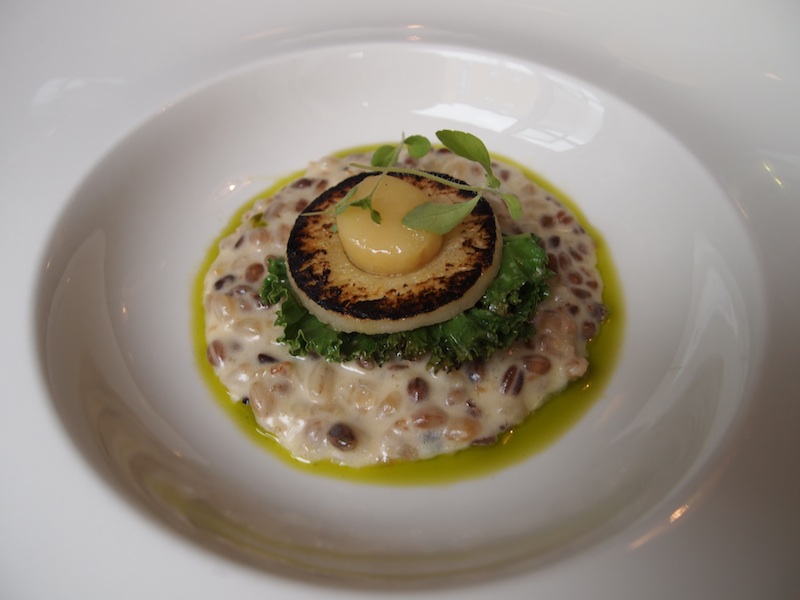 Second course was cured and smoked River Tweed trout, sweet peppers, crunchy 'burned' onions and a Crab apple puree. A wonderful firm and really tasty piece of trout with fantastic delicate smoky flavours. A perfect combination with the divine onions, the wonderful sweet and lightly acidic crab apple puree and the deliciously sweet peppers which had the perfect touch of bitterness to them. An unusual dish with glorious textures and the elements on the plate covered all the basic flavours - sweet, sour, bitter, salt and umami (the smokiness of the dish).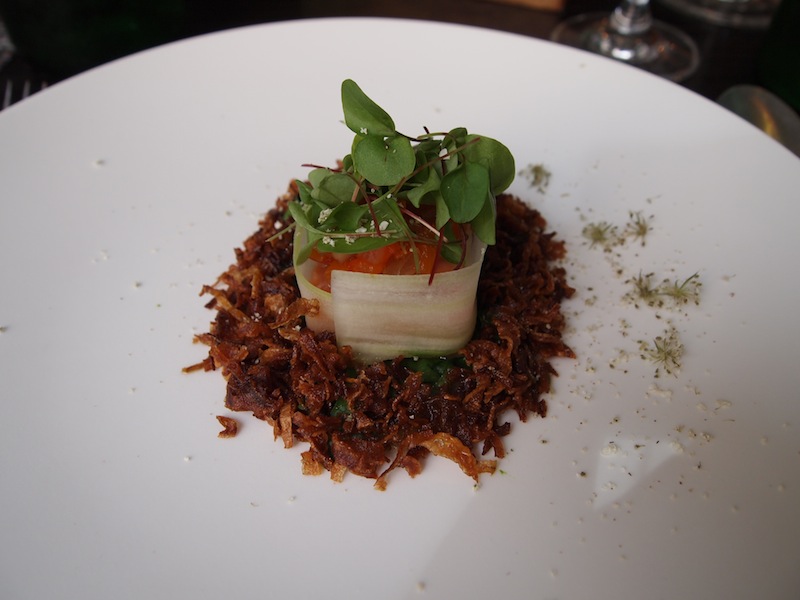 Third course: Royal Kidney potatoes cooked in chicken fat, crispy chicken skin, clam juice, fresh goat's curd and snow peas. Perfectly cooked gorgeous and waxy potatoes with fabulous salty and crispy chicken skin served with a wonderful rich and buttery clam sauce. The fresh goat's curd and snow peas provided a wonderful and crucial freshness to this lovely dish.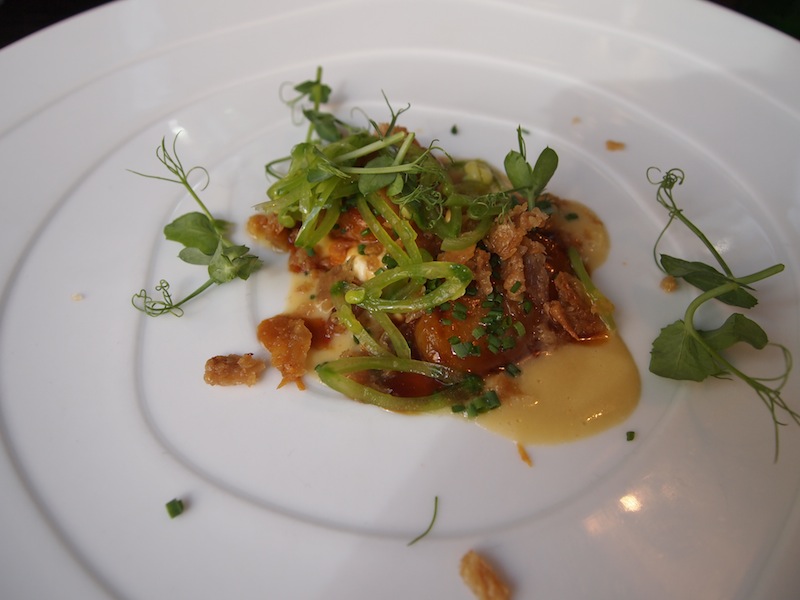 On to the fourth course, Skate belly, young leek, caramelised cauliflower, sea aster and King scallop. Fantastic firm and meaty skate belly and a lovely scallop served with a rich sauce made from fish juices and Noilly Prat which had a wonderful depth of flavour. Delicious but very intensely flavoured cauliflower puree. Lovely charred flavours from the leek but the leek itself was somewhat stringy.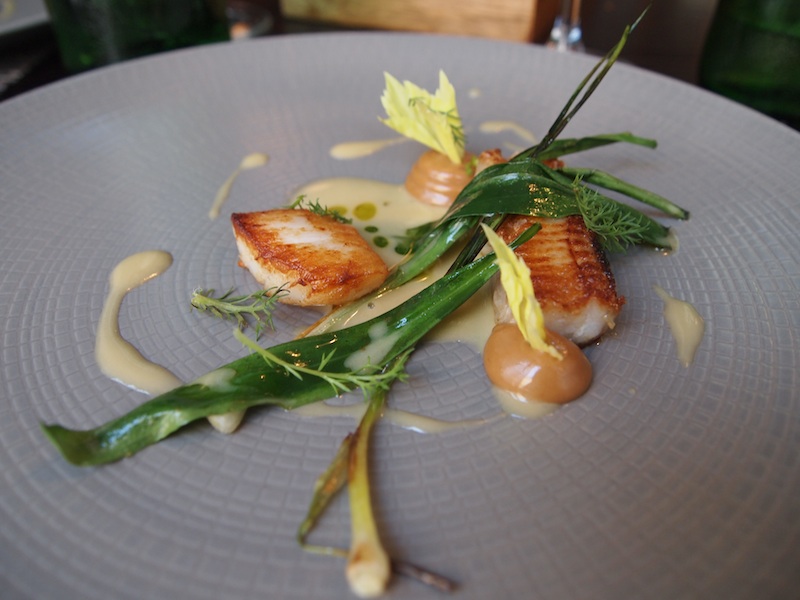 The fifth course was Cumbrian veal cooked in buttermilk, cobnuts, mead, shredded tongue and wild cabbage puree. Gloriously pink veal with truly wonderful notes of 'dairy' served with a very concentrated veal jus. The shredded tongue (can't remember whether it was ox or lamb) was marvellous and had a lovely texture. Wonderful smooth-textured cabbage puree. Lovely crunch from the cobnuts which had just come in season.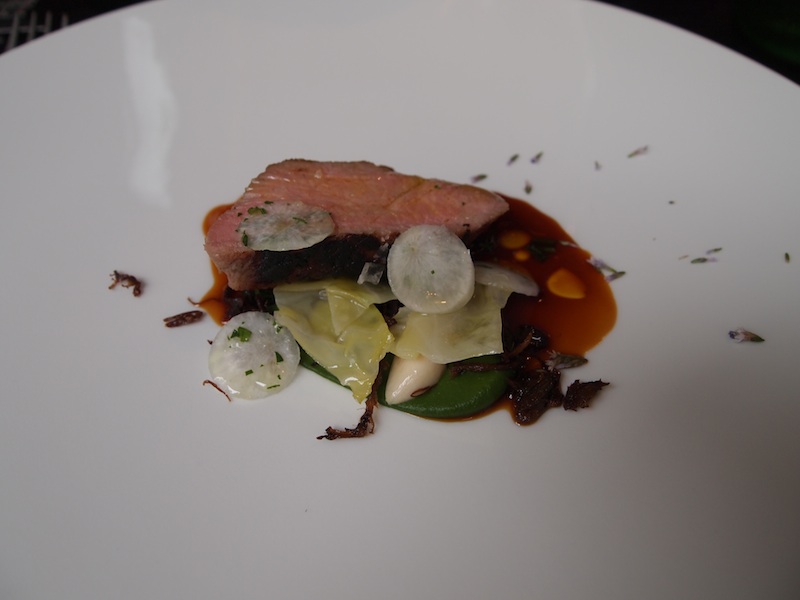 Time for desserts. The sixth course was Pickled bilberries, dried caramel, natural yoghurt and iced lemon sorbet and a bilberry crisp. Absolutely terrific lightly pickled bilberries. Lovely light caramel flavours and a simply wonderful creamy yoghurt lemon sorbet, beautiful balance between the creaminess and acidity of the yoghurt and the crisp zingy acidity of the lemon. In fact we loved this dessert so much we ordered a refill.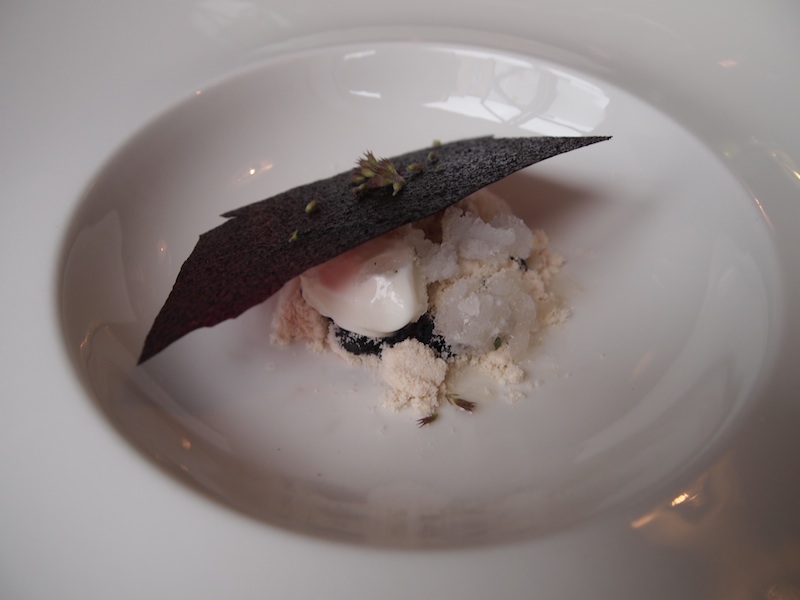 With the second helping of the bilberry dessert also came another, Rapeseed and fennel cake crumb, white chocolate sorbet, plum jelly, meadowsweet. A light and elegant dessert with a wonderful savoury touch. Loved the refreshing white chocolate sorbet. The rapeseed and fennel cake crumb was fantastic and had a lovely depth of flavour.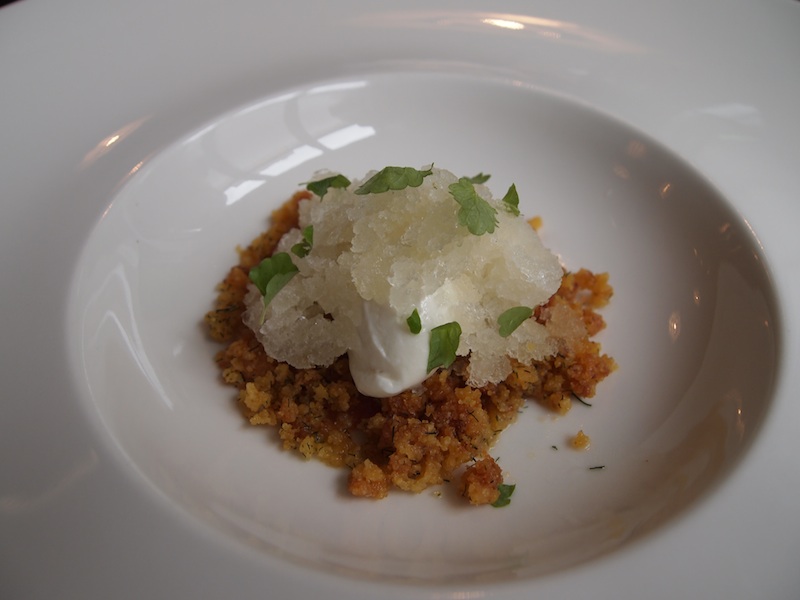 These two desserts are perfect examples of a new generation of desserts which are not inevitably sweet and rich but which, despite being light, refreshing, savoury and elegant, can still be experienced as luxurious.
To finish our meal we were served a Bay leaf milkshake served with some lemon verbena powder on top. A lovely and refreshing milk shake which had the perfect touch of bay leaf.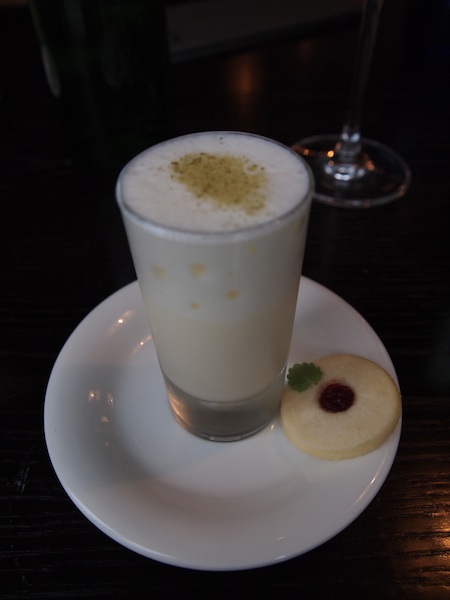 These delicious and beautiful Victoria sponges were served with our coffees.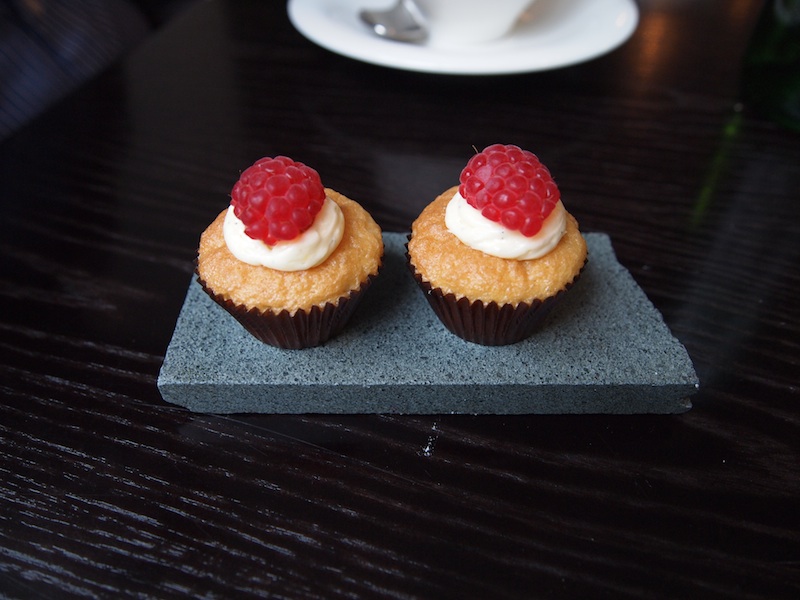 Roganic presents the diner with a diverse tasting menu. The dishes are creative and innovative and sometimes harbour quite unlikely flavour combinations which can take some getting used to but always seem to work in the end. There's a strong focus on regionality and seasonality. No out of season vegetables or fruit in this restaurant. Ben Spalding is an ambitious and talented chef who's doing a sterling job so many miles away from the Lake District home base. With this style of cooking Ben Spalding belongs to a group of avant-garde chefs who are very programmatic about their food but definitely have the technical ability to back it up. In general my view is that food should appeal to both the senses and the intellect. Although I found all the dishes at Roganic a joy to eat, it is also fair to say that a less experienced diner, unaccustomed to this style of cooking, might perhaps consider that its food errs rather on the intellectual side from time to time. I for one will be very interested to see how the food at Roganic will develop over the next (almost) two years. One senses a lot of energy and drive and not only in the (unbelievably tiny) kitchen but also in front of house. Their passion, knowledge and charm made me feel very welcome and very well looked after. One would really hope Roganic is here to stay.