Just eights months after the release of the 2011 guide the Michelin Great Britain & Ireland 2012 guide hit the shelves yesterday. Also published yesterday was the 2012 Michelin London guide.

In the 2012 guide, Michelin has awarded two restaurants a second star, Restaurant Sat Bains in Nottingham and The Hand and Flowers in Marlow. The Hand and Flowers is the first pub in the UK to be awarded a second star. Editor Rebecca Burr said: "This is a good news story for the British pub industry and confirms our view that pubs serving good food are the ones that continue to thrive. In the 2012 guide we are delighted to have 13 pubs with Michelin stars". Restaurant Sat Bains gained its first star in 2003 and the Hand and Flowers was awarded its first star in 2005.

The chefs of these new two-star restaurants, Sat Bains and Tom Kerridge, have also gained notoriety with their performances in the finals of the BBC Great British Menu series. Sat Bains was successful in 2007 with his Ham, egg and peas starter and Tom Kerridge wowed the judges in 2010 with his Duck, duck fat chips and gravy main course and repeated this feat this year with his hog roast.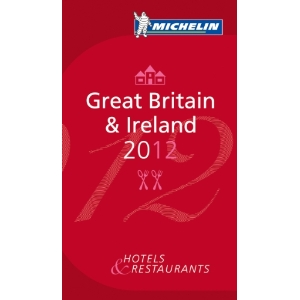 Perhaps not entirely unexpected after the departure of head-chef Shane Osbourne in March this year, Pied à Terre has been demoted to one star, which takes the number of two-star restaurants in the 2012 guide to 17 (16 in 2011); 15 in England (of which 7 in London), and 1 in Ireland and Scotland each. The number of three-star restaurants remains at four: Gordon Ramsay Royal Hospital Road and Alain Ducasse at The Dorchester in London and The Fat Duck and the Waterside Inn in Bray-on-Thames.
In the one-star category Michelin has once again found a not insubstantial number of restaurants worthy of this accolade. No fewer than 15 restaurants have been awarded a Michelin star and unlike in the 2011 guide, the majority of these are not located in London. As had already been predicted by many, Dinner by Heston Blumenthal at the Mandarin Oriental Hotel in Knightsbridge has been awarded a Michelin star and so has Jason Atherton's Pollen Street Social in Mayfair. Seven restaurants have lost their star. The total number of one star restaurants in the 2012 guide stands at 130 (123 in 2011).
This guide also sees a small rise in the number of restaurants that have been awarded a Bib Gourmand (good cooking at moderate prices). Michelin awarded 28 restaurants this accolade in the 2012 guide (26 in 2011) bringing the total number of Bib Gourmands in this guide up to 129.
A full list of stars and Bib Gourmands in the Great Britain & Ireland guide can be downloaded here:
MichelinUK2012
.