The Roux family hardly needs an introduction but I'll give a short one anyway. In 1967 two brothers, Michel and Albert Roux opened Le Gavroche in Lower Sloan Street in London, a restaurant that revolutionised London's dining scene. Le Gavroche was awarded its first star in Britain's first Michelin guide in 1974. The second star followed in 1977 and in 1982 Le Gavroche was the first restaurant in Britain to get three Michelin stars. In 1986 Michel and Albert Roux parted ways. Albert stayed at Le Gavroche and Michel Roux moved to the Waterside Inn in Bray-on-Thames, a restaurant that had opened in 1972. The Waterside Inn was awarded three stars in 1985 and has retained them ever since. Just last year the Waterside Inn celebrated the three star 25th anniversary. Albert and Michel Roux are among Britain's most respected chefs and you will not be surprised to hear that Albert and Michel Roux sr are at the top of the British culinary family tree; innumerable younger chefs have trained at their restaurants and gone on to win Michelin stars or other accolades.
But back to Le Gavroche. In 1991 Michel Roux jr joined his father at Le Gavroche - by then the restaurant was in Upper Brook Street as it is today; it had moved in 1981. Since the retirement of Albert Roux in 1993 the restaurant has held two Michelin stars. In recent years Michel Roux jr has become known to a wider audience by his appearances in BBC2's Professional Masterchef series.
Although I've been to Le Gavroche twice, on of my biggest frustrations is that I never got to eat there whilst Albert Roux was still at the helm in the kitchen. Albert Roux is not the only one on my list of London restaurant frustrations. Marco Pierre White (The Oak Room), Pierre Koffmann (La Tante Claire) and Nico Ladenis (Chez Nico) feature prominently, even if Koffmann's and Incognico have provided some solace. You will understand that I was gripped with utter excitement when I first learned about an Albert and Michel Roux jr.event at Inverlochy Castle in Fort William in the Highlands of Scotland.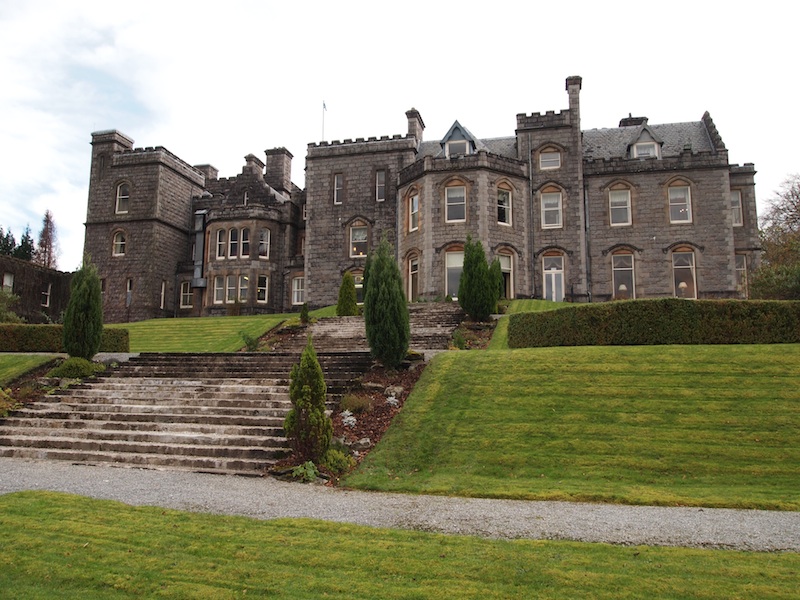 Inverlochy Castle is a beautiful Highland retreat nestling in the foothills of the mighty Ben Nevis and it has a Michelin starred restaurant. Head chef at Inverlochy is Phil Carnegie (yes, a Roux pupil!), whom you may have watched in this year's Great British Menu series. The weekend started on the Friday evening with an informal French three-course dinner in the beautiful dining room at Inverlochy.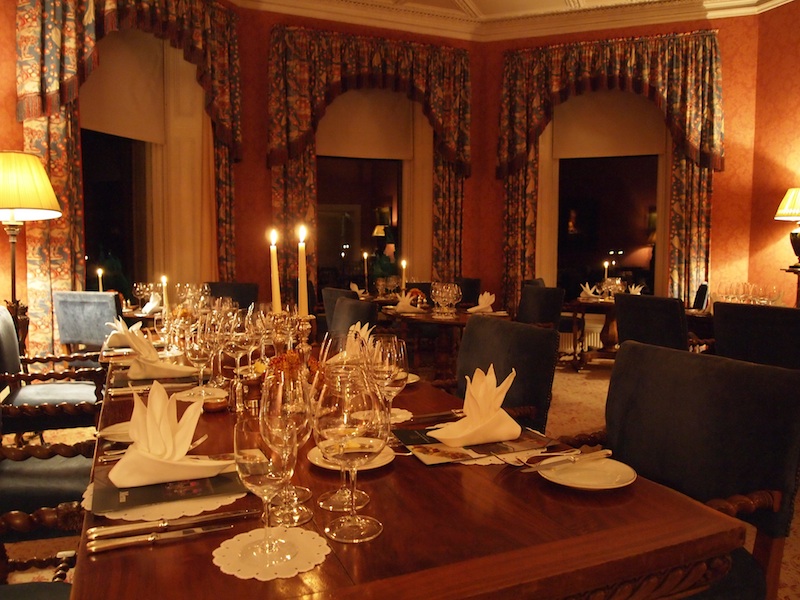 With our drinks we were served two canapes: delicious smoked salmon mousse served on crisp toast and mini anchovies, olive and onion confit tartlets.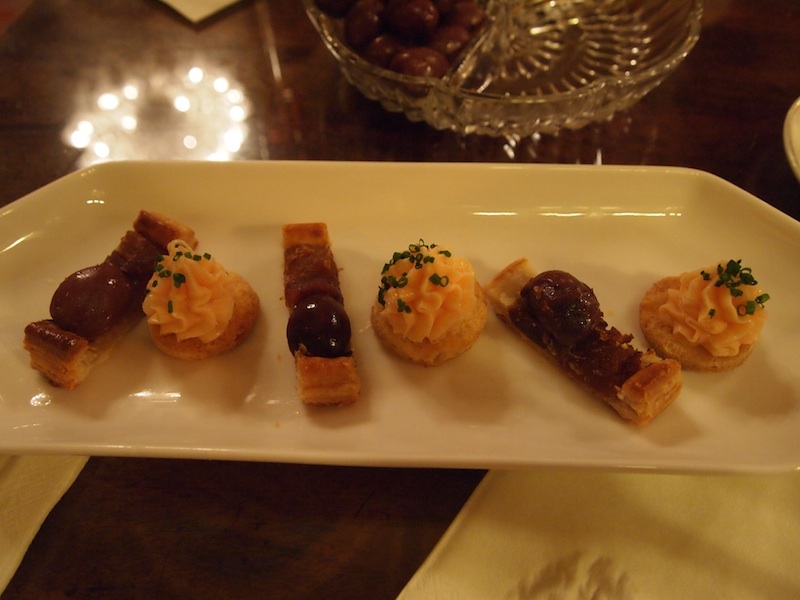 First course was Oeufs Meurette a la Bourguignone - Poached egg in red wine sauce, lardons, crouton and baby onions. Delicious poached egg, not too runny, served with a gorgeous dark and rich jus and a fantastic buttery crouton. Lovely soft and sweet baby onions. Proper sized lardons. Rustic perfection.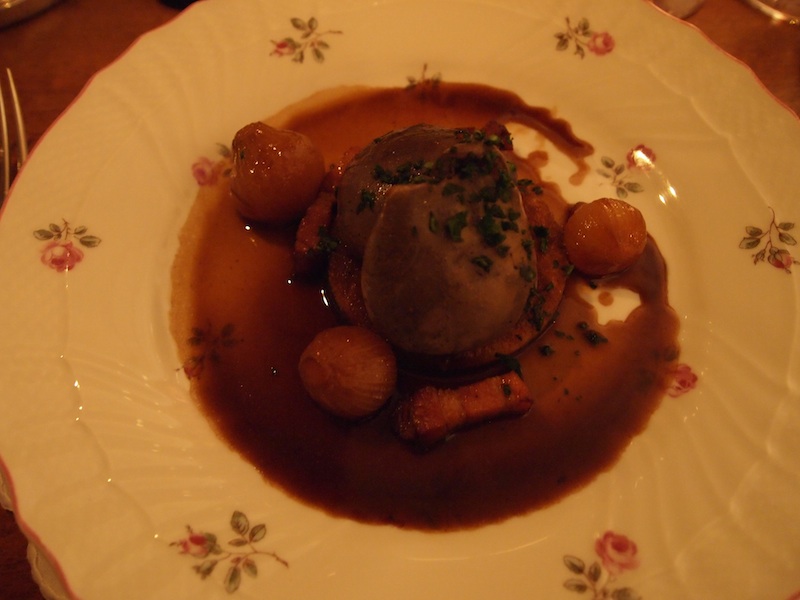 Main course was Perdrix Roti al la Vigneronne - Roast Partridge, liver, chestnuts and salsify, grapes and a simple jus. Lovely partridge, although on my plate half was nice and succulent, the other half was slightly undercooked. Too pink for my taste anyway. The jus that was served with the partridge was brilliant and had a fantastic depth of flavour. Lovely salsify and grapes. The perfectly cooked creamy partridge liver was served on an elegant piece of toast, divine.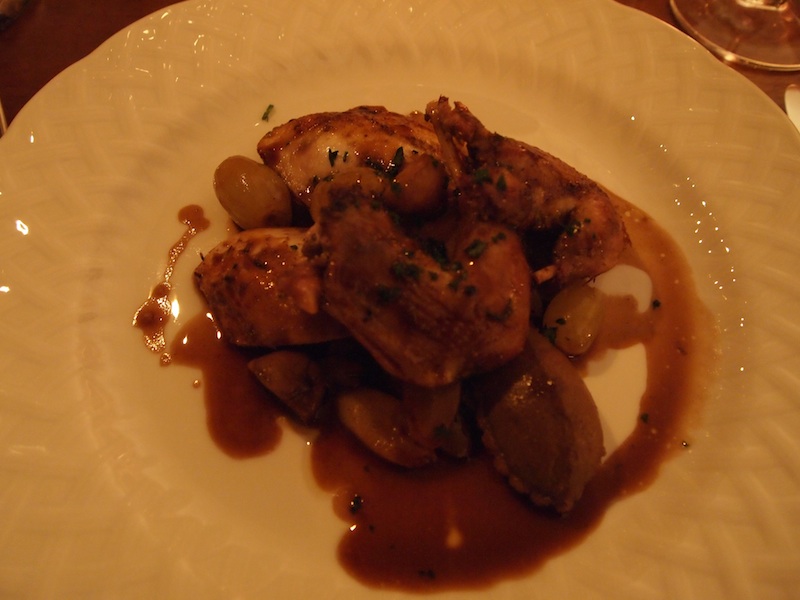 Last course and dessert, Croustade aux Poires a la Cardamone - Poached pear with cardamom mousse and carmelised puff pastry. Delicious soft and fragrant pears served with cardamom cream in a beautifully made pastry case, perfect touch of cardamom, lovely vanilla sauce.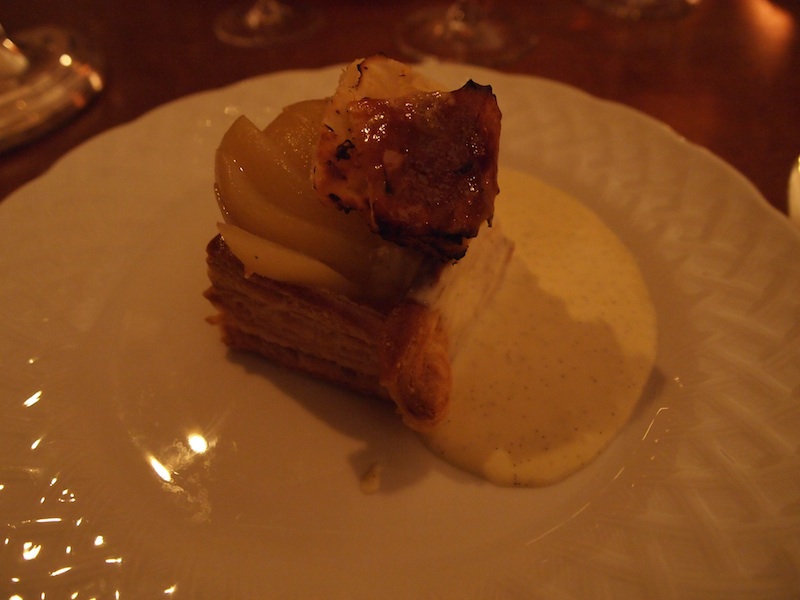 This dinner was a perfect start of the weekend. Next morning after breakfast there was an Albert and Michel Roux cooking demonstration. Albert and Michel demonstrated on how to cook Sweet onion tart with Munster cheese and Seven-hour lamb. Both dishes were served during lunch afterwards. I had a great time during the cooking demo. Both Albert and Michel are very entertaining.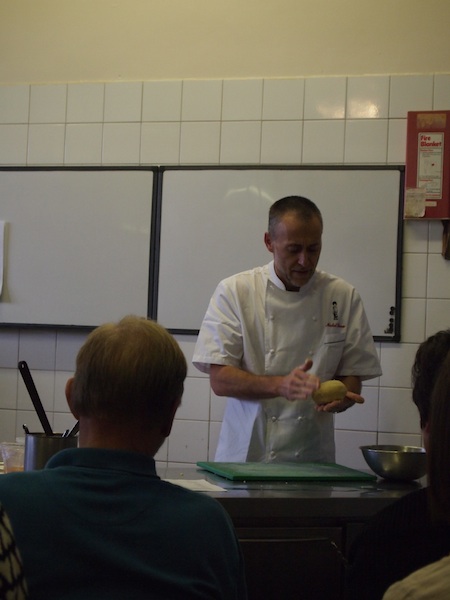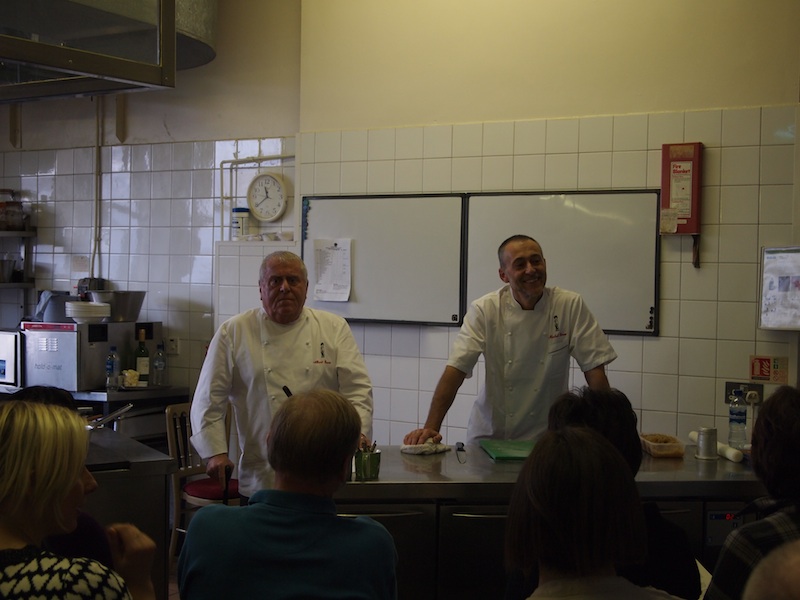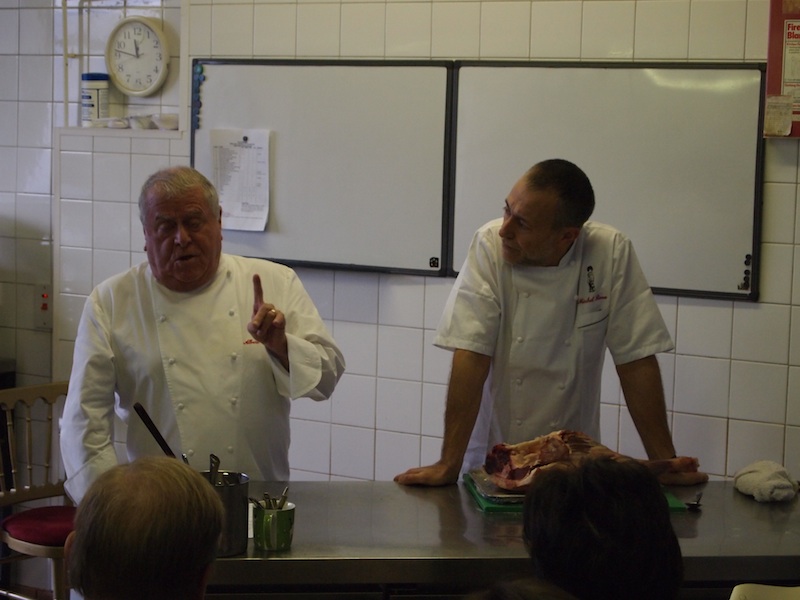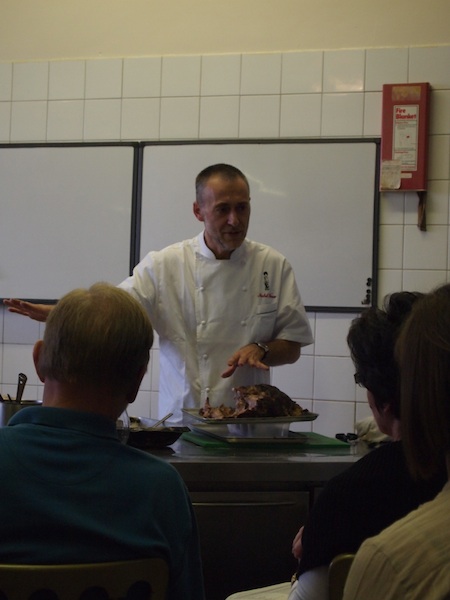 The Sweet onion tart with Munster cheese was served as a first course. A gorgeous tart. Wonderful sweetness and richness from the onions. Terrific thin pastry and a perfect tang from the Munster cheese. The filling was well seasoned and airy. The tart was accompanied by a very well-made beurre blanc and a nice crisp mixed-leaf salad. It all went down a treat.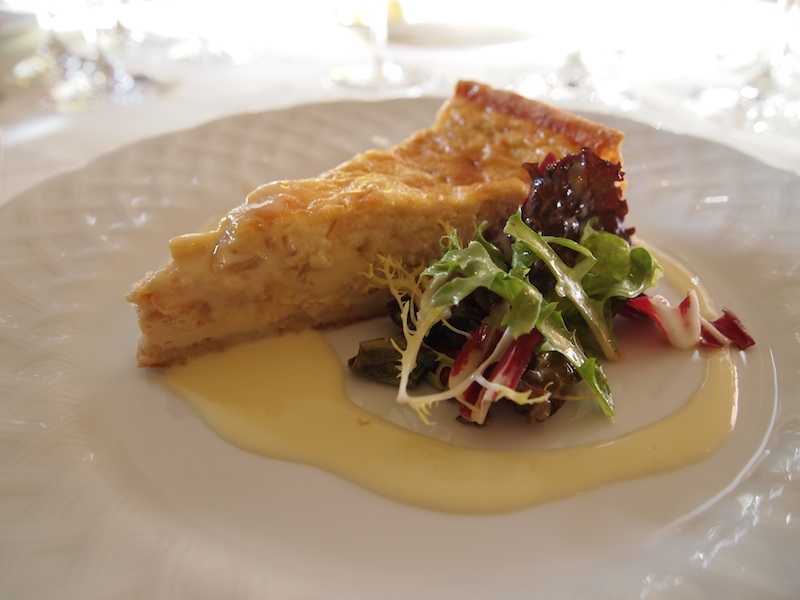 The main course was Slow cooked leg of lamb served with potatoes, baby onions and Brussels sprouts. The lamb had been marinated in a mixture of wine, vegetables and herbs like rosemary and thyme for at least 24 hours and was then slowly cooked at 140C for 7 hours. The soft lamb was rich and succulent and was served with a wonderful red wine jus. The jus had concentrated but very clean flavours. Tasty vegetables too.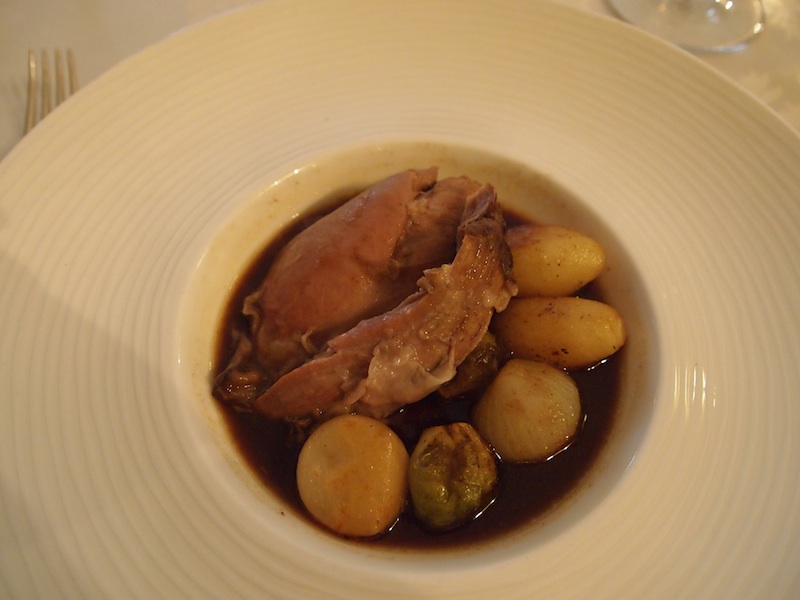 In the evening we had the Roux Gala dinner. A five-course dinner served with wines from Château Léoville-Poyferré (as were the previous meals). Before dinner Michel Roux jr. explained the menu to the guests and Didier Cuvelier, co-owner and general manager of Château Léoville Poyferré, introduced the château and its wines.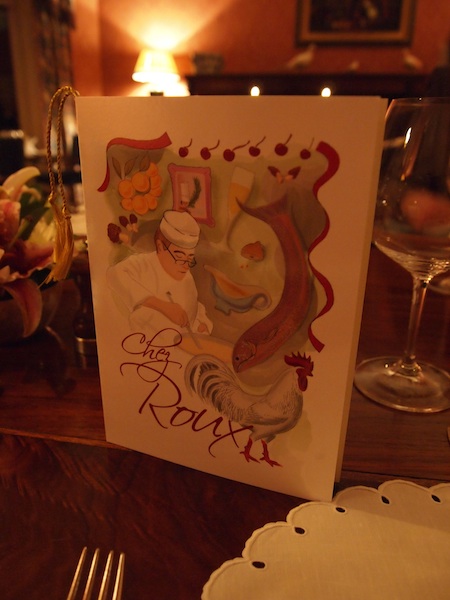 Canapes were Pork belly with chutney and a cheese sablé.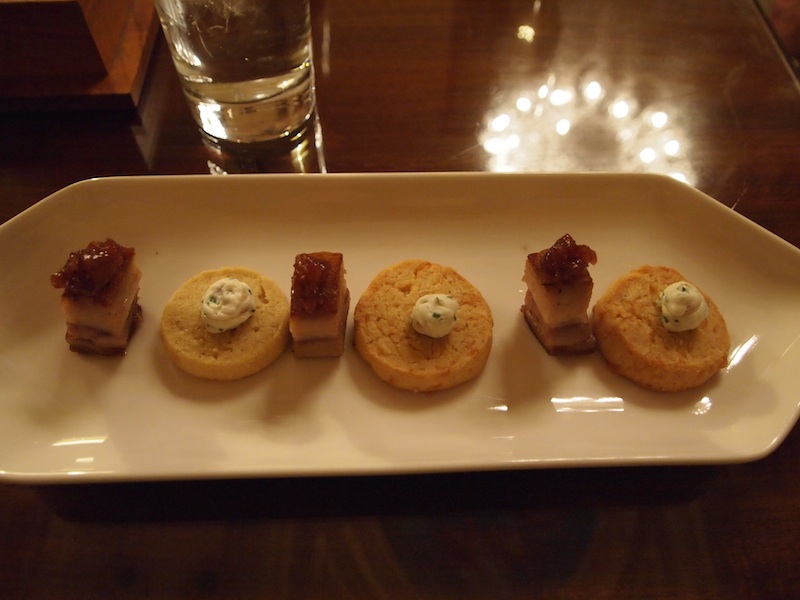 First course was Petit Paté Chaud de Gibier Sauce Poivrade - Warm game pie with red wine and pepper sauce. A perfectly cooked and beautifully thin pastry case with a wonderful mince-like game filling. I don't know which game was used but the mixture was well-balanced; elegant and light flavours were interwoven with more powerful and profound game flavours. The pie was served with a gorgeous, rich, almost sticky, sauce, delicious to the very last drop. A simple but flawless dish.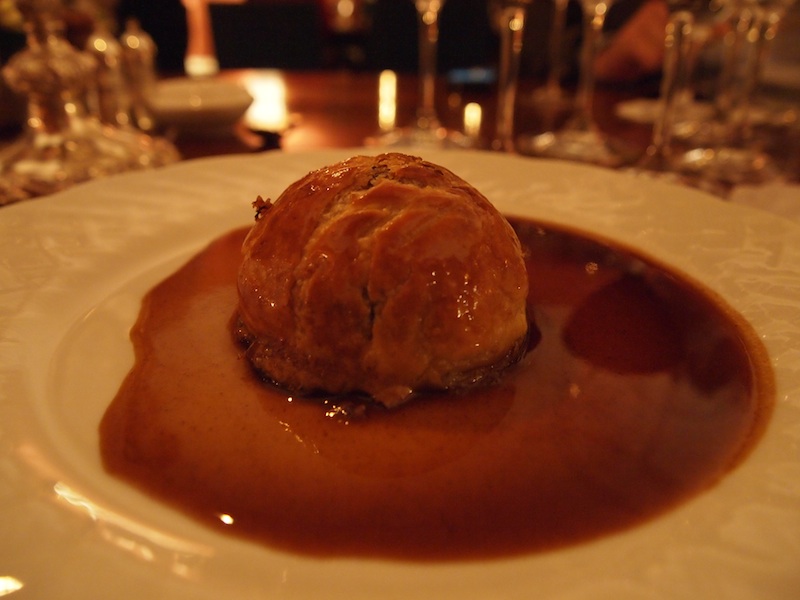 Second course, Gratin de Langoustines et Escargots au Persil et Piment d'Espelette - Scottish langoustines and Hereford snails, glazed in light Hollandaise sauce, flavoured with Basque chilli pepper and parsley. Sublime succulent and plumptious langoustines lightly coated with the Hollandaise. Lovely snails and a terrific parsley puree. A very rich dish with lovely buttery notes. The parsley balanced the dish out perfectly. Le Gavroche in the Highlands. The soul of France on a plate.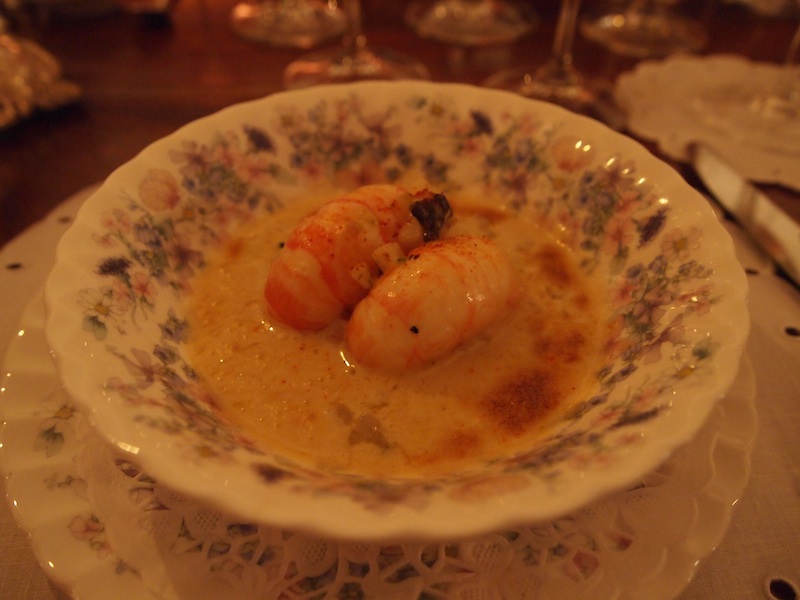 Third and main course, Fillet de Boeuf Grillé, Pommes Dauphine et Purée d'Epinard - Grilled filled of Scottish beef, red wine shallot sauce, spinach and potato puffs. Perfectly cooked beef with a wonderful but extremely rich and concentrated red wine and shallot jus. The jus had a beautiful consistency. Lovely spinach and fantastic potato puffs.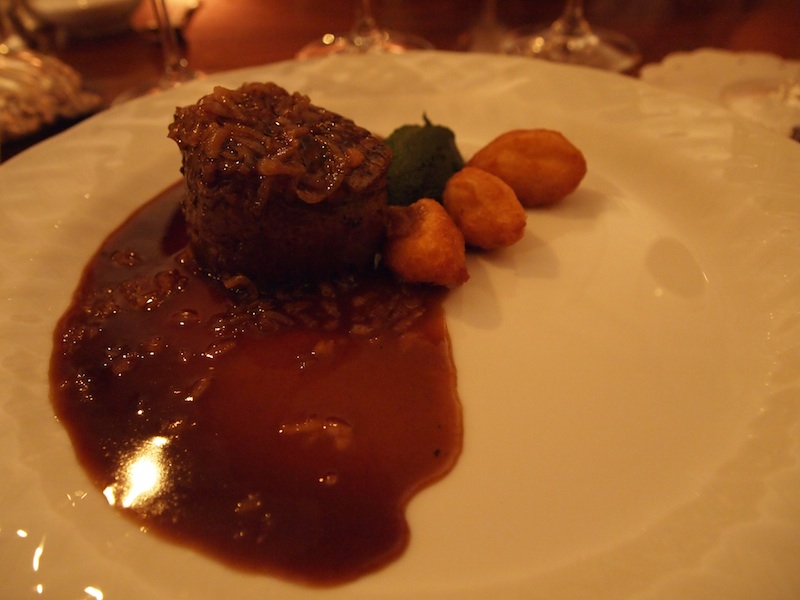 Fourth couse, Le Plateau de Fromage Affinés - Farmhouse cheeses. A generous portion of 4 local farmhouse cheeses.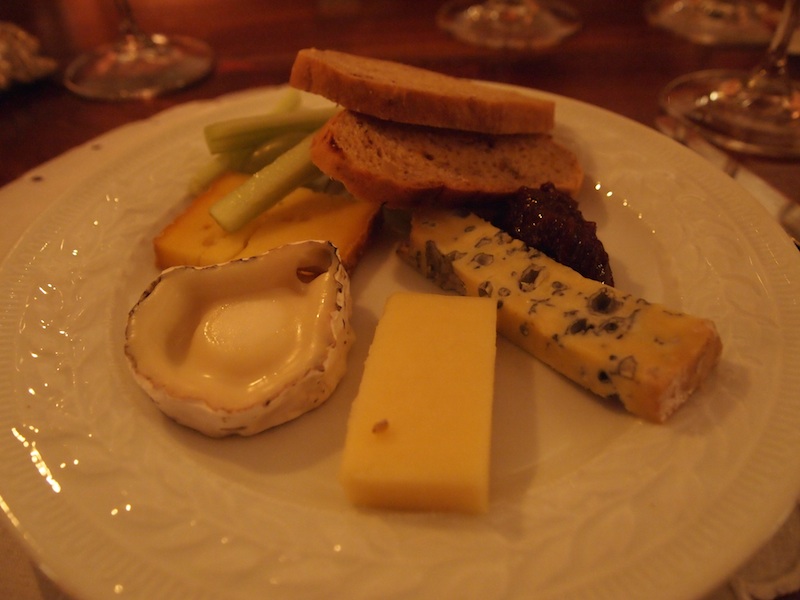 Last course, dessert: Panna cotta à la Vanille, salade de Mangues et Gingembre - Vanilla Panna cotta with Alfonso Mango and ginger. A beautifully set Panna cotta served with a lovely mango salad and some candied lime zest. A very well-balanced dessert, lovely creaminess from the panna cotta, nice sweetness and sharpness from the mango and lime zest. It's dishes like this that make you grateful that we import mangoes in Northern Europe. Hurrah.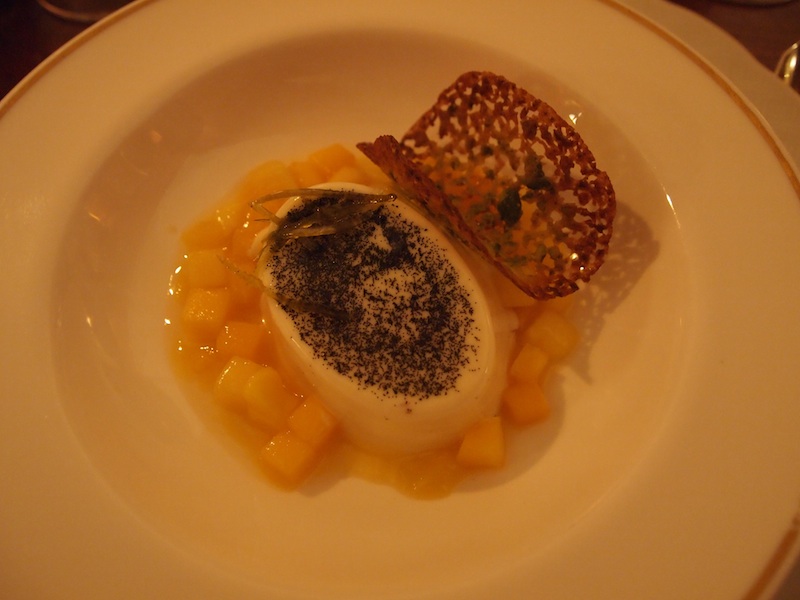 The Roux weekend was a most memorable experience and it was great to be part of it and to have met the very charming Albert and Michel Roux and the rest of the Roux clan - both Albert and Michel were accompanied by their wives. Albert's chocolate-brown labrador was thoroughly adorable. Witnessing father and son at work together at this weekend made it even more special and under their supervision Phil Carnegie and his team did an amazing job. All the food and all the wines served during this weekend were outstanding and it served as a strong reminder that classics will never go out of fashion - for a reason. Vive le Gavroche, vive la France, vivent les Roux!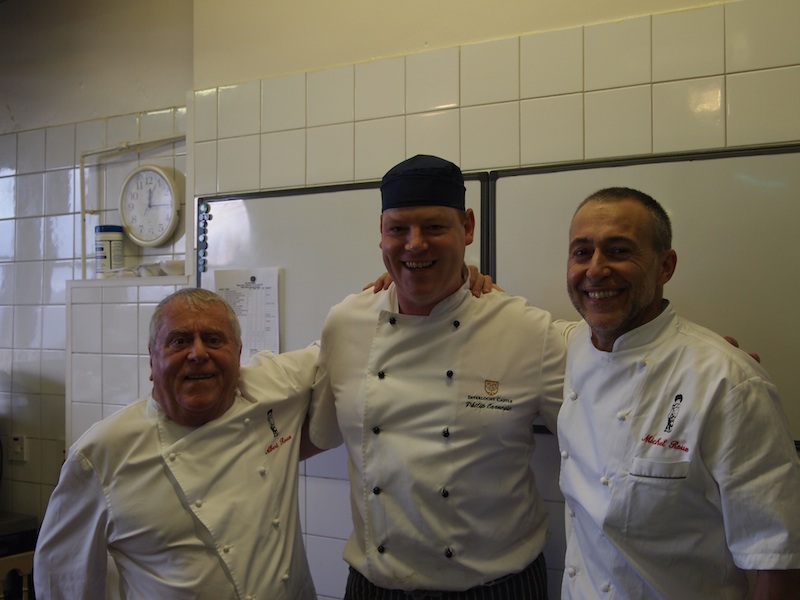 Wine Notes. As mentioned above, the food was accompanied by wines from Château Léoville-Poyferré (2e Grand Cru Classé Saint Julien). Some brief tasting notes by Xavier Auerbach:
Château Moulin Riche 2008

Formerly the second wine, but now a separate cuvée from a distinct part of the vineyard (like the Clos du Marquis at Château Léoville-las-Cases). Very forward, nice and fruity, glossy oak, light but good character, why keep it? Yum.
Château Léoville-Poyferré 2004

Nice depth, easy style, good, avoids being too herbaceous. Not profound but very pleasant. Yum again!
Château Léoville-Poyferré 2003

Rich and broad-shouldered, sweet fruit but perfectly balanced, not an touch of dryness in the velvety tannins, smoky depth. Another 1990 in the making? Robert Parker seems to think so (98 points) and I must say I was impressed.
Château Léoville-Poyferré 1996 (magnum)

Perfect balance between power and elegance, between minerals and fruit. Not as backward as the Barton, not as massive as the LLC, but with grande finesse. A classic, à point, très Poyferré (RP 97).
Château Léoville-Poyferré 1991 (jeroboam)

Some bottle variation. The first slightly volatile, light but very much alive. A nice surprise. The second jeroboam better still: elegant and delicate, light but with balance and warmth.
Château Léoville-Poyferré 1990

Beautiful gamey development but still with fresh and sweet fruit; rich but with lovely poise, cedar, actually quite elegant - even feminine. Stylish and charming, velvety tannins, touch of coffee, sublimely attractive. Fabulous.