Rating: 95.
Rating index:
Extraordinary (96-100)
Outstanding (93-95)
Very good to Excellent (89-92)
Above average to Good (86-88)
Below Average to Average (80-85)
Avoid (below 80)
More info >
"German Food Far Beyond the Bratwurst", that was the title of my article on German cuisine last year. An article about how German cuisine has rapidly evolved in the last few decades. I wrote that article at the time because there still is a lot of misconception when it comes to German fine dining. Only recently more and more foreigners have started discovering Germany and it's fantastic fine dining scene. I couldn't be more pleased about this because I've been a huge fan of German food for many years - and not just the fine dining. In no other country in Europe has the number of Michelin starred restaurants shown such a meteoric rise as in Germany. In fact Germany has the largest number of three-star restaurants (9) in Europe after France. Just last month La Vie restaurant in Osnabrück was awarded its third star.

Head-chef and owner of La Vie is Thomas Bühner. After having trained under some of Germany's greatest chefs, such as Jörg Müller in Sylt and Harald Wohlfahrt of the Schwarzwaldstube restaurant in Baiersbronn, Thomas Bühner became head-chef at the then two-star La Table restaurant in Dortmund in 1991. In April 2006 Thomas Bühner took-over the La Vie restaurant in Osnabrück. The restaurant held one Michelin star at the time but was awarded a second Michelin star in the 2007 guide.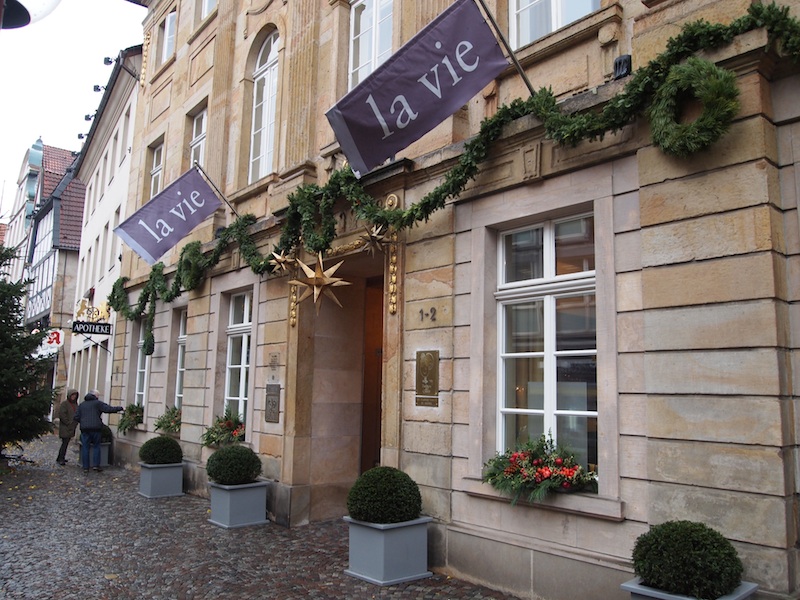 La Vie restaurant is located bang in the middle of the charming city centre of Osnabrück. The restaurant is open for dinner Tuesday to Saturday and for lunch Wednesday to Saturday. At lunch La Vie serves a 3 (€69), 4 (€79) or 5 (€89) course menu or a 7-course "Le Grand Chef" menu (€178). My husband and I had the 7-course Le Grand Chef menu.

We started off with six pre-starters. Beetroot gazpacho, lovely beetroot and distinct gazpacho flavours - Herzmuscheln (cockles) escabeche served with a tomato foam, nice and sharp - Olive tempura served with a bottarga jelly, well-balanced, lovely crisp tempura and a perfect touch of bottarga - Squid ink macaron filled with a trout mousse, fantastic depth of flavour - Cod tartare and avacado, lovely ripe avocado - Foie gras served with apple jelly, refreshing jelly with very elegant apple flavours. These six pre-starters all had a wonderful aftertaste and were high on flavour.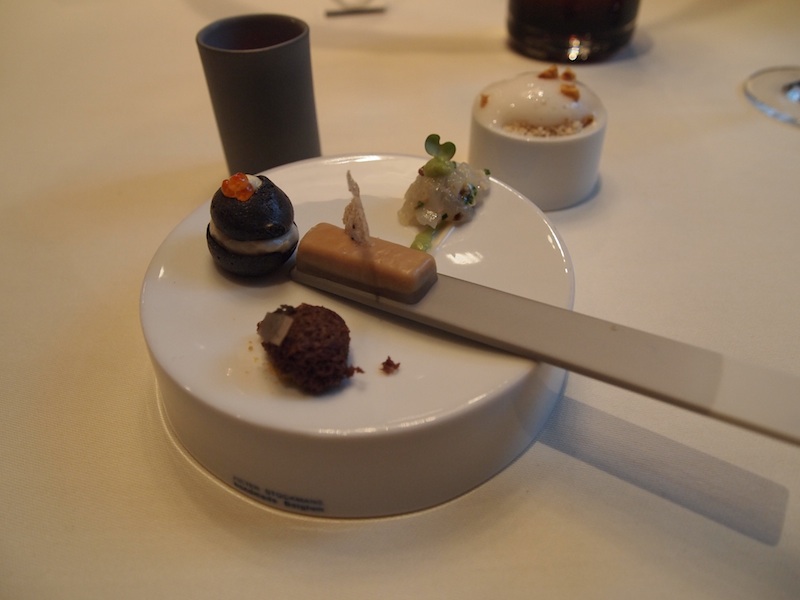 The last and seventh pre-starter was served seperately, Smoked watermelon and pine nuts. Beautifully smoked and thinly sliced watermelon, which had acquired an almost meat-like texture and had a wonderful sweetness. The watermelon was served with little dots of Parmesan sauce and toasted pine nuts. Eating the watermelon together with the Parmesan almost felt like eating a beef carpaccio, sublime.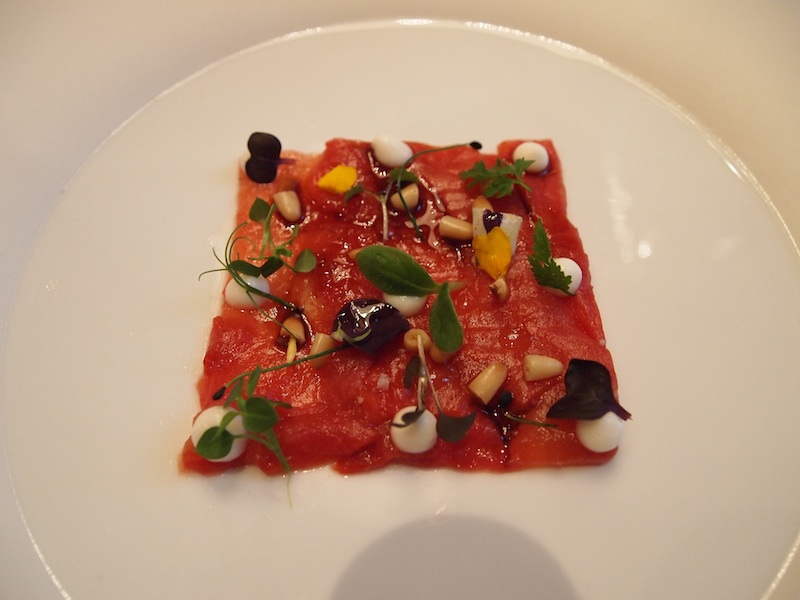 First course, 'Marinierter Hamachi" - Marinated Hamachi tuna, cauliflower, quinoa, pickled cucumber, avocado mousse, lemon. The tuna, lightly marinated in soy sauce, was served with three ways of cauliflower; thinly sliced and pickled, cauliflower snow and cauliflower puree. The pickled cucumber had the perfect sweet and sour balance and had lovely touch of spicyness. The cauliflower puree was pure, soft and creamy, divine. Wonderful avocado mousse and the quinoa, which was served with finely chopped pickled cucumber provided wonderful texture. Lovely lemon jelly too. And last but not least a perfectly made ball-shaped tangerine parfait wrapped in nori. Lovely and subtle tangerine flavours. This beautifully presented and playful dish was surprisingly very harmonious as all the individual ingredients interacted with eachother. Perfectly judged Japanese flavours too.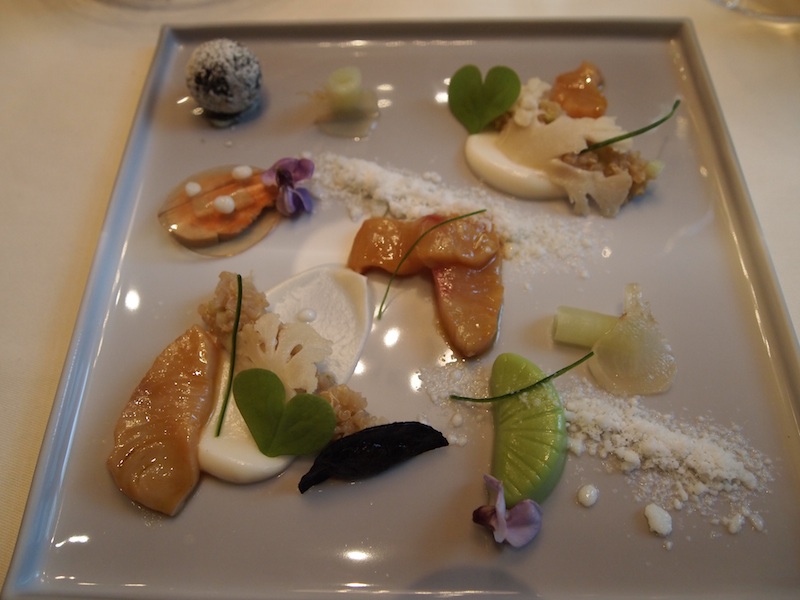 Second course, "Langoustine mit Rauch" - Langoustine, courgette, ricotta, Iberico pork fat, artichoke, tomato, baby onions, asparagus, kaffir lime leaf and bulgur. With this list of ingredients you can imagine this was a challenging plate of food. The langoustine was juicy and succulent and had the perfect touch of smokiness and went really well with the kaffir lime leaf cream. The vegetables were all perfectly cooked. Lovely sweetness and tartness from the tomatoes and delicious courgette stuffed with ricotta. Loved the bulgur which was lightly dressed with basil/pesto. Delicious fried pork fat cubes. An engaging dish. A journey of discovery and somehow each element had its place on the plate but to my mind the parade of ingredients didn't achieve the synthesis I would have hoped for.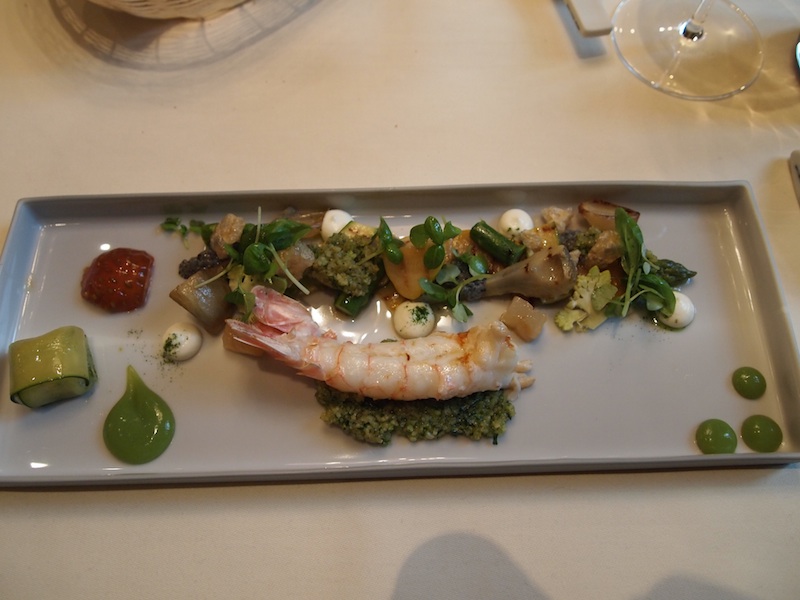 Third course, "Steinbutt & Pulpo" - Turbot with octopus, kohlrabi, pasta and hazelnut cream and hazelnut dust. Perfectly cooked incredibly moist turbot served with a delicious turbot crisp. The octopus was absolutely fantastic, soft, meaty and juicy. Terrific flavoursome kohlrabi. Amazing soft texture from the thin pasta. But then the hazelnut cream and dust. The cream had the most wonderful intense hazelnut flavour and the extreme depth of flavour of the hazelnut dust was unbelievable. Again a very successful interplay of flavours and textures, each ingredient whispering: "try me".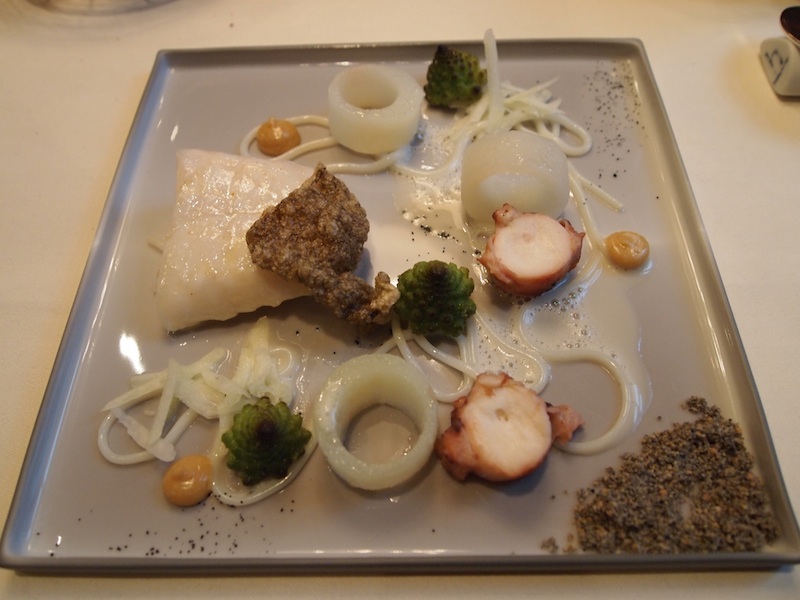 On to the fourth course, "Ravioli vom Périgord-Trüffel" - Truffle ravioli, chestnut puree and quince. Well-made ravioli filled with a heavenly truffle consommé. With this liquid filling the ravioli had to be eaten in one go and each one provided a wonderful mouth sensation.The chestnut puree was sweet, rich and silky smooth. Wonderful freshness and sharpness from the quince. Perfection.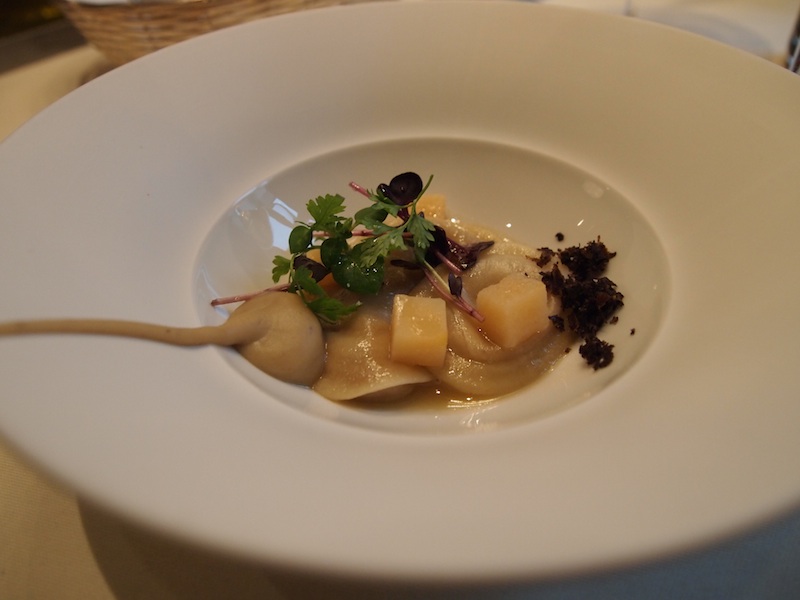 Before our main course we were served a lovely Pumpkin ice cream with potato foam.

Fifth and main course, "Pur Reh" - Roe deer, celeriac, hay, Armagnac prunes, Brussels sprouts and Szechuan pepper jus. Eerily perfect and amazingly tender fillet of roe deer served with a fantastic creamy and buttery celeriac puree and roasted celeriac and Brussels sprouts. The Szechuan pepper jus was well-reduced and wonderfully rich and sticky.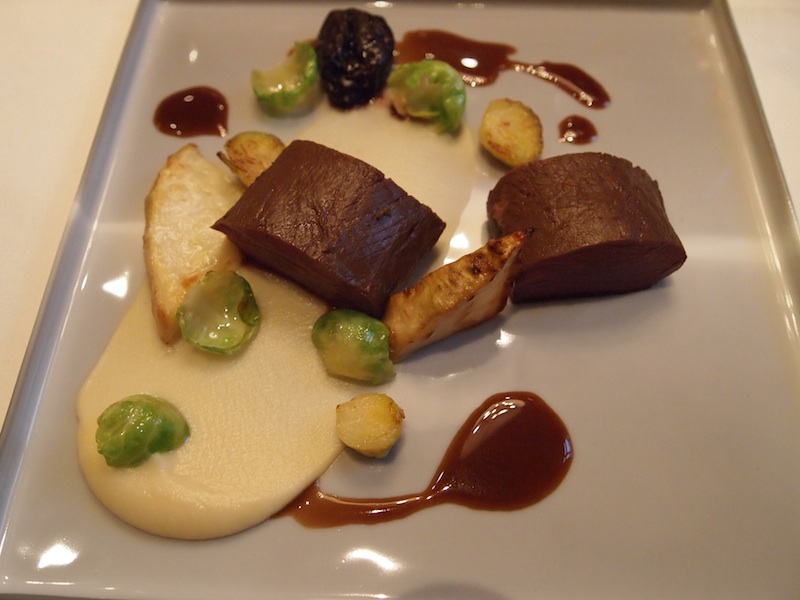 The sixth course and first dessert was "Sauerrahm geeisst" - Sour cream ice cream, Acacia honey, baby figs and Brebis de Pyrénées cheese. A wonderful savoury dessert (gone in seconds, forgot to take a photograph). Refreshing and creamy sour cream ice cream fantastically combined with the Brebis de Pyrénés cheese and baby figs. Lovely saltiness from the cheese and sweetness from the baby figs.

Before our last course we were served a Shizo sorbet with hisbiscus and lychee. Strong and powerful flavours with lovely floral notes.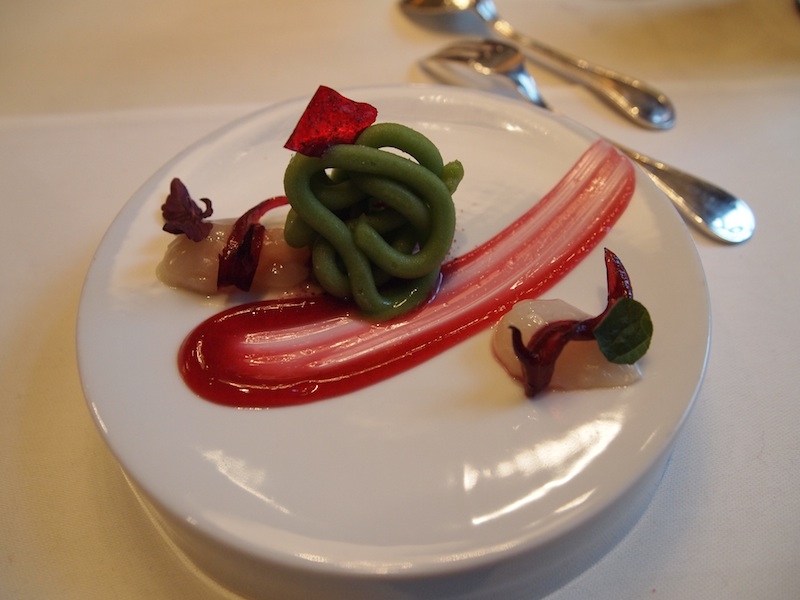 Seventh and last course, "Süsser Meteorit" - Goat's milk ice cream, passion fruit, yuzu crème and lemon meringue. Lovely well-made goat's milk ice cream. The yuzu crème was creamy and had the perfect touch of acidity. Underneath the beautifully made almost paper-thin "Meteorite" was a layer of delicious caramel-like crumble. Lovely sharpness from the passionfruit. Wonderful Intense lemon flavours in the small pieces of meringue.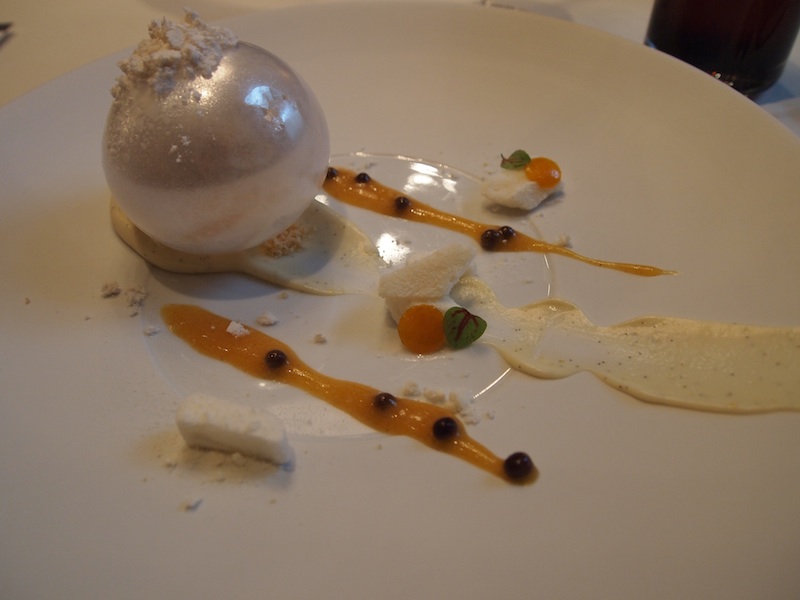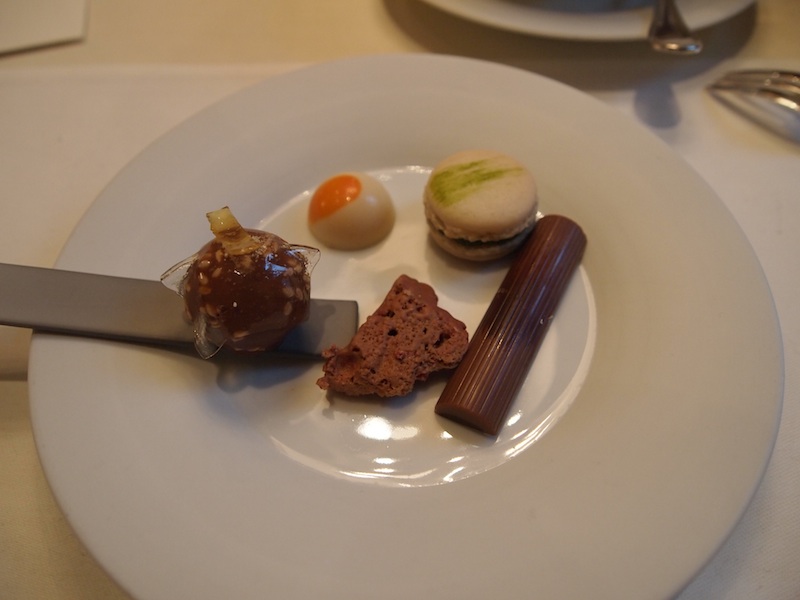 Home made petits fours and chocolates served with our coffees.
This 7-course Le Grand Chef menu was well constructed and it gave me an excellent first impression of Thomas Bühner's cooking. The dishes were all very high on flavour and Bühner's very intelligent and multilateral use of vegetables from his own kitchen garden characterises him as a modern chef. Bühner combines classical and modern techniques which results in carefully executed and well thought out dishes that show true craftmanship. The dishes I tasted often had many ingredients and flavours but were balanced out beautifully. Still, I sometimes wondered whether the complexity didn't also amount to a slight lack of focus. However, having visited seven out the nine three-starred restaurants in Germany I feel that Thomas Bühner confidently takes his place in the ranks of German three-star chefs.