Rating: 90.
Rating index:
Extraordinary (96-100)
Outstanding (93-95)
Very good to Excellent (89-92)
Above average to Good (86-88)
Below Average to Average (80-85)
Avoid (below 80)
More info >
No other city has more new restaurant openings than London, but the one that recently caught my eye was Alyn Williams' at the Westbury. Alyn Williams is a chef with an excellent pedigree. Before opening his own restaurant in November 2011, Alyn Williams was the head chef at Marcus Wareing at The Berkeley and before that at Petrus (both two Michelin stars). Prior to his stint with Marcus Wareing, Alyn Williams worked at Gordon Ramsay's restaurants Gordon Ramsay at Clardige's and Royal Hospital Road and at the famous London Groucho Club. So Alyn Williams (born 1968) is not exactly a new kid on the block.
Alyn Williams at the Westbury is open for lunch and dinner Monday till Saturday (no lunch on Saturday). I had dinner there on Thursday 5 April 2012. The restaurants offers several tasting menus including a vegetarian one and a choice from the a la carte menu. Prices range from £24 for a 3-course lunch menu to £55 for a 7-course tasting menu. I had difficulty deciding what to order so the restaurant offered to cook a tasting menu including the one dish of the a la carte menu which I just had to have (see second course).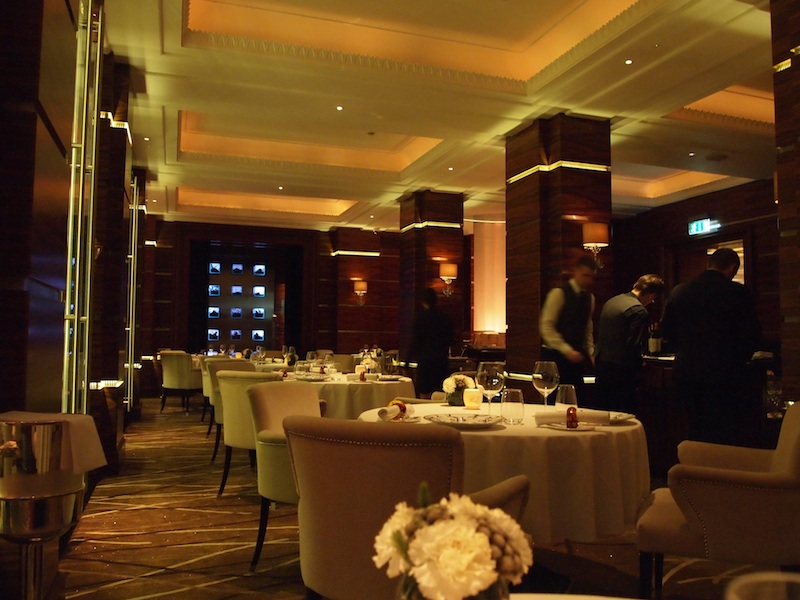 First the amuses bouches, four in total. They were: (1) Fourme d'Ambert gougères; (2) Deep-fried truffled risotto rice balls (no photo), lovely hint of truffle and a perfect golden, crispy coating; (3) Prawn cracker with tom yum mayonnaise, elegant Thai flavours and a hint of chilli and finally (4) Salmon tempura.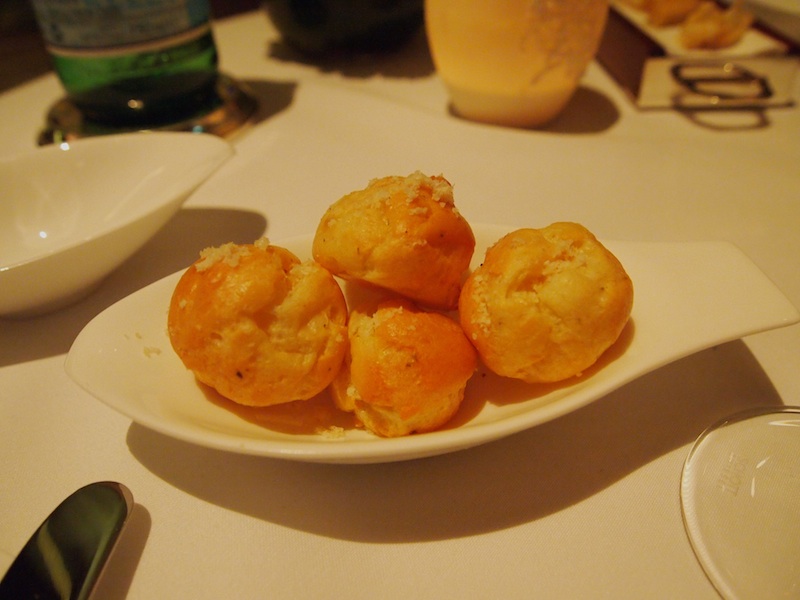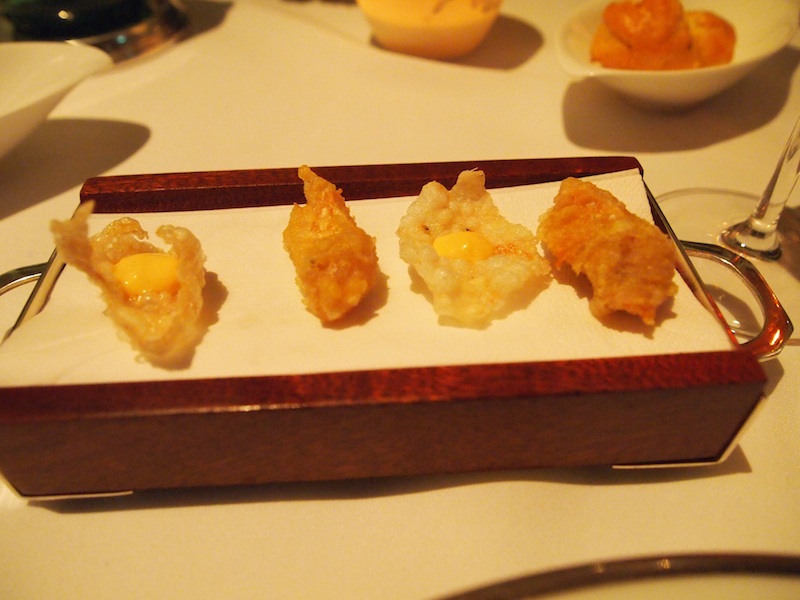 The first course of the tasting menu was French onion consommé, onion jelly, white and brown crab meat and beef cheek served with potato wafers which had a cream cheese and Gruyere filling. Elegant and pure white crab meat and lovely intense brown crab meat. The beef cheek was lovely and the crab and beef really complemented each other, the crab intensified the beef flavours and the other way round. Well-judged and concentrated but subtle onion flavours. The potato wafers were delicious and a nice accompaniment to this dish.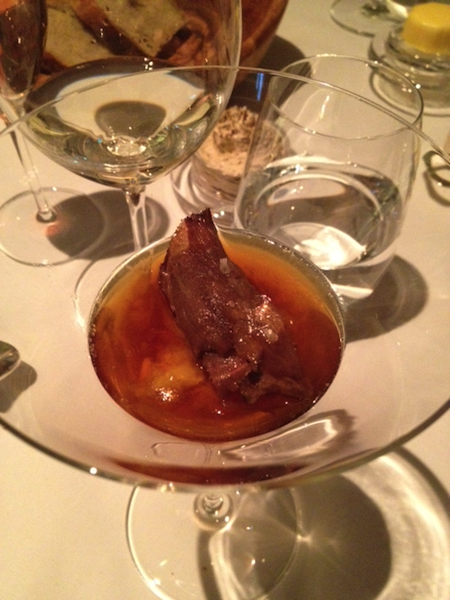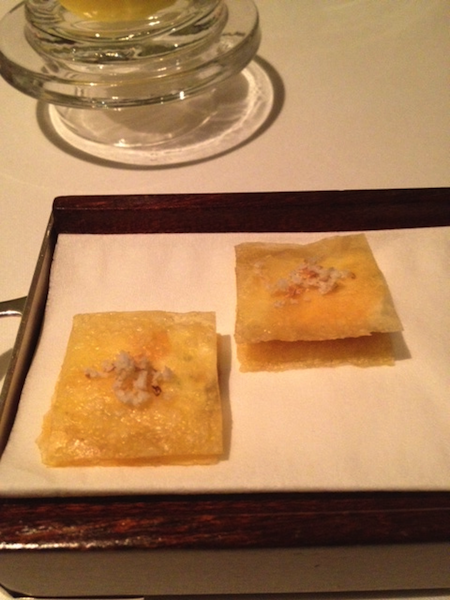 Second course, smoked egg with celeriac and black truffle soldiers. The egg had a wonderful consistency (soft but not too runny, just the way I like it) and a lovely hint of smokiness coming through. At the base of the egg there was some celeriac which provided texture. The truffle soldier was delicious but I would have preferred it crispier. A scrumptious dish that had a lovely richness to it and I'm not surprised that this dish is quickly turning into one of Alyn Williams' signature dishes.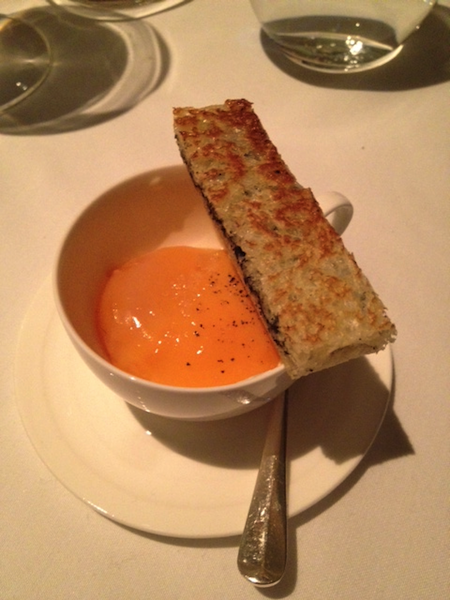 Third course. Seared langoustine, tapioca with saffron, Parmesan, lardo and fresh walnut. Lovely and creamy tapioca, nice warmth from the saffron and the Parmesan gave the tapioca a nice rich finish. On top of the tapioca was an excellent juicy langoustine with some smoked lardo. The lardo was quite a challenge for the delicate langoustine but worked well when combined with the other ingredients.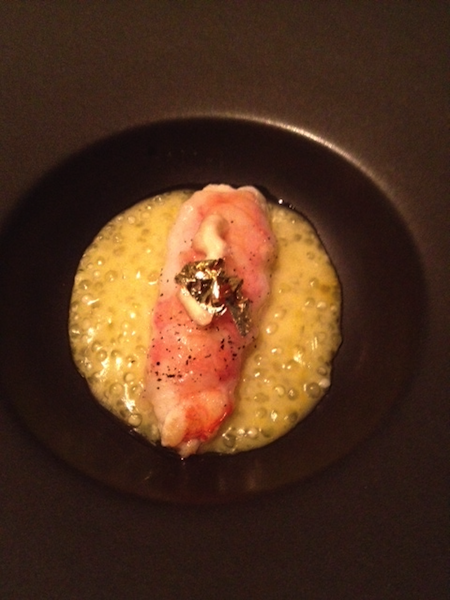 The fourth course was Sand carrot, liquorice and foie gras. Cylinders of foie gras semi-fredo served with a fantastic concentrated carrot purée and a delicately flavoured liquorice snow. A lovely foie gras dish with well-balanced flavours.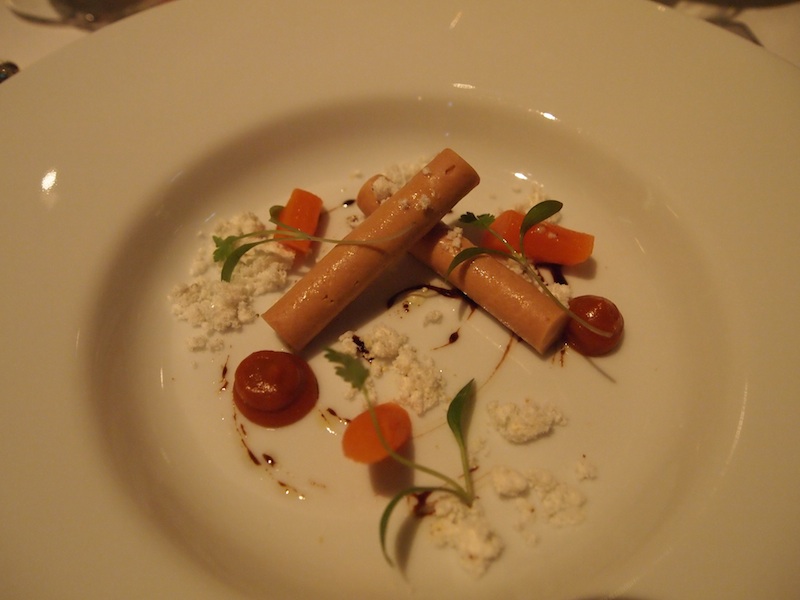 On the the fifth course, Quail, quail croquette, chick pea purée, purple sprouting broccoli and a lovage fritter. Perfectly cooked succulent quail and a very flavoursome quail croquette. Excellent choice of vegetables, lovely smooth chickpea purée. The flavour of the lovage fritter had wonderful length and this brought an extra dimension to the dish.
Sixth course (two dishes). First up was Sole with a crayfish filling, crayfish consommé, pea puree. Excellent piece of sole with a crayfish filling and an absolutely fantastic crayfish concommé with a wonderful depth of flavour. The silky smooth pea puree was a perfect match.
This was followed by Aioli with crayfish and fresh peas. Gorgeous and elegant aioli without even a hint of harshness from the garlic. Fantastic crayfish tails and delicious fresh peas that brought texture and freshness to the dish. Two wonderful dishes and great to see the crayfish as a main ingredient.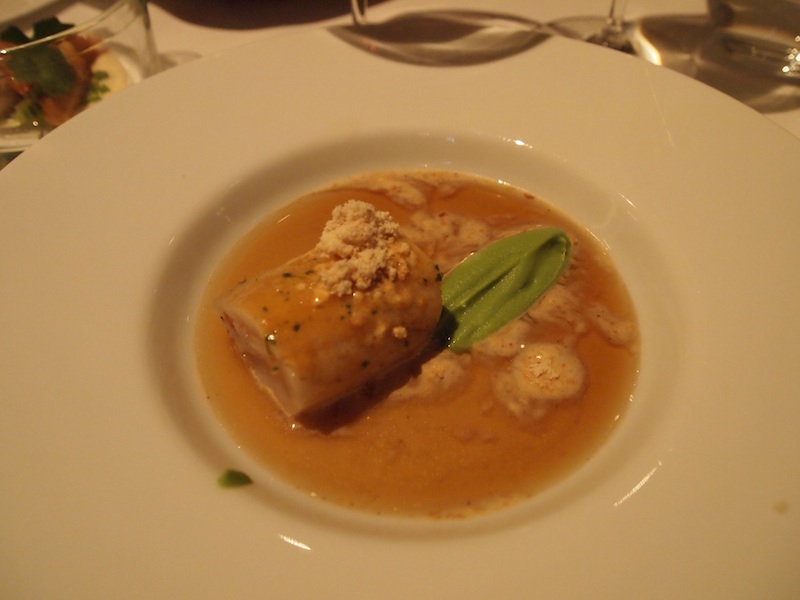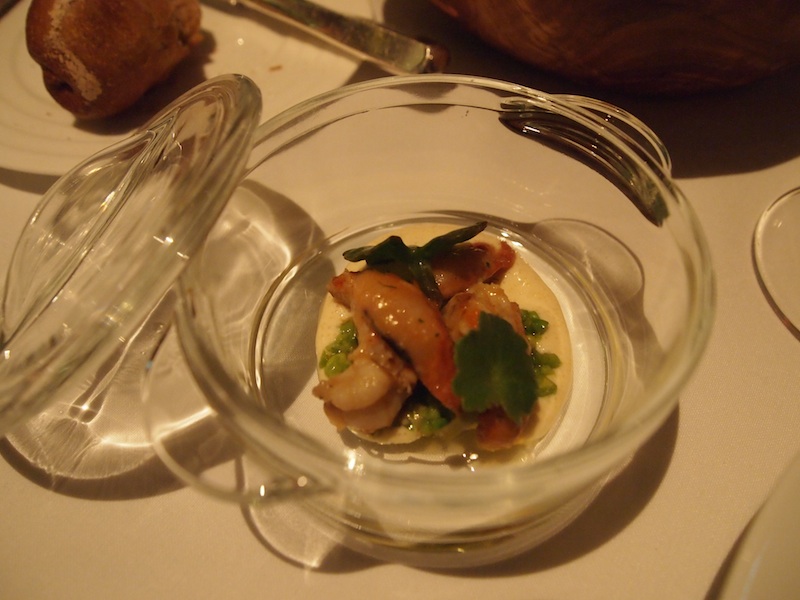 Seventh course. Beef, potatoes, grated turnip and shallot, croutons, oxtail, turnip leaves. An amazing and beautifully cooked piece of Devon Red Beef sirloin. Lovely rich beef dripping potatoes. Great flavour and texture from the delicious beef croutons. An original and creative dish with rich multi-layered beef flavours all balanced perfectly by the grated turnip and the lovely sharp shallot mixture. Lovely bitters from the turnip leaves. The shallots and turnips made this rich dish very digestible.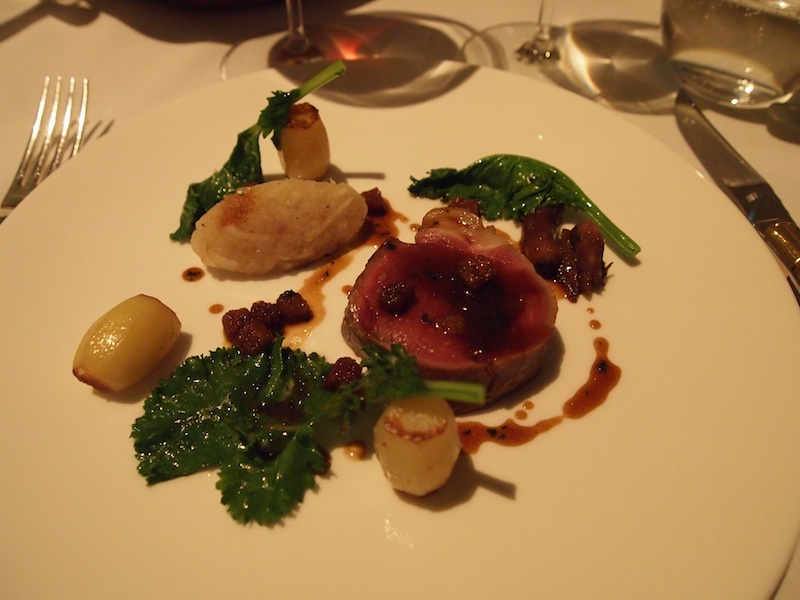 Eighth course and dessert, Frozen lemon posset filled with a chocolate and caramel sauce. The refreshing frozen lemon posset had a lovely biscuit base and went really well with the wonderful chocolate and caramel sauce. The perfect ending of this meal.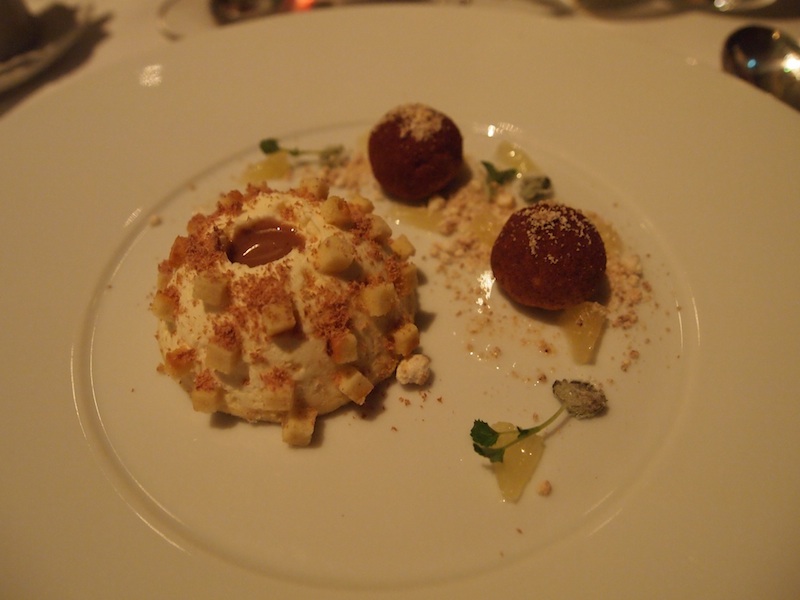 Alyn Williams at the Westbury has been open for just five months now and has already confidently taken its place in the London restaurant scene. No wonder perhaps, because Alyn Williams is a very experienced and skilled chef who has played the second violin in some of London's greatest kitchens. However, this is the first time that his name is on the door and that the responsibility for what is put on the plate is entirely his. Alyn Williams delivers creative and original dishes that are carefully executed. I got to taste a large selection of dishes, some of which were balanced and multi-dimensional, whereas others still seem to be under construction. More importantly, all dishes showed individuality and were concise and focused. Front of house did a great job under the aegis of Giancarlo Princigalli (formerly of Marcus Wareing's); service was efficient and relaxed.
I know that complaining that restaurants are too cheap is not a popular pastime among food bloggers, but I fear that in this case I feel obliged to make some remarks in that direction. Seven courses for £55 at this level begs the question whether Alyn Williams is not selling himself too cheaply. On the other hand, if you can get this quality of food at prices which are not dissimilar from those at your average Soho 'tapas-style/for sharing' restaurant, that is all the more reason to dignify this wonderful restaurant with a visit forthwith.