Rating: 96.
Rating index:
Extraordinary (96-100)
Outstanding (93-95)
Very good to Excellent (89-92)
Above average to Good (86-88)
Below Average to Average (80-85)
Avoid (below 80)
More info >
The Bocuses had been chefs in Collonges-au-Mont-d'Or since 1765 when Georges Bocuse sent his son Paul to be apprenticed at Claude Maret's Restaurant de la Soierie in Lyon in 1942. After the war, Paul continued his training at La Mère Brazier (*** at the time since 1933), La Pyramide and Lucas Carton. In 1959 he took the reigns at the family's restaurant, then named l'Auberge du Pont de Collonge, as Paul Bocuse's grandfather had sold the rights to the Bocuse name in 1921. In 1965, the year in which the restaurant got its third star, Bocuse bought back the rights to the family name and re-named the restaurant: Paul Bocuse.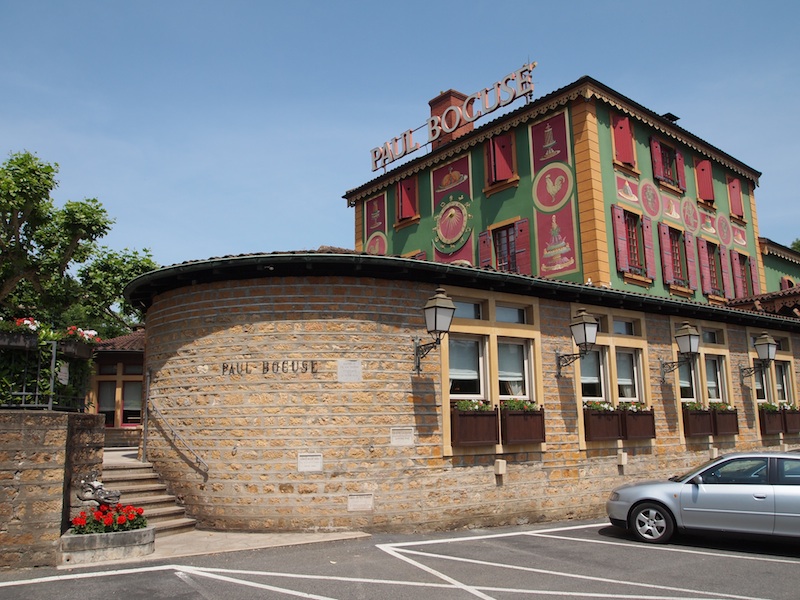 Paul Bocuse must be the most highly decorated chef in the world. I will not bore you with a full list of the titles and awards this Chevalier de la Légion d'Honneur has won during his career, but I will mention that in 1961 Paul Bocuse became 'Meilleur Ouvrier de France' in the 'Métier de Boucher' category (Best Craftsman of France, MOF for short). Those of you who have seen the 2010 'Kings of Pastry' documentary by Chris Hegedus and DA Pennebaker, will be aware that this is not a title easily obtained. Chefs who are MOF wear a blue, red and white collar on their chef's jacket as a symbol of this distinction. 1961 was also the year Paul Bocuse won his first Michelin star; the second star followed the year after.
The Bocuse name has since become a global brand, especially since the launch of the 'Bocuse d'Or' cooking competition in 1987, by now probably the most prestigious cooking competition in the world. But it's not just the competition that has made Bocuse world famous. Paul Bocuse has never been shy to leverage the Bocuse name. As far back as 1979, when the expression 'celebrity chef' hadn't even been invented yet, Bocuse launched his own range of Bocuse products and even today every single piece of china or cutlery in his restaurant carries the Bocuse name.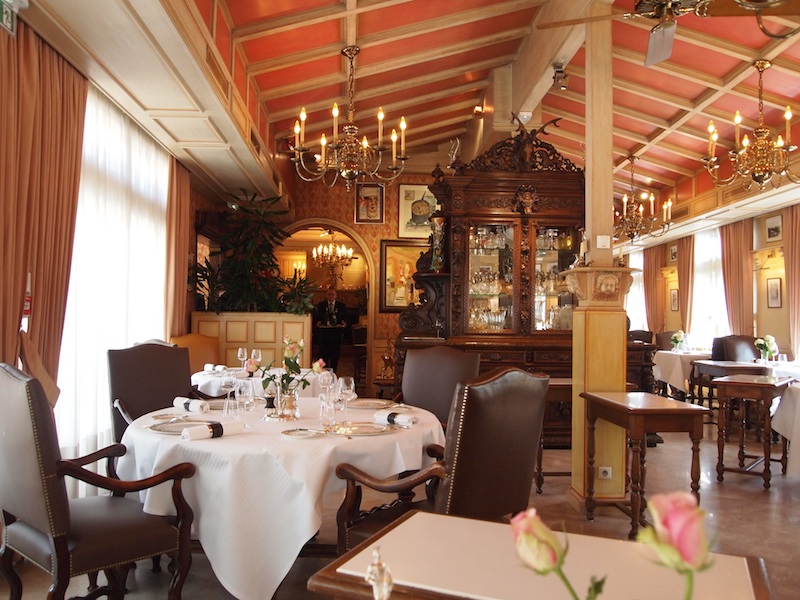 Getting a table at Paul Bocuse is relatively easy as the restaurant has many covers and is open for lunch and dinner 365 days a year. The restaurant offers three tasting menus, Menu Grande Tradition Classique (7 courses for €230), the Menu Bourgeois (6 courses for €185) and the Menu Classique (4 courses for €145) and there's the a la carte menu. I had lunch at Paul Bocuse with my husband on 31 May 2012 and we both had the Menu Grande Tradition Classique.
Whilst studying the menus over a glass of Billecart-Salmon Brut Rosé we were served two delicious and substantial Gougères.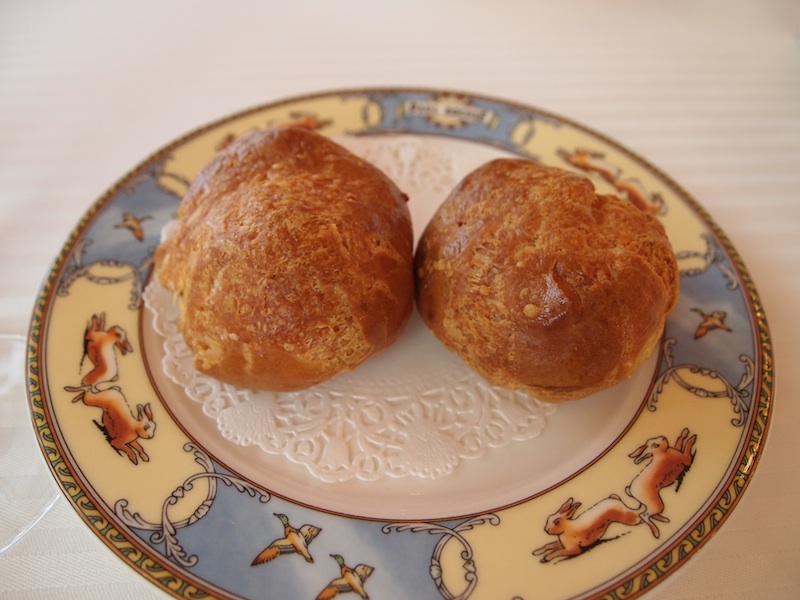 Next up were three amuses bouches served on one plate: Mushrooms à la Grecque, lovely marinated meaty mushrooms with a nice touch of acidity - Smoked salmon with a dill and cream cheese filling and a lovely lemon dressing - Marinated mackerel with a white wine jelly, nice firm mackerel with lovely sharpness from the jelly.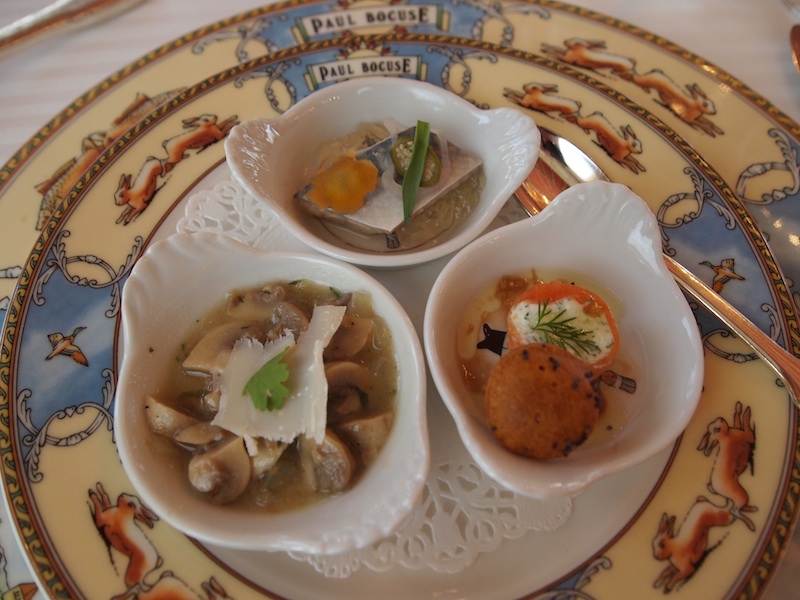 The first course of the tasting menu was Pan-fried foie gras de canard, polenta, pommes gaufrette and a verjus sauce. Beautifully cooked foie gras, perfectly caramellised outside and lovely soft inside served on top of some baked polenta which perfectly balanced the richness of the foie gras. The verjus sauce was wonderfully sweet with a hint of spice and some nice acidity in the aftertaste. Lovely soft fruit too, including apples and white grapes.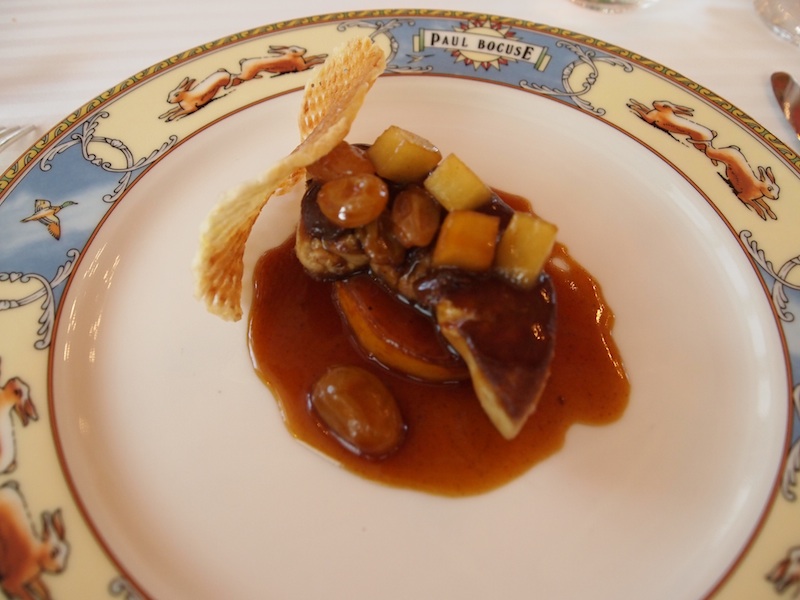 Second course was Black truffle soup V.G.E., a soup created for the French president Valéry Giscard d'Estaing in 1975 when Bocuse was appointed 'Chevalier de la Legion d'Honneur'. Perfectly clear beef stock with wonderful pure beef flavours. The stock contained cubes of carrot, celery, beef, foie gras and a generous amount of thinly sliced black truffle. All this gorgeousness was served underneath a perfect buttery puff pastry hat. A delicious soup that combined richness and elegance beautifully.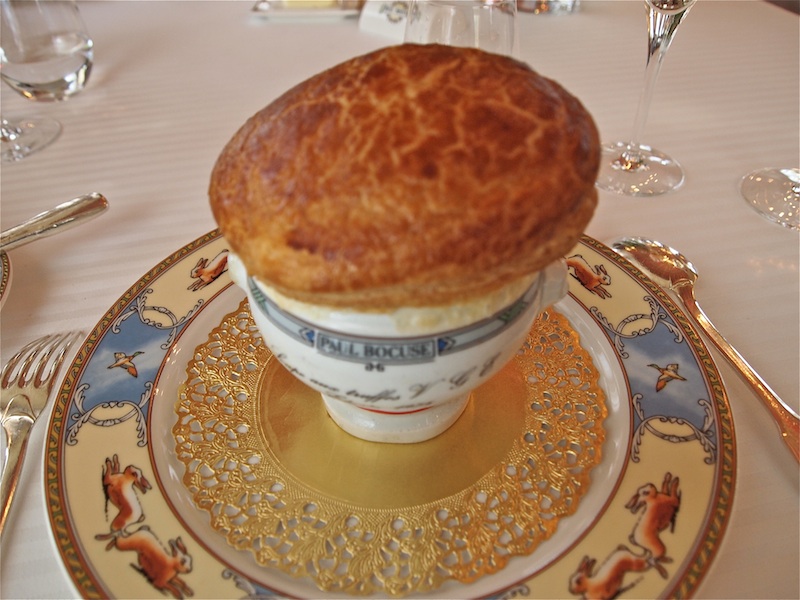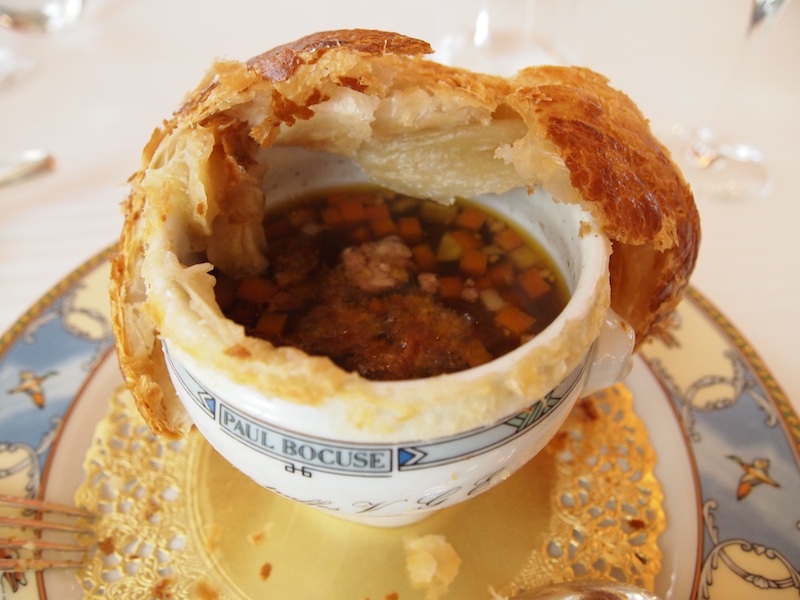 Third course, Filet of sole with noodles à la Fernand Point. An absolutely superb fillet of sole, firm and succulent, served with a cream and butter sauce and then grilled under a Salamander giving the dish a fantastic caramelised finish. The sole was served on top of the noodles (tagliatelle), with some chopped mushrooms and a few pieces of chopped tomato. A simple but flawless dish eaten under the watchful eye of Fernand Point himself; a photograph of none other than Fernand Point was hanging on the wall above our table.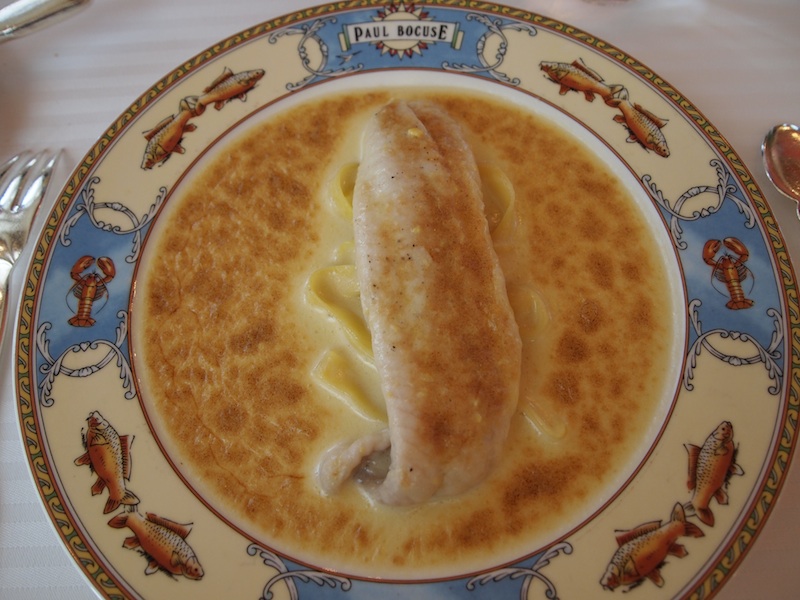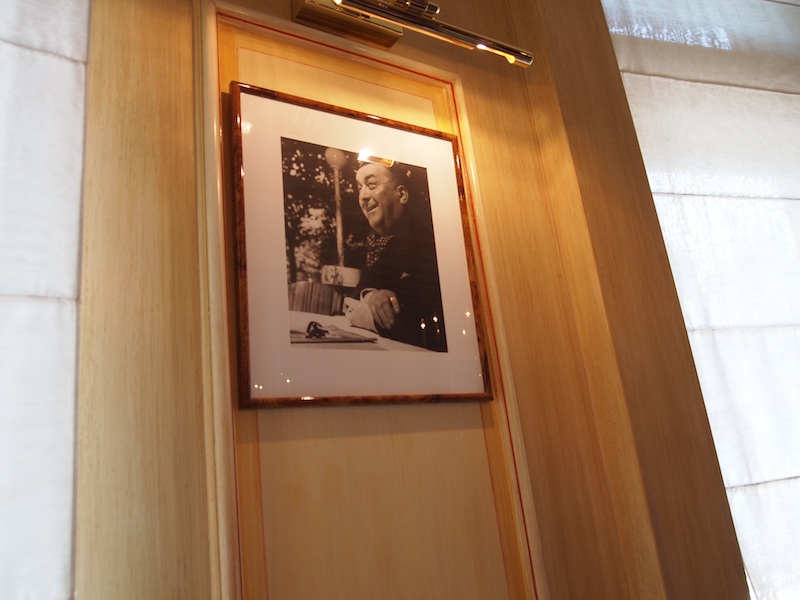 Fernand Point
The fourth course was Beaujolais winemaker's sherbet, a Cassis and Beaujolais granita. A lovely and refreshing granita with a nice smooth texture.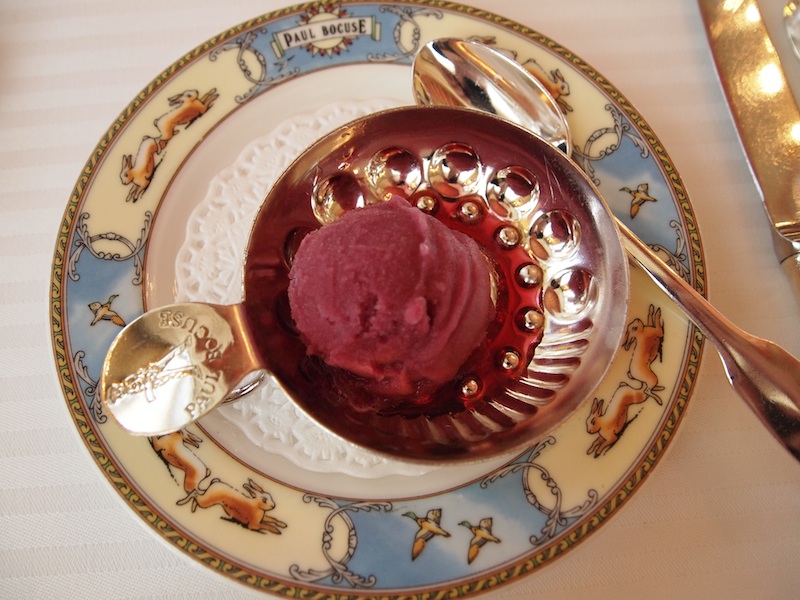 On to the fifth course: Truffled Bresse chicken cooked in a bladder ("Volaille de Bresse truffée en vessie"). The chicken is presented at the table in the bladder and then the bladder is removed, unveiling a fabulous truffle-stuffed chicken which is then carved tableside and served in two courses. First the breast, a gloriously moist chicken breast (most perfect cuisson ever) served with a creamy buttery sauce, buttered rice, green beans, turned carrots, baby potatoes, peas, baby onion, mangetout and last but not least some incredibly juicy morel mushrooms. The second course consists of the truffled legs, served with a mixed salad - nothing more, nothing less - just perfect.
A sensational chicken course, both for its flavour, its tradition and for the surgical precision with which this chicken was carved by François Pipala (mâitre d'hôtel and Meilleur Ouvrier de France since 1993).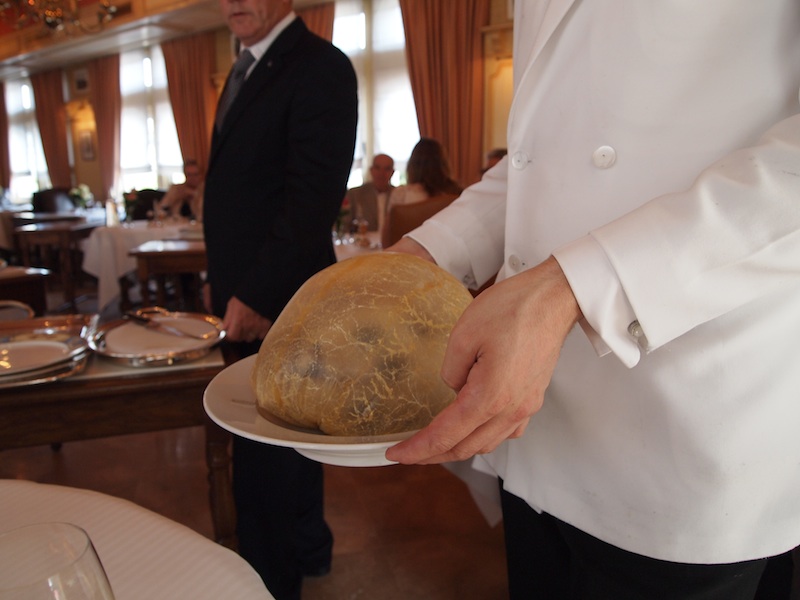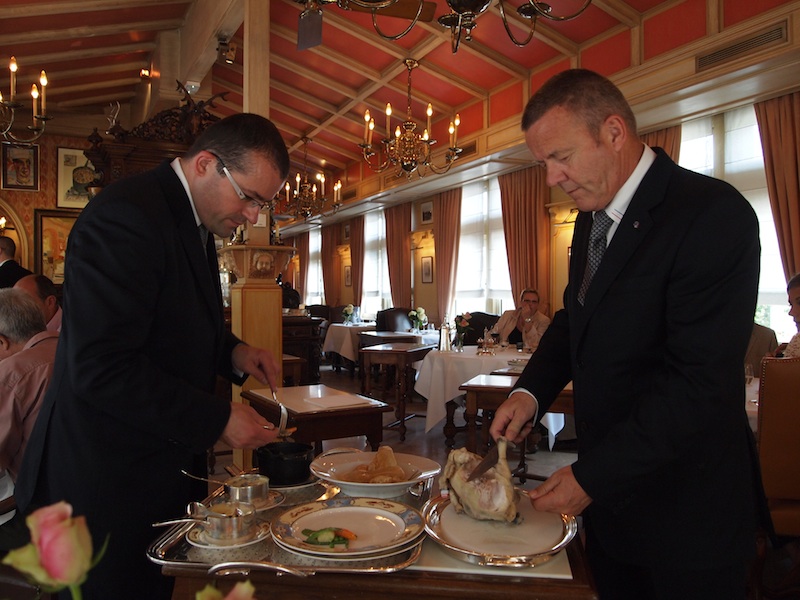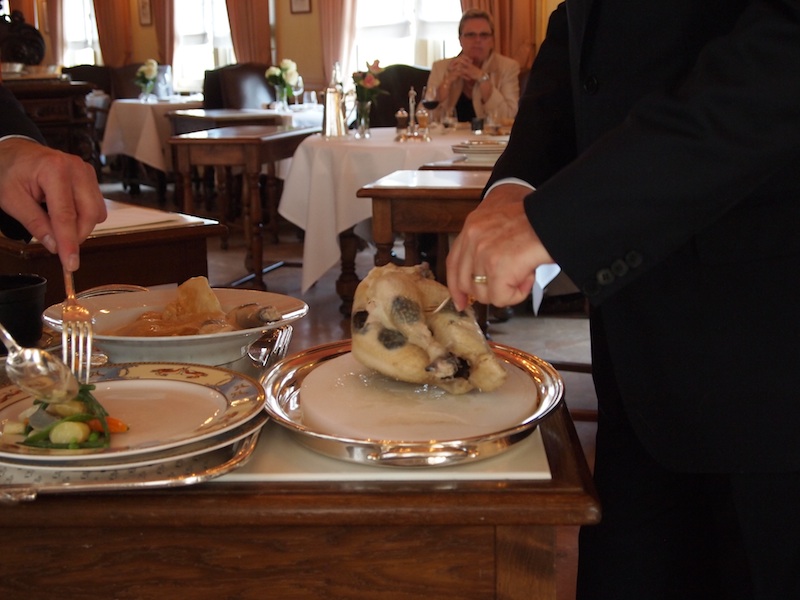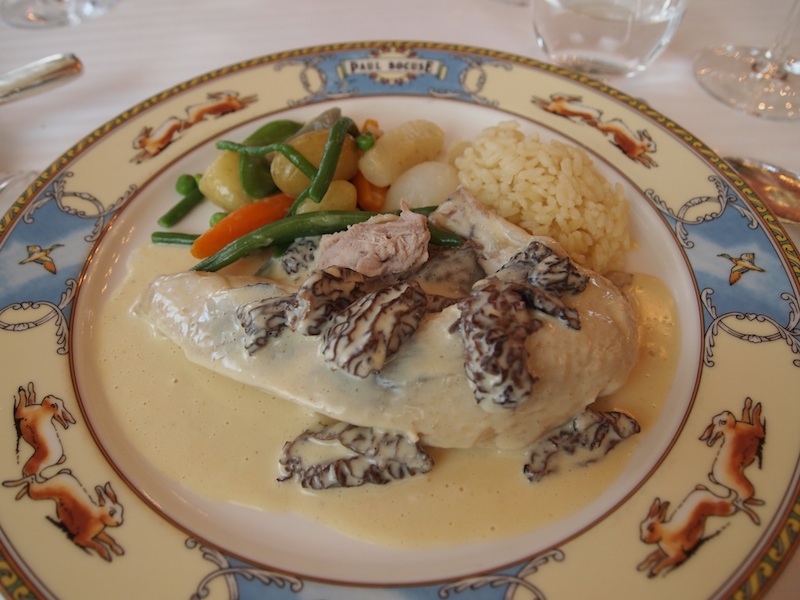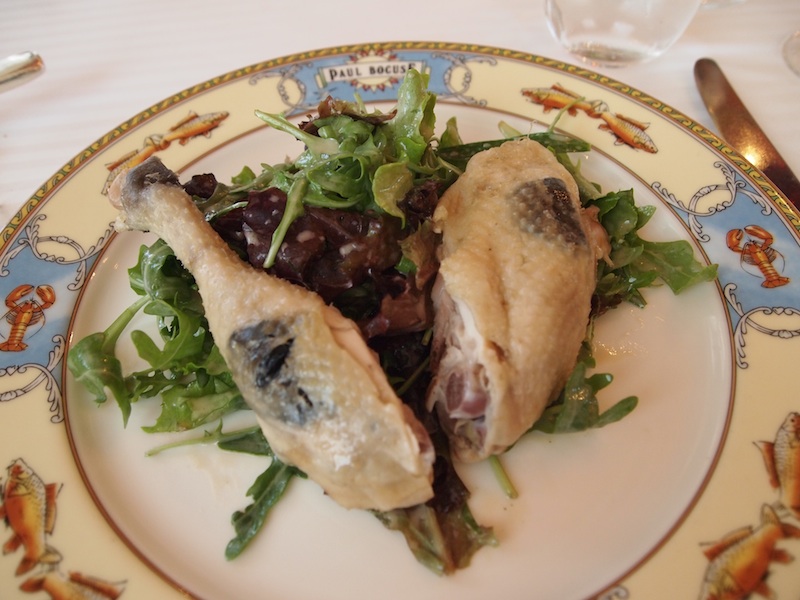 Sixth course, the cheese. The restaurant has a large selection of perfectly matured cheeses of which they serve generous portions.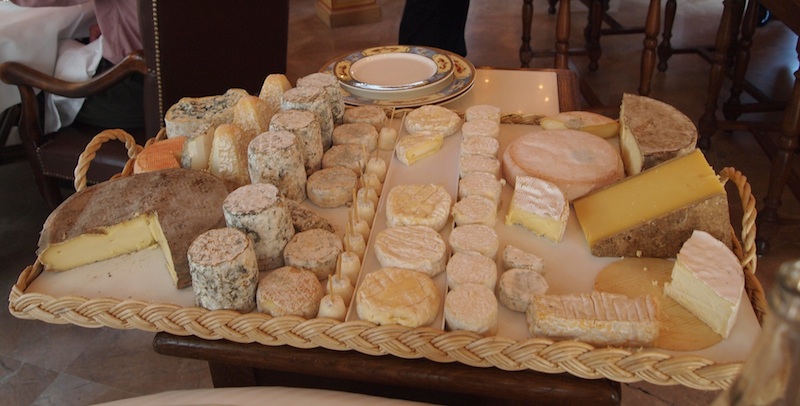 The same generosity is applied to the seventh course: Dessert. Dessert at Paul Bocuse is a special affair. On the English menu the restaurant describes dessert as Delicacies and temptations & Fantasies and chocolates. An extensive selection of desserts is presented at the table for you to choose from. How wonderfully indulgent and how fabulously old-fashioned. Just to mention a few: seasonal fruit tarts, crème brulée, ice creams and sorbets, cakes, fresh fruits, chocolates, rhum baba - you can choose as much or as little as you like. I had some fresh red fruits, a fruit tart and vanilla and raspberry ice cream.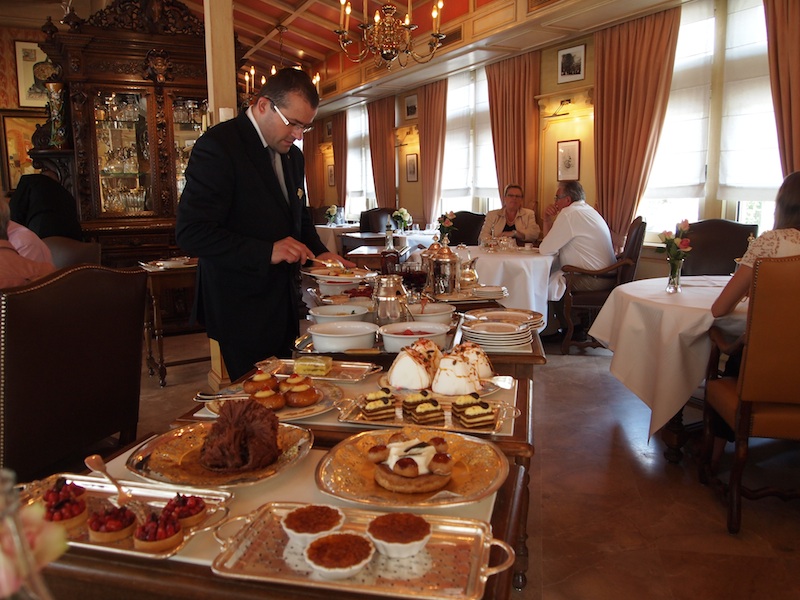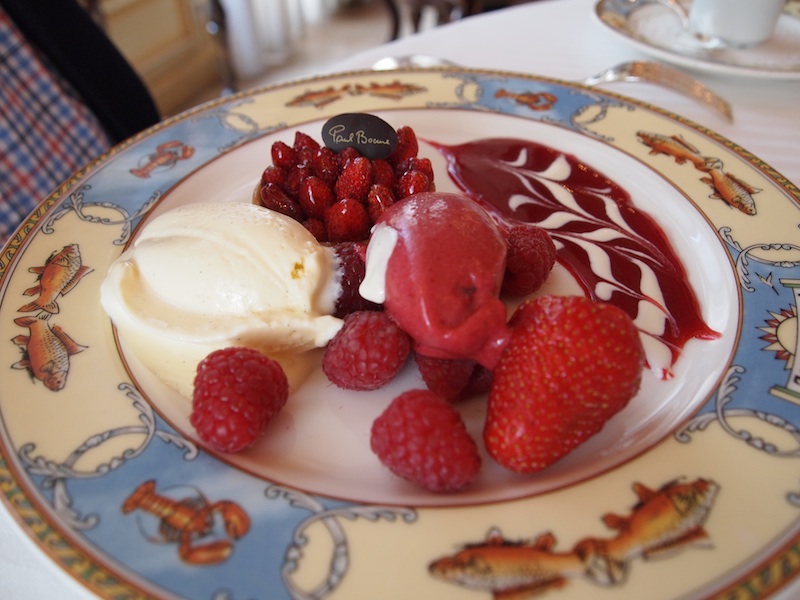 The dishes served at Paul Bocuse have mainly been on the menu for decades and exemplify La Grande Cuisine; first-rate, meticulously prepared and robust dishes, which in fact also are the pinnacle of the seemingly modern maxim of 'letting the ingredients speak for themselves'. Restaurant Paul Bocuse offers deliciousness prepared and served by an incredibly skilled and experienced team of chefs and front of house. At the moment no fewer than four people are MOFs, among whom executive chef Christophe Muller (MOF since 2000) and Maître d'Hôtel François Pipala (MOF since 1993). Their skill and expertise is second to none. In a way this is food from a different era, from before the time when chefs became celebrities and expressionist painters whose aim it is to put their personalities and souls on their plates; from before the time when some tried to turn haute cuisine into a competition about who could put the most complicated dishes with the most outlandish ingredients (dead or alive) in front of their guests. This is not a place for gastronauts who are thrillseekers rather than diners.
Before my visit I had heard many stories about Bocuse being very, very traditional (which it is) by people telling me that it is not good enough to be a three Michelin starred restaurant (which is utter drivel). Imagine my surprise that it was at this restaurant that I have had two (the foie gras and the chicken) of the most memorable dishes of my life. The sole wasn't far off either. Delivering this level of culinary perfection with just a few ingredients on the plate, combined with immaculate service, places Paul Bocuse indisputably among the best restaurants in the world. In fact this traditional meal has given me a fresh look at gastronomy as a whole.