Rating: 89.
Rating index:
Extraordinary (96-100)
Outstanding (93-95)
Very good to Excellent (89-92)
Above average to Good (86-88)
Below Average to Average (80-85)
Avoid (below 80)
More info >
Alain Ducasse is a living legend. He is the only chef ever to have had three Michelin stars at three different restaurants in three different cities - at the same time. He achieved this unique accolade for the first time in 2005 when the then Alain Ducasse at the (Jumeirah) Essex House in New York was awarded three stars in the first Michelin guide for New York. After this restaurant had closed in 2007, he repeated this feat in 2010 when Alain Ducasse at the Dorchester in London obtained its third star. His other two three-star restaurants obviously are the iconic restaurant Louis XV at the Hôtel de Paris in Monaco and the almost equally famous Alain Ducasse at the Plaza Athenée in Paris.
The centre of the Ducasse universe no doubt remains the Restaurant Louis XV at the Hôtel de Paris Monaco, the place where he took charge in 1987 and was awarded three stars in 1990, only 33 months later. At the time it was the first hotel restaurant ever to achieve this distinction. Ducasse was 33 years old at the time. In 1996 Alain Ducasse took over Joël Robuchon's restaurant in Paris at the Parc hotel in the avenue Raymond Poincaré in the 16th arrondissement and retained its three stars. He moved his restaurant to the more prestigious Plaza Athenée hotel in the more prestigious avenue Montaigne in the more prestigious 8th arrondissement in 2000.
There is no doubt that Ducasse is a great chef and his training credentials are impeccable; he trained with Michel Guérard, Alain Chapel and Roger Vergé, three grand masters of French haute cuisine. Nowadays Alain Ducasse is also (and perhaps foremost) a global brand. According to the company website, the Alain Ducasse group owns 27 restaurants and brasseries in 8 countries. Later this year yet another one will be added to the collection; they are about to open a restaurant in the museum of Islamic art in Doha in Qatar. The chef has become a CEO.
Christophe Saintagne has been the head chef at Alain Ducasse at the Plaza Athenée since 2010. Saintagne has been with Ducasse for years (although he enjoyed a stint at Le Crillon from 2005 until 2008 under Jean-François Piège) and he is also the co-author of books in the Alain Ducasse Nature series. He is said to aim for a relatively simple style of cooking, which is especially challenging at a three-star level. It is easier to add than to subtract.
Ducasse is open for lunch Tuesday to Friday and for dinner Monday to Friday. You can choose between the a la carte menu and a 4-course Summer Collection menu for €380. A 3-course a la carte lunch or dinner will probably cost you around €300 (excluding drinks). I had dinner at Ducasse with my husband on Monday 28 May 2012 and we both opted for the 4-course Summer Collection menu.
We were served two amuses bouches. First: Smoked swordfish and French bacon on toast, lovely crisp toast, one with lightly smoked swordfish which had a hint of lemon zest and one very thinly sliced bacon.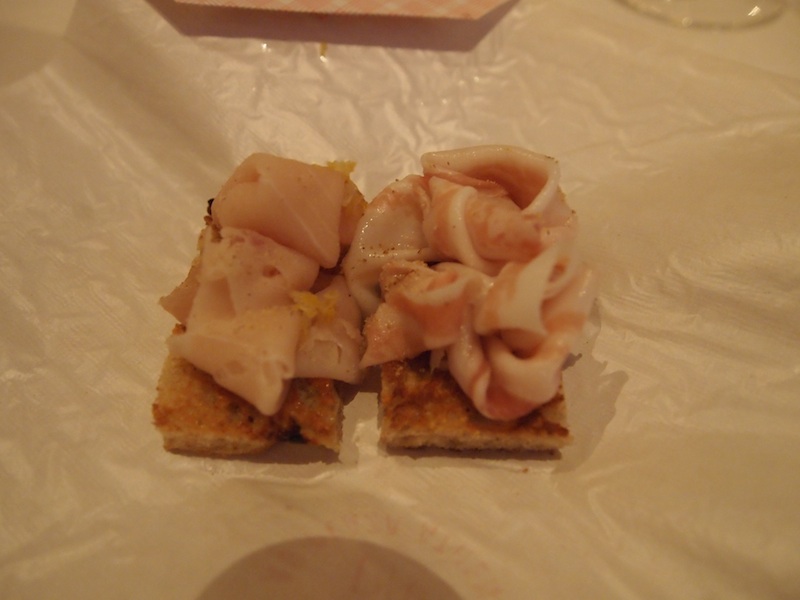 Next up was a Ducasse classic, Frog's legs beignets with a sorrel dipping sauce. Nice and tasty frog's legs and an absolutely wonderful dipping sauce, the essence of sorrel and a beautiful harmony of creamy and sour notes.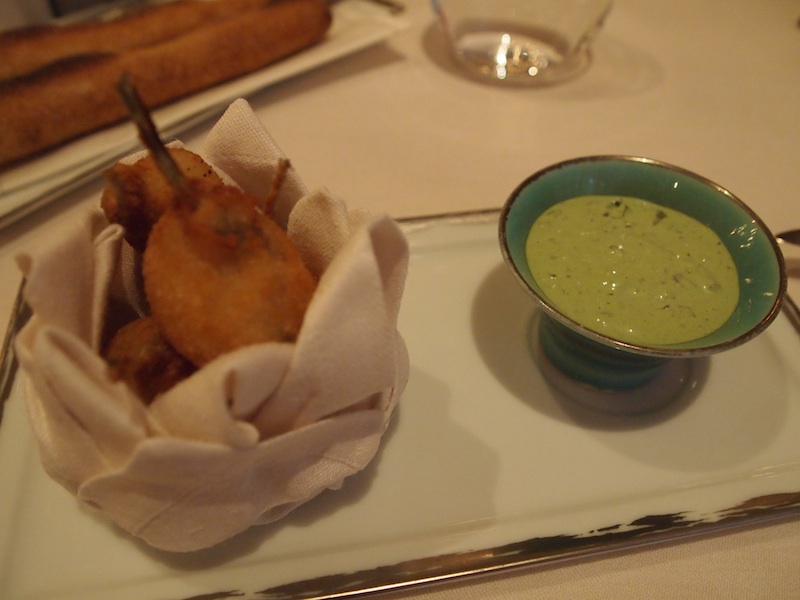 First course, one of Ducasse's signature dishes, Steamed langoustines with caviar. Cold medallions of langoustine topped with a generous dollop of caviar and served with a buttery lemon cream sauce. With the langoustines came a glass of langoustine, ginger and lemongrass consommé. A delicious consommé but the combination with the langoustines was lost on me and I didn't like that the langoustines were served cold - stone cold to be precise. At room temperature they would have been so much nicer. Being a greedy person I am not a fan of half portions in general, but as a full portion of this dish sets you back a staggering €195, my wallet was deeply grateful that I managed to restrain myself for once.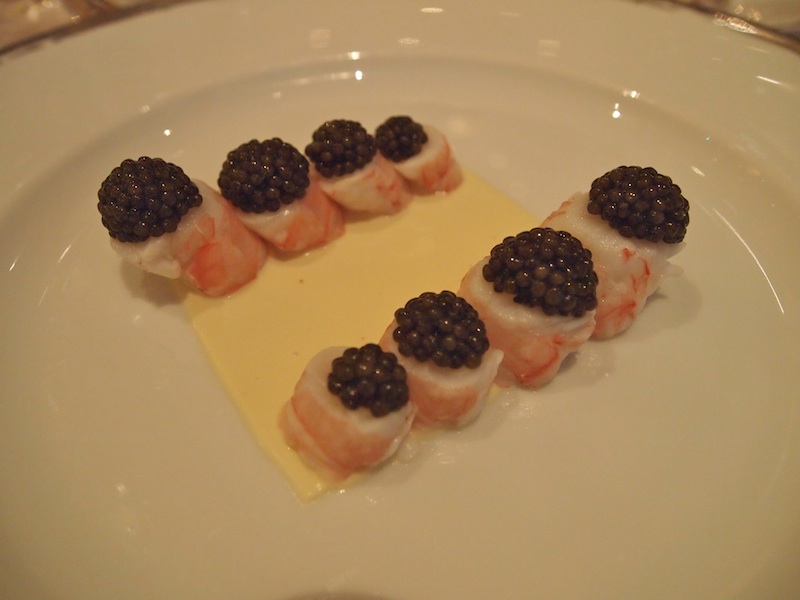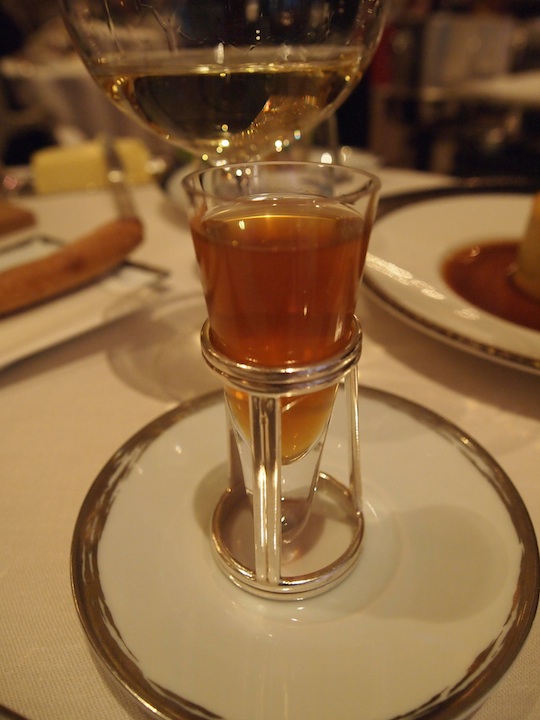 Literally within seconds after my husband and I had finished our first courses, the second course was served. Since I had had quite a light starter this wasn't necessarily a problem for me but my husband had just worked his way through an entire guinea fowl pie. We were too flabbergasted and taken aback to actually send the dishes back in order to get some respite, but clearly this was a major faux pas and completely unacceptable. We did manage to voice our displeasure. Anyway, second course was Crayfish bisque, fresh crayfish, crayfish egg white, baby mushrooms. A lovely rich and buttery crayfish bisque and beautifully cooked crayfish tails and claws. The crayfish egg white was very nice and had very elegant crayfish flavours but it was far too big in the context of the dish. With the crayfish bisque came three crisp toasts with green asparagus and goat's cheese, nice but nothing special and the toasts didn't do anything for the bisque.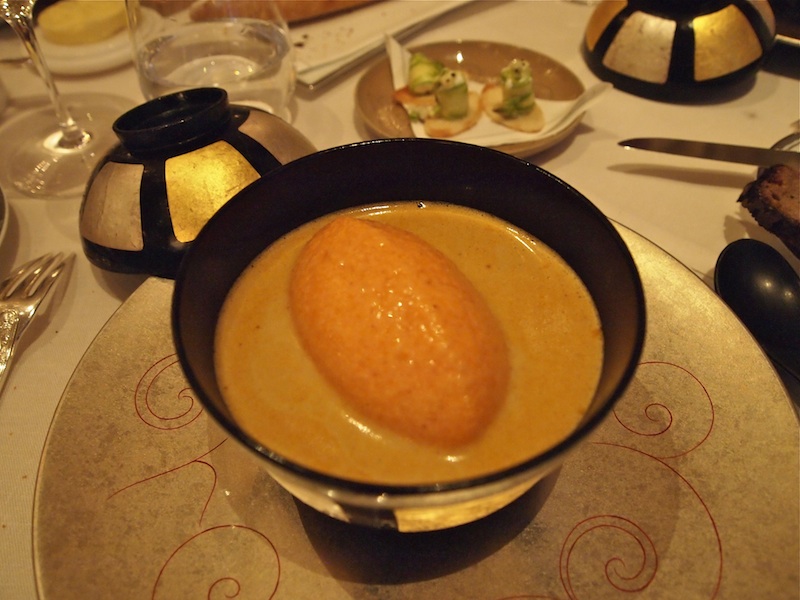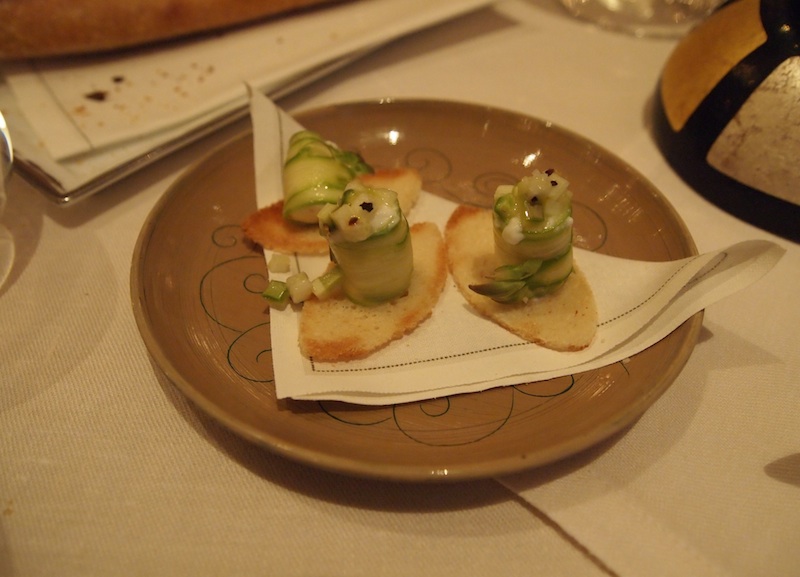 Third and main course, Grilled John Dory, artichoke, red onion, wild rocket (leaves + puree). Two large John Dory fillets which had an awful sponge-like texture and lacked flavour. The fillets were served with the cooking juices and some lemon. Nice bitters from the grilled artichokes and sweetness from the red onions but unfortunately the formidable bitters of the wild rocket puree completely threw the dish off balance. Hubby had similar problems with his fish course; his turbot dish was so poor that he refused to eat it and sent it back to the kitchen. The management had the good sense to take it off the bill without us having to ask.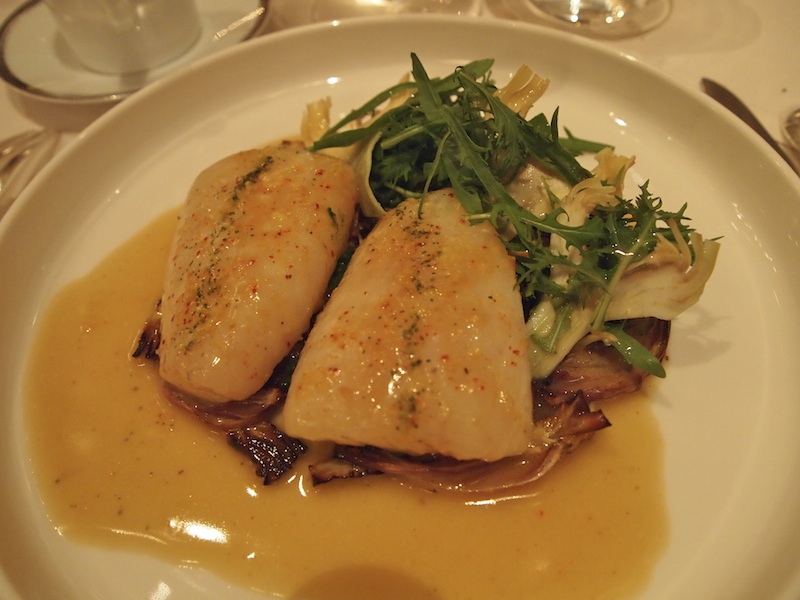 John Dory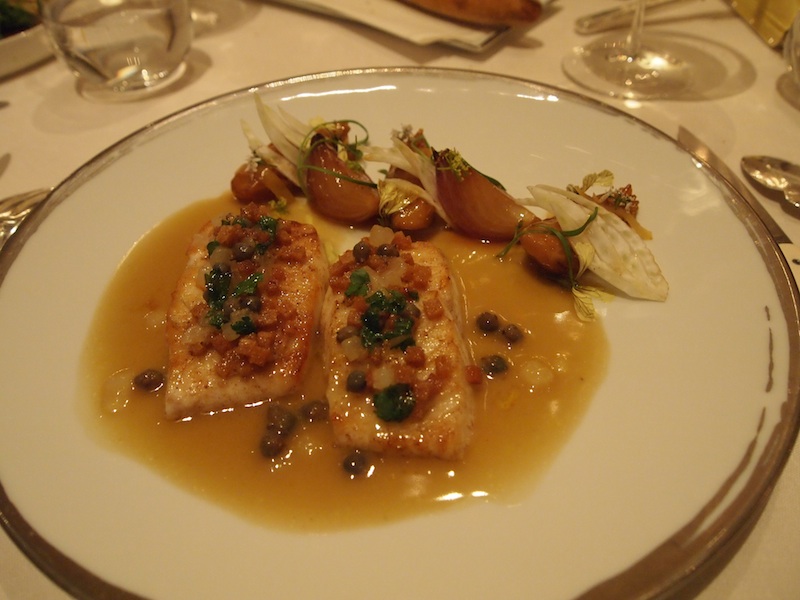 Turbot
On to the pre-dessert, delicious fresh raspberries, strawberries and cherries served with a rhubarb and cherry marmalade. Impeccably sourced ingredients.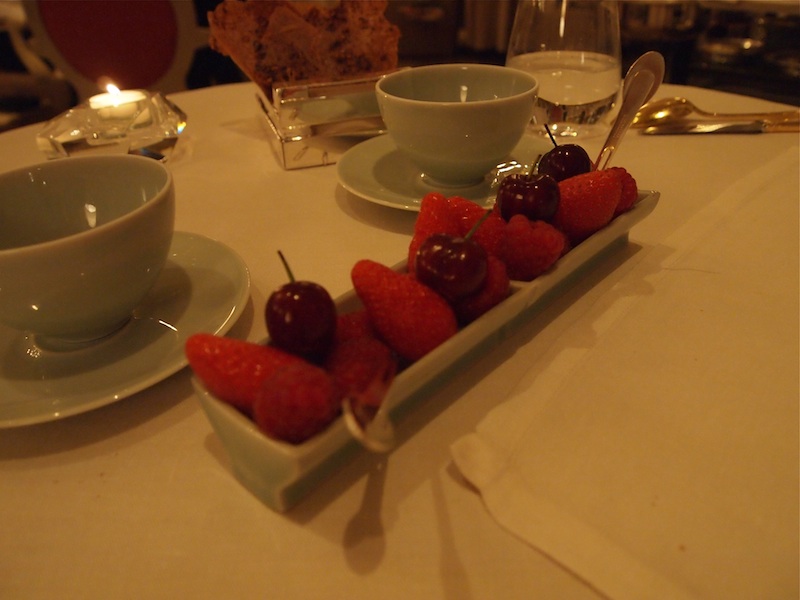 Fourth and last course, Fresh Ewe's milk cheese, caramel and pepper. A disappointing dessert that I didn't finish. The ewe's milk cheese was bland and the ice cream was particularly nasty. At the other side of the table a beautiful raspberry dessert was presented. A perfect crisp and buttery pastry base with delicious fresh raspberries filled with a raspberry coulis. This dish would have been a pleasant surprise in a one-star restaurant.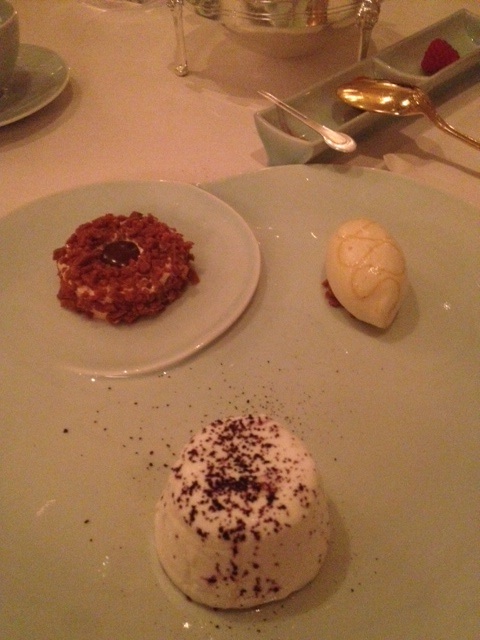 I first got acquainted with Alain Ducasse's cooking when I visited Alain Ducasse at the Dorchester in London. That was a most underwhelming experience and unfortunately this was repeated in Paris this year. So far I have visited 34 different three star restaurants in 6 countries on 2 continents (some repeatedly) and I am deeply unhappy to report that my only two really abysmal experiences at this level have both been with Ducasse. When I had had a bad meal at Ducasse in London, people told me that I should really go to Paris, that I would love Ducasse in Paris. Will they now tell me to go to Monaco? I do not think I have the stamina to go on with these deeply disappointing and financially debilitating Ducasse experiences. Alain Ducasse at The Plaza Athenée did not live up to my expectations and was definitely not a three-star experience. This was very much a hit-and-miss meal. The food was heavy-handed, sometimes poorly executed and the pace at which the food and wine were served made me feel like being in the world's most expensive fast-food restaurant. The grand dining room felt soulless and the whole place clearly oozed money rather than love of beauty. The man whom I once heard shouting "bartender, money!" accompanied by now fewer than four young ladies while waiving his black Amex in a hotel bar in Rhode Island, would no doubt feel very much at home here.
The lack of quality is all the more disconcerting because Alain Ducasse at the Plaza Athenée is a well-established three star restaurant and many dishes have been on the menu for years. Alain Ducasse was one of the greatest chefs of his time, and he is rightfully renowned for introducing an innovative style of cooking that focuses on the natural flavour of the ingredient and on enhancing this flavour with refined techniques instead of disguising it with butter and cream. His innovative approach to cooking and ingredients has definitely changed haute cuisine in France and in the rest of the world. But that was years ago and nowadays everything he touches only seems to turn into gold.
Alain Ducasse is now above all a legend. A legend is a story that has a historical nucleus and that popular tradition holds to be true but usually isn't and certainly cannot be authenticated. I went to Alain Ducasse in London and in Paris in search of his magic only to find that he is not searching for it anymore. Alain Ducasse's is a beautiful legend and I still want it to be true. I left his Paris restaurant gutted. Maybe I should go to the Louis XV after all?