Rating: 99.
Rating index:
Extraordinary (96-100)
Outstanding (93-95)
Very good to Excellent (89-92)
Above average to Good (86-88)
Below Average to Average (80-85)
Avoid (below 80)
More info >
A few days before my visit to Maison Troisgros I read an interview with Giles Coren (the London Times' food critic) in the UK newspaper Metro. Coren was interviewed about his new book "How to Eat Out". One of the questions of the interviewer was: "What are three great myths about eating out?" Giles Coren answered as follows: "1. That the waiters spit in your food if they don't like you. They don't. 2. That the 'specials' are just rubbish they want to get rid of. 3. That French food is worth a damn. It isn't. Not anymore." With this final comment, Coren joins in a chorus of critics of French cuisine, especially from the English speaking world. The question arises how well informed these critics are. Based on my recent experiences in France, I must say I wonder whether these critics have taken leave of their senses or that they perhaps should take leave of their island home for once and actually go to France to find out what they are talking about.
After lunch I had a chat with executive chef Michel Troisgros and inevitably I asked him how he feels about the criticism that French cuisine and gastronomy have been getting in recent years from across the Channel. His reply (after looking at me for a while with a blank face) was very telling. I don't remember his exact words but the gist of it was that he hadn't heard about it, wasn't bothered at all and in fact couldn't care less. French cuisine has been leading for over 200 years, was his considered opinion, so what are they talking about? An arrogant frog, you say? Well I wouldn't, if only because he was a very sympathetic person, but also one who (as I had just discovered) could back it up. Read on if you want to find out.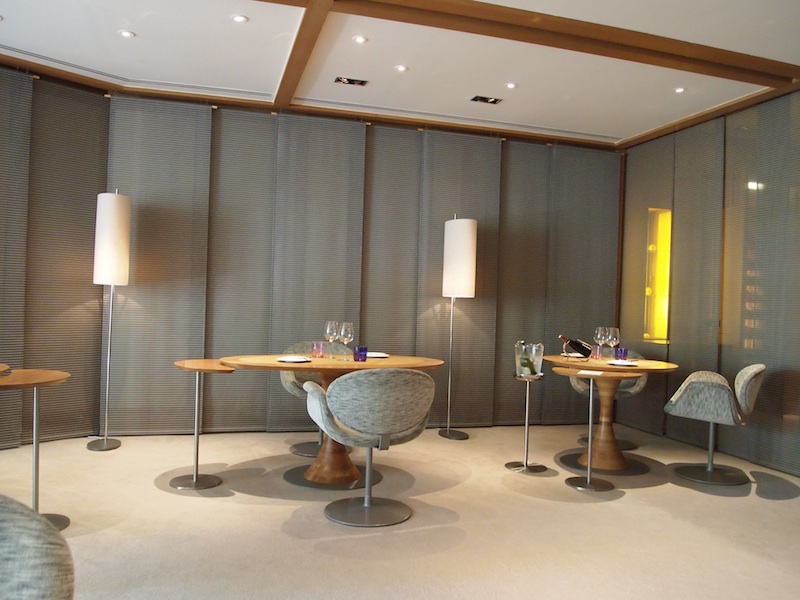 Michel Troisgros has trained in some of the most renowned kitchens in the world, like those of Alain Chapel, Roger Vergé, Michel Guérard, Pierre Wynants and Alice Waters. Michel's grandfather had had a café in Chalons and opened an establishment in Roanne in the 1930's. This self-taught chef thus founded the Troisgros culinary dynasty. Michel's father Pierre and uncle Jean trained with the legendary Fernand Point at La Pyramide in Vienne and promoted Maison Troisgros to the highest echelon of French gastronomy, being awarded the coveted three Michelin stars in 1968, an accolade which this restaurant has since held without interruption. Michel's time came in 1984, after his uncle Jean Troisgros had died unexpectedly in 1983.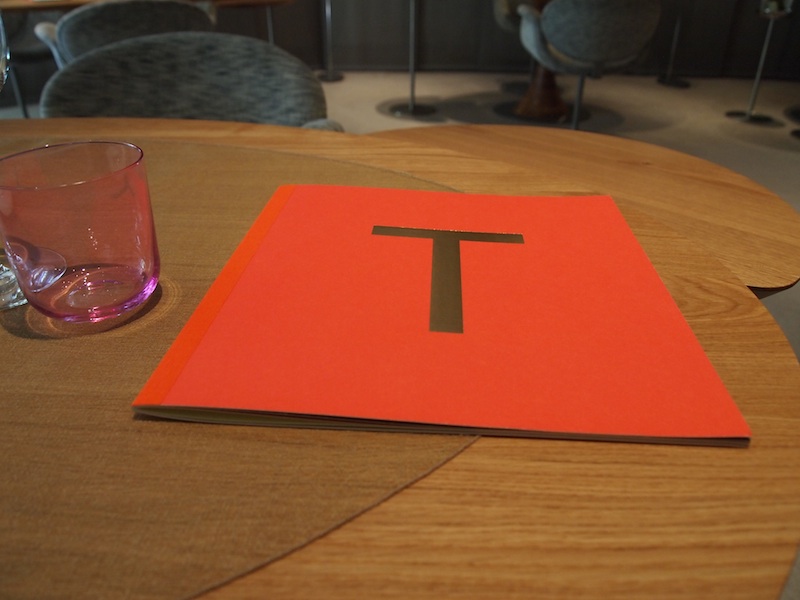 Maison Troisgros is open for lunch and dinner Thursday till Monday and you can choose between the a la carte menu (which also features Jean and Pierre Troisgros classics) and the Menu de Juin (10 courses for €205) and on Monday, Thursday and Friday there's a daily changing Market Menu (5 courses, €100). I had lunch at Maison Troisgros with my husband on Saturday 2 June 2012 and we both had the Menu de Juin.
The appetizers to come with our aperitifs were:
(i) Caramelised tomato with sesame seeds, a delicious juicy tomato with a crispy and wonderfully sticky coating, lovely balance between freshness and sweetness - (ii) Octopus with a squid ink cracker and lemon zest; a thin slice of octopus served on a crisp cracker, well-judged use of lemon zest - (iii) Watermelon on Parmesan toast, a fantastic flavour combination and I loved the hint of black pepper - (iv) Pea and mint beignets, gorgeous creamy filling of pea puree with a hint of mint and a thin crisp coating.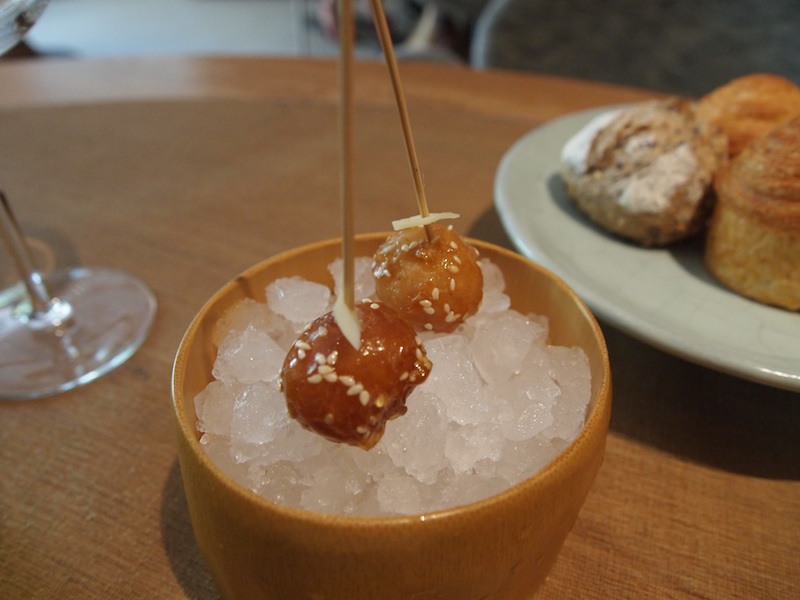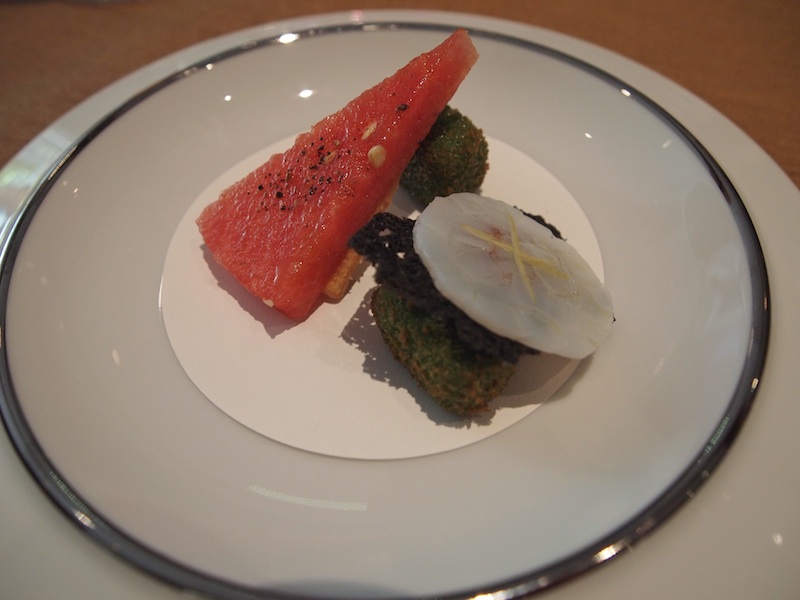 First course 'Ecrevisses de Grand Lieu à la manoa' - Crayfish, cold soup and jelly of white wine, vinegar d'Orléans, beetroot and ginger, fresh and marinated cucumber, red pepper, carrot, radish and courgette. Wonderful succulent and tender crayfish with a delicious and elegant cold coup which had lovely subtle ginger flavours and a nice sweetness and colour from the beetroot. Excellent crisp and thinly sliced fresh vegetables. The pickled vegetables were nice and sweet, not too acidic and provided depth and warmth to the dish. A stimulating dish with great textures and a latticework of flavours. In fine wine, it is not unusual to employ the term "latticework" to refer to the finesse and subtlety of the flavours of an Echezeaux and it is perfect to describe the sensation of this dish.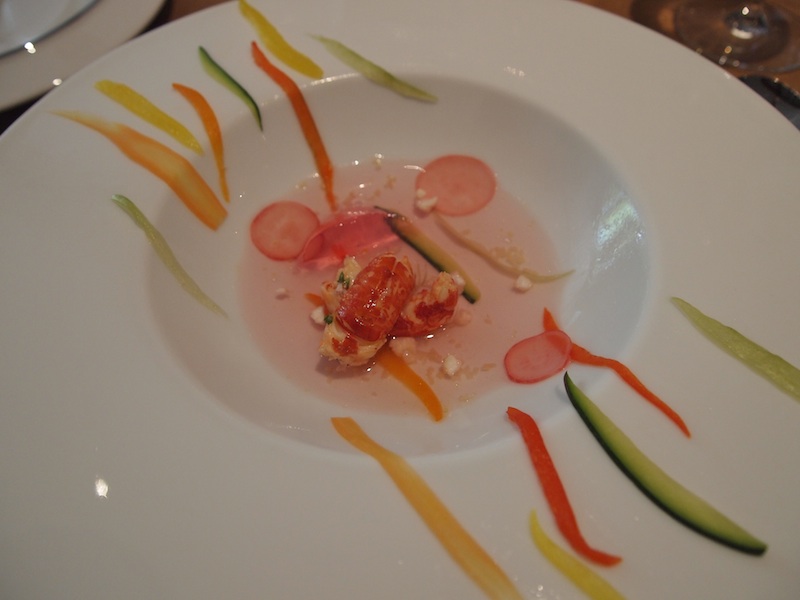 Second course 'Maquereau croustillant, inspiré de Venise' - Mackerel, pickled vegetables (radish, baby onions, baby turnip, aubergine), grapefruit, orange zest, extra virgin lemon olive oil. A fantastic piece of crisp mackerel and lovely pickled vegetables which were the perfect counterpoint to the oily mackerel and delivered sharpness and sweetness. A cutting edge fish course with an excellent balance between oily textures and sour and bitter flavours.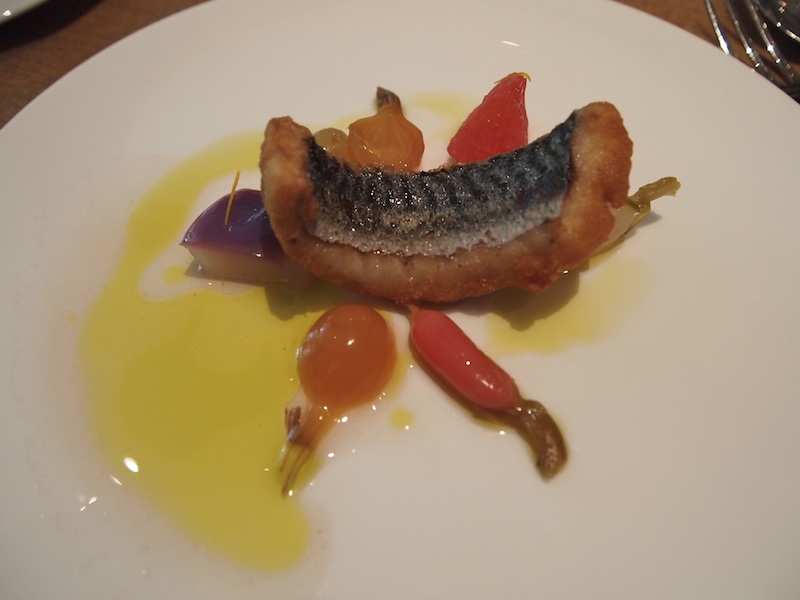 Third course 'La boucle bouclée' - Milk curd 'ravioli', hay infused milk, mousseron mushrooms. The milk curd ravioli had a beautiful gel-like consistency and was placed as a virgin white veil over the delicious mousseron mushrooms and hay infusion. Nice juicy mushrooms and the hay infused milk was wonderfully pure and the hay provided a terrific spicyness to the dish. Very precise seasoning too. Quite amazing.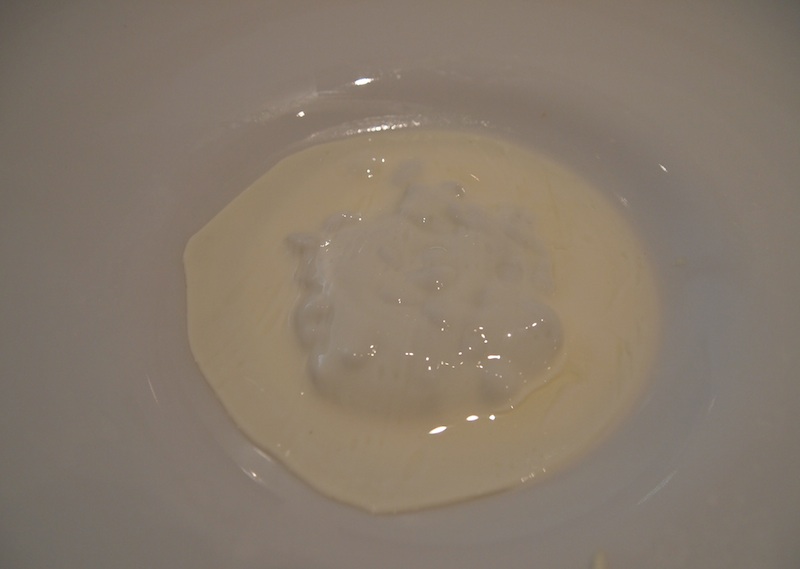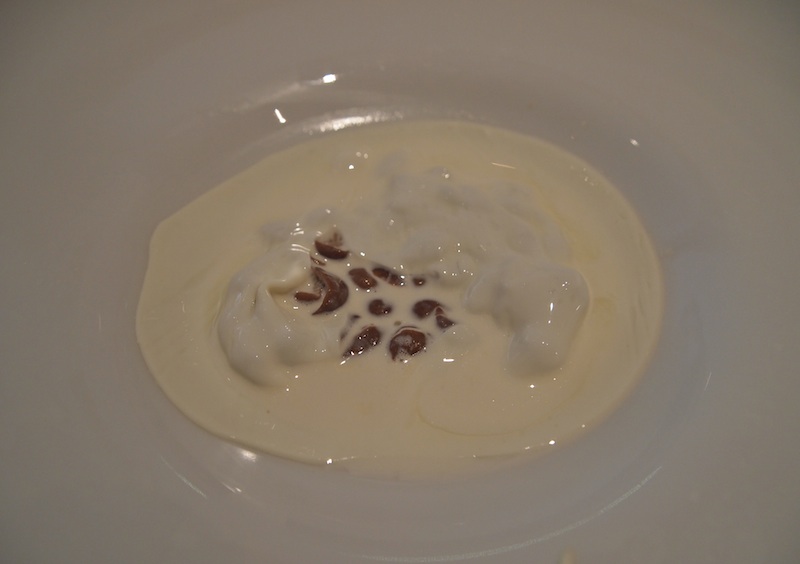 On to the fourth course, 'Plins de Parmesan à la noisette' - Ravioli with a liquid Parmesan filling, broad beans, shallots, mangetout, beurre noisette. An absolutely stunning and incredibly skillful dish. Amazing raviolis with an unctuous liquid filling. If they sold this filling in a bottle, I would buy crates of it. A wonderful combination of rich but elegant and pure flavours. The pickled shallot was slightly on the acidic side this time, but this served perfectly to cut through the richness.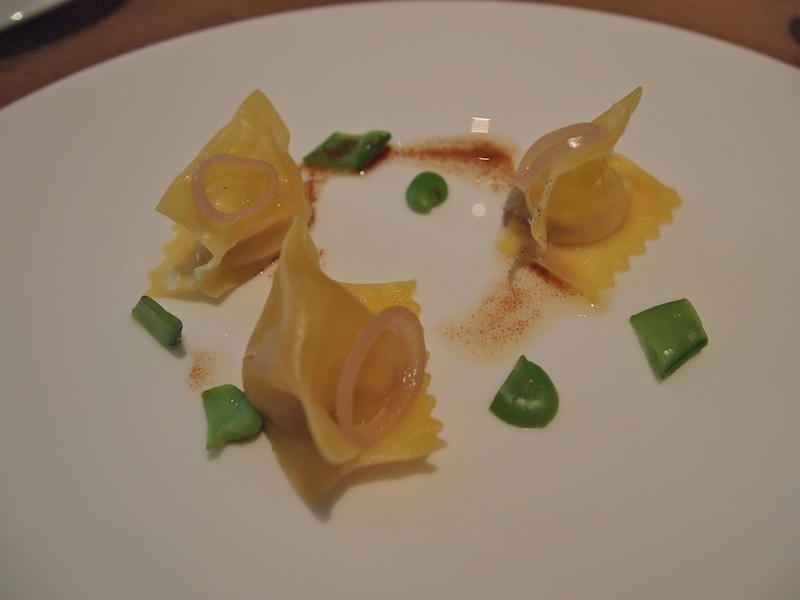 Fifth course 'Lapin, tourteau et menthe' - Rabbit, crab, mint, crab bisque. A perfectly cooked ballotine of rabbit stuffed with crab and mint. A inspired and innovative flavour combination. Carefully judged use of mint, subtle and expressive at the same time. Fantastic crab bisque, full of flavour and not too buttery. An exceptional dish with wonderful flavours.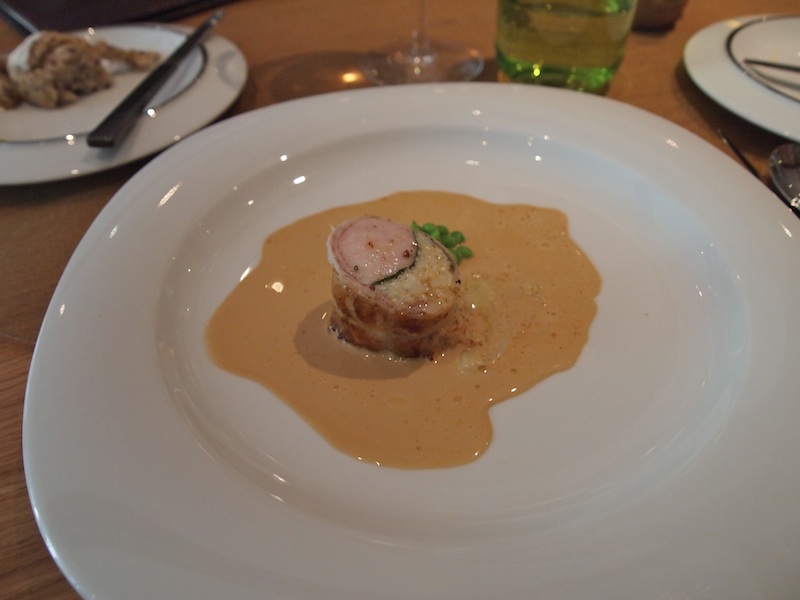 Sixth course 'Merlan aux cèpes, à l'umami - Whiting, onion, cepes. Gorgeous translucent whiting served with very thinly sliced ceps and a lacquered onion which was nice and sticky. The sauce, made with veal fond, bonito, soy sauce and vinegar, was utterly delicious. What a dish and what a way to express the beautiful basic flavour of umami.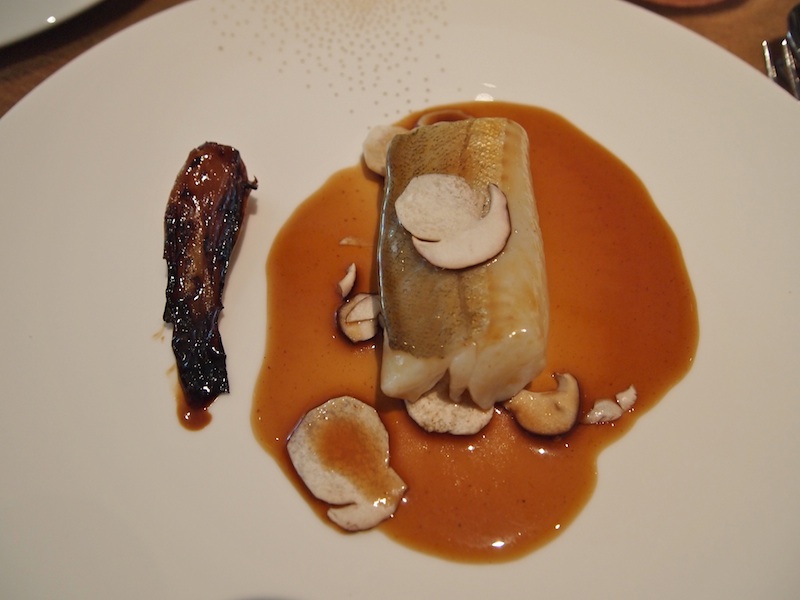 Seventh and main course 'Selle d'Agneau rouge-poivron' - Noisettes of Lamb with a sweet-pepper sauce. Since I'm not a big fan of lamb I ordered a beef dish instead but not just any beef: Local Charolais fillet of beef with a red wine (Fleurie) sauce and bone marrow - one of the classic Jean and Pierre Troisgros dishes on the menu. A relatively simple but mindblowingly good dish. A glorious piece of beef served with a wonderful rich and well-reduced red wine sauce. With the beef came a side dish of traditional Pommes Dauphinoises, a delicious and a very different version from the one we usually get in restaurants. Just one layer of thinly sliced potatoes with some cream, that's it. Hubby did have the lamb and loved every mouthful.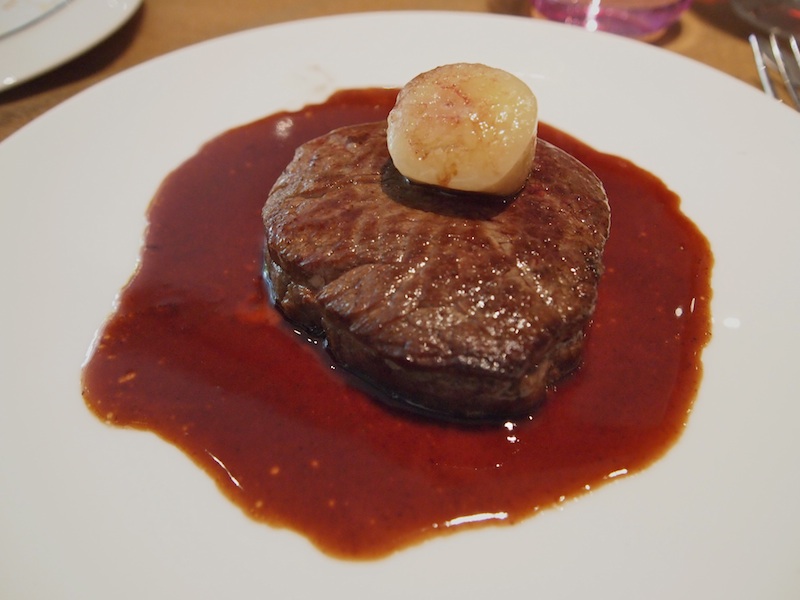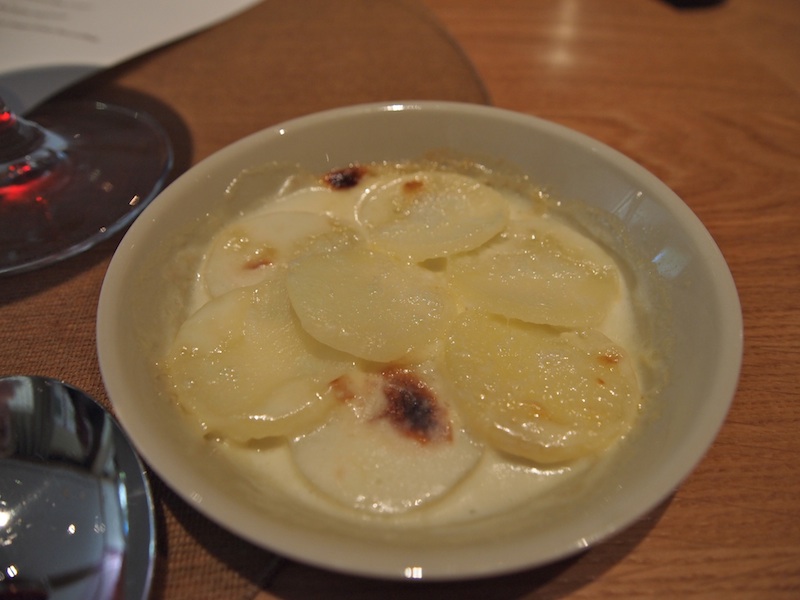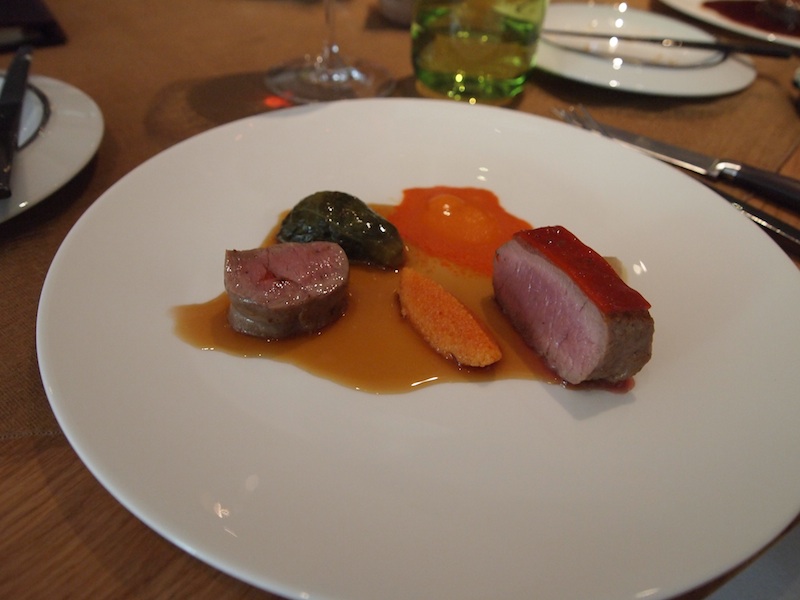 Next, the eight course, the cheeses. A truly wonderful selection of (local) French cheeses and all very well-matured.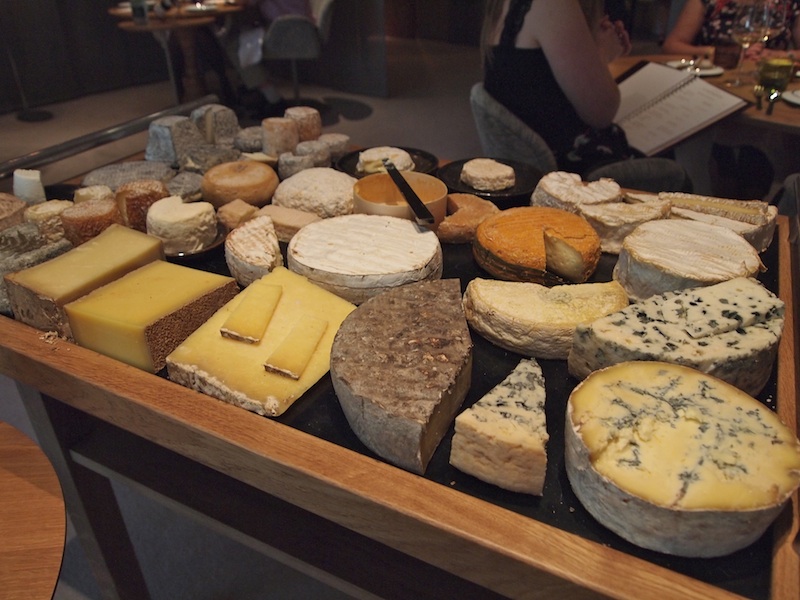 Ninth course 'Tarte au citron et café' - Lemon tart with coffee, Italian meringue, candied lemon zest, coffee caramel, honey ice cream. A wonderfully tangy lemon tart with a perfectly thin buttery base and a lovely thin layer of coffee jelly to balance the tartness of the lemon tart. Lovely sweet and refreshing honey ice cream and very well-made Italian meringue. Lovely balance between sweetness and sharpness.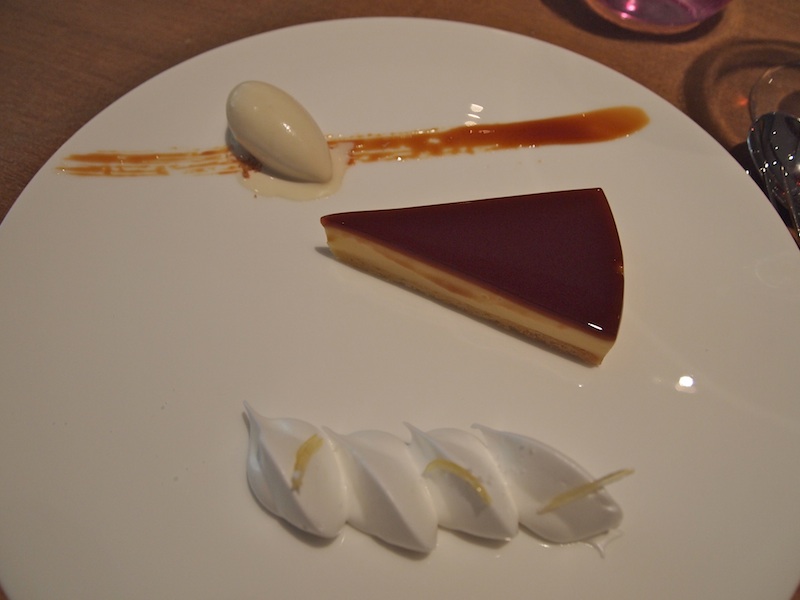 Last and tenth course 'Poire et gingembre' - Pear, almond, ginger, olive oil ice cream. Lovely pear jelly covered with a layer of almond cream. Nice buttery crumbs and fantastic olive oil ice cream. A wonderful uncomplicated but very precise and elegant dessert.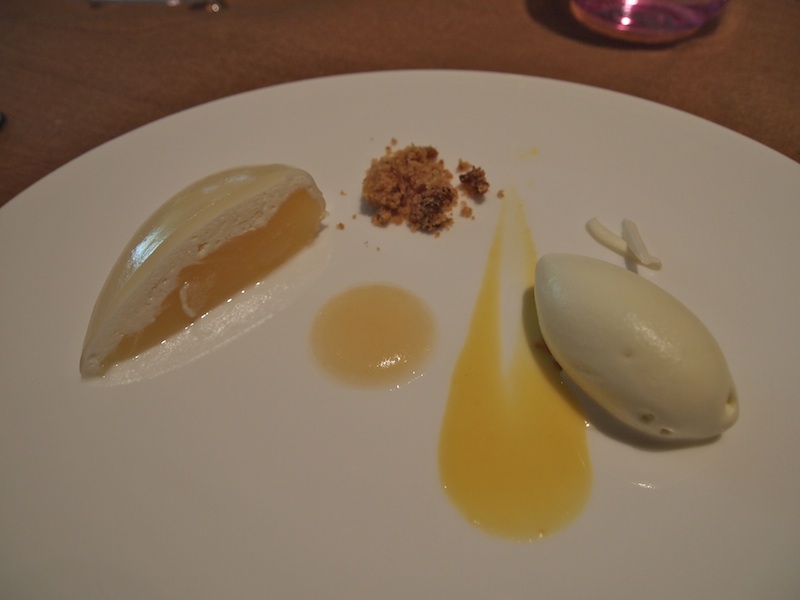 Last but not least an impressive selection of Troisgros delicacies.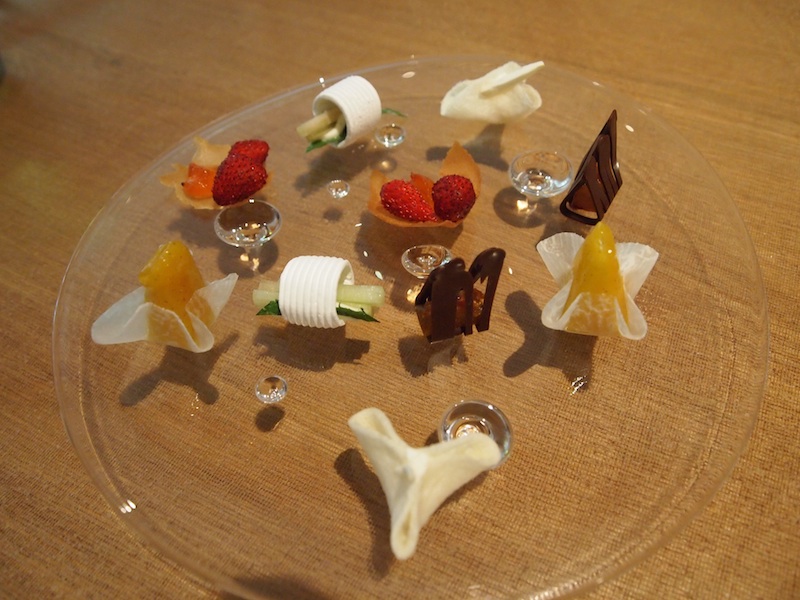 Maison Troisgros is a restaurant with a great family tradition. Only Paul Bocuse (1965) and Auberge de l'Ill (1967) have held three Michelin stars longer. In the Lyon area, Georges Blanc is a relative newcomer in this respect (three stars since 1981). For this reason I misguidedly went to Maison Troisgros expecting traditional French cooking - la grande cuisine. Michel Troisgros had big footsteps to fill indeed. Well, the cooking is grand enough but there was nothing much traditional about it. On the contrary, words that come to mind are cosmopolitan, pristine and even minimalistic.
The precision and ease with which Michel Troisgros uses and judges acidity in his dishes is in my experience second to none. Exceptional cooking, contemporary presentation, innovative flavour combinations. This is contemporary gastronomy at the highest level created by a chef who is clearly at the peak of his powers. Some consider that French cuisine isn't worth a damn anymore. Let us quote the gospel of Matthew therefore in rebuttal and rebuke: "This is why I speak to them in parables: Though seeing, they do not see; though hearing, they do not hear or understand. In them is fulfilled the prophecy of Isaiah: You will be ever hearing but never understanding; you will be ever seeing but never perceiving."