Rating: 93.
Rating index:
Extraordinary (96-100)
Outstanding (93-95)
Very good to Excellent (89-92)
Above average to Good (86-88)
Below Average to Average (80-85)
Avoid (below 80)
More info >
For most of us, 2012 is perhaps above all the year of the London Olympics which were such a great success for team GB. And then there are Epke Zonderland, Ranomi Kromowidjojo and the Dutch women's hockey team! But 2012 is turning into quite a successful year for Daniel Clifford too, the chef/patron of Midsummer House in Cambridge. Earlier this year Daniel competed on Great British Menu ("GBM") and after a convincing victory in the 'Central' heat, he triumphantly won the main course with his slow poached chicken dish which was subsequently served at the Olympic Banquet. Clifford is also one of six chefs selected by Electrolux to cook at
"The Cube by Electrolux"
in London this summer (1 June - 30 September). The other chefs are Claude Bosi of two-star Hibiscus in London, Sat Bains of two-star Restaurant Sat Bains in Nottingham, Tom Kitchen of one-star The Kitchen in Edinburgh and Jonray and Peter Sanchez of one-star Casamia in Bristol.
Daniel Clifford has been the owner of Midsummer House since 1998. Midsummer House is located in Cambridge on the historic grounds of Midsummer Common on the river Cam. The discreet restaurant (we walked there from our hotel in central Cambridge but even when we had crossed the common it took some time to figure out which "House" it actually was...) was awarded its first star in 2002, a second star followed in 2005.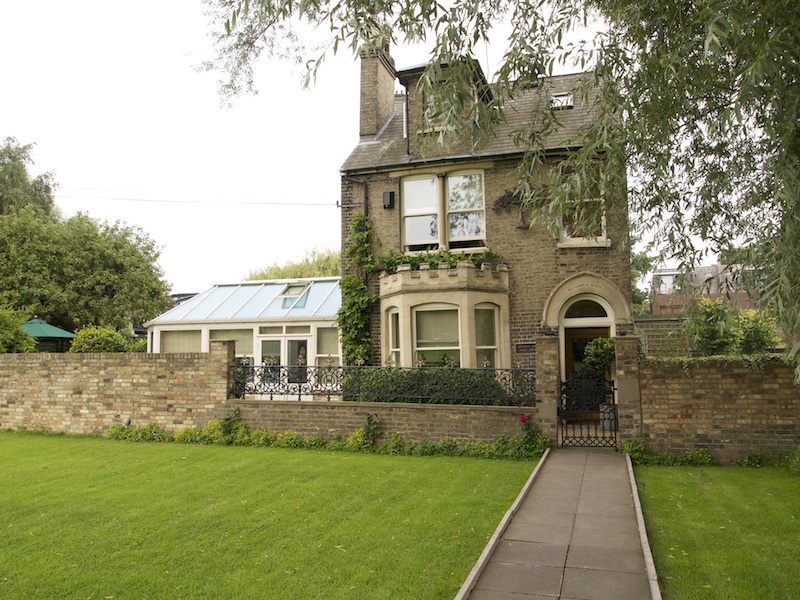 Midsummer House is open for lunch Wednesday till Saturday and for dinner Tuesday till Saturday and the restaurant offers a 'Classic' menu (3 courses £40, 4 courses £50 and 5 courses £60), a 6-course 'Market" menu for £75 and a 10-course 'Taste of Midsummer' menu for £95. I had lunch at Midsummer House with my husband on Friday 27 July 2012 on we both ordered the Taste of Midsummer menu.
With our aperitifs (served upstairs in the bar) we were served some delicious Cheese gougères, which had a wonderful soft cheese centre and a Bloody Mary and celery sorbet, which was wonderfully refreshing on this scorching summer's day.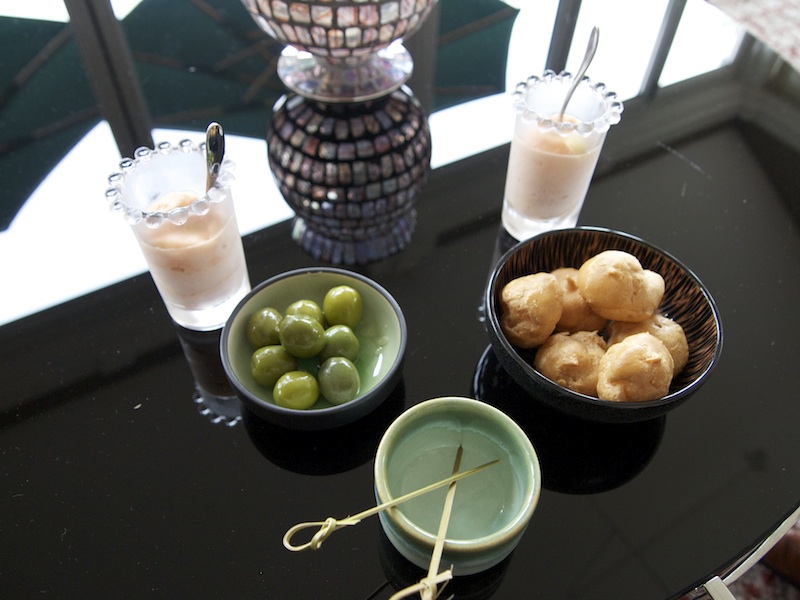 The first course of the menu was Pea, prawn and lemon jelly. A fantastic creamy and foamy pea velouté served with lemon jelly cubes and tasty and juicy prawns. Wonderful pure and rich pea flavours. Lovely freshness from the jelly. A well-seasoned and well-executed dish with lovely textures, served at the perfect temperature.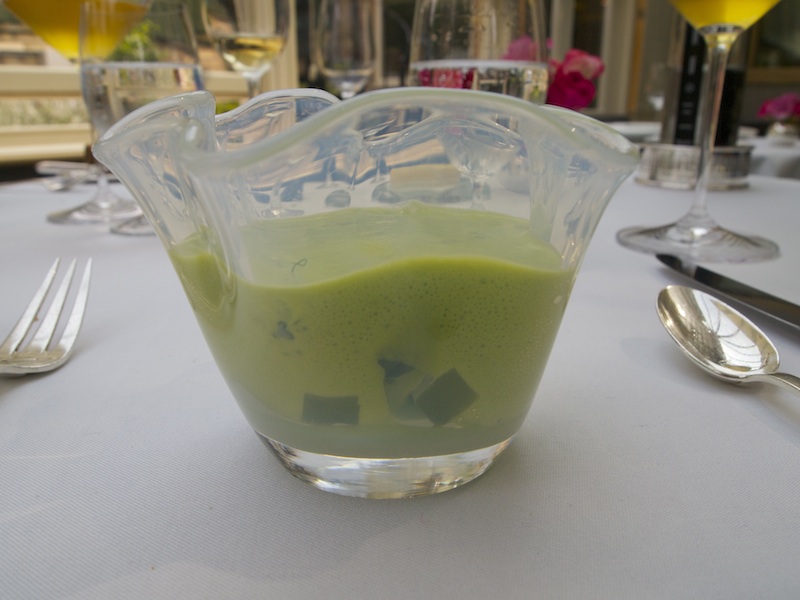 Second course, a Midsummer House classic, Celery, beetroot, goat's cheese and horseradish. Wonderfully light and airy celery bavarois combined with a watercress jelly. A beautifully made, perfectly crisp and incredibly laborious beetroot cannelloni filled with goat's cheese and finely chopped beetroot. Both the celery bavarois and the beetroot cannelloni combined very well with the freshness and the heat of the horseradish ice cream. A terrific and well-balanced combination of spot-on flavours and textures.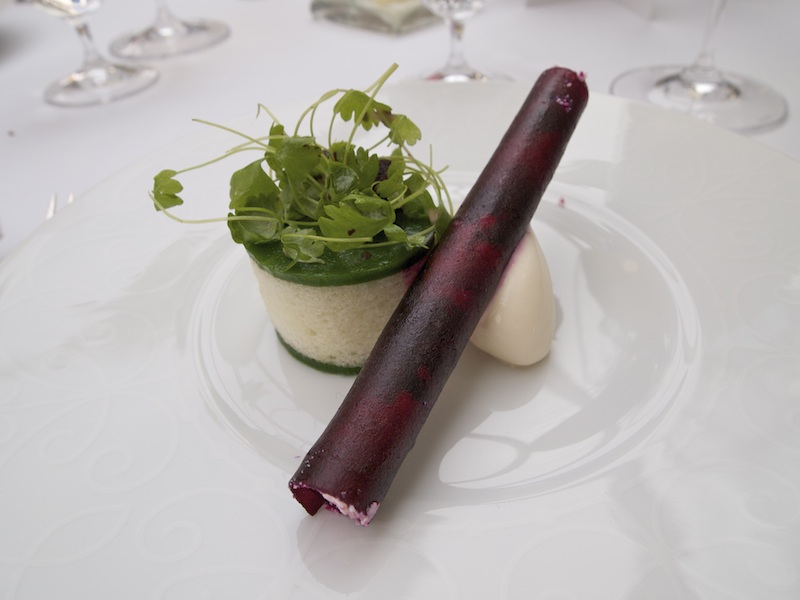 Third course, Sautéed scallop, apple, celeriac and truffle. Perfectly tender and caramelised (hand-dived) scallops served with green apple julienne on top, apple jelly cubes and some apple caramel. Lovely fresh sharpness from the green apple sticks and the apple caramel provided a really nice touch. Also on the plate was this dollop of absolutely divine celeriac and truffle puree. Loved the subtle use of truffle. A very elegant interpretation of this classic flavour combination, the apple provided a lovely lightness to the dish.
On to the fourth course, Sweetbreads, pistachio, maple syrup and mouli. Glorious caramelised (with Maple syrup) and crispy sweetbreads and a delicious creamy pistachio puree. Great depth of flavour and subtle sweetness from the maple syrup jelly. Very well-judged and balanced flavours in this delightful dish, lovely balance between sweetness and bitters.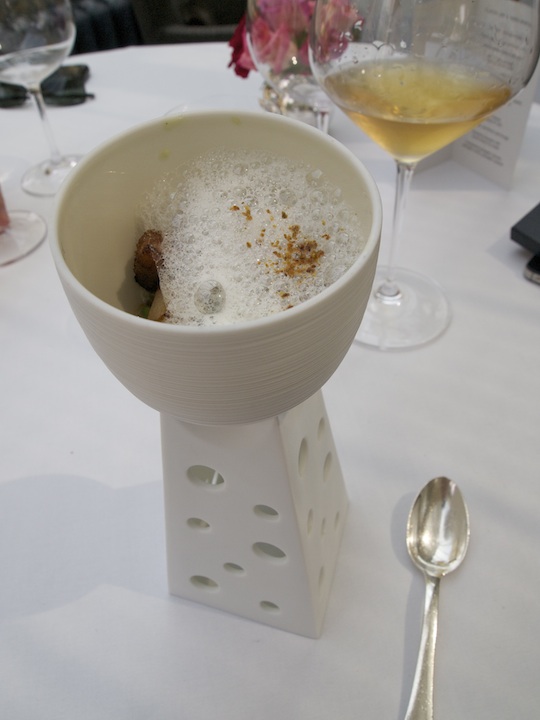 Fifth course, Sautéed sea bass, cuttlefish, onion marmalade, cauliflower and squid. Perfectly cooked sea bass with a fantastic crispy skin, topped with some crisp onions rings and wonderfully tender squid rings. The sea bass was accompanied by some delicious sweet onion marmalade and the cuttlefish (and cuttlefish ink) was presented as a pasta-like sheet. Last but not least an incredibly creamy and smooth cauliflower puree. A technically complex dish with great flavours and textures.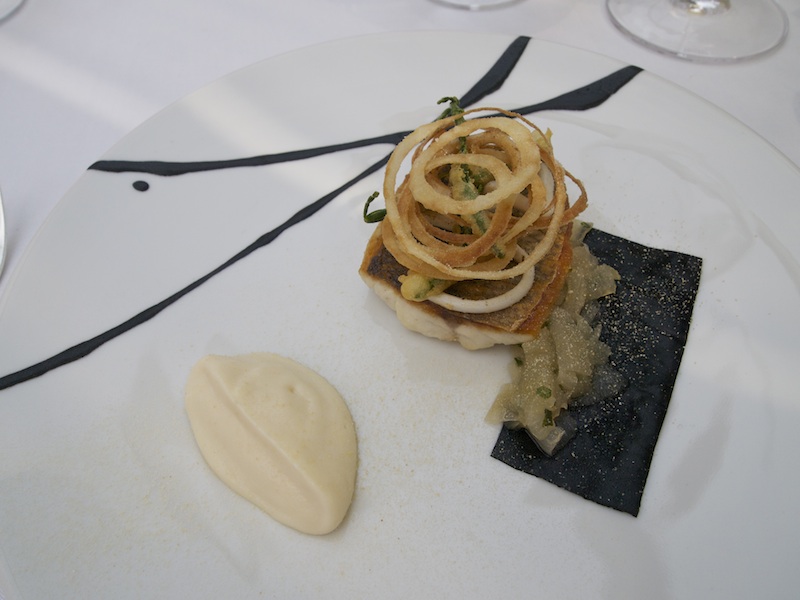 Sixth and main course, Slow poached chicken, sweetcorn, buttered spinach, chicken juices. This is the chicken dish that won Daniel Clifford the main course on Great British Menu. The dish wasn't part of the Taste of Midsummer menu (the main course is lamb) but I just had to have it and they kindly agreed. Beautifully moist, slowly poached ballotine of chicken breast with a spinach, corn jelly 'yolk' and truffled egg white filling and wonderful crisp and golden-brown outside, served with the most sublime rich and dark chicken jus; the intensity of the chicken flavours was terrific. The corn 'yolk' captured the fantastic sweetness that is so characteristic for corn. Also on the plate was a crispy chicken skin cylinder filled with truffled popcorn and a chicken liver parfait which had a fantastic smooth texture. Also smooth, velvety even, was the pea puree. Wonderfully rich buttered spinach. A perfectly conceived and executed, truly outstanding dish, complex and detailed cooking on all levels.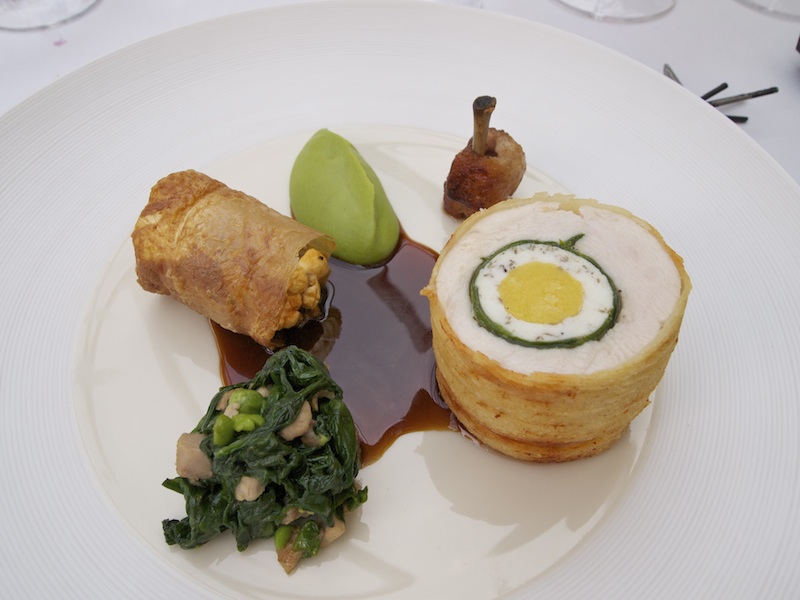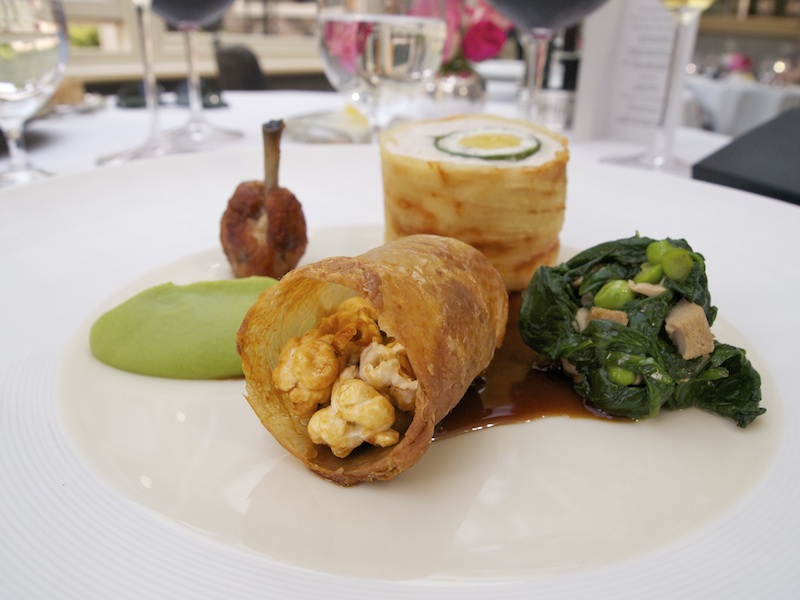 Next up, the seventh course, Pousse Café. Daniel Clifford's take on this traditional colourful digestif and lovely it was too. The glass was filled with the following layers (starting from the bottom): maple syrup, Jack Daniels cream, egg yolk cream, cream with finely chopped chives and some black pepper. Rather nice.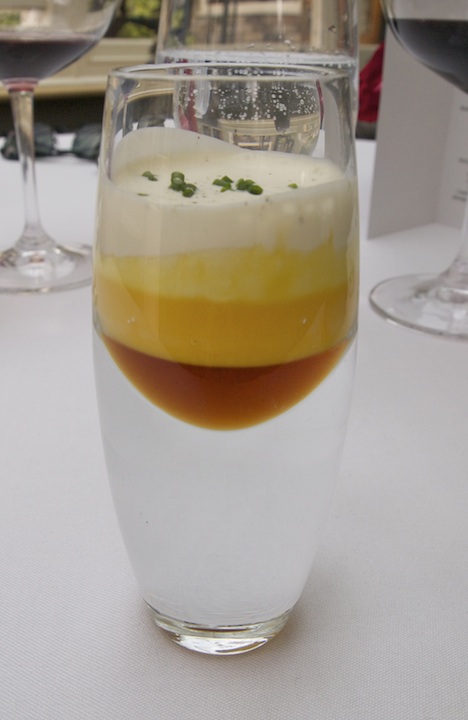 Eight course, Red pepper, strawberry and lovage (ice cream + meringue). Lovely light red pepper posset which had a nice piquancy to it which went well with the fresh strawberries and strawberry foam. Profound lovage flavours in both the meringue and ice cream. A wonderfully refreshing dessert with very well-judged and balanced red pepper and lovage flavours that delivered a lovely long aftertaste.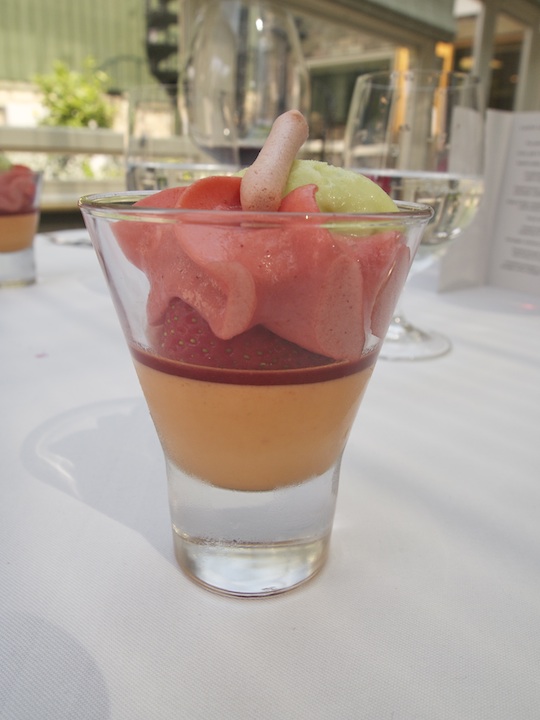 Ninth course, Poached kumquats with lemon thyme ice cream. The ice cream had strong floral notes and the kumquats were very rich and sticky. The combination didn't work for me. The powerful flavours were all over the place and made for an unbalanced and incomplete dish that need rethinking.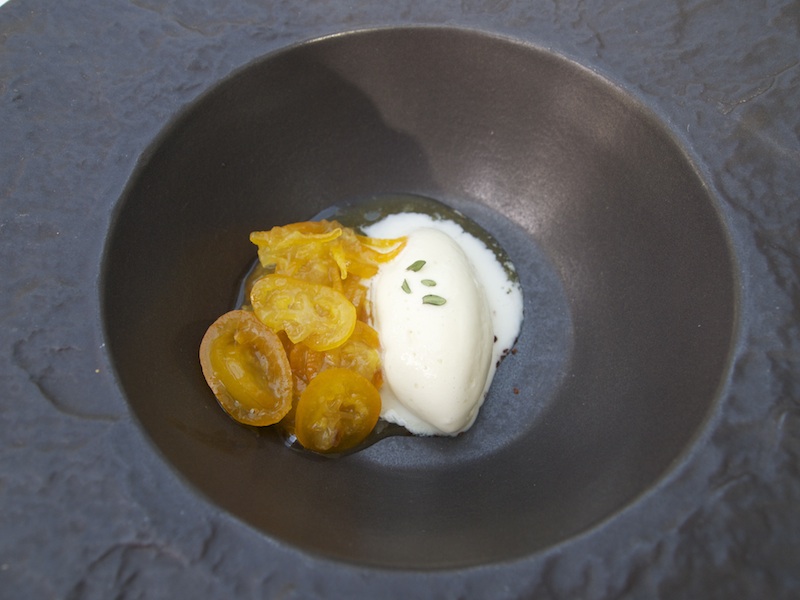 Last and tenth course, Caramelised pineapple, brioche, pineapple sorbet, pineapple caramel. Underneath the pineapple candy floss was a delicious juicy log of pineapple expertly wrapped in a thin caramelised brioche blanket; lovely refreshing pineapple sorbet, nice and sticky caramel and some crunchy caramelised brioche cubes. All the elements on the plate were well executed but the dish as a whole was rather sweet and sticky, a bit one-dimensional.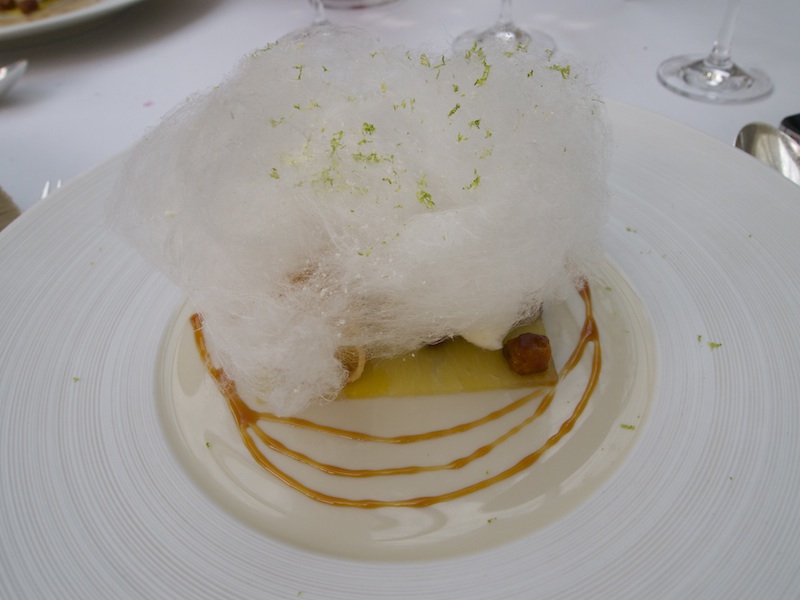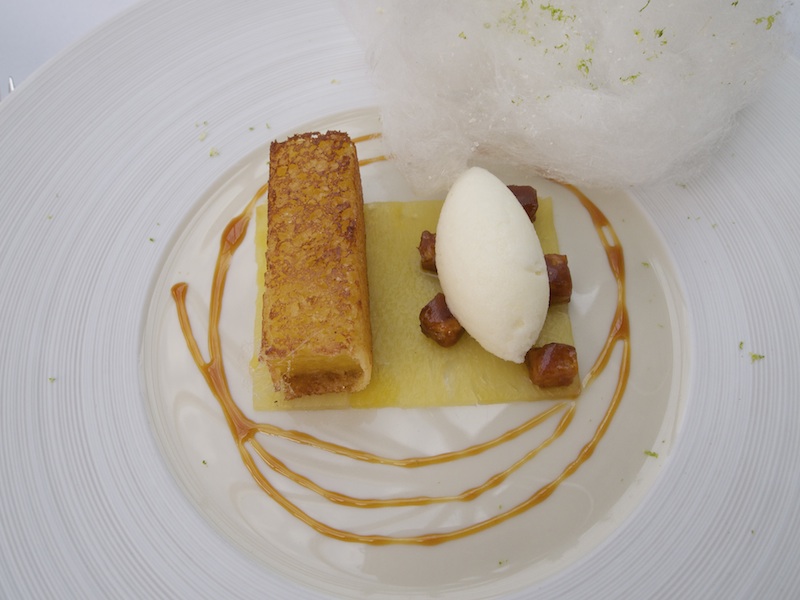 It had been eight years since I last visited Cambridge. It was a fleeting visit; just a stop on a "Tour de Grande Bretagne". I do love the Oxford that I have visited so often, but I really felt that I needed to spend some time to get to know "the other place" better and Daniel Clifford's Midsummer House, having been on my wish list forever, provided the perfect excuse for a special journey to this wonderful town. Cambridge didn't disappoint and neither did Midsummer House. A ten course tasting menu is always a bit of a challenge and when the portions are as generous as they are at this Cambridge establishment, one's physical boundaries are being pushed. The quality of the food is outstanding however, albeit not entirely without flaws.
The dishes in the Taste of Midsummer menu show technical assurance, complexity, originality and a perfect blend of modern and classic techniques. Speaking of modern technique: I don't think I have ever seen a kitchen with more Pacojets, Big Green Eggs, water baths and other state-of-the-art equipment. This is not a molecularian's paradise however. Clifford's cooking clearly is classically based. His approach of his dishes is entirely modern however and one gets the impression that his food is continually under development. Sophisticated dishes, conceived and prepared by an ambitious chef and his dedicated team. On the day I visited Midsummer House, Daniel Clifford wasn't there but his team, both kitchen and front of house, gave a stellar performance.