Rating: 91.
Rating index:
Extraordinary (96-100)
Outstanding (93-95)
Very good to Excellent (89-92)
Above average to Good (86-88)
Below Average to Average (80-85)
Avoid (below 80)
More info >
Later this month Jason Atherton will open a new venture in Singapore called Snaxs, a restaurant/snack bar serving gourmet junk (sic) food. This is already his third business in Singapore, the other two being a tapas bar called Esquina and Pollen, a restaurant serving Mediterranean cuisine. Jason Atherton also has a restaurant in Shanghai called Table No 1. Fortunately his fifth restaurant is closer to home: Pollen Street Social in London's Mayfair.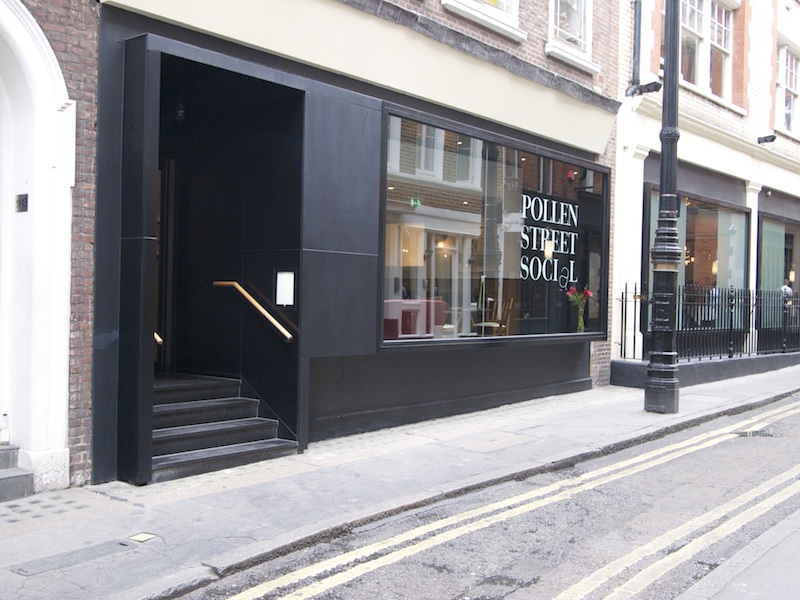 Before opening his own restaurant in London Jason Atherton was well known as one of Gordon Ramsay's talented protégés. For almost 10 years Gordon Ramsay and Jason Atherton enjoyed a very successful collaboration. After having worked under Marco Pierre White, Pierre Koffmann, Nico Ladenis and Ferran Adria, Jason joined Gordon Ramsay Holdings in 2001 as executive chef for Verre restaurant in Dubai. After a couple of years in the desert, Jason returned to the UK and in 2005 he became executive chef of the new Maze restaurant that was being opened in Grosvenor Square. Maze was awarded a Michelin star within its first year. In 2010 it was announced that Jason was leaving Gordon Ramsay Holdings to start his own restaurant. In April 2011 his much-anticipated restaurant Pollen Street Social saw the light of day. Within six months after opening, Pollen Street Social was awarded a Michelin star (2012 guide) and named Best New UK Restaurant by the Good Food Guide 2012.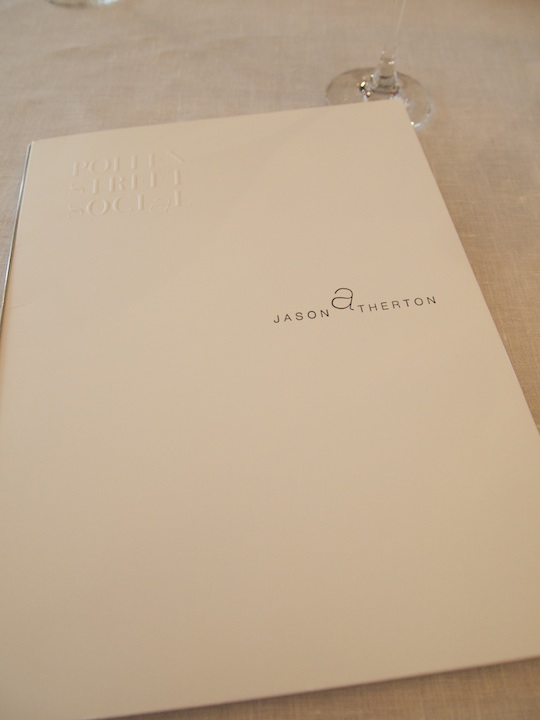 Pollen Street Social is open for lunch and dinner Monday till Saturday and you can choose between an a la carte menu, which also includes vegetarian dishes, a lunch menu (2 courses £24, 3 courses £27.50), a tasting menu (8 courses £79) and there's an extensive dessert menu. The desserts can be enjoyed at table but also at the restaurant's special (and London's first!) dessert bar. I had lunch with my husband at Pollen Street Social on Friday 24 August 2012 and we both ordered dishes from the a la carte menu and the lunch menu.

First the bread and some nibbles arrived. Delicious pork crackling with nice and fresh apple sauce, a bowl of green olives and some lovely creamy salt cod brandade which had a nice touch of lemon and a velvety texture. The latter went perfectly with the bread: sourdough and white baguette.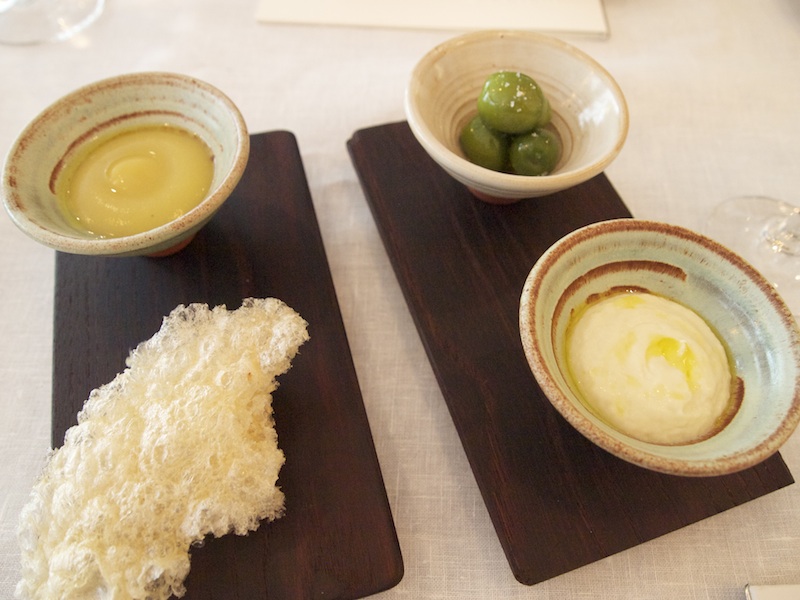 As a starter I had Cornish crab salad, avocado, wood sorrel granita and crab toastie. A cocktail glass with a lovely creamy avocado puree at the bottom, followed by a fantastic, lightly dressed crab salad and topped with a wood sorrel granita. A lovely combination of clean and pure flavours. The light dressing of the crab brought forward the lovely fresh crab flavours and the wood worrel granita added a nice peppery touch. With the crab cocktail came a beautiful and tasty crab toastie: lightly toasted brioche covered with a delicious brown crab meat mayonnaise, edible flowers and a lovely subtle vinegar powder. A comforting element in an otherwise quite cool dish.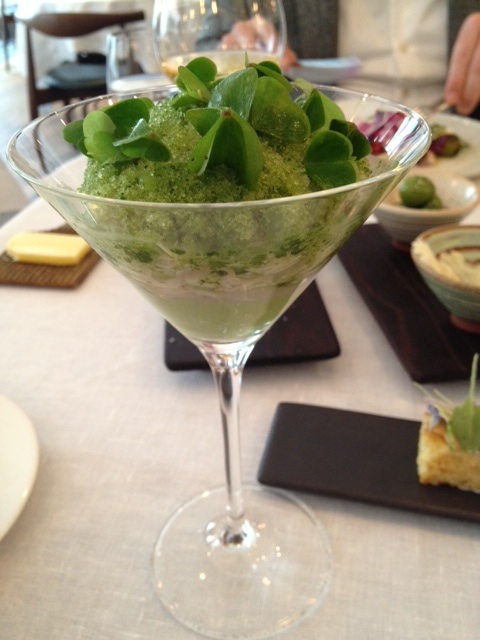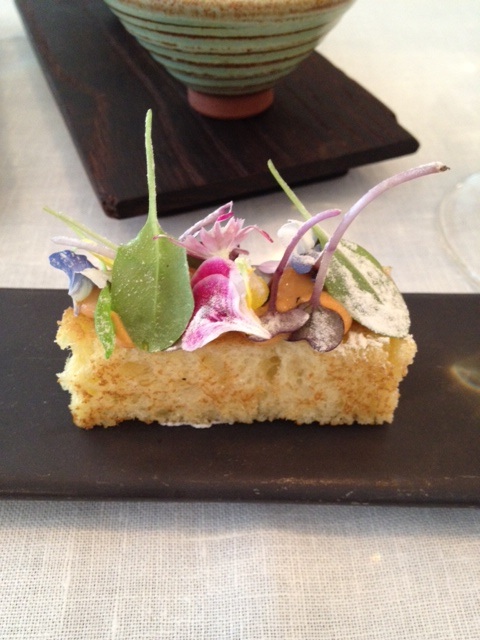 Second course, Orkney sea scallop sashimi 'Trip to Japan 2012' - braised turnip, scallop sashimi, sea urchin, horseradish snow, baby gem wasabi, pickled ginger and mooli (white radish). A wonderful dish with great textures; al dente turnip, soft and creamy scallops and smooth and creamy sea urchin. The horseradish added a subtle mustardy heat and also had lovely pure radish flavours. The baby gem wasabi had very pure and clean flavours too and distinctive wasabi heat; light bitters added a nice contrast. Nice flavour and texture from the pickled ginger and white radish.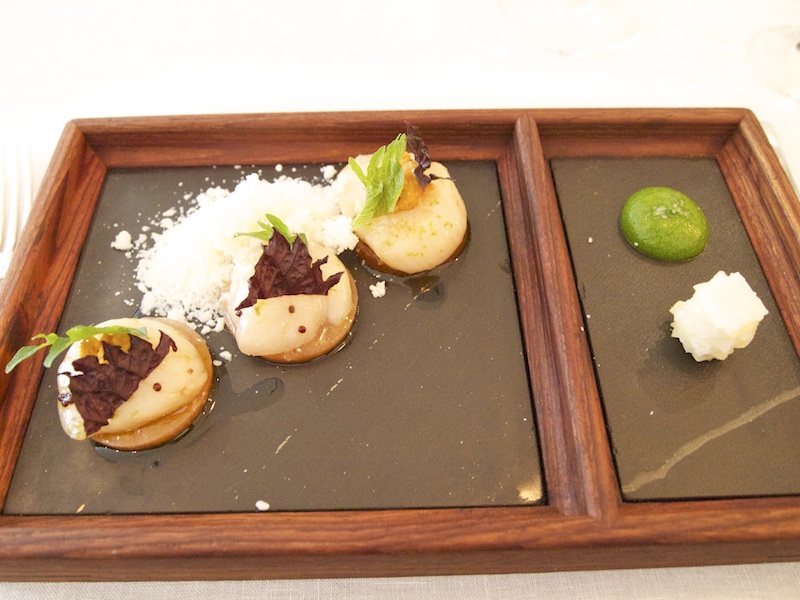 My main course was Line caught Cornish turbot, squid and langoustine 'minestrone', coco beans, baby courgette and broad beans. Very well-cooked piece of turbot and tender pieces of langoustine served with a delicious bisque which had a beautiful balance between richness and intensity. Excellent choice of vegetables, nice earthiness from the coco beans and nice fresh flavours from the baby courgette and broad beans.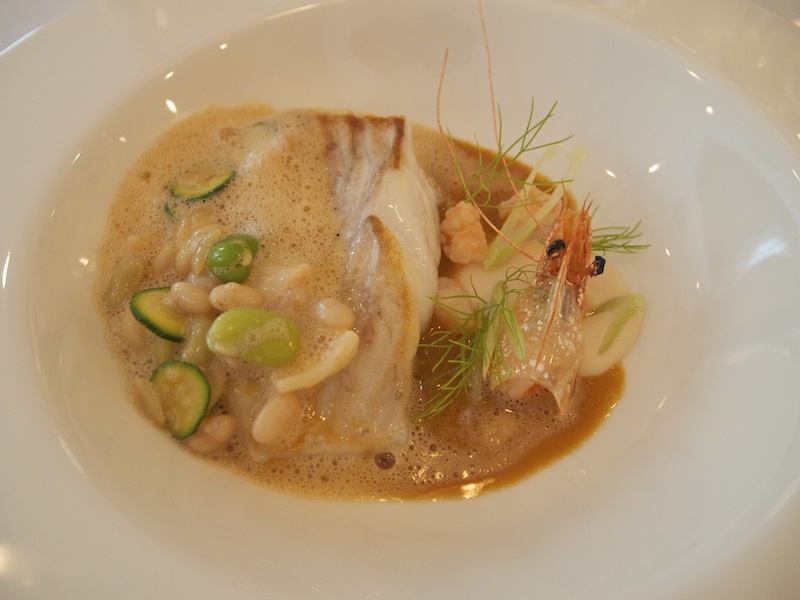 Pre-dessert was a Raspberry and yuzu coulis, cream cheese foam, frozen raspberry drupelets and green tea powder. Lovely, refreshing and well-balanced.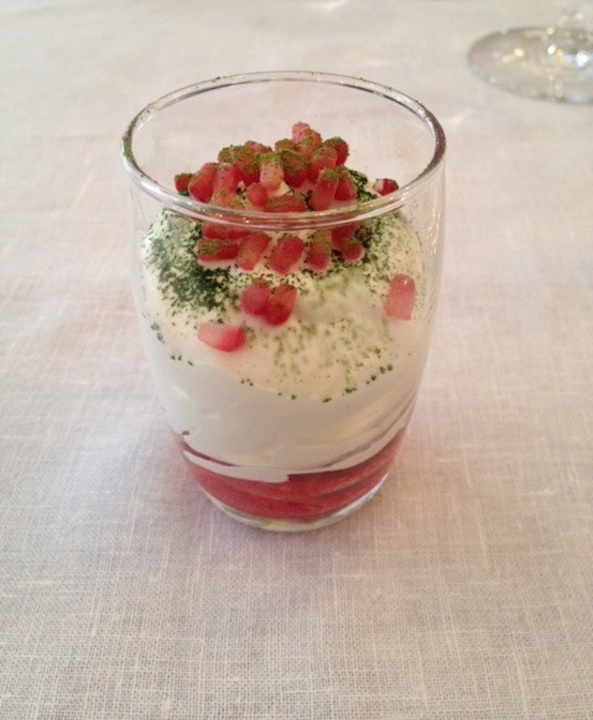 Time for dessert proper: 'PBJ' - peanut parfait, cherry and yuzu sorbet, peanut crisp and nitro peanut. The pungency of the fantastic fresh cherry and yuzu sorbet was balanced perfectly by the glorious peanut nitro and peanut parfait. The peanut nitro and the wafer-thin peanut crisp also provided great texture. A very complex but delightful take on the classic peanut butter and jelly combination with very well-judged peanut flavours.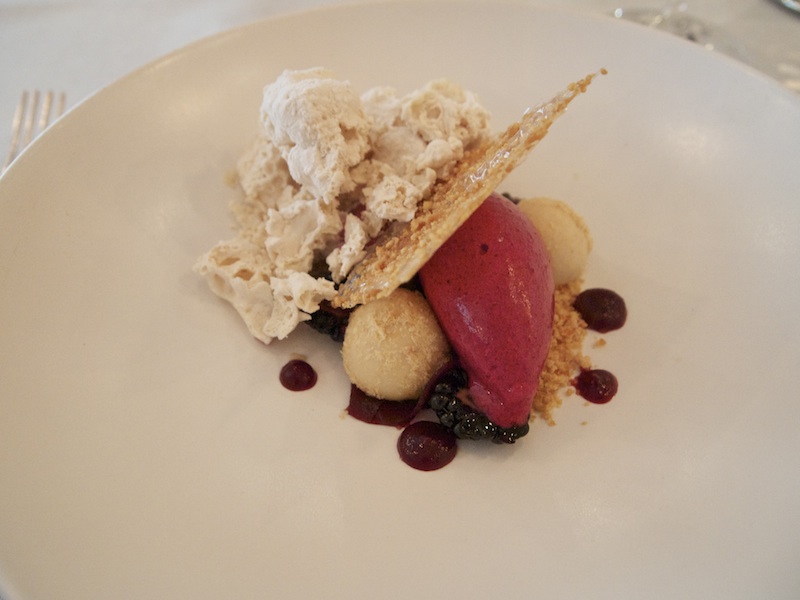 This was my second visit to Pollen Street Social. I first visited the restaurant last year just a couple of weeks after the opening. Back then all the right ingredients were there already, but this time it was a much more solid performance. General manager Michael West and head chef Paul Hood are doing an excellent job. Jason Atherton's style of cooking at Pollen Street Social is creative, modern and playful and he integrates Asian and Mediterranean influences into precise and consistently well-executed dishes that clearly bear his personal signature. Front of house are knowledgeable and provide attentive but relaxed service, making for an unfussy and informal dining experience. Informal fine dining is this restaurant's mission and they're providing that very successfully.