Rating: 92.
Rating index:
Extraordinary (96-100)
Outstanding (93-95)
Very good to Excellent (89-92)
Above average to Good (86-88)
Below Average to Average (80-85)
Avoid (below 80)
More info >
In many ways, Swedish-born Mikael Jonsson (45 years old) is not your average chef and Hedone in Chiswick, London, is not your average restaurant. Jonsson had been obsessed with food and ingredients since his youth and did some basic training as a chef before food allergies caused him to change careers and become a lawyer. His passion (he calls it an obsession) for produce and produce quality never left him however and inspired him in 2005 to start the
Gastroville
blog about restaurants, ingredients and cooking. In May 2011 he announced on this blog that the time had come to open his own restaurant and on 1 July 2011 already Hedone opened its doors.
As a chef and restaurateur Mikael Jonsson is as fanatical about the quality of his ingredients as he has always been. He has no time for molecular gastronomy or chemical additives and declares himself worried by the speed at which certain traditional methods of preparation are falling into obscurity. For many chefs 'local and seasonal' is their main mantra but for Jonsson it (merely) is a nice to have. He would no doubt sympathise with the opinions voiced by Thomas Keller and Luis Aduriz in the recent NY Times article entitled:
"For them, a great meal tops good intentions"
. The culinary guides do not seem to have picked up on this restaurant yet, but this was all the more reason for me to visit Hedone.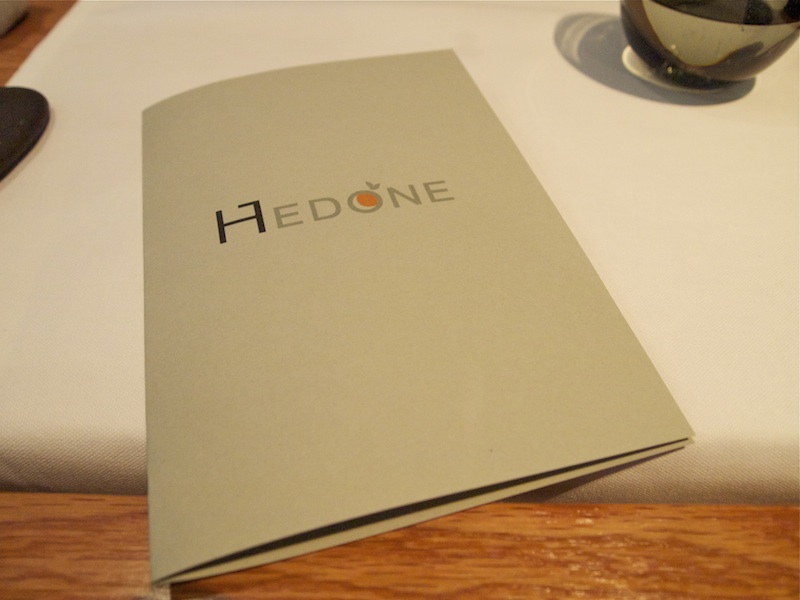 Hedone is open for dinner Tuesday till Saturday and lunch is available on Friday and Saturday. The restaurant has a daily changing set menu and you can choose between 4 courses (£50), 5 courses (£60) and 7 courses (£75). At lunch the restaurant also offers a 2 (£19) or 3 (£25) course lunch menu and a 7 course tasting menu (£55). I had lunch at Hedone on Saturday 25 August 2012 and ordered the 7 course tasting menu and some extra dishes.
First the bread and the appetizer arrived. The appetizer was Crab salad and apricot puree served in rye cups. Lovely fresh crab and the apricot really enhanced the sweetness of the crab. The bread was amazing - among the best I have ever had.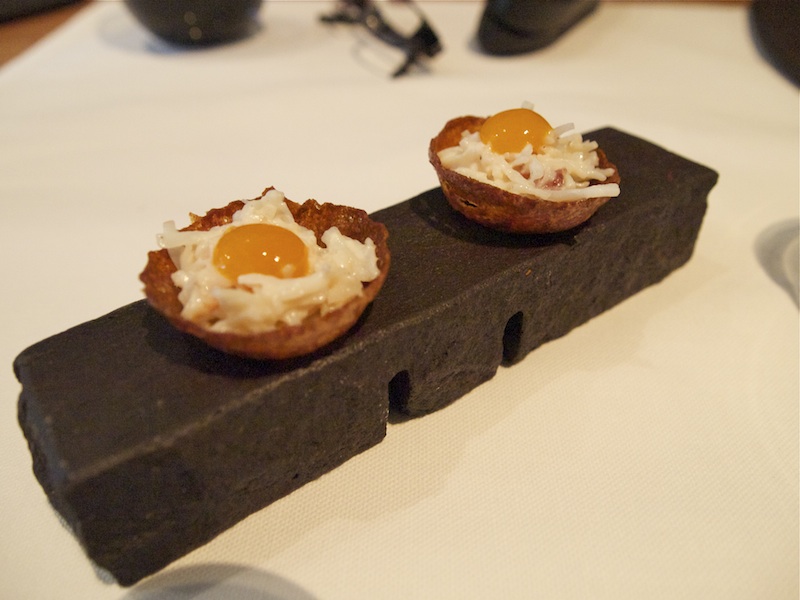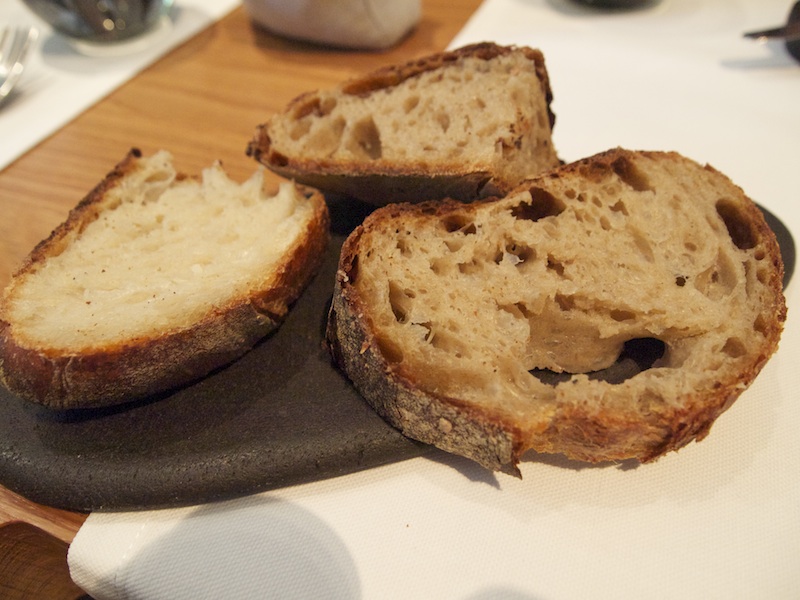 Next the first course (this was an extra course and was served amuse bouche size), Red pepper and tomato Gazpacho served with dill and grain mustard cream. Fantastic fresh red pepper and ripe tomato flavours, not a single raw note. Beautiful balance between the sweetness of the tomato and the sharpness of the red pepper. The tomato didn't just provide sweetness however, it also provided a wonderful creamy mouthfeel. Lovely dill and grain mustard cream which combined really well with the gazpacho.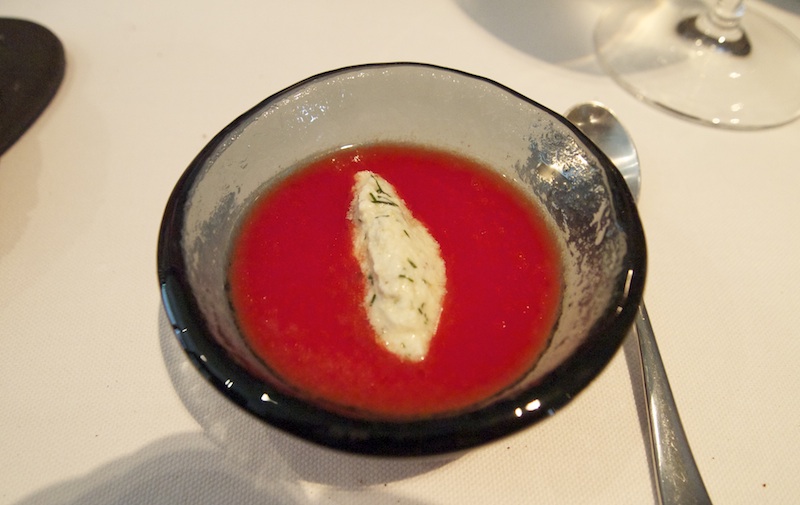 Second course, as suggested by the chef, Poached oyster, Granny Smith foam, shallots. A large juicy oyster served with some nice and sharp Granny Smith foam. Nice texture and warmth from the shallots.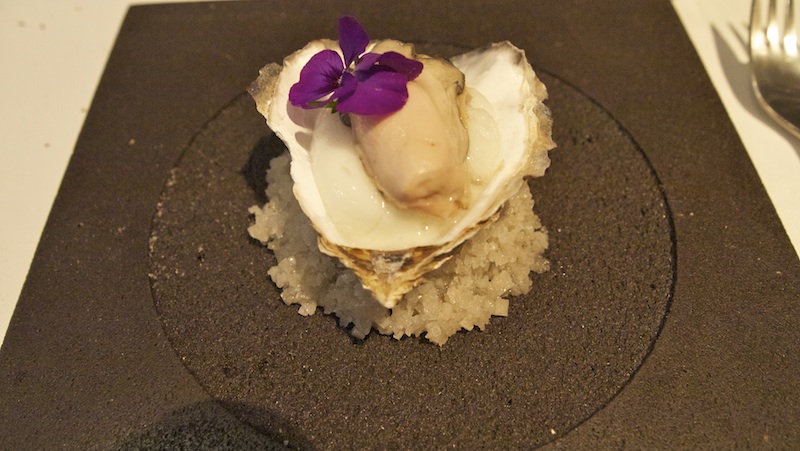 Third course (and official first course of the tasting menu), Duck egg, 'Coco de Paimpol' beans, girolles (fresh, puree + pickling juices), apricot, fresh almonds. Lovely creamy and soft egg yolk served with some apricot puree on top; the egg white was served as a foam. Absolutely wonderful nutty flavours and a light apricot-like aroma coming from the fresh girolles and puree. Some girolle pickling juice was used to make a 'mayonnaise'. A creative and elegant dish with a brilliant combination of flavours and great textures.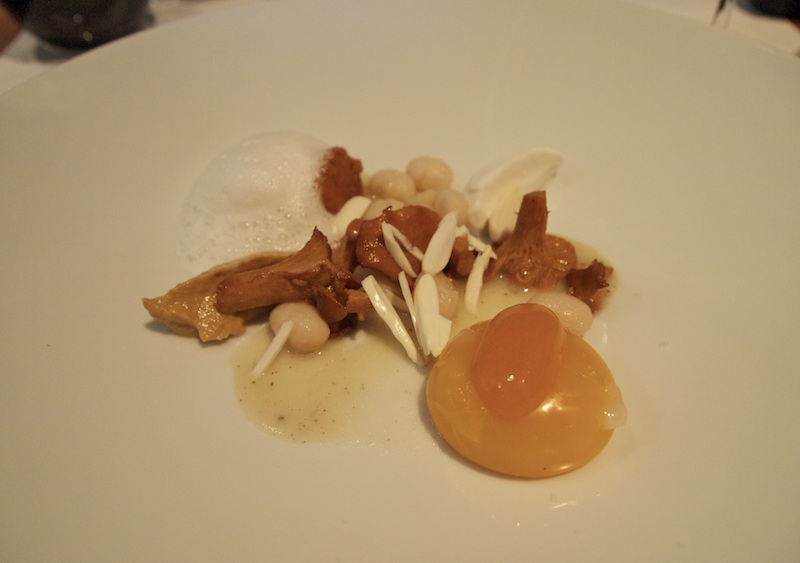 Fourth course, Razor clams, potato skin emulsion, parsley. Beautifully cooked tender razor clam (not tough for once) and a delicious potato skin emulsion that provided a nice buttery finish.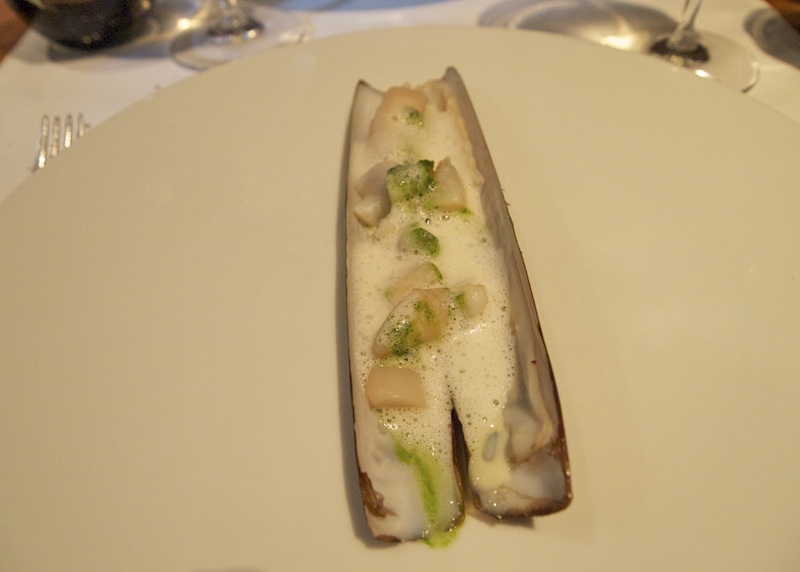 Fifth course, Cuttlefish tagliatelle with its ragù, oven roasted tomato and thinly sliced basil. Incredibly tender and flavoursome cuttlefish 'tagliatelle' served with a divine meaty and rich ragù. Fantastic juicy oven-roasted tomato which had a wonderful sweet caramelised flavour. A well-executed dish with bags of flavour.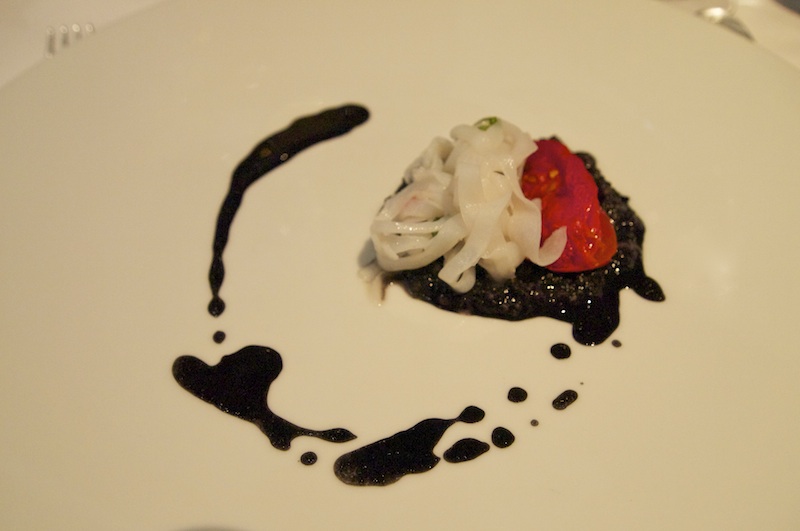 Sixth course (an extra course suggested by the chef), Slip sole with ginger, lime and sea purslane. Perfectly cooked sole (cooked under the salamander) served with an excellent creamy lime and ginger butter sauce. Great to see lime instead of white wine used in this sauce. Both add acidity to a dish but the lime also adds a wonderful light sweetness. A delightful dish that was gone in seconds and I forgot to take a photograph of it.
Seventh course, Tamworth pork belly, vine peach, ginger, fresh almonds, horseradish. Superb succulent and flavoursome pork belly with a nice crispy skin and a glorious layer of meltingly soft fat. Lovely sweet and tart notes from the peach and nice heat from the horseradish. Both the peach and horseradish cut through the richness of the pork belly very well, making this a light and elegant dish.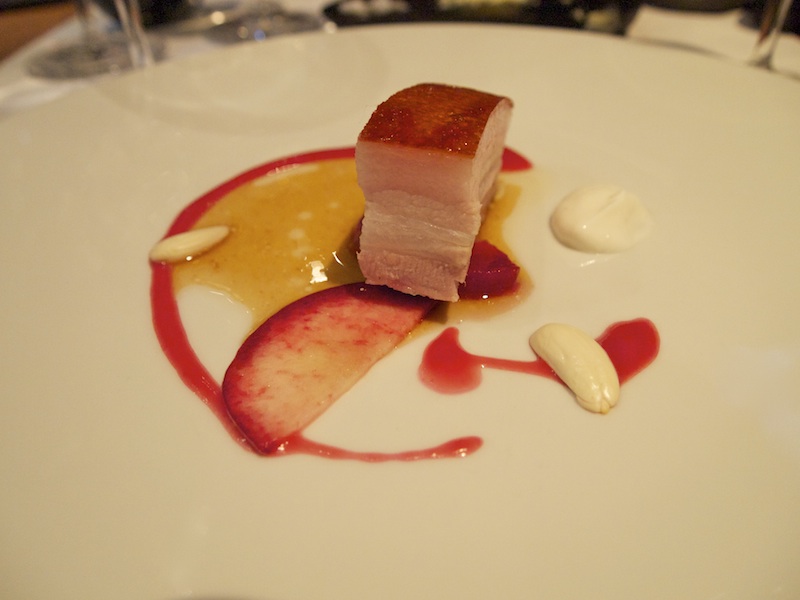 Eighth course, 55 days aged Black Angus beef, Dauphinois mousseline, caramelised shallot, carrots. Beautifully moist and succulent piece of beef from London's premium butcher O'Shea of Knightsbridge. Gorgeous caramelised shallot that was wonderfully sweet with a light touch of acidity, perfect. Delicious rich dauphinois mousseline with a good intense cheese flavour.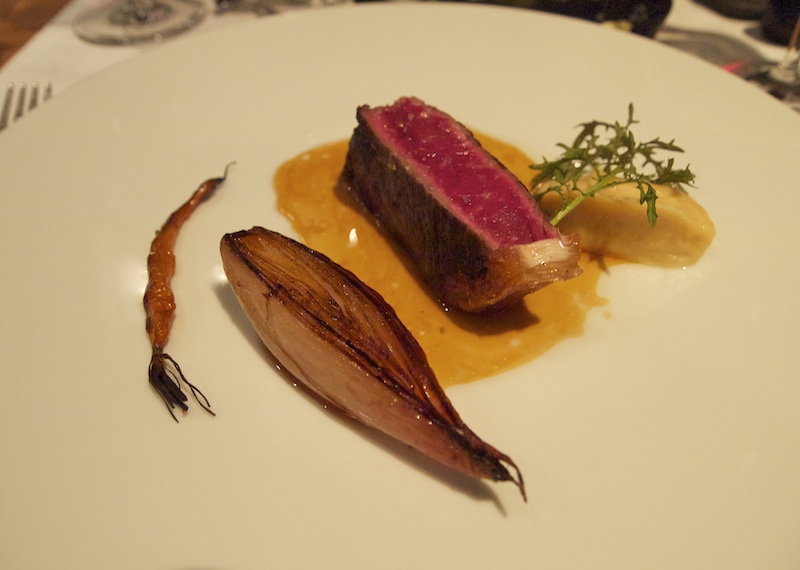 On to the desserts. First up Lemon Variation: Lemon merinque and lemon cream with some lemon confit and fresh marjoram, covered with a lemon and marjoram jelly and served with lemon sorbet. A brilliantly executed dish with beautiful lemon flavours and textures. Very clever use of marjoram which has lovely subtle lemon aromas of its own.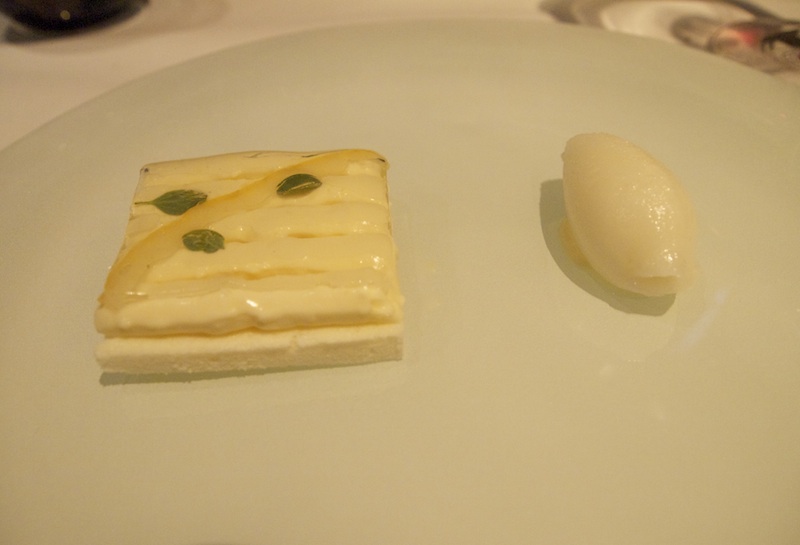 Tenth course, Chocolate bar, passion fruit sorbet, blackcurrants. A beautifully made chocolate bar filled with a fantastic chocolate mousse and blackcurrant puree. The passion fruit sorbet was nice and wonderfully pungent and was served on top of some blackcurrant coulis.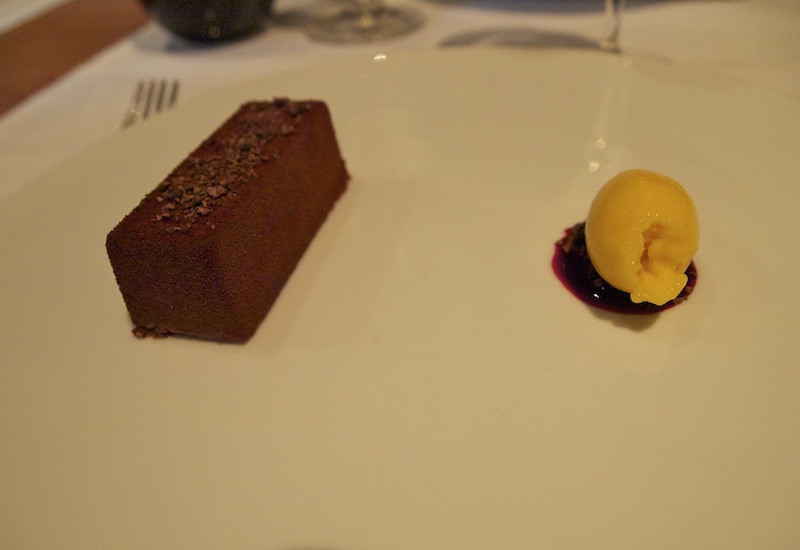 Hedone has been open for little more than a year and it is run by a first-time chef who is a novice as a restaurateur. This is not reflected in the food however - on the contrary. Mikael Jonsson is an incredibly skilled chef who employs classic and modern techniques to present very precise dishes with great attention to detail. The focus is firmly on bringing out the flavour of truly outstanding ingredients, some among the very best you will find in any restaurant (tomato, peach, razor clam, cuttlefish) and this allows Jonsson to present beautiful dishes that avoid any unnecessary complexity. The sole does Fernand Point justice in an elegant 21st century manner.

What you see is what you get at Hedone but the food is very refined and intelligent; Jonsson for example very cleverly combines complementing flavours from different ingredients (apricot and girolles, lemon and marjoram) in a way I have rarely seen before. At present, Hedone provides incredible value for money - prices will have to rise if Hedone is to become an economically viable proposition. There is an air of mystique about Hedone as a place for the cognoscenti, the initiated almost. It fully deserves attention from a wider audience however - if they have any sense they will come in droves. Chiswick is a long way out from Central London; perhaps a Hedone Express would be a good idea.