Rating: 86.
Rating index:
Extraordinary (96-100)
Outstanding (93-95)
Very good to Excellent (89-92)
Above average to Good (86-88)
Below Average to Average (80-85)
Avoid (below 80)
More info >
In 2010 Luc Kusters (head chef) and Xavier Giessen (maitre d'hotel and sommelier) opened Bolenius restaurant in Amsterdam. The restaurant is located in the business district called "Zuidas". They have their own vegetable garden which is literally situated among the office buildings. These days it's certainly not uncommon for a restaurant to be located in a business district, but I don't believe that there are many vegetable gardens among the office towers of other main cities.
Before opening Bolenius, Luc Kusters trained in several acclaimed (Michelin starred) restaurants, like La Rive in the Amstel Hotel and "De Kas" (both in Amsterdam) and Le Cirque (in Scheveningen). In 2011 Luc Kusters received the "Most Promising' award from the Dutch Gault-Millau restaurant guide.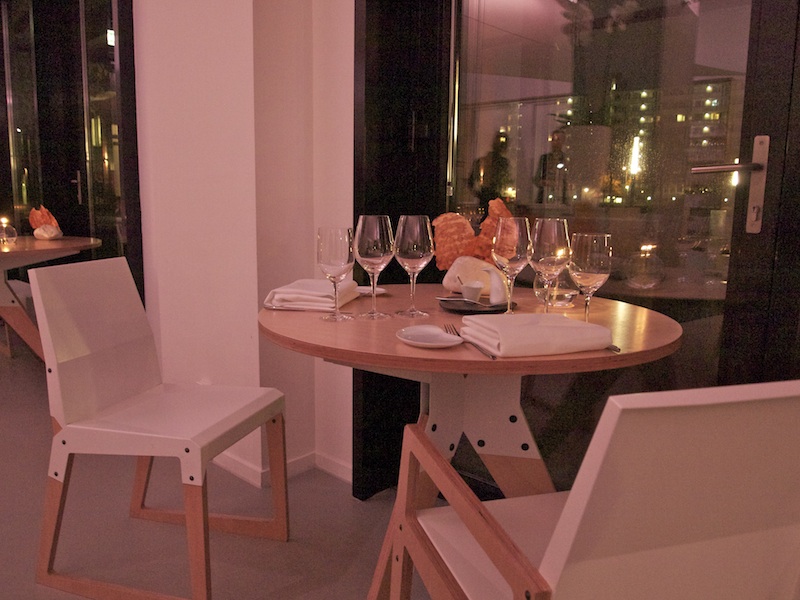 Bolenius is open for lunch and dinner Monday till Saturday. You can choose between a 4-course "Bolenius" menu for €59, an 8-course tasting menu for €99 and the a la carte menu. For lunch there is a 2-course lunch menu at €34,50 and on request the chef will prepare a special vegetarian menu. I had dinner at Bolenius with my husband and two friends on Saturday 13 October 2012 and we all had the 8-course tasting menu.
With our aperitifs the first of five amuses bouches arrived: Taggiasche olive cakes. The cakes were announced as 'puffs' but I prefer to call them cakes because their consistency was cake-like. Flavoursome cakes though, with distinct Taggiasche olive bitters. Also on the table was some fantastic crisp Pane Carasau, the traditional flatbread from Sardinia.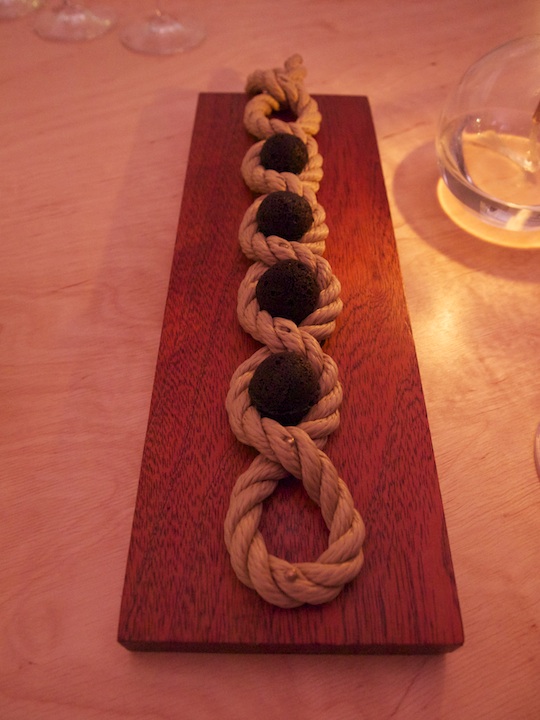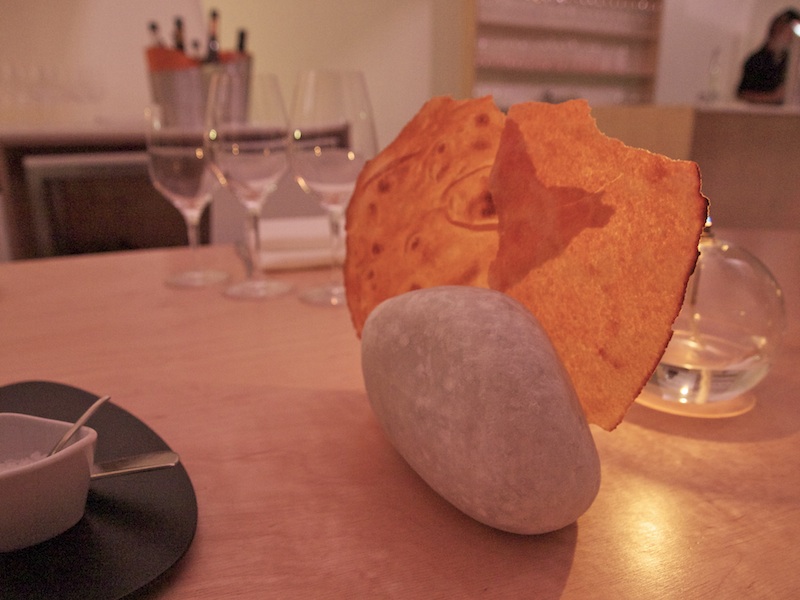 Next we were served a grey shrimp 'croquette': a cylinder made of crispy filo pastry with a firm grey shrimp paste filling and a cornet made with VOC (Dutch East India Company) spices filled with 'Ossenworst' (a kind of smoked and spiced beef sausage) and 'Amsterdamse uien' (pickled onions) ice cream. Very clever and creative use of these traditional Dutch ingredients and delicious too.
Since the slightly psychedelic lights were switched on in the restaurant at this point, all my photographs below will have a pink glow.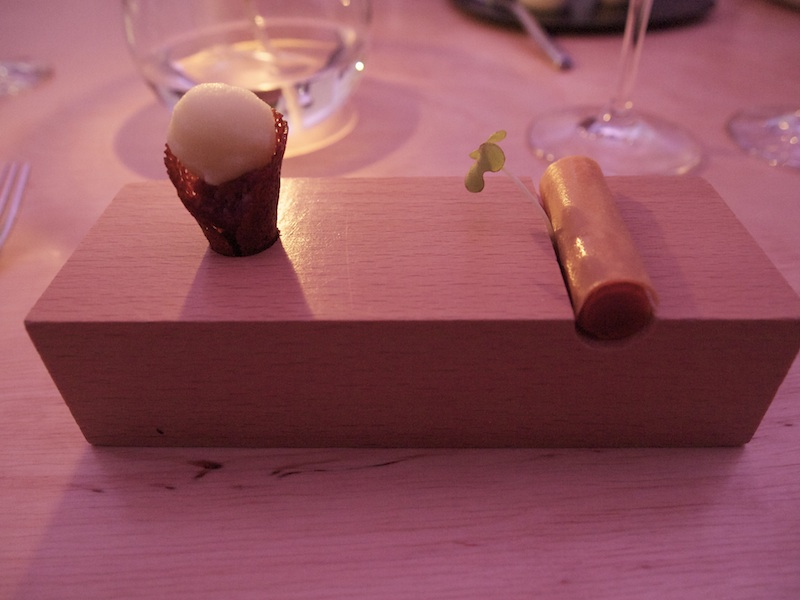 The last two amuses bouches were: "Wooden shoes" made from carrot and ginger, served on top of some pumpernickel 'earth'. Beautifully made and colourful wooden shoes which had a firm jelly-like consistency, the flavour however was slightly starchy. Followed by (served on the diner's fist): freeze dried yoghurt placed on top of some horseradish cream and topped with some salmon caviar. A lovely combination of flavours and textures. (no photograph)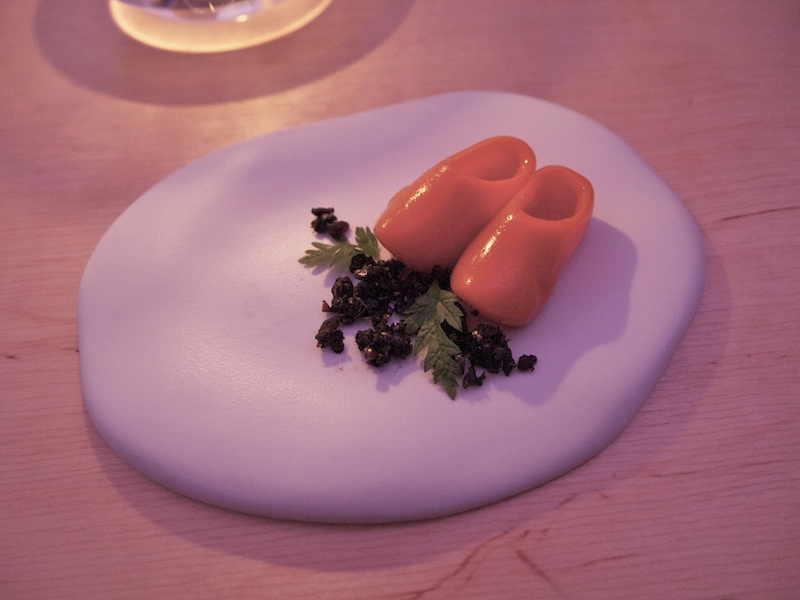 First course of the tasting menu was Lobster, cape gooseberries, lard, sourdough. Modest pieces of well-cooked, tender lobster served with a sweet and slightly tangy cape gooseberry sauce, thinly sliced red chilli, cape gooseberries and lard discs and some sourdough crumbs. Nice fruity notes from the chillies, the strong sourdough flavours (pumpernickel-like) were rather distracting though and the lard discs didn't add much flavour. Although this dish had some nice elements in it, the delicate sweetness of the lobster seemed a bit lost amidst all the other flavours and on the whole the dish didn't work for me.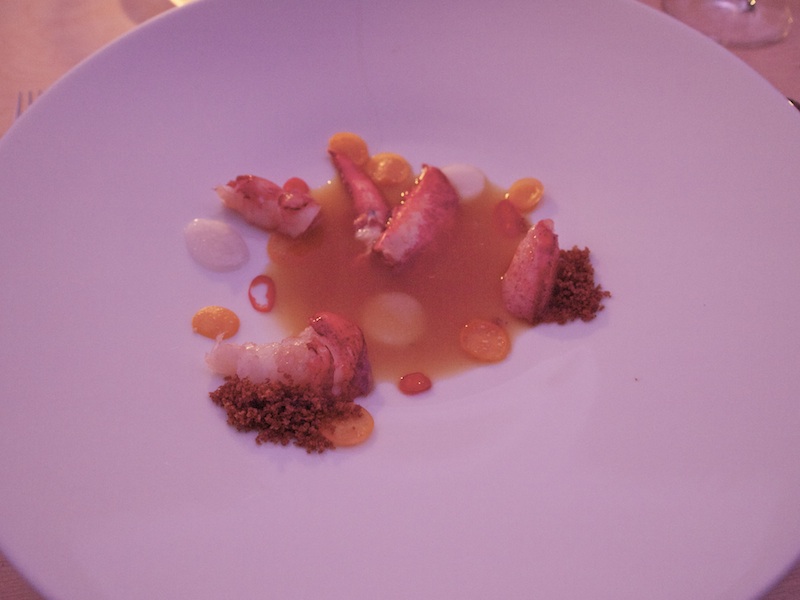 Second course, Cauliflower risotto and herring caviar. A wonderful creamy risotto made entirely from cauliflower, topped with thinly sliced cauliflower stem, some dried cauliflower and small dots of herring caviar. A delicious and elegant dish that was very well-made. Loved the touch of saltiness from the herring caviar.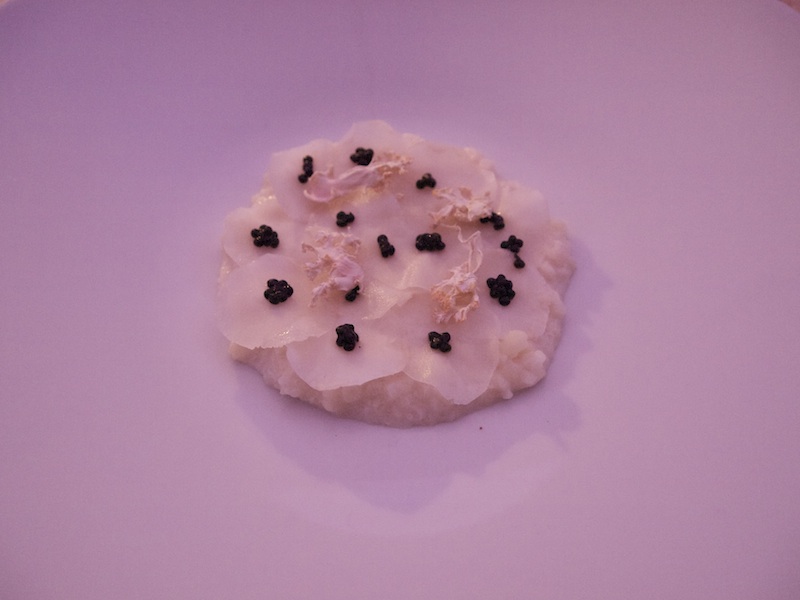 Third course, Chicken ("Blauwhoender" from the province of North Holland), bouillon, mushroom. Home-made chicken sausages with VOC (Dutch East India Company) spices, thin semolina pancakes, dried mushrooms in a dissolvable transparent casing and a concentrated bouillon 'coin'. As soon as some hot boiled water was poured over, the 'coin' melted away and a lovely, rich and flavoursome stock formed, which combined wonderfully with the chicken sausages. The VOC spices added some lovely warmth to this elegant dish.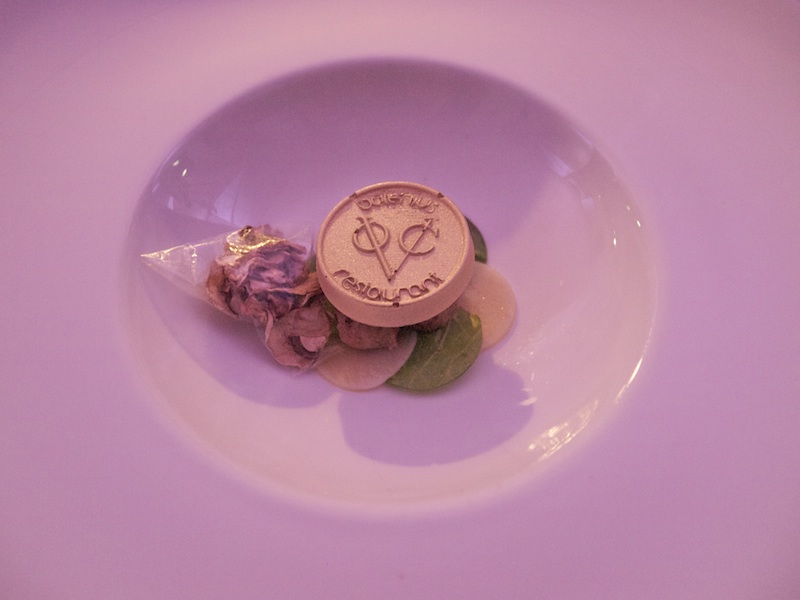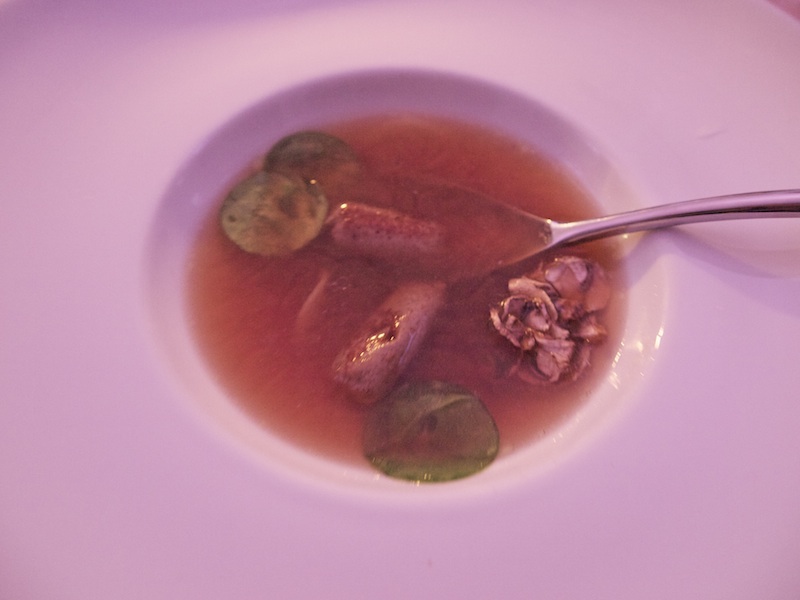 Next up was the fourth course: Halibut, algae, celery, mushrooms. A piece of well-cooked, moist and tender halibut, accompanied by a celery and algae broth, algae caviar, finely sliced fennel and a mushroom compote. The celery and algae broth was very pure and clean but its flavours were raw and hard, lacking warmth and depth. The lovely mushroom compote did not manage to compensate completely for this. A dish with nice textures, but overall too 'green' flavours.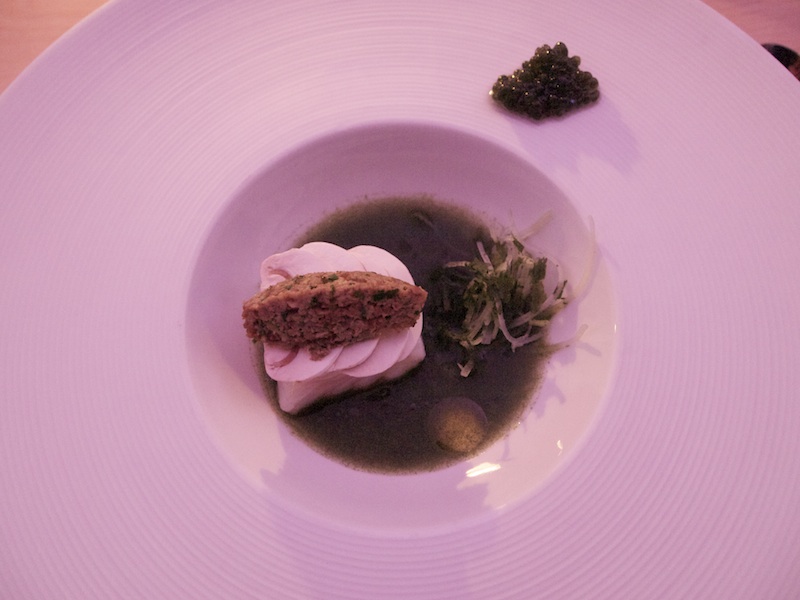 The fifth course was served under a glass cloche filled with smoke: Sweet bread, 'charcoal', anchovies, pickled onions ("Amsterdamse uien"). Nicely cooked sweetbread, served with a bright yellow pickled-onion sauce, anchovy foam and 'charcoal'; braised cassava root covered in squid ink dust, which was tasty and had a lovely texture. All the individual elements of the dish were well-executed, but the flavours didn't complement each other at all.
On to the sixth course. Wild duck, tomato, white beans, elderberry. Duck is certainly a kind of meat that can take on rich and powerful flavours, but in this case the duck was totally overpowered and smothered by a rich and concentrated tomato sauce to the point where it was almost impossible to recognise the duck as duck. Obviously the sauce did work well with the beans - they were nice and tender. Also on the plate were small balls of very floral, marinated granny smith apple and leg meat from the duck. The leg meat was shaped into a ball and covered with a thin layer of elderberry jelly. A bizarre and ill-conceived dish. Or to put it slightly less bluntly: a dish that I did not understand.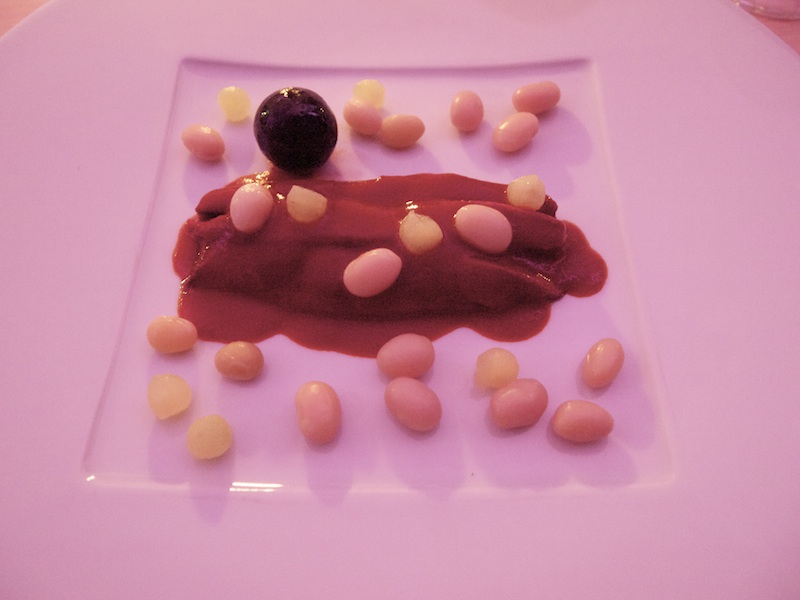 Seventh course: a dish inspired by the aromas and flavours of a Dutch dark beer called Hertog Jan Grand Prestige (no photograph). An interesting dish with the following ingredients: butter milk, almonds, cardamom, 'Messeklever' (a type of Dutch, soft, young cheese), toast, caramel, quinine, cinnamon, coffee, salmiak liquorice, bay leaf and citrus. Lovely fresh butter milk ice cream served with cubes of Messeklever, some small and crunchy pieces of toast and chopped almonds. The remaining ingredients were made into a jelly which was too bitter on its own.
Last and eighth course was Spaghetti Napolitana. A stunning blown sugar glass tomato filled with a sweet and sticky confit tomato filling, served with olive oil 'spaghetti' and grated white chocolate. A playful, sweet-and-savoury dessert with nice tomato flavours and great textures.
With our coffees we were served an impressive selection of delicious home-made (traditional Dutch) sweets. (no photograph)
In the Netherlands Bolenius is known for modern Dutch cooking or, as they call it: New Amsterdam cooking. Where other restaurants usually have the occasional typical Dutch ingredient or dish on their menu, at Bolenius the Dutchness is an essential part of the concept of the restaurant. This is a concept which is definitely off the beaten track (to many, Dutch cuisine is almost a contradiction in terms) and I applaud them for it.
When it comes to translating this concept into food on the plate however, the results are rather a mixed affair. The tasting menu at Bolenius was a mix of successful and unsuccessful dishes. It is not the execution that lets the less successful dishes down. Luc Kusters is clearly a skilled chef and this is apparent from the execution of the individual elements of the dishes. The presentation is usually very good too. In some cases however, the composition, the design if you will, of the dishes seems seriously flawed. The flavours are often quite bold but they can be unbalanced too and if they are, the dishes lack finesse and harmony. I can't really put my finger on why this sometimes occurs. Is it perhaps when the realisation of the concept is put before gustatory attraction? The food at Bolenius does not show a lack of creativity at all; on the contrary, the tasting menu showcases many interesting and original ingredients, modern techniques and innovative ideas. It is daring food and therefore by definition not always to everyone's liking.
About the service I can be unequivocally positive. The staff are attentive and knowledgeable and maitre d' Xavier Giessen (who shares his first name and his town of birth with hubby) creates a friendly and warm atmosphere that the Dutch would describe as "gezellig". The wine list is concise but well-constructed and mark-ups are very reasonable; the proprietors clearly have (the enjoyment of) fine wine close to their hearts as is also evinced by the beautiful glass wine cabinet in the restaurant. At our table our vinous needs were taken excellent care of by the charming and knowledgeable Margot Los.
Bolenius to me is a bit of a roller coaster; there will be highs and there will be lows and the culinary G-forces will not always be to everyone's liking. Speaking for myself I would say that there were some turns and loops that I found unpleasant and I am certain that Bolenius could offer its passengers a more harmonious and enjoyable ride without losing interest or individuality.