Rating: 91.
Rating index:
Extraordinary (96-100)
Outstanding (93-95)
Very good to Excellent (89-92)
Above average to Good (86-88)
Below Average to Average (80-85)
Avoid (below 80)
More info >
As we all know, Alfred Hitchcock was renowned for his cameo appearances in the films he directed. In his 1940 film "Foreign Correspondent", the Hotel de l'Europe in Amsterdam was used as a location and early on in the movie Hitchcock can be seen walking past the hotel, reading a newspaper. In a(nother) famous scene in the film, the (partially defective) lights on the roof of the hotel read: "Hot Europe" - a reference to the political situation at the time. Hitchcocks film and the war that it presaged, when the hotel was occupied by German officers, were only scenes in the long history of De l'Europe, one of the (few) grand traditional hotels in Amsterdam, and of the site on which it is built. The Hotel l'Europe is located right in city centre of Amsterdam on the river Amstel that gives the city (and the restaurant) its name; it is an oasis of tranquillity among the hustle and bustle outside (which is fun to watch).
The current building was constructed in the late 19th century and opened as a luxury hotel in 1896. The history of this site goes back much further however. As early as 1638 an inn was built here, on the foundations of the "Rondeel" tower that had been constructed as part of the city's defences in 1535. A 1772 newspaper article refers to an inn called "Wapen van Amsterdam" ("The Amsterdam Arms") on this site. In 2008-2011 the hotel (owned by Heineken) was extended and underwent extensive refurbishment. The hotel's fine dining restaurant re-opened in July 2012 and was re-named Bord'eau. Its predecessor was called Excelsior and was one of only eight restaurants to be awarded a Michelin star in the first Michelin Guide for the Netherlands in 1957, which it held until 1970. It also was awarded a star from 1987 - 1992.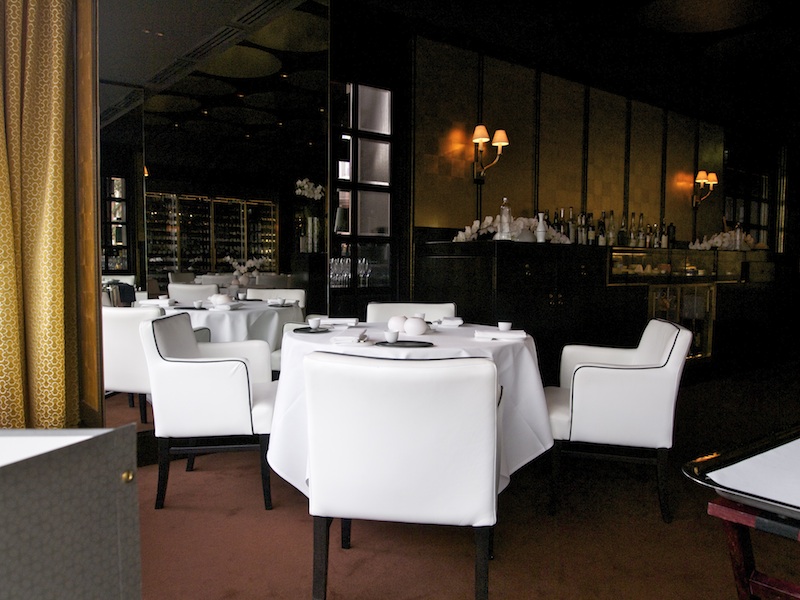 At the helm of the kitchen at Bord'eau are executive chef Richard van Oostenbrugge and head chef Thomas Groot, both previously of Envy restaurant in Amsterdam. Also part of the team is consulting chef Robert Kranenborg, a culinary icon in the Dutch food world, who was awarded two Michelin stars at restaurant La Rive in the Amstel Hotel in the 1990's.
Bord'eau is open for lunch and dinner Tuesday till Saturday (no lunch on Saturday) and apart from the a la carte menu, the restaurant offers several multi-course menus. There's a 4-course menu for €73, a 5-course menu for €83 and a 6-course menu for €93. For lunch the restaurant also serves a 2- course menu for €38, a 3-course menu for €48 and a 4-course menu for €58. I had lunch at Bord'eau on 21 September 2012 and ordered the 6-course menu with an extra cheese course.
First I was offered a cup of invigorating and fragrant lavender tea, together with a refreshing towel. Soon after some nibbles arrived: (i) Celeriac cylinder filled with fresh white crab meat, a wonderful combination and I loved the touch of sweetness from both the crab and the celeriac - (ii) Parmesan 'twigs' served with a cumin dip; the twig was nice and crisp and the dip was wonderfully creamy, but the thick consistency made it a bit difficult the actually use as a dip - (iii) 'Bloedworst' (Boudin Noir) crisps served with a 'bloedworst' dip, nice wafer-thin crisps and the mayo-like dip was delicious, with nice subtle black pudding flavours - (iv) Artichoke cakes topped with some anchovy crème, a lovely cake with a nice light and moist consistency with good intense artichoke flavours. A wonderful selection of nibbles; creative and original presentation.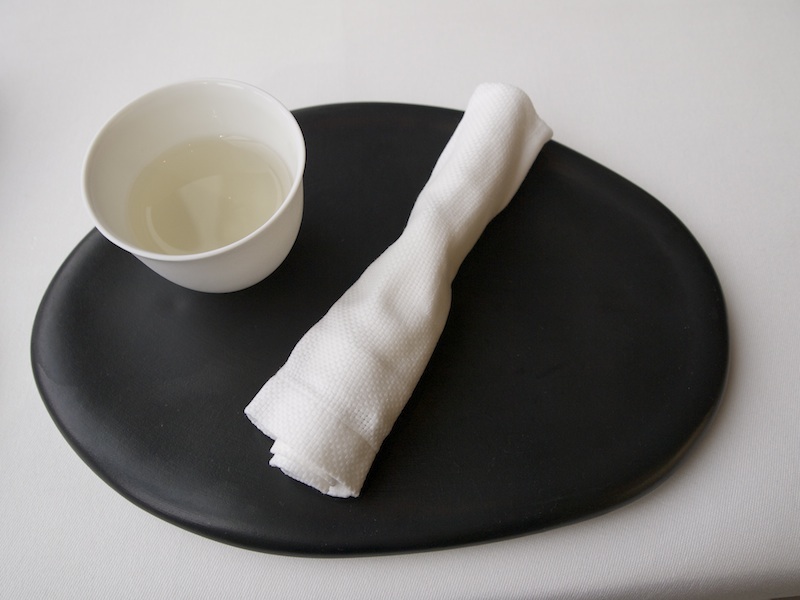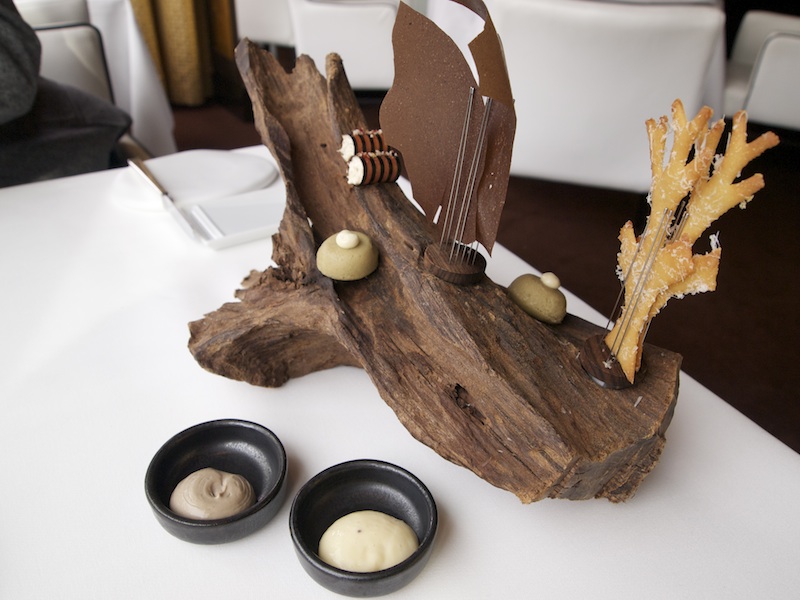 Next an amuse bouche: Tomatoes, celery, horseradish ice cream and tomato juices. Fresh and juicy tomato varieties, with lovely rounded meaty flavours and delicious flavoursome tomato juices. Nice flavour and warmth from the horseradish ice cream. A well-balanced and elegant amuse-bouche.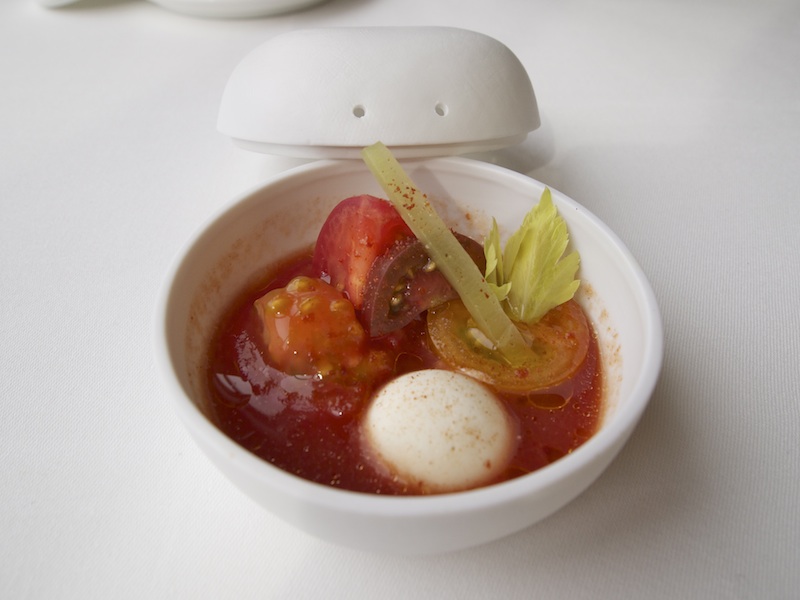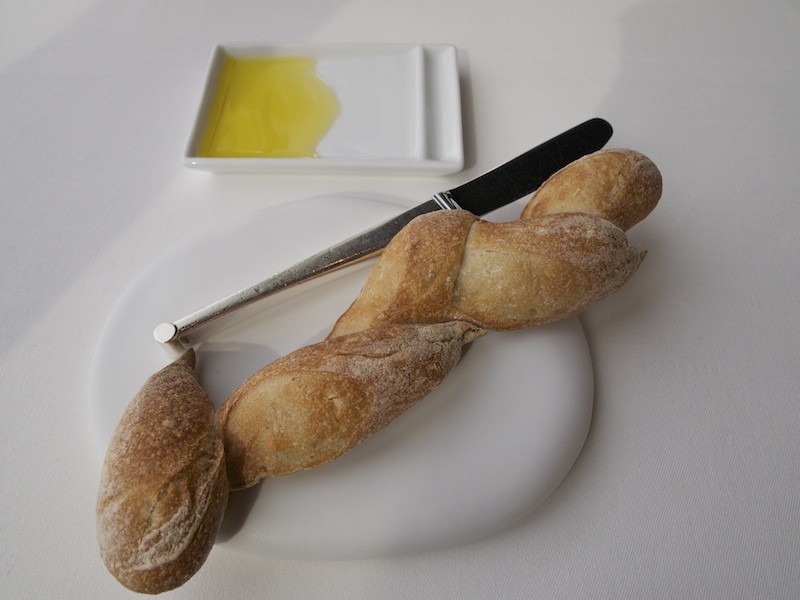 The bread: not home-made but very good quality.
The first course of the tasting menu was Cod lamellae, cauliflower, XO sauce, shallots, nasturtium flowers and leaves. Wonderful fresh and creamy cod served with some thinly shaved cauliflower on top and a fantastic XO sauce that was a perfect accompaniment for the cod and added nice depth of flavour to the dish. Lovely bite from the cauliflower and lightly charred shallots. Nice colour and light peppery flavours from the nasturtium although the edges of the leaves were rather sharp and not very easy to eat.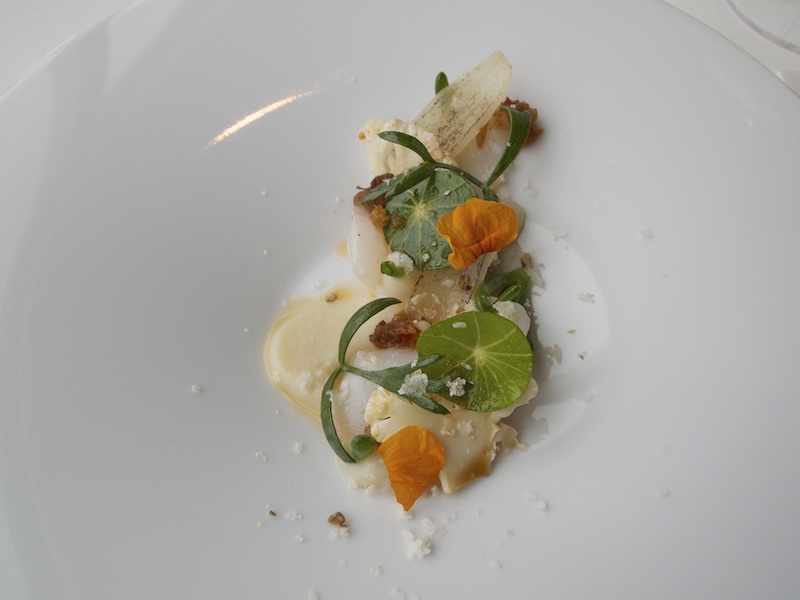 Second course: Veal tartare, sour cream, confit potato, bone marrow and caviar. A perfectly clean and polished marrow bone, filled with a fresh veal tartare, covered with sour cream and topped with caviar. The veal tartare was was well seasoned and had a lovely fine texture, without being too smooth. The sour cream and salty caviar really enhanced the delicate veal flavours. Accompanying the tartare was a perfect, thin sourdough crisp covered with thinly sliced confit potato and a bone marrow dressing which had a lovely touch of acidity. Divine bone marrow and fantastic buttery potatoes, an absolutely wonderful flavour combination. A glorious dish that was perfectly executed and had a fabulous presentation. Hurrah!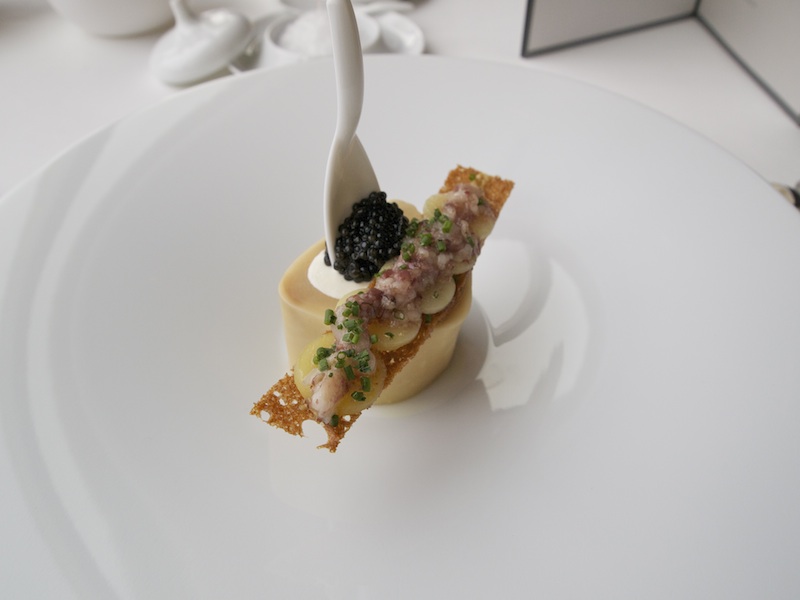 On to the third course; Langoustine, chicken skin, chestnuts, chicken liver, parsley root and white wine vinegar. Lovely tender and translucent langoustines and terrific, crisp and salty chicken skin, accompanied by an excellent rich and and smooth chicken liver sauce and a creamy and smooth parsley root puree. Lovely touch of acidity from the pickled parsley root discs and dots of white wine jelly which added a touch of lightness to the dish and thus provided perfect balance. Last but not least, some chestnut shavings, delivering warmth and a touch of sweetness.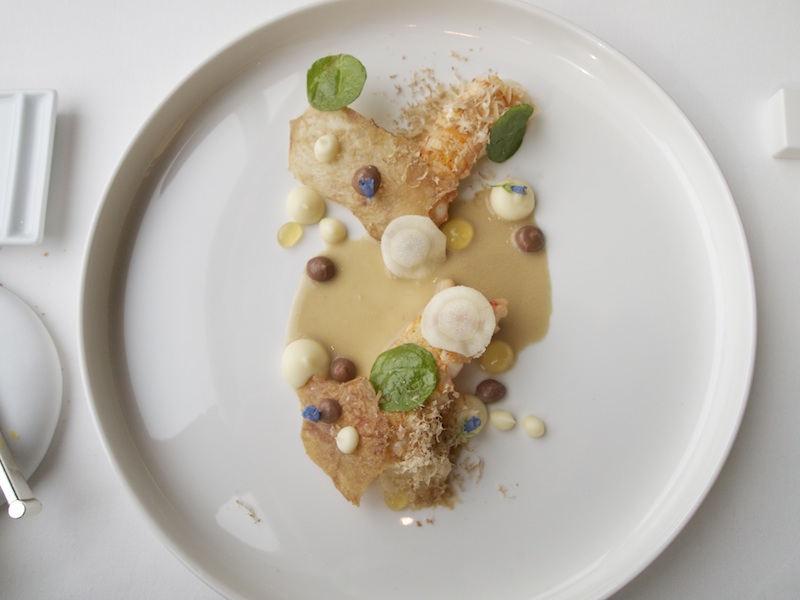 Fourth course: Red mullet, 'jus Bécasse', artichokes, watercress and toast rotie. Perfectly cooked red mullet with a fantastic thin and crisp sourdough 'skin', served with a marvellous 'jus Bécasse' made from the red mullet. As in the original woodcock jus, the red mullet liver is part of the sauce as is the rest of the fish. A gorgeous, rich jus that had a bisque-like depth of flavour. Some of the red mullet liver was served on a wonderful crisp 'toast rotie'. The lovely crisp watercress was nice and peppery. With the dish came a cup of pu'er tea which combined beautifully. A terrific dish that showed skill and originality, with great flavours and textures.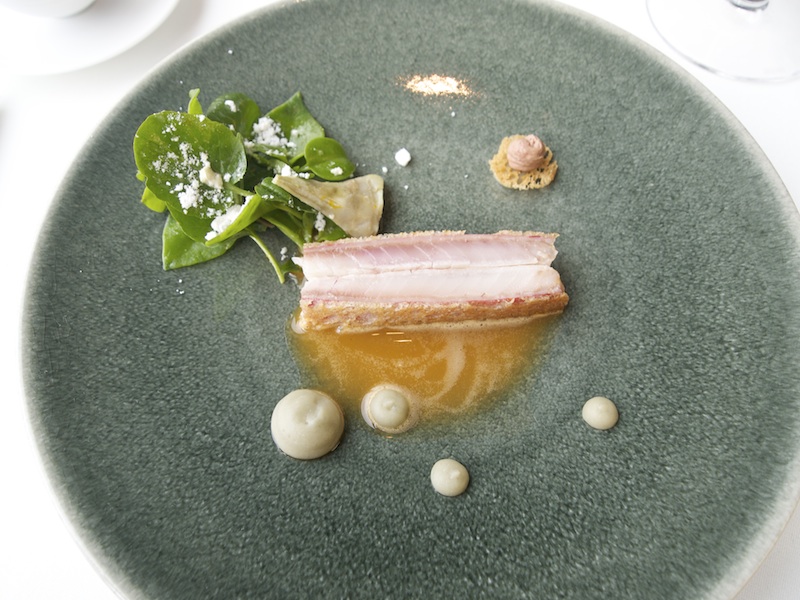 The fifth course was: Wild duck (breast and leg), spices, corn, red and green cabbage, 'jus de presse' with bloedworst. Tender and moist duck breast, seasoned with a lovely winter-warm spice mixture with wonderful light notes of star anise. The skin on the leg was crispy, but rather dry. The 'jus de presse' was rich yet elegant and the pieces of bloedworst added extra depth of flavour. Wonderful sweetness from the freshly roasted corn and the smooth and creamy corn puree. The pickled cabbage leaves helped to cut through the richness of the dish. A delightful dish with a nice balance of flavours.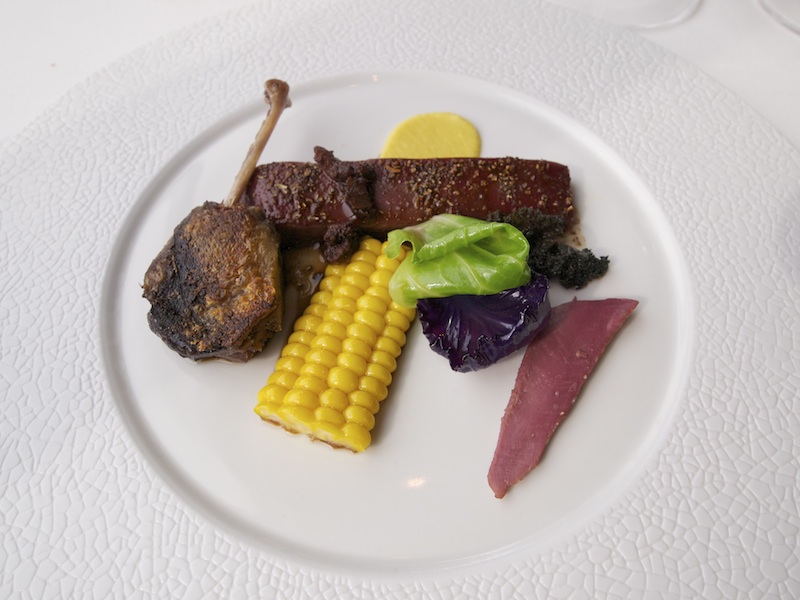 On to the cheese course. Bord'eau has a lovely selection of well-matured cheeses including some fantastic Dutch hard cheeses and with the cheese they served a terrific local 'vintage 2012' honey.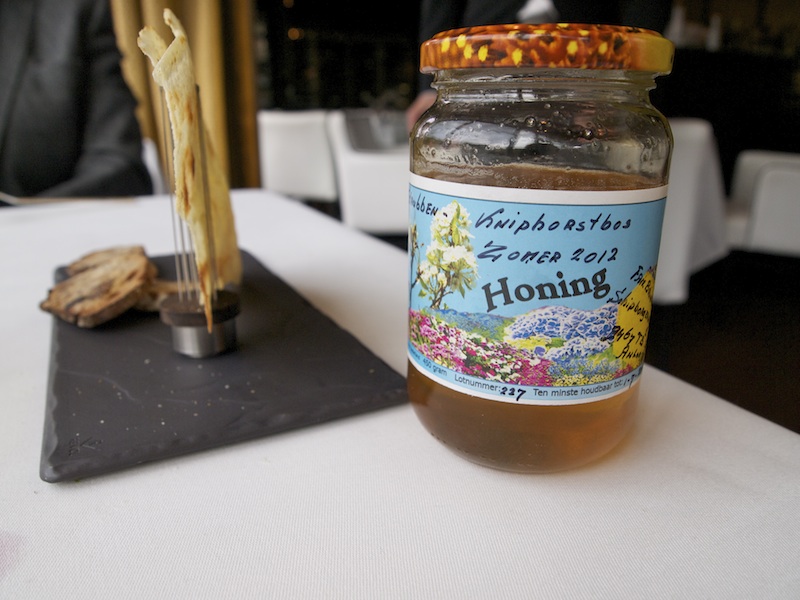 Last course, dessert. In fact there were two different desserts which I shared with my table companion. First the chocolate dessert, made with Manjari and Garnacha, that has quickly become Bord'eau's signature dish: a stunning golden chocolate balloon. When some white chocolate sauce was poured over the balloon, the balloon cracked/melted and revealed the different textures of chocolate inside. This stunning dessert was followed by peach: wonderful, light peach ice cream made to look like a peach, with an edible, crisp almond "stone", served with some delicious slices of fresh wild peach, buttery crumbs and pistachio creme. Two marvellous desserts that showcased great skill.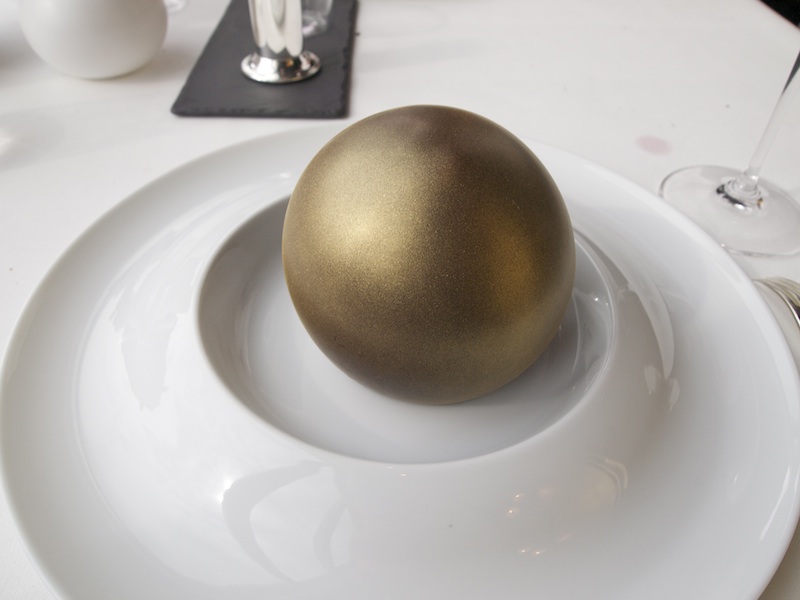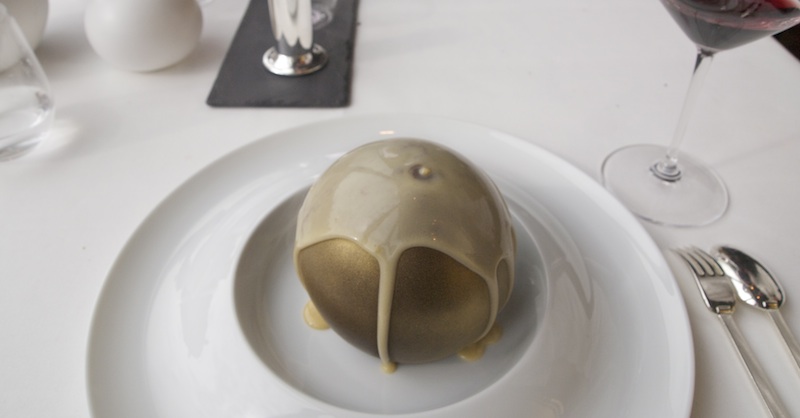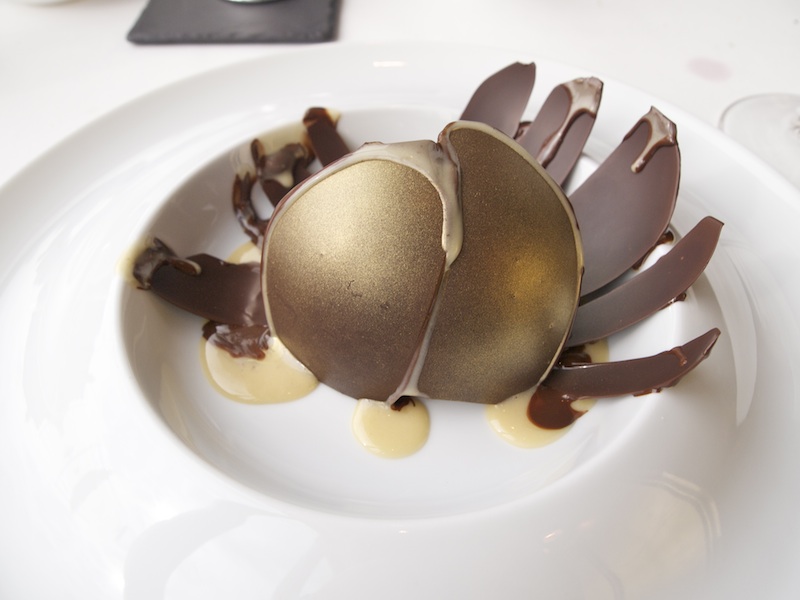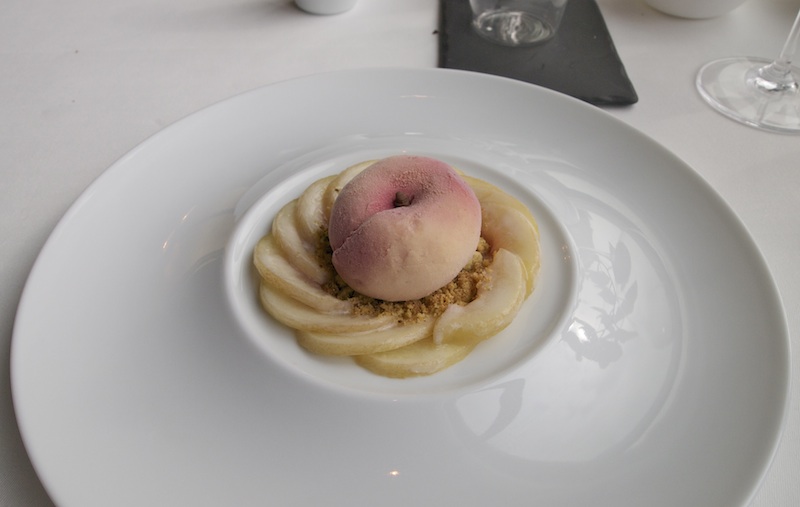 Bord'eau is a restaurant that ticks many boxes. The team is young and ambitious and has the skill to back it up, both in the kitchen and in front of house. Unfortunately the proclamations of the restaurant's greatness on the hotel website come across as rather pompous. The food however is attractive and elegant; dishes are internationally styled and designed and prepared with great care and precision. There were some very inventive and original dishes on the menu and there were interesting flavour combinations to be enjoyed. The cuisine at Bord'eau cleverly balances classic techique and contemporary styling. I was very impressed with the performance of this restaurant that had only been open for little more than a year when I visited. Wine Spectator has already recognised the quality of Bord'eau's wine list; the restaurant was awarded a Best Award of Excellence (878 winners world-wide). If my experience is representative for the quality level that Bord'eau regularly achieves (and why wouldn't it be), surely a Michelin star in next year's guide is a matter of course.
More Bord'eau on Elizabeth On Food:
2014 review of Bord'eau (click here)