Rating: 90.
Rating index:
Extraordinary (96-100)
Outstanding (93-95)
Very good to Excellent (89-92)
Above average to Good (86-88)
Below Average to Average (80-85)
Avoid (below 80)
More info >
Electrical equipment giant AEG used to have many factories in and around Berlin, in which they manufactured varied products such as motors, light bulbs, generators and turbines. AEG's light bulb production took place in a factory in the Schlegelstrasse, located in the Berlin Mitte district. The factory complex was redeveloped at the beginning of this century and appropriately renamed 'Edison Höfe'. The complex, which measures over 11,000 square meters, now houses offices (including the Nokia building), lofts, galleries and restaurants.
In 2009 restaurant Reinstoff took up residence in the former firehouse of the AEG factory, which is located in a courtyard right off the Schlegelstrasse. Reinstoff is run by chef Daniel Achilles (b. 1976, Leipzig), his life partner/restaurant manager Sabine Demel and sommelier Ivo Ebert. Before starting his own restaurant, Daniel Achilles had worked at Restaurant Stadtpfeiffer in Leipzig, at Christian Bau's three-star
Schloss Berg
in Perl-Nennig and twice with Juan Amador, first at Fährhaus Munckmarsch on the isle of Sylt, and later on at three-star Amador, then located in Langen. Reinstoff was awarded a Michelin star in 2009 and a second star followed in 2011.
Reinstoff is open for dinner Tuesday till Saturday and there are two tasting menus on offer. There is "Ganz Nah" (meaning: nearby), a menu comprised of dishes made with local/regional ingredients and there is "Weiter draussen" (meaning: further away), a menu comprised of dishes made with a mix of local, regional and global ingredients. Prices are: 5 courses €91, 6 courses €109 and 8 courses €145. I had dinner at Reinstoff with my husband on Saturday 1 June 2013 and we both ordered 8 courses from the Weiter draussen menu. Apologies for the quality of the photographs; this was the best that the lighting in the restaurant allowed.
Our meal started with five amuse bouches. First an egg shell filled with creamy scrambled eggs and different textures of green beans, lightly seasoned with summer savory; then a piece of grilled cucumber with Skyr (an Icelandic type of yoghurt); followed by a brown shrimp salad served on crispy potato 'spaghetti'; beetroot 'bubblegum' with pickled beetroot and finally a delicious and moreish blood-soaked sandwich with a filling of pickled strawberries, roe deer, fresh herbs (such as chervil and tarragon) and some thinly sliced button mushrooms on top. Five well-executed amuse bouches with lovely flavour combinations.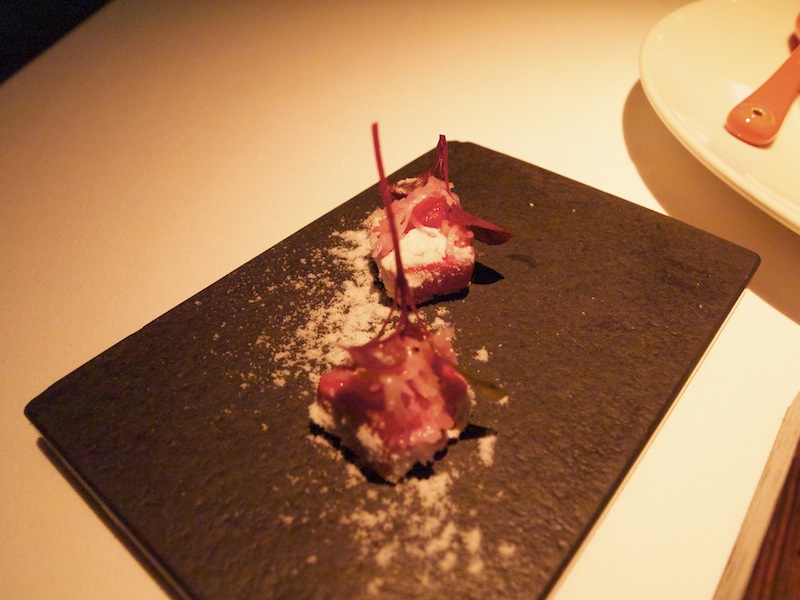 First course was tender squid (body and tentacle), served with a lovely, lightly sweet gooseberry foam, a squid ink sauce and few drops of Cabernet Sauvignon vinegar. An elegant dish with distinctive flavours.
The next dish was called "Sammlerglück: Morcheln querbeet", meaning The Lucky Forager: morels in abundance. Morels, morel ice cream, a light morel jus, lightly pickled morels, and morel puree, shaped into a framework. Great variety of flavour intensities, fresh and pure, with a focus on the nuttiness of the morels. Lovely, intense ice cream and wonderful warm notes from the jus.
Third course, pieces of tender and moist lobster, crunchy baby celery stalks, mustard greens, beansprouts and crisp fried onions, served on top of a buckwheat pasta sheet and complemented by a shellfish nage. A fantastic combination of flavours and textures. Nice hint of sharpness from the mustard greens and wonderful richness from the nage. The buckwheat pasta had been lightly charred, delivering lovely and subtle bitter, coffee-like flavours.
On to the fourth course, asparagus. Grilled white asparagus, green and white asparagus shavings, and green asparagus sprouts, accompanied by a fabulous beer and malt cream, crispy croutons, a lovely fresh and sharp dressing made with malt beer and a delicious bread and malt mayonnaise. A surprising but terrific combination of flavours. A very refined and original asparagus dish prepared with great attention to detail and delivering well-judged bitters.
Next up was plaice, served with ajo blanco sauce (garlic and almond sauce), fresh almonds, grilled baby tulip and with brandade on toast on the side. Excellent piece of moist plaice and the ajo blance sauce was nice and creamy, but I was not too keen on the tulip. Lovely crunch and slightly grassy flavours from the fresh almonds.
Sixth and main course was quail: the breast was moist and flavoursome and the leg was coated with a mixture of watercress, minutina and rapeseed leaves that had a jelly-like texture. Also on the plate was a giblet crumble, a watercress, minutina and rapeseed leaf puree, rapeseed flowers, quail liver puree and some minutina leaves. A well-cooked, balanced dish with remarkably warm flavours, considering the number of 'green' ingredients.
Pre-dessert (seventh course) was Gin & Tonic, Reinstoff style. A glass with gin and cucumber and tonic ice, served with a toothbrush, the brush being made of yoghurt ice cream and the Reinstoff toothpaste tube filled with a mint-eucalyptus crème.
Last to arrive was a carrot dessert. First a cornetto filled with a soft ice cream and orange honey, followed by textures of white carrot, served with white Domori chocolate and a vanilla grass (also known as sweet grass) ice cream. Apart from the carrot flavours, which were rather bland, the flavours were nice, but overall this dish didn't work for me.
Dinner at Reinstoff is a quintessentially Berlin experience. Reinstoff is very much in sync with its location and with the Zeitgeist. Daniel Achilles takes a naturalist approach to his cuisine but he is not fanatical about it. The flavour combinations are original and stimulating, although some dishes were more convincing than others. The presentation is playful and does not hesitate to be quirky. I really loved how the diner sometimes is presented with various preparations and textures of the same ingredient. The food at Reinstoff is the work of an accomplished chef, whose contemporary German cooking is clean and precise and successfully avoids the extremes to which some of his colleagues go. Reinstoff is definitely one to watch.