Rating: 90.
Rating index:
Extraordinary (96-100)
Outstanding (93-95)
Very good to Excellent (89-92)
Above average to Good (86-88)
Below Average to Average (80-85)
Avoid (below 80)
More info >
Note: Chefs Guillaume de Beer and Freek van Noortwijk left Daalder in December 2015 and have opened their own restaurant called Breda in Amsterdam. You can find my review of Restaurant Breda here.
Restaurant Daalder is located in a former jazz café on the corner of the Lindengracht and the Eerste Goudsebloemdwarsstraat in in the historic Jordaan area of Amsterdam. But if you look at the rave reviews that Daalder has garnered since Guillaume de Beer became head chef at the end of 2012, you might also say that Daalder is located on the corner of 'popular' and 'fabulous'. Before becoming head chef at Daalder Guillaume de Beer (26) trained in several of Amsterdam's critically acclaimed restaurants such as Ron Blaauw (then 2 Michelin stars), De Kersentuin and Bord'eau (2 Michelin stars). De Beer also did an internship at Le Blue Bay at the Monte Carlo Bay Hotel & Resort. Guillaume de Beer's sous-chef and right-hand man is Freek van Noortwijk.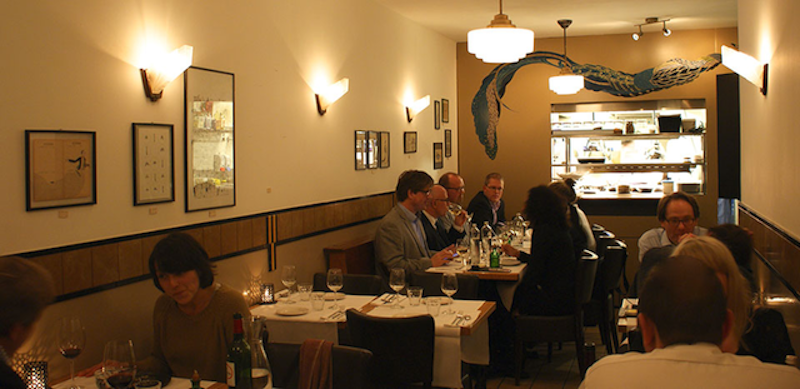 (courtesy of Daalder)
Daalder is open for lunch and dinner from Monday till Saturday. At lunch you can choose between typical Amsterdam café fare like sandwiches, salads and soups, but there's also a set lunch menu (2 courses €23.50, 3 courses €29.50, 4 courses €36.50, not available on Saturdays). In the evening they serve a multi-course tasting menu (3 courses €36, 4 courses €42.50, 5 courses €50, 6 courses €57.50). I had dinner with my husband at Daalder on Thursday 6 February 2014 and we both ordered the 6-course tasting menu.
To start there were some nibbles: smoked almonds and crispy breadsticks served with a smooth chickpea, coriander and cumin dip that had a nice touch of piquancy. Next to arrive was an amuse bouche of various textures of earthy-sweet beetroot with well-made, smooth and spicy horseradish ice cream, that really woke up the taste buds.
The first course was a velvety and creamy vichyssoise crème, served with sous-vide cooked cod , tender sliced leek, watercress, samphire, some herring caviar, croutons and a few dots of sour cream for freshness. Both the cod and the vichyssoise had been delicately seasoned with nutmeg, delivering just the right amount of warmth. An attractive and balanced dish with a lovely variety of textures. Loved that it was served at room temperature; it brought a certain lightness to the dish.
This was followed an excellent piece of moist seabass with a crispy bread crust, served with some juicy mussels, a few dots of broccoli puree, crunchy kohlrabi slices and a fantastic sauce made from the mussel cooking juices and smoked butter. The bread crust was perfectly shaped and the highly addictive sauce had a lovely balance of salty, smoky and creamy flavours and an incredible long finish. Also on the plate was some cavolo nero and some broccolini, lightly coated with a sweet and sour dressing. A well-executed dish with tons of flavour.
The smoke theme continued with the third course, a splendidly unctuous dish of pasta shells, smoked eel, Jerusalem artichoke crème, a beurre blance and smoked eel sauce and some delicious croutons for crunch. There was a lot of smokiness going on, but the flavours worked and the smokiness was balanced by the creamy and mildly sweet Jerusalem artichoke crème.
Fourth course was a succulent piece of chicken thigh with a crispy skin, served with parsnip puree, marinated mushrooms, capers, mushroom puree, a crisp and buttery toast ring and some beurre noisette. A refined dish with powerful and comforting flavours, the sharp capers balancing the rich flavours perfectly. The parsnip puree had been been flavoured with mustard, which turned out to be a perfect companion and really lifted the dish.
Next was an extra course, hoisin belly pork, spicy beans, sour cream and a smoked paprika crisp. This Daalder signature dish is not always included in the tasting menu, but it can be ordered if it's available. The belly pork, lacquered with hoisin, was succulent and flavoursome, and combined wonderfully with the mildly sweet and smoky beans, that had just the right level of heat. A lovely combination of texture and taste.
The sixth course was a robustly elegant dish of tender braised pork cheek covered with a slice of "katenspek" (a tradtional Dutch kind of dried and smoked fatty bacon), served with a gorgeous smoked potato crème, halved baby potatoes, smoked oil 'snow' and some puffed grains. To temper all these rich flavours there was mildly acidic piccalilli sauce. Very clever cooking.
Last course, dessert (no photograph). Caramelised banana, white chocolate mousse, caramel crisp, brownie pieces, salted caramel, lime gel and B-52 ice cream. The ice cream was flavoured with the classic B-52 shot flavours (coffee liqueur, Baileys, Grand Marnier) and had just the right amount of creaminess. A terrific dessert with a good balance between sweetness, bitterness and saltiness. The salted caramel brought everything together and the tangy lime gel delivered a nice touch of freshness
I went to Daalder with high expectations and I wan't disappointed. The food is a good blend of heartiness and refinement and offers an original spin on classic flavour combinations. With its ballsy food, Daalder is clearly a cut above the rest. Pricing is keen and the concise wine list includes some interesting, often organic selections. For the full-on Daalder experience I would recommend going there for dinner. The ambiance is more of a café than of a restaurant and the contrast between the upmarket food and the casual atmosphere is a very interesting experience in itself. With its young and enthousiastic team, restaurant Daalder is clearly one to watch.