Like there is an award season in the US you could say that there is a Michelin season in Europe. Now that the New York, San Francisco (Chicago's first guide will be released in November) and Japan Michelin guides have appeared, Europe's Michelin season is finally getting started. This season lasts from November 2010 to March 2011. With every announcement by Michelin of the stars they have awarded to restaurants, another discussion about these very Michelin stars is started. What is it about Michelin stars that makes them so controversial and magical at the same time?
I for one have been a fan of the Michelin Guide for years because it honestly has almost never failed me. Throughout the years I have been to many Michelin starred restaurants in the Netherlands, Belgium, Germany, UK and France (see the list on the right). You might say I'm an experienced Michelin eater, although I have admittedly not visited many French and no Parisian three star restaurants. I'm planning and hoping for my first Parisian three star experience in spring.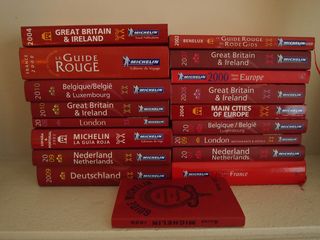 But back to the guide. Apart from the Michelin starred establishments, the guide also mentions good quality restaurants whose cuisine does not merit 1 or more stars, but that serve good quality food nonetheless. Restaurants that provide excellent value for moderate prices may be awarded a Bib Gourmand. The maximum price for a meal in Bib Gourmand restaurants varies per country; in the Netherlands is € 35.
Furthermore the standard of comfort of the restaurants is rated with 1 to 5 "forks and spoons" -from simple to luxurious. They are in black for "pleasant" restaurants or in red for extra pleasant restaurants.
Imagine Marco Pierre White's former restaurant The Oak Room, 3 Michelin stars and 5 red forks and spoons. My god, that restaurant must have been sensational. At the moment there is only one restaurant in the UK awarded 5 red forks and spoons, The Ritz restaurant in London. Five red forks and spoons is quite exceptional. There are none in The Netherlands, Germany or Belgium. Belgium had one 2 starred restaurant with 5 red forks and spoons (Clos St. Denis), but that recently closed. You can imagine no doubt that in Paris 5 red forks and spoons is less rare.
In my experience Michelin's judgements are usually spot on. After a while you know what to expect and one is rarely disappointed.
When it comes to Michelin's judgements on the standard of comfort of restaurants, nobody ever seems to complain that e.g a restaurant with 4 forks and spoons should only have been awarded 2 or 3, or that they should have been black instead of red. With the Michelin stars it is a completely different story.
Michelin can award restaurants 1, 2 or 3 stars. One star is awarded for "very good cooking in its category", two stars for "excellent cooking, worth a detour" and three stars for "exceptional cuisine, worth a special journey". The exact definition of exceptional cuisine is: "One always eats extremely well here, sometimes superbly".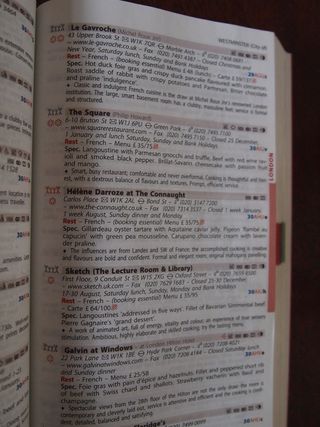 This is where the controversy starts. As soon as a restaurant is awarded a Michelin star, people's expectations seem to rise to a different level and sometimes the restaurant starts to attract a certain type of hypercritical guests who want to see if it is "worth its star". In the Netherlands there have been cases of restaurants turning in their Michelin star because having one changed their restaurant in a negative way. Just last year the chef of a restaurant in the south of the Netherlands turned in his star, because it attracted a negative crowd ("it had better be perfect, or else..."). They felt that having a star, prevented them from being the family restaurant they once were and wanted to remain.
In the two starred category the expectations are usually even higher. Of course the food should be excellent but the overall experience can vary from time to time. As with 1 star restaurants, where you are sometimes served "1.5" star or even 2 star food, in 2 star restaurants there is also a margin but if you're lucky you can certainly get a 3 star dish in a 2 star restaurant. 2 star restaurants usually evoke less debate than the 1 and 3 star restaurants.
On to the Premier League - the 3 star restaurants. Let's start with the observation that epiphany will not happen, at least not in my experience. As long as you keep Michelin's description of 3 stars in mind, especially the words "one always eats extremely well here, sometimes superbly", you will have a most exciting and memorable food experience. 3 star category restaurants are the most debated because expectations are so high that they become unrealistic. Restaurants that don't deliver mind-blowing dishes with every course are easily disqualified. Or it's the other way around - the food is too "complicated". Each 3 star restaurant has its own identity, usually that of the chef. At the moment there are two 3 star restaurants in the Netherlands, Oud Sluis and De Librije. As I described in my post Dancing with the stars, both restaurants are exceptional in their own way.
Although there is much controversy around Michelin and especially 3 star restaurants, the Michelin Guide has proved to be the perfect "guide" in my culinary travels, Michelin stars or not. Of course I have had some lesser experiences in Michelin starred restaurants. I use the word lesser because I'm not sure whether this "lesser" experience was because of the food or of my high expectations. Anyway, restaurants can have a bad day too (hopefully not when I visit them), that is why Michelin always judges the restaurants in their guides on the basis of more than one visit.
At the end of the day even Michelin starred restaurants are just restaurants and the food is cooked by human beings. It's an art, not a science and a right to perfection does not exist. Come to think of it: a 3 star restaurant where the food is served in a barn - now that would be perfection for me!