Rating: 92.
Rating index:
Extraordinary (96-100)
Outstanding (93-95)
Very good to Excellent (89-92)
Above average to Good (86-88)
Below Average to Average (80-85)
Avoid (below 80)
More info >
When I was planning our culinary Christmas tour of the UK, I immediately knew that one of the stops would have to be Edinburgh. Edinburgh is a beautiful place and I don't get to visit it as often as I would like. One of the city's main culinary attractions is Martin Wishart's restaurant in Leith. Leith is a district of Edinburgh. From a personal perspective, I found it interesting to note that Martin Wishart has a Dutch connection too; he has worked in the Netherlands and has a personal and professional relationship with Lucas Rive of the two star Bokkedoorns restaurant in Overveen and with Jonnie Boer of the three star De Librije restaurant in Zwolle. Martin Wishart's restaurant was the first restaurant in Edinburgh to be awarded a Michelin star in 2001. So on December, 27 my husband and I were headed for the historic port of Leith to have lunch at Martin Wishart's.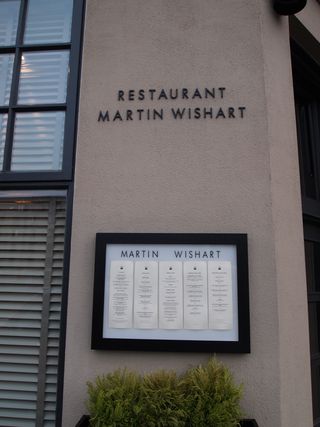 At lunch Martin Wishart offered 2 tasting menu's that we could choose from. One was a 6 course Périgord truffle tasting menu and the other one was the "normal" 6 course tasting menu. Although obviously tempted by the truffle tasting menu, we decided to have the "normal" one.
We were served 6 pre-starters, starting with small Haggis balls - excellent to begin lunch with such a Scottish classic. The Haggis balls were followed by a Parmesan puff, mimosa eggs on toast, beetroot macaron with horseradish cream, Madeira concommé with raisin and a pig's trotter with Dijon mustard. All very good pre-starters, but with a special mention for the very delicately flavoured beetroot macaron.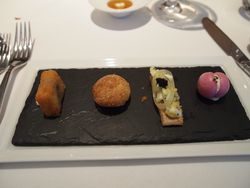 The first course of the tasting menu was a Vivaldi potato velouté with a chestnut puree and roasted veal sweetbread. This was the first time I came across the Vivaldi potato. It's a potato cultivar developed by Naturally Best, a company based in Lincolnshire in England. The velouté had an unbelievably full and clean potato flavour and was not too creamy either. It seemed like there was at least a whole bag of potatoes in each bowl. Marvellous.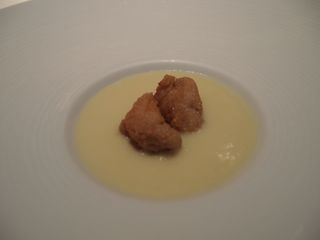 The second course was Martin Wishart's signature dish, Ceviche of halibut with mango and passion fruit. Martin Wishart told us later on that this dish was inspired by his Mexican wife Cecile. Well, thank God he married Cecile, even if only because of this fantastic dish. Although Wishart uses strong-flavoured ingredients such as mango, lime and passion fruit, not a single ingredient was overpowering. Lovely halibut and certainly not too acidic.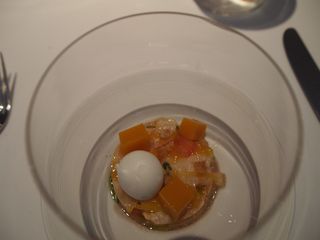 For the third course we had a choice between smoked organic Hebridean salmon and octopus with new potatoes. I had the octopus and Xavier chose the salmon. The octopus was served with potatoes, sweet paprika, lemon and tosazu sauce. Bold flavours but very elegant because of the well-judged sweet and sour balance. Xavier's salmon was nothing short of perfect. The salmon was served with soused cucumber and konbu vinegar. I tasted the salmon too and for me this dish was the essence of smoked salmon.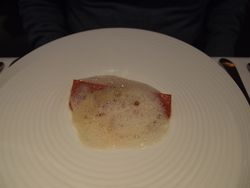 Next up, the fourth course, tortellini of Borders roe deer, cauliflower cream and sauce grand veneur. With this dish Martin Wishart presented us with a thoroughly modern interpretation of a great French classic. Wrapping the roe deer in pasta made sure that the cauliflower cream wasn't overpowered by the sauce or the deer. For me this dish really showed off Martin Wishart's skill as a chef. At first the dish looks quite simple but all the elements are made with such skill and sensitivity that they accompany each other perfectly, leaving you wanting a whole plateful of these tortellini. Flawless.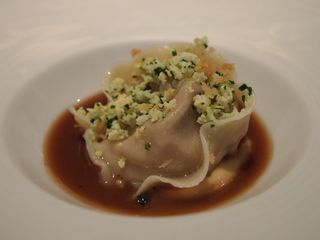 Then on to the fifth course, braised Ross-shire beef with wild mushroom ravioli and pumpkin. What can I say? Melt-in-the-mouth unctuous beef, delightful mushroom ravioli and a velvety pumpkin puree. In my experience not all chefs deliver exciting main courses in their tasting menus but Martin Wishart sure does. A brilliantly elegant rendition of a comfort classic.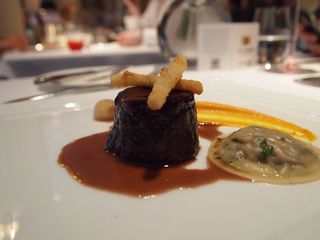 The sixth and final course was dessert, apple soufflé with a Calvados parfait. Perfectly executed soufflé with an amazingly intense apple flavour. At least one whole apple's flavour in every spoonful I would say... I was very pleased that Wishart had chosen a lovely Calvados/apple sauce to serve with his souffle and not the usual sorbet or ice cream. The creamy apple sauce gave the soufflé the perfect rich finish.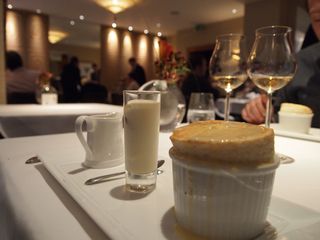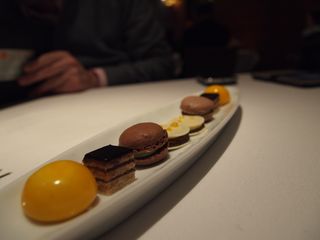 The friandises served with our coffees.
With this tasting menu I feel we really got a flavour of Martin Wishart's cooking. Every course in his menu shows that he really knows how to source the best produce. Furthermore, Wishart has the (all too rare) skill to deliver exceptional dishes without necessarily using expensive ingredients and this is reflected in very competitive pricing (6 courses for GBP 65!). Finally, he has really taken to heart that less is more. In every course 3 or 4 components were sufficient for the chef to express himself on the plate. And every time I was really impressed how the main ingredient took pride of place, with the potato and apple dishes perhaps the best examples in this respect.
After our main courses we were kindly invited to meet Martin Wishart. We were so happy to learn that he is not only a great chef but also a very kind and charming man. The people of Edinburgh are so lucky.