Rating: 91.
Rating index:
Extraordinary (96-100)
Outstanding (93-95)
Very good to Excellent (89-92)
Above average to Good (86-88)
Below Average to Average (80-85)
Avoid (below 80)
More info >
Northcote Manor is a 19th century manor house located in the beautiful Ribble Valley in Lancashire. The first time I visited this luxury retreat was 6 years ago during my first tour in the UK, not that it was part of the tour by the way, although it should've been, I ended up there by accident. During the tour my husband and I stayed in Lincoln and the next stop after Lincoln would be Glasgow. On our way to Glasgow we got stuck in a terrible traffic jam on the M62 and after 2 hours we realised we would never make it to Glasgow that day, or at least not at a reasonable time. We got out our trusted Michelin guide and looked up the nearest place were we could stay. And there it was, Northcote Manor, restaurant with rooms, in Langho, near Blackburn. We phoned them and luckily they had still a room available and we ended up staying there for 2 nights. I've been wanting to stay and dine there again ever since. So when I was planning a trip to the Highlands (Inverlochy Castle) for Christmas, Northcote Manor was my first choice for our second stop during this trip.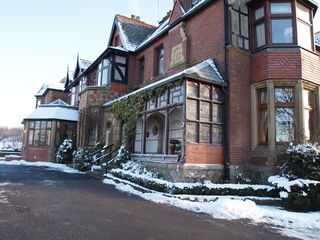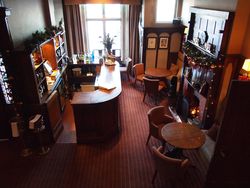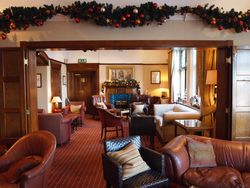 Northcote Manor is a one-starred (since 1996) restaurant with 14 rooms and has been run since the early eighties by Craig Bancroft (managing director) and Nigel Haworth (chef patron/managing director). The both became shareholders of Northcote in 1989. In 2009 they celebrated their 25 years "in business" anniversary. Craig Bancroft and Nigel Haworth are both also well-known in the UK for their television appearances. Nigel Haworth was a contestant on the BBC's Great British Menu series in 2008 and 2009. He was a finalist in both years and in 2009 he won and cooked his legendary Lancashire Hotpot at the banquet for British soldiers. In 2010 Northcote's head chef Lisa Allen was a contestant and with her starter, wild rabbit and leek turnover, she became the first female chef to win in the final of Great British Menu.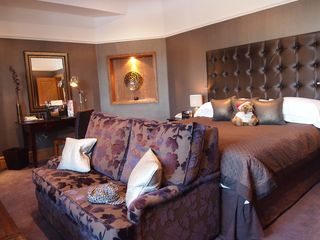 In 2005 Northcote started a renovation programme. The rooms were completed in 2007 and the restaurant in 2010. They've done an amazing job. The bar area and drawing room (afternoon tea is served here) remained unchanged.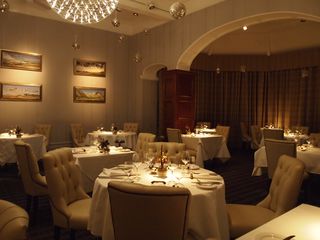 But now on to the food. I was staying for 2 nights at this magnificent place so I had dinner twice. On the first night my husband and I both had the 7 course tasting menu. The second night we had a 3 course a la carte meal. But here goes: the 7 course tasting menu.
Two pre-starters were served with our pre-dinner drinks. One of the pre-starters was a cauliflower croquette. Delicious and an inspired choice for this underused vegetable which is now in season. A third pre-starter was served at the table, goat's cheese cream with pickled beetroot ice cream, light and elegant, the perfect choice before a 7 course meal.
The first course was shavings of Radholme wild duckling, smoked foie gras snow, pomegranate, black pudding crumble and watercress. A lovely duck dish. With the help of the pomegranate it was surprisingly light - in view of the other ingredients.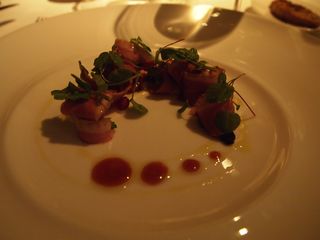 The next course was treacle salmon with ginger, chilli, coriander and spring onions. As the description on the menu said the salmon was "just cooked", leaving it very moist. I really liked that the use of a very British ingredient such as treacle in combination with the other ingredients gave the salmon its "Eastern" touch. Salmon obviously goes really well with the other ingredients but can easily be overpowered by them. Because these ingredients were used with great subtlety, the salmon was still was the main act in this very refined dish.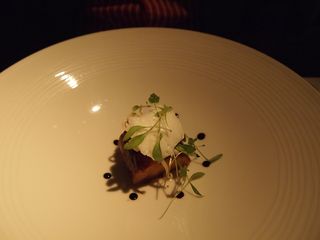 The third course was stone bass, langoustine macaroni, minestrone broth, crispy squid and Vila del Rey ham. You don't often find Stone bass, also known as wreck fish or wrakvis, on restaurant menus. Nigel Haworth told us that he was inspired to do a dish with stone bass by Nathan Outlaw. Nathan Outlaw cooked stone bass in his menu at the Northcote Obsession Festival in 2010. For me this dish was the star of the evening, absolutely fabulous, nothing more needs to be said and since I have the habit of ordering brilliant dishes twice, I ordered it again from the a la carte menu the next day...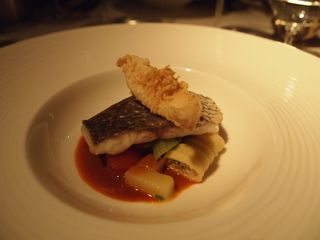 Next on was a dish of yellow beets with roast shallots, garlic, figs, balsamic and garden leaves. Beetroot is not a personal favourite of mine, but fortunately this yellow beet had a less earthy flavour. If you're British (I have never met a Brit who didn't love beetroot) you will love this dish.
On to the fifth course. Free range chicken "Indian Game", black peas, bacon, Medjool dates and game chips. This was a rich and complex dish. The full flavoured chicken was in perfect harmony with the other bold flavours and I was really pleased to see chicken appear in the tasting menu. Too rarely it does.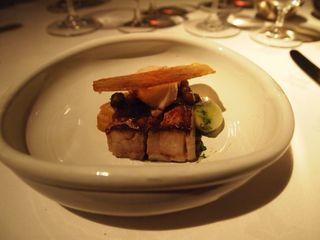 The last course before dessert was a wild Sika deer in a "Bread Blanket" with Autumn truffles, roots and a salsify fritter. The beautifully cooked deer was wrapped in a very thinly rolled bread blanket - instead of pastry. Although I love Wellington style dishes, the pastry can sometimes be a bit rich. Bread "pastry" on the other hand is much lighter and it didn't interfere with the intensely flavoured deer. I'm always impressed with the quality of game in the UK. Wish we had such quality in Holland. Again a very well balanced dish and as with the other dishes, an excellent choice of vegetables. The roots were divine.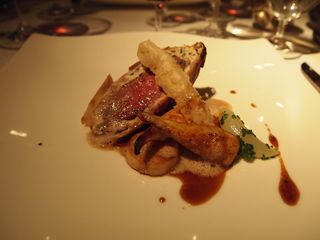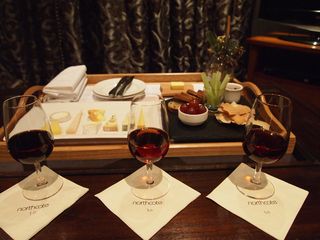 For dessert we had the cheese (served in our room).
Northcote's 7 course tasting menu is very well constructed and uses its ingredients very intelligently. Although I can't remember all the details of the tasting menu I had six years ago, my impression is that Northcote is striving for more finesse and I think they're doing a brilliant job. Not a single dish was overpowering in any way. The main ingredient is always the star of the show.
In the last few years there's been a lot of talk about local and seasonal food in restaurants. In Northcote Manor it's not just talk. Especially the creative use of seasonal vegetables in their full glory (not just a foam or a splodge) impresses. The cauliflower in the croquette, the lovely vegetables (celery and spinach) in the stone bass dish and the glorious roots in the deer dish were all wonderful. To put it in entertainment terms: all the vegetables performed their supporting roles sublimely.
Nigel Haworth and head chef Lisa Allen are certainly fortunate to be in an area with such wonderful produce and the producers should be equally thankful for having such intelligent and creative chefs in the area who so eloquently translate their wonderful produce into great food.
Wine note: Northcote Manor has an eclectic wine list and the pricing is very fair for a restaurant of this status. Lots of interesting bottles to choose from. The old world and the new both get the attention they deserve and the list features many wines between 20 and 40 pounds a bottle. Those of you who want to splash out however, will find some reassuringly expensive bottles to do so. Craig Bancroft has a personal attachment to Portugal (his parents retired there in 1983) and this is reflected in the wide choice of Portuguese wines on the list. Adam Pawlowski, the head sommelier is both knowledgeable and very helpful. Northcote is an excellent place for wine too!