Rating: 93.
Rating index:
Extraordinary (96-100)
Outstanding (93-95)
Very good to Excellent (89-92)
Above average to Good (86-88)
Below Average to Average (80-85)
Avoid (below 80)
More info >
Note: 't Brouwerskolkje closed in April 2012. Moshik Roth has opened a new restaurant in Amsterdam called '&samhoud places', which restaurant was awarded 2 Michelin stars in 2013 Michelin guide for the Netherlands. You can find my review of &samhoud places here.
At the moment the Netherlands have 13 two-star restaurants. One of them is 't Brouwerskolkje in Overveen. The village of Overveen is approximately half an hour away from Amsterdam by car. I'd been wanting to go to 't Brouwerskolkje ever since it had been awarded its second star in 2009 (first star in 2006). In November I had made a reservation for dinner with friends on a Saturday, but because I had a 40 C fever I had to cancel (yes I know, I'm a weakling). Last Thursday I had my second chance. At the very last minute we decided we wanted to have lunch somewhere to celebrate our 15th anniversary, so we called 't Brouwerskolkje and fortunately they still had a table available for lunch. So off we were.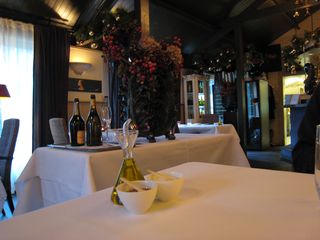 The head chef of 't Brouwerskolkje is Moshik Roth. Roth is known for his close cooperation with Jean-Gorges Klein of the three-starred l'Arnsbourg restaurant in Baerenthal (Alsace, France) and is often mentioned as Klein's successor. At least twice a month Moshik Roth travels to the Alsace to spend time in Klein's kitchen. The foie-gras dish called Salvador Dali Lips is on the menu of both restaurants.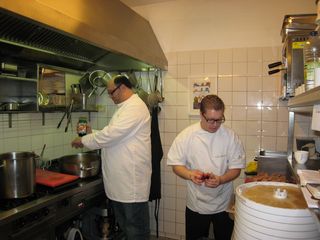 Moshik Roth (left) in his kitchen.
But on to the food. The restaurant features an a la carte menu, an 8 course Innovative menu and an 8 course vegetarian menu. We decided to go for the 8 course Innovative menu. The pre-starters were brilliant - a delicious so-called "imitation of peanut", a cauliflower madeleine with imitation caviar and last but not least a phenomenal vega burger. All these pre-starters were made with modern day techniques and as such a perfect foreboding of what was yet to come.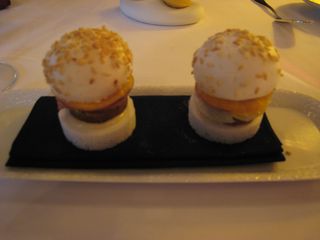 The vega burgers.
Next up were oyster and quince followed by the "perfect" egg with yuzu and a selection of seaweed. The egg was indeed perfect, the yolk had been slow-cooked at 45 C for 2 hours. In fact it was so perfect that I finished it in seconds and forgot to take a photograph...
The next 3 dishes where served in one course. One of these dishes was pumpkin noodles with ponzu, calamares, coconut and sesame. The pumpkin noodles, literally made from pumpkin only, with the help of very intricate technology (including test tubes), were gorgeous. This dish, together with another "pasta" dish served later on, for me was the star of the menu. That other "pasta" dish was translucent parsnip ravioli filled with porcini and served with a broth-like distillate of porcini. With these 2 dishes Moshik Roth shows he masters molecular techniques to perfection but only uses them to elevate the qualities of the natural ingredients. Especially the porcini dish was exceptional in its simplicity but had the most intense but still well-balanced porcini flavour imaginable.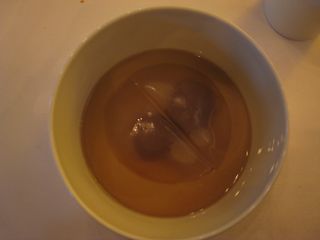 Parsnip ravioli filled with porcini.

Then we went on to 3 ways of scallop, sweet (grape), sour (ceviche) and salty (seaweed) combined with an dish of open sushi served cockles, razor clams and dashi. This dish really showed off Roth's skill for combining and balancing the holy trinity of sweet, sour and salty.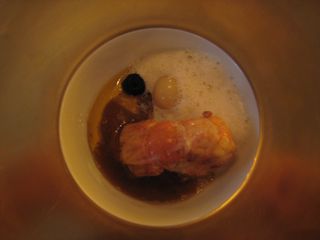 After 2 more fish dishes, perfectly cooked Dover sole with artichoke and Granny Smith jelly followed by a gorgeously plump langoustine served with a parsley bonbon, kaffir lime, vadouvan and raw milk, the parsnip ravioli dish mentioned before was served together with a truffled cappuccino.
The parsnip/porcini ravioli was also Xavier's favourite but his second favourite was the next course. Immensely powerful roe deer served with beetroot and a tangerine jelly. A very masculine dish. Last but not least dessert. Pina Colada, textures of pineapple and coconut ice cream. A refreshing and fascinating end of an exceptional meal. The wines we had were excellent too, Sancerre Chavignol Rosé 2007 from Francois Cotat and the Spätburgunder Wildenstein R 2005 from Bernhard Huber.
The menu was well balanced and didn't leave us bloated (praise be!). Moshik Roth really does know how to construct a menu. Each course shines in its own right but also serves as a preamble to the next one. His cooking isn't necessarily "classical" as he obviously uses molecular techniques but he only does this to enhance flavour, texture or structure and never for show only. What really struck me was that because of his excellent use of ingredients and balance in flavour (sweet/salty/sour/bitter) literally every course leaves you wanting seconds (I have been around, but this was new to me!). And unbelievably all this fabulous food is cooked in a kitchen just measuring a few square meters. The restaurant isn't big either (6 tables) so don't go there without a reservation!
If the rumours of Moshik Roth becoming Jean-Georges Klein's successor at l'Arnsbourg are true, Jean-Georges Klein would be (and should be!) very happy and proud to have found such a fine chef to continue his work. But we will miss "the barn with two stars" in Overveen!