Rating: 94.
Rating index:
Extraordinary (96-100)
Outstanding (93-95)
Very good to Excellent (89-92)
Above average to Good (86-88)
Below Average to Average (80-85)
Avoid (below 80)
More info >
In March 2010 BBC2 broadcast the documentary "Michelin Stars, The Madness of Perfection". In this documentary food writer and critic William Sitwell investigated the world of Michelin and interviewed British Michelin starred chefs. For this documentary he spent a day with Marcus Wareing to get a glimpse of the life of this two Michelin star chef, which gave a fascinating insight into Marcus Wareing's work in the kitchens at the Berkeley Hotel.
Marcus Wareing and Michelin stars go back quite some time. Having trained at Michelin starred restaurants, such as Le Gavroche and Aubergine in London and Guy Savoy in Paris, Marcus Wareing was awarded his first Michelin star in 1997 at the l'Oranger restaurant, owned by Gordon Ramsay. For 10 years Marcus and Gordon had a fruitful collaboration. In september 1999 they opened the Petrus restaurant and it was awarded its first star in 2000 and a second in 2007. In 2003 Marcus Wareing also became executive chef at The Savoy Grill and the next year the restaurant was awarded a Michelin star, the first ever in the 100 year history of the restaurant. In 2008 Marcus and Gordon parted ways and "Petrus" was renamed "Marcus Wareing at the Berkeley". An end of an era and a new beginning.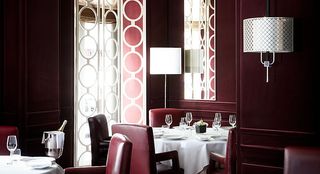 Last Friday I had lunch at Marcus Wareing at the Berkeley (and at his new restaurant The Gilbert Scott the day after - on my blog soon!). The restaurant offers several tasting menus including a vegetarian one, and a choice from the à la carte menu. The lunch menu comes at 30 pounds for two courses or 38 pounds for three. My husband and I went for the Prestige tasting menu, 10 courses in all, priced at 98 pounds.
The appetisers to come with our aperitifs were Ploughman's tapioca, mini pork pie, and thin crispy bread served with a smoked aubergine and mint yoghurt dip. Next came a quail's heart skewer and crispy pork skin served with smoked egg mayonnaise. All delicious and creative appetizers. I especially liked the smoked egg mayonnaise which had a lovely hint of acidity and left a pleasant film in the mouth.
As a pre-starter we were served Fish & Chips - the Wareing way. White fish soup, potato cream and a mushy pea 'finger'. An elegant fish soup with a velvety potato cream. The coating of the mushy pea finger had malt vinegar in it, which I thought was brilliant.
The first course of the tasting menu was Scottish lobster tortellini, yellow and red heritage beetroot, ricotta dumpling, watercress. A perfectly made thin tortellini with lobster, a lovely herby ricotta dumpling which gave the dish a Mediterranean feel. The delicate lobster flavours went really well with the wonderful sweet beetroot, which had a lovely bite. A refined and well-balanced dish with perfect seasoning.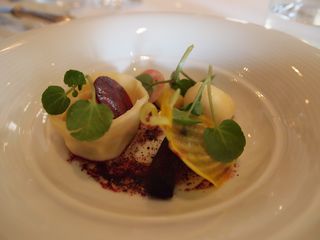 Second course, thinly sliced Orkney scallop, lime finger caviar, wild strawberries, basil and olive oil. This refreshing ceviche style dish was wonderful with an excellent "sweet and sour" balance. The lime finger caviar was strong flavoured, stronger than the delicate scallop which served to provide a succulent basis for the dish.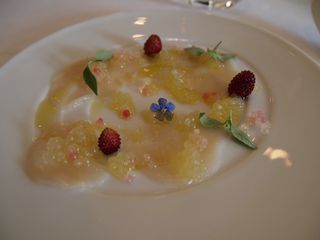 The third course was Burrata, wild asparagus, hops, red grapefruit, Baeri caviar, Coratina olive oil. An inspired dish with the popular Burrata as a main ingredient. The colours on the plate reminded me of the classic Caprese salad. The Burrata was creamy, almost curd-like which went great with the "warm" bitterness of the red grapefruit. The bitterness of a pink grapefruit is always more pronounced. The caviar and the olive oil brought the dish together.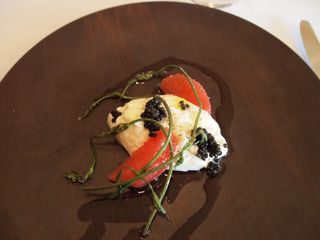 On to the fourth course, quail, smoked fresh goat's cheese, onion, potato bread, mint. The poached, roasted and smoked quail was perfect, I've never tasted quail like this before. Wonderful structures, succulent quail, thin crispy onion rings and soft braised onion, smoked goat's cheese and crispiness from the potato bread. Brilliant flavours, elegant smoked goat's cheese, which was light and had a beautiful touch of acidity. I loved the light smokiness in this dish coming from the quail, goat's cheese and the lightly char-grilled potato bread. Lovely touch of mint too. Perfection.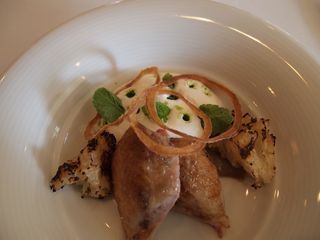 Fifth course, Isle of Wight asparagus, radish, hogweed, Parmesan shavings, summer truffle, cheese sauce. A beautiful combination of perfectly cooked vegetables and herbs. A comforting dish given a balanced richness by the delicious cheese sauce. Graceful. Beauty.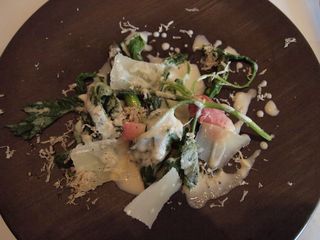 Next was the sixth course, Scottish langoustines, black pudding, clementine, leek. Lovely succulent and meaty langoustines served with good strong flavoured black pudding and black pudding puree. A vibrant dish with fantastic char-grilled flavours. Was there a hint of lovely vanilla too? A rich earthy dish but balanced by the clementine and char-grilled leek.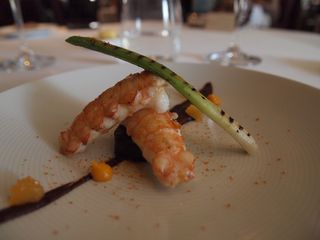 The seventh course was Aberdeen Angus beef fillet, parsley custard, lemon, smoked bone marrow, onion, pain perdu. A delightful dish with pungent flavours. Beautifully slow cooked beef with some tasty smoked bone marrow on top. The pain perdu had a lovely hint of lemon. Rich but harmonious. A western take on the classic North African flavour combination of beef and lemon.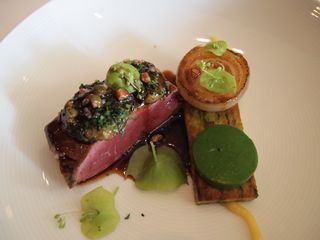 We had a selection of cheeses (La Fromagerie) from the trolley as the eighth course. Lovely well matured cheeses and fabulous biscuits.
The first of the two desserts and ninth course was pear, liquorice, smoked milk, wood sorrel. Fresh pear served with a fantastic moist but firm liquorice loaf and smoked milk ice cream. A dessert with bold flavours, a touch of savouriness from the loaf and a confident smoky flavour from the ice cream. Long aftertaste.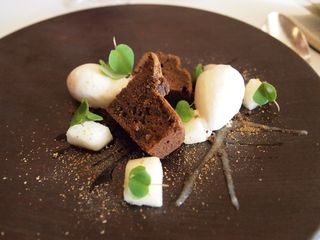 On to the tenth and last course. Chocolate, cucumber, mint parfait. Three ways of cucumber, dried, foam and powder served with an elegant mint parfait and chocolate. Light and refreshing and again a touch of savouriness provided by the cucumber. Great to see a dessert that isn't just based on lots of sugar and cream. An excellent finish to a glorious meal.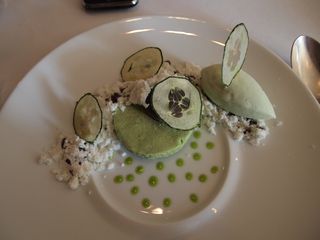 The Prestige tasting menu is well constructed and digestible; we were completely satisfied but certainly not stuffed. Marcus Wareing and his head chef James Knappett have created an exciting and innovative menu with modern ingredients and flavours. James Knappett and Marcus Wareing have worked together since the early Petrus days. Having worked for two years at Thomas Keller's Per Se in New York and 20 months as Rene Redzepi's sous chef at Noma, James Knappett returned to Marcus Wareing's kitchens in September 2009 and soon became his head chef.
Although I have not visited every two Michelin starred restaurant in London yet (2 more to go!), I feel confident to say that with this menu Marcus Wareing at the Berkeley has accurately developed a distinguishing style among London restaurants without losing track of its British origins. Marcus Wareing and James Knappett evidently have a very clear vision of the food they want to put on the plate in their restaurant.
It doesn't stop with the food however. The quality of service in the restaurant is exceptional. The front of house staff are ultimate professionals. Each member of staff knows every detail of the dishes that are served in the restaurant, no mistakes, exceptional teamwork, spot on. Restaurant manager Dimitri Bellos and assistant-manager Darren McHugh run a tight ship.
Marcus Wareing has clearly built a team of outstanding people at the Berkeley who gave us a virtuoso performance. The Madness of Perfection? Well, they seemed perfectly sane to me!
Note by Elizabeth (15-04-2012): Head-chef James Knappett left Marcus Wareing a few months after my visit. James and his wife Sandia Chang will open their own restaurant called Bubbledogs in June 2012.