Rating: 93.
Rating index:
Extraordinary (96-100)
Outstanding (93-95)
Very good to Excellent (89-92)
Above average to Good (86-88)
Below Average to Average (80-85)
Avoid (below 80)
More info >
Since January 2011 Britain has got two new two-star restaurants, Hélène Darroze at the Connaught in London and Nathan Outlaw at the St. Enodoc Hotel in Rock, Cornwall - Cornwall's first two-star restaurant ever. Nathan Outlaw was first awarded a Michelin star in the 2004 guide at age 25 at the then restaurant The Black Pig in Rock and this star stayed with him on his travels to Padstow (St. Ervan Manor Hotel) in 2005 and to Fowey (Marina Villa Hotel) in 2007. In 2009 Nathan Outlaw decided to relocate his restaurant to the St. Enodoc Hotel in Rock.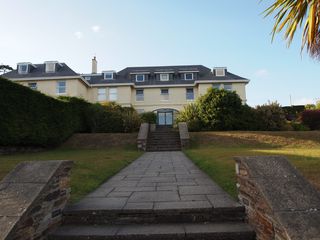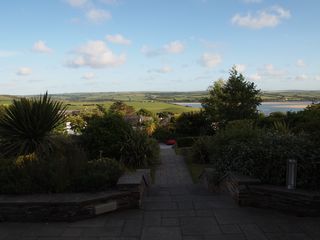 Nathan Outlaw Restaurant has found a beautiful location at the St. Enodoc Hotel with stunning views over the Camel estuary. Apart from the fine dining restaurant the St. Enodoc Hotel also houses Nathan Outlaw Seafood & Grill which serves fantastic unpretentious seafood. I went to both restaurants during my recent holiday in Cornwall.
The fine dining restaurant does dinner only and serves a set 6 course tasting menu (GBP 75) and a set 6 course vegetarian menu (GBP 65). There is no à la carte menu. My husband and I both had the tasting menu.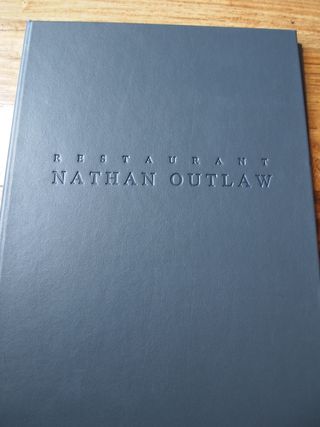 With our aperitif (a very reasonably priced and delicious bottle of the Perrier-Jouët Belle Epoque Brut 1999 which also went very well with the first three courses of our meal) we were served some lighty dressed crab and lobster on sourdough toast.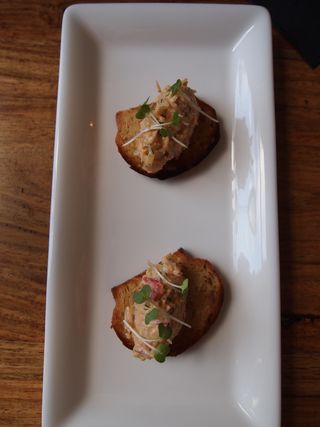 The first course was John Dory, brown shrimps, cucumber, oyster, horseradish, dill. A beautifully cooked and well-portioned John Dory served with a deep-fried breadcrumbed oyster. A wonderful plumptious oyster covered in a perfect thin layer of breadcrumbs. The John Dory and oyster were served with cucumber and brown shrimps and a fantastic sauce/dressing made from oyster mayonnaise (made with oyster juice), cucumber 'tea' and horseradish, which had the perfect touch of heat from the horseradish. Lovely brinyness from the oyster and brown shrimps. Creative and clean flavours.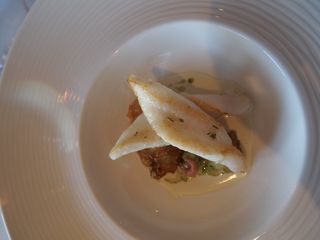 Second course was Cod, "BLT", basil and pine nut. Terrific translucent cod served with a delicious sauce made from mayonnaise thinned down by a tomato 'tea'. The BLT was simply wonderful, lovely skinned pieces of tomato, tasty lettuce and nice and crisp pieces of bacon. The amounts of tomato and bacon were both perfectly judged. On top of the cod was a good strong-flavoured pine nut crust which gave the dish oomph. A wonderfully refined interplay of textures.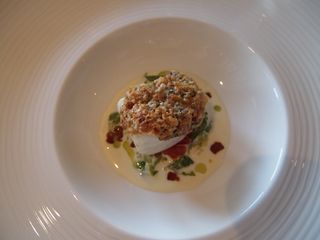 The third course was Bream, saffron, squid, olive and pepper sauce. Beautifully cooked bream with a perfect crisp skin. The sauce was exquisite and had stunning depth of flavour, lovely warmth from the saffron, a nice bite from the olives and peppers, lovely strong flavours from the peppers and a divine squid flavour in the aftertaste. An exceptional dish that dipped its toe in the Mediterranean but somehow remained clearly Cornish.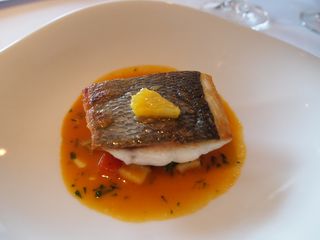 As a fourth course we were served Turbot, ham hock, spring piccalilli. Again a perfect cuisson of the turbot served with gorgeous ham hock and wonderful spring piccalilli, perfectly cooked peas and asparagus. The piccalilli had two functions in this dish: acidity from the sauce and gherkins and texture from the vegetables. The ham hock provided a wonderful richness. A fantastic spring dish with a perfect balance of flavours. A feast for the mouth. The glass of Chinon Clos du Noyer 2008 suggested by the sommelier was admirable red company.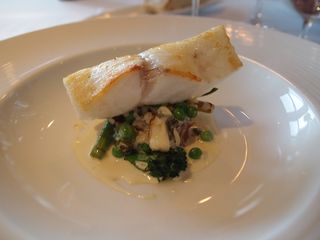 On to the desserts. Fifth course and first dessert: Vanilla cream, strawberry jelly and sorbet. For me this dish in all its simplicity was the essence of strawberry and cream. Delicious clean strawberry flavours. Perfect jelly, perfect sorbet, perfect vanilla cream served with .... yes, perfect short bread. An elegant dessert but not as adventures as the previous courses.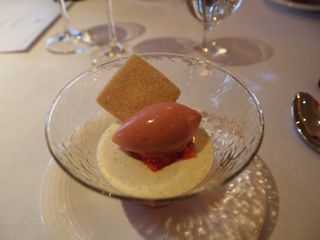 The sixth and last course was Lime and elderflower tart, yoghurt sorbet, meringue. An excellent lime and elderflower tart with perfect pastry, lovely and rich with a good strong lime flavour which was not in any way overpowering because of the elderflower. Lovely refreshing yoghurt sorbet and wonderful light and airy meringues.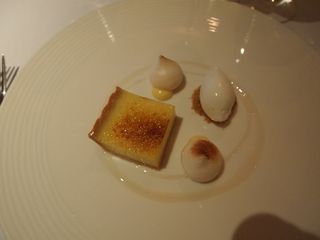 Restaurant Nathan Outlaw served us an excellent and brilliantly balanced six course menu. What struck me most is the chef's exceptional talent for creating a synthesis between the fish and the other elements of the dish, thereby finding a harmony that leaves the diner with a sense of wonder. The magisterial bream dish is a case in point.
He is able to source the most beautiful produce locally - his glorious oysters e.g. are from the Porthilly oyster farm which is only 5 minutes from the restaurant - and he knows how to do it justice. Nathan Outlaw's creativity turns this produce into new classics as he creates his innovative dishes. Bringing the first two courses together with a mayonnaise thinned down with cucumber and tomato tea (respectively) is a touch of genius; it gave both dishes a lightness and finesse that neither a white wine sauce nor a beurre blanc would have provided. Knowing that all this glorious food is being cooked by a team of only three people (including Nathan himself) makes it even more special.
Having dinner at Restaurant Nathan Outlaw is a wonderful experience. The restaurant with its 24 covers has has a warm atmosphere and the staff is very kind and well informed and you can tell that they all are proud to be members of the extended Nathan Outlaw family. Former Michelin inspector and editor Derek Bulmer was absolutely right when he said in The Independent on 7 October 2010: "Nathan Outlaw is doing great things in Cornwall."