Rating: 90.
Rating index:
Extraordinary (96-100)
Outstanding (93-95)
Very good to Excellent (89-92)
Above average to Good (86-88)
Below Average to Average (80-85)
Avoid (below 80)
More info >
During my previous visits to Cornwall in 2008 and 2009 I tried to get a table at Paul Ainsworth's No. 6 restaurant in Padstow but failed miserably. So as soon as the plans to go to Cornwall this year were final, I tried to booked a table for dinner at Paul Ainsworth's and fortunately this time I was successful.
Paul was one of the contestants in this year's Great British Menu. His menu of Cornish duck pancakes with Scotch duck eggs, Fischerman's lunch, Pork 'head to toe' and his dessert 'Taste of the Fairground' won him a place in the finals and his dessert was chosen for the 'People's Banquet'. After this triumph on Great British Menu no doubt even more people than before will find their way to his restaurant in Padstow.
No. 6 restaurant opened in 2006 and since June 2008 Paul's head chef has been John Walton. Paul and John both have trained under British chefs. Paul has worked with Gary Rhodes, Gordon Ramsay (Royal Hospital Road) and Marcus Wareing (Petrus) and John has worked with Rick Stein and Marcus Wareing - which is where he first met Paul.
The restaurant is open for lunch and dinner from Tuesday to Sunday (closed on Sunday October-April). At lunch the restaurant serves a 2 (GBP 15.00) or 3 (GBP 20.00) course menu and for dinner there's an a la carte menu. The a la carte menu has a range of starters (GBP 8 - 11), mains (GBP 19 - 24) and desserts (GBP 8 - 21) and I found it difficult to choose because all dishes sounded so tasty.
We started with the must-have that night: Scotch duck quail's egg. In the days before we went to the restaurant locals (both in person and on Twitter) told us we really couldn't leave the restaurant without having had it and right they were. The Scotch egg dish was very popular that evening and luckily there was one portion left for us to share.
Scotch quail's egg, duck, panko breadcrumbs, light Madras mayonnaise. A fantastic Scotch egg with a perfect thin crust. Delicious and succulent duck. Beautifully seasoned and a lovely spicyness from the sweet chilli sauce mixed in with the duck. Great with the Madras mayonnaise.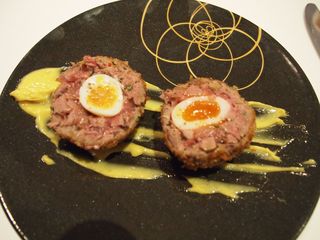 Next course (and shared too) was goose liver parfait with deconstructed piccalilli and pickled cucumber. The most elegant and smooth parfait. The deconstructed piccalilli was delightful, sweet and not too acidic. Lovely crisp cauliflower, cucumber and shallots. A perfect sweet and sour balance. This dish shows that if done well there's certainly merit in deconstruction. Beautifully presented too, with lovely toast.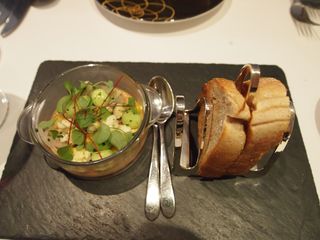 As a first course I had Smoked haddock, Vichyssoise, leeks, black pudding, egg. Wonderful flaky smoked haddock with a gorgeous rich and creamy Vichyssoise. Fantastic tasty black pudding. Robust flavours that were well balanced.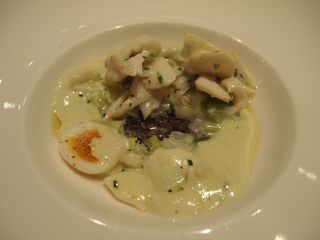 Xavier, my husband, had 'Jimmy Butler' crispy pig's head, crackling, salad cream, smoked eel. Tasty pig's head with (again) a perfect thin crust and obviously very well drained so not too greasy. Lovely and meaty eel. Ligthness and freshness from the dressed salad leaves. Fantastic crackling. A dish with great textures.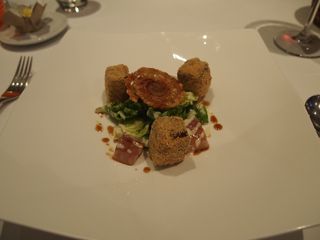 The next course was called 'Wings Land and Sea'. Rolled skate wing, crispy chicken wing, gem lettuce, beurre noisette and textures of pea, garlic flowers. Beautifully cooked skate and lovely chicken served with the most wonderful pea puree and fresh peas. The pea puree was exceptional because of it's pure and clean flavours. Lovely crisp lettuce and a terrific depth of flavour from the beurre noisette. A fantastic dish with the perfect touch of acidity and a hint of garlic from the garlic flowers. Stylish and refined presentation.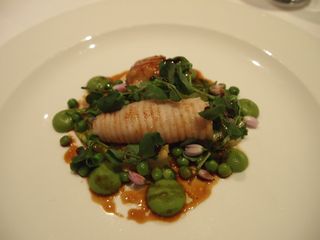 On to the main course. Slow cooked veal chop, boiled-egg Bearnaise, asparagus, chips in dripping. Perfectly cooked and really tasty veal. Lovely chips, crunchy on the outside and soft on the inside. The asparagus were lovely too although they could have had a bit more of a bite to them. Fantastic Bearnaise, the boiled eggs in this Bearnaise made it so much lighter than the classic version and as such it was perfect to accompany the veal.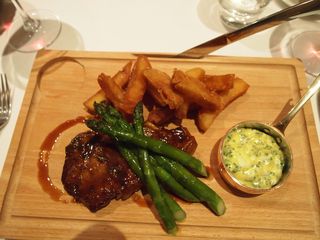 Xavier's main course was Braised ox cheek and raw rump, glass noodles, pak choi, chilli and beef consomme. The ox cheek had been slowly cooked for 18 hours in a water bath and was rich and succulent with a hint of spice - the essence of beef. The melt-in-the-mouth raw rump was served with a wonderful rich but delicately spiced beef consomme which had a lovely Asian aftertaste. The glass noodles and pak choi provided the necessary structure and lightness.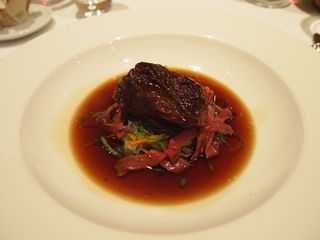 For dessert we had the locals' favourite: Taste of No. 6 . This dessert is a selection of puddings to share. To mention but a few: Delicous greek yoghurt with molasses and toasted oats. Wonderful chocolate mousse. Perfect panna cotta with lovely rhubarb. Glorious Fairground doughnuts filled with chocolate. Fantastic banana and passion fruit ice cream with popping candy in it. All wonderful desserts that would easily hold their own as a pudding course individually.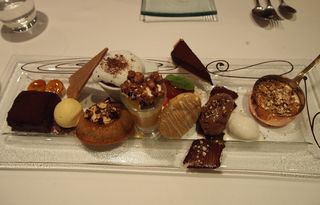 Paul Ainsworth has created a versatile a la carte menu with dishes that are essentially modern British into which he successfully integrates French and Asian influences. I was particularly impressed with the deft handling of the Asian flavours. Furthermore the dishes show originality and a real understanding of ingredients and flavours. The a la carte menu offers a range of dishes, some more rustic, some more refined, that will cater to the tastes of a great many people.
After dinner I had a chat with Paul Ainsworth and I got to know him as a very charming and passionate man. This passion no doubt has allowed him to attract a wonderful team of people, not only in his kitchen but also in front of house. Alex Tozer, the assistant manager, was positively brimming with enthusiasm and took very good care of us. He is very knowledgable about the food and wine served in the restaurant (hubby was very pleased with the quirky Marlborough Montepulciano from Framingham he suggested). We had a great time. On the website Paul Ainsworth at No. 6 promises a dining experience that is simple, affordable and fun. Well, they made good their promise - and then some.