Rating: 87.
Rating index:
Extraordinary (96-100)
Outstanding (93-95)
Very good to Excellent (89-92)
Above average to Good (86-88)
Below Average to Average (80-85)
Avoid (below 80)
More info >
The last time I had visited Hélène Darroze was in November 2009. At that time I hadn't started my website yet but I do remember having a wonderful meal at this beautiful restaurant at the Connaught Hotel in London. In January of this year Hélène Darroze at the Connaught received a second Michelin star. Hélène Darroze's other restaurant is in Paris (unsurprisingly also called Hélène Darroze) and currently holds one Michelin star. She divides her time between these two restaurants, one week in London, the other week in Paris.
One of the main reasons I wanted to have dinner at Hélène Darroze again is the dining room, one of the most traditional and lavishly decorated dining rooms in London. The other reason was obviously to see how Hélène Darroze's cooking had evolved since my last visit.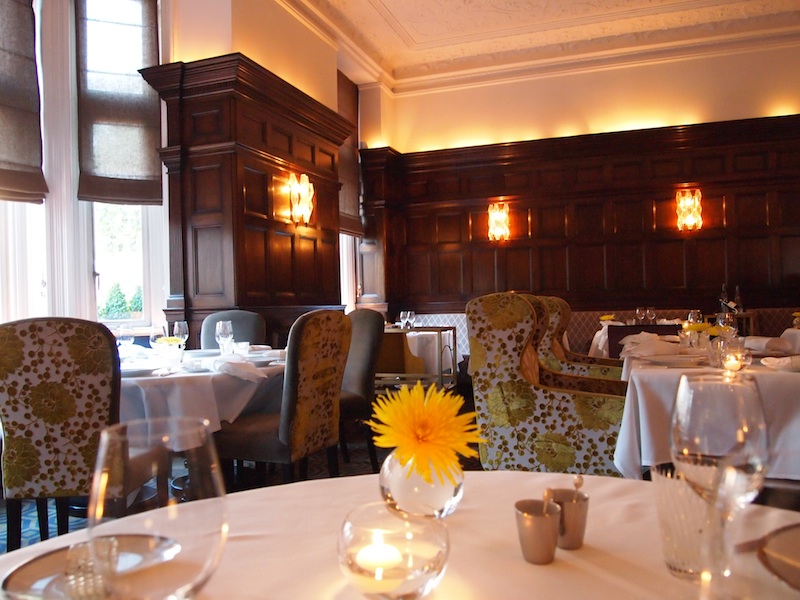 My husband, a friend and I had dinner at Hélène Darroze last Saturday. At dinner the restaurant serves an a la carte menu, an inspiration menu (9 courses £ 115), a signature menu (6 courses £ 85) and a vegetarian menu (7 courses £ 85). The three of us decided to go for the signature menu.
With our aperitifs we were served a courgette veloute with a mint foam. A lovely veloute with a touch of aniseed. We were also served some perfectly sliced Bayonne ham with some tasty mixed herb brioche.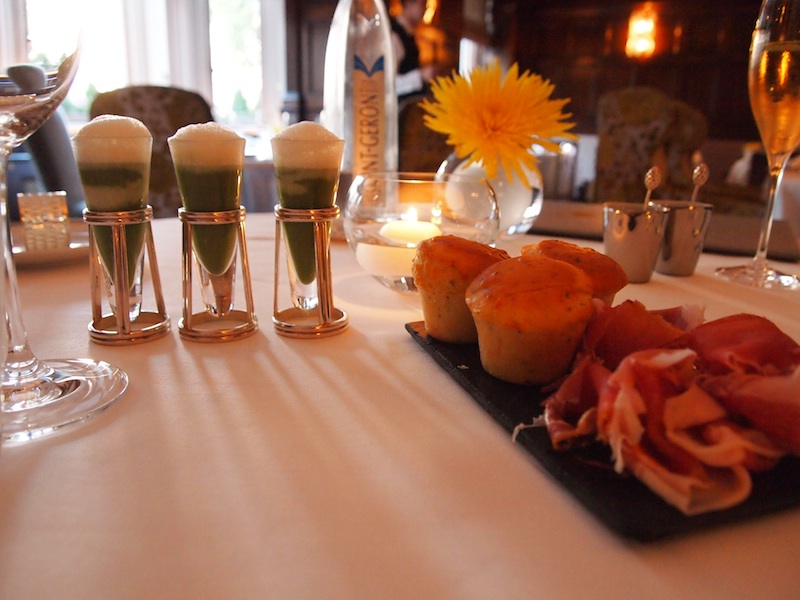 The first course of the signature menu was Duck foie gras crème brulée, green apple sorbet, peanut emulsion. As soon as I saw this dish on the menu I was very excited about the original combination with the peanut émulsion - the waiter described it as a foam and that is what it looked like to me. A fantastic rich and creamy crème brulée, but unfortunately the brulée was completely overpowered by the peanut emulsion/foam and I couldn't taste the apple sorbet. The peanut foam had a wonderful flavour but was just too strong for this dish. Too much foam? Too strongly flavoured? This dish left me a bit confused.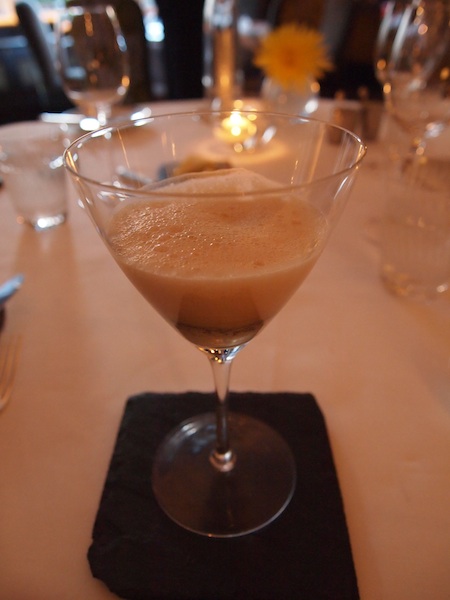 Second course was Black and creamy Carnaroli Acquerello rice, blue lobster, bay scallop, line-caught calamari sauteed with confit tomato and chorizo, slightly bitter jus with parsley and a Parmigiano Reggiano foam.
Gorgeous risotto style black rice which had a fantastic depth of flavour and a ditto black colour. Perfectly cooked lobster and calamari. The bay scallop was incredibly tasty and went really well with the risotto and the delicious Parmesan foam. A dish with many layered (clean) flavours and a perfect touch of bitterness. Also a lovely sweetness from the tomato. An outstanding dish and the best dish of the evening.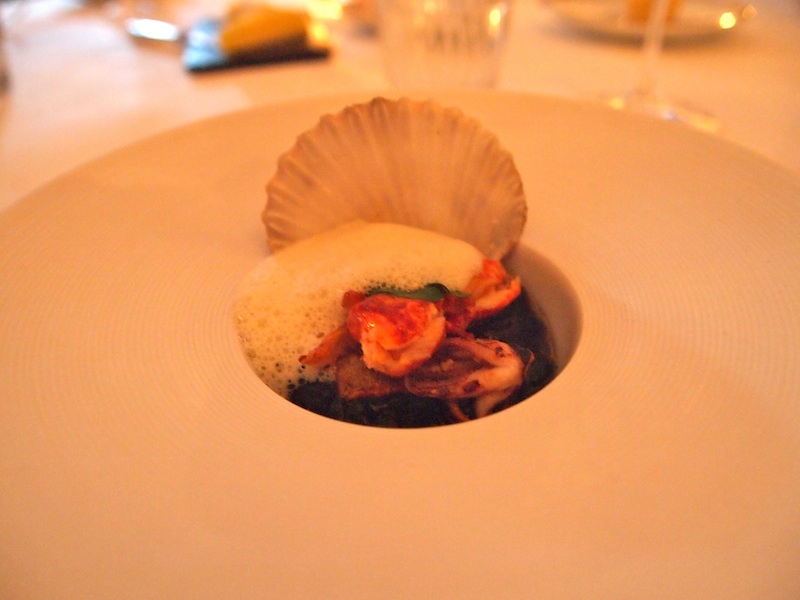 As a third course we were served Pan-roasted piece of line caught John Dory, fregula sarda with courgette flowers, confit tomatoes, olive oil sauce with Taggiasche olives and basil. The beautifully cooked John Dory unfortunately didn't stand a chance against the extremely salty olive oil sauce. If taken together with the fregula sarda the saltiness was somewhat toned down but still much too strong. I do like strong and bold flavours but for my palate this sauce went over the top. A real shame because otherwise it was a very well prepared dish and I did like all the other ingredients/flavours.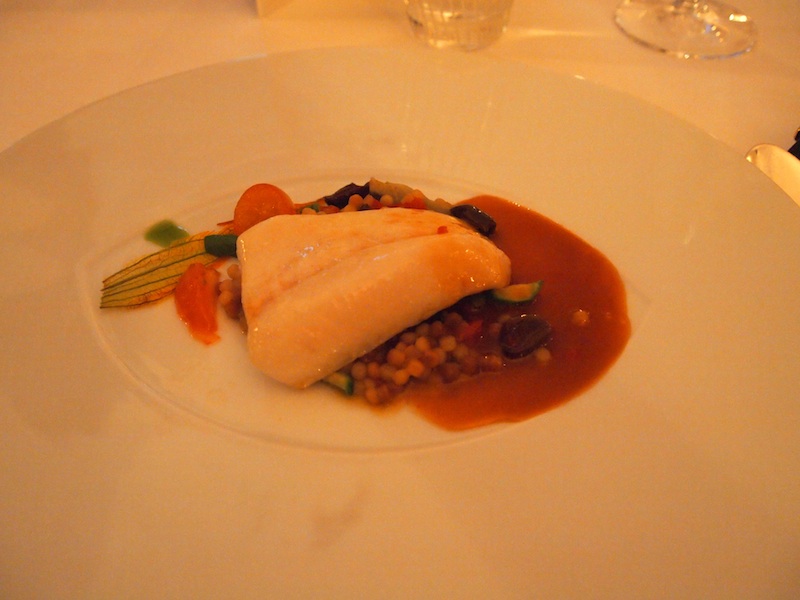 The main course was Roasted breast of pigeon from Tacan, flambéed "au capucin", grilled duck foie gras from les Landes, wild strawberries, beetroot, intense sauce with Mexican molé.
When we ordered the signature menu the waiter informed us that the pigeon would be cooked "bleu" (according to tradition in the South-West of France apparently) and asked if any of us wanted our pigeon to be cooked differently. I requested my pigeon to be cooked pink. The pigeon was roasted perfectly and had a good hearty flavour. The duck foie gras was fine too, but there was very little of the very intense sauce and somehow the meats didn't seem to come together with the strawberries and the beetroot. The dish came across as disjointed and seemed to lack harmony.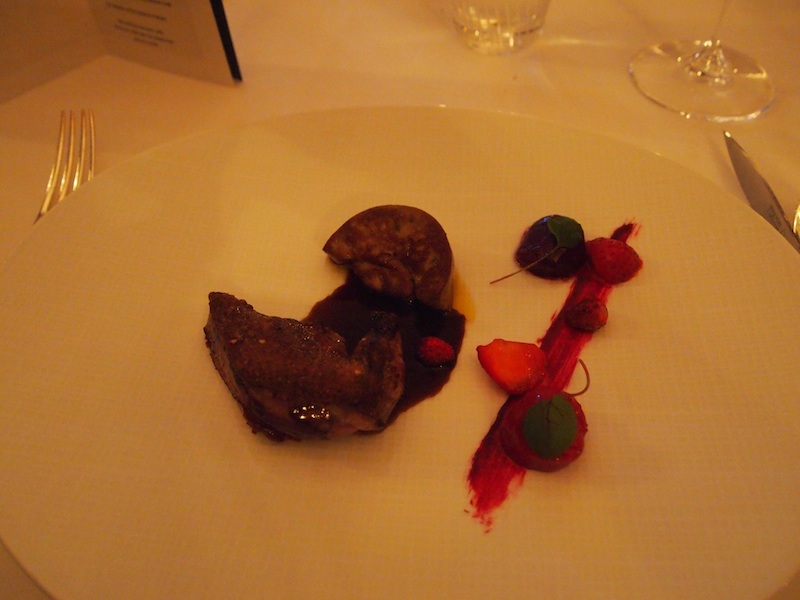 Next up was the cheese course. Three perfectly matured cheeses, each with its own accompaniment. An elegant cheese course but nothing special.
Last course, dessert. Bay leaf flavoured panna cotta, lemon jelly, Mara des bois strawberry sorbet and almond crumble. A brilliant and incredibly refreshing full-flavoured strawberry sorbet with a delicious and elegant lemon jelly and lovely almond crumble. Although I do like savoury touches in my desserts, I didn't like the bay leaf flavoured panna cotta. Otherwise the panna cotta was perfectly executed, but the overload of bay leaf made it taste like a cold bechamel and thereby it unfortunately detracted from the wonderful flavours of the strawberry sorbet and the lemon jelly.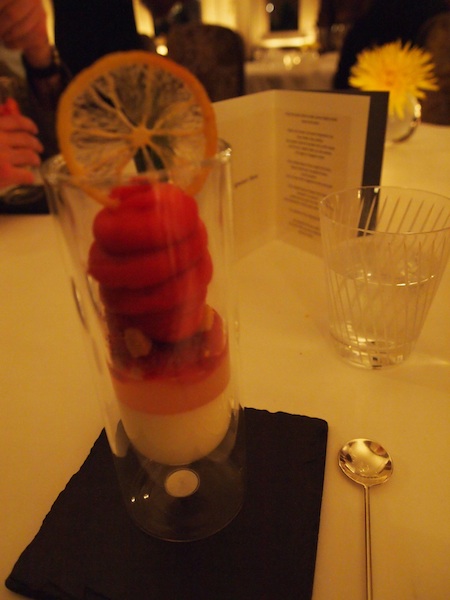 For me, this menu was very different from what I experienced 18 months ago. The service at Hélène Darroze was as immaculate as ever but the food was very different from what I remembered. Hélène Darroze is of course known for bold and strong flavours but where these flavours made for excellent and refined dishes last time I visited, they didn't do so in this signature menu. Yes, every dish had some wonderful elements and every dish showed technical skill but apart from the black risotto dish they all seemed to lack balance and harmony. I still can't make up my mind as to whether this was down to conceptual flaws or deficient execution. A bit of both probably, but there clearly was a lack of judgement. I don't know what went wrong on the evening I visited, but the number of errors was clearly too high. Is it because the eponymous chef was in Gaul rather than in perfidious Albion?