Rating: 94.
Rating index:
Extraordinary (96-100)
Outstanding (93-95)
Very good to Excellent (89-92)
Above average to Good (86-88)
Below Average to Average (80-85)
Avoid (below 80)
More info >
How on earth did you get in, someone asked. I guess I was just lucky. Momofuku Ko ('Ko') only accepts online reservations not more than 6 days in advance. The restaurant only has 12 seats. Ko does two seatings at dinner but that still leaves you with just 24 seats to book per night which isn't much anywhere - let alone in NYC. To make an online reservation you first have to be registered at the Momofuku website. Because of the 6 hour time difference I totally forgot to log on and when I did first check everything was fully booked. For some reason however I tried again half an hour later and there it was a 9.30pm slot.
Ko is one of 4 restaurants owned by famous Korean American chef David Chang, other restaurants are Momofuku Noodle Bar, Momofuku Ssämm Bar and Ma Pêche. Chang also owns three New York bakeries called Milk Bar. After having trained under Daniel Boulud, Jean Georges Vongerichten and Tom Colicchio, David Chang opened his first restaurant 'Noodle Bar' in 2004, soon followed by 'Ssäm Bar' in 2006. Ko opened in March 2008 and entered the 2009 New York City Michelin Guide with two stars - just six months after the restaurant had opened.
At the moment David Chang is one of the most renowned and iconoclastic chefs in New York City. He has received 3 James Beard Awards and he has even been designated 'One of the most influential people of the 21st century' by Esquire magazine.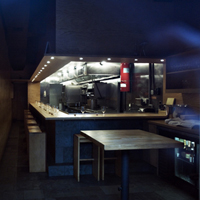 Ko is open for dinner 7 days a week and serves lunch on Friday, Saturday and Sunday. For dinner there usually is a 10-course tasting menu ($ 125) and the lunch menu usually is about 16 courses ($ 175). The restaurant has a no-photography policy so there will be no photographs of the food in this post.
My husband and I arrived for dinner at 9.30pm exactly and we had brought the required print-out of the reservation confirmation email so we were allowed into the culinary sanctum sanctorum. Ko is an intimate 12-seat bar where loud music blares out of the speakers all night. During our dinner 3 chefs were preparing the food right in front of us. Very much contrary to our custom we decided to have the so-called beverage pairing with our food that night. Below you will find the beverage pairing between brackets after the description of the food.
We started our meal with 2 pre-starters. The first was a very nice and crisp house-made chicharron with Japanese 7-spice powder. The second was dashi jelly with wild mushrooms (foraged in Maine) served with some American caviar. Wonderful clean flavours and lovely bite from the mushrooms. Both simple but lovely pre-starters.
First course was charred octopus served with pickled okra, black olive, tomato water. Fantastic octopus which was nice and tender with lovely acidity from the okra. (Plum something ......)
The second course was Hand-dived scallops served with basil seed, dried ham, pineapple vinegar and water chestnuts. A ceviche style dish but much more elegant and a fabulous interplay of textures. Wonderful softness from the delicate and creamy scallops, lovely crunch from the basil seeds and a nice bite from the water chestnuts. It was rounded off by a lovely saltiness from the ham and the perfect touch of acidity from the pineapple vinegar. (Sake).
On to the third course, Carpaccio of dry-aged beef sirloin, charred scallions (spring onions), quad cheese, rice chips and horseradish. Excellent carpaccio with good strong beef flavours. Lovely crunch from the rice chips, wonderful lightly burned flavours from the scallions and fantastic heat from the horseradish. (Cabernet Franc Rosé Brut, Couly-Dutheil).
The fourth course was Kimchi broth with British Colombia oyster, pork belly, charred bean sprouts and cabbage. An absolutely perfectly clear broth served with a gorgeous oyster. The oyster was small but had very intense briny flavours. I loved the charred bean sprouts. The terrific pork belly had been slow-cooked and then grilled which gave the pork delicious char-grilled flavours. Again an interplay of textures, a plumptious oyster, a soft but still firm bite from the pork belly and a lovely crunch from the cabbage. The broth was served warm but not hot which ensured that non of the other ingredients overcooked. (Rodenbach).
Next up the fifth course, a soft-boiled and lightly smoked egg served with American caviar, onion soubise, potato chips and Japanese plum vinegar. I would have loved to have taken a photograph of this dish because it was so beautiful. A divine soft-boiled egg, the white was firm and the yolk was gloriously runny, with a perfect touch of smokiness. Soft-boiled eggs are a star ingredient in David Chang's restaurants and I believe he and his team have mastered the art of boiling an egg (yes, it's an art!) to perfection and this dish has become a signature dish, A well-balanced dish with fantastic textures and flavours, softness from the egg, saltiness and a bit more bite from the caviar, wonderful softness and richness from the onions and the perfect crunch from the chips. (Champagne Christian Etienne Brut)
The sixth course was Tortelloni with a chilli filling, foraged oyster mushrooms, compressed watermelon with pickled ginger juices, sweetbreads, chervil and a butter and olive oil sauce. Perfect tortelloni with a fiery chilli filling which wasn't too powerful. Terrific crisp sweetbreads and lovely refreshing notes from the watermelon and ginger juices. (Hof ten Dormaal Blond, André Janssens)
Seventh course, Steamed halibut, cherry tomatoes, popcorn tempura, scallions, corn veloute and home-made Chinese XO sauce. A stunning dish and my favourite dish of the evening. Perfectly cooked and tender halibut. The purest corn veloute, the essence of corn. Wonderful sweetness from the tomatoes and I loved the popcorn tempura. But my favourite ingredient was the XO sauce. This was the first time I encountered XO sauce and it was love at first sight. XO sauce is made with dried fermented fish (in this case scallop and shrimp), garlic, ginger, country ham, grapeseed oil and crushed dried chillies. A simply sublime sauce with an amazing depth of flavour. The XO was also a crucial ingredient because it really lifted the dish. (Pinot Gris 2009, Domaine Mittnacht).
On to the eighth course which was also on of Ko's signature dishes, Grated Hudson Valley foie gras, pine nut brittle, Riesling gelée and lychees. A elegant and light foie gras dish. The foie gras was a perfect match with the lychees. Fantastic crunch from the pine nut brittle. The gelée had a lovely consistency but it didn't taste much of Riesling. (Moscato d'Asti by Bera).
The ninth course was Rib of lamb with a brown sugar, ginger and lots of chilli coating, pickled cucumber and kohlrabi, charred scallions served with a leek filled with Greek yoghurt mixed with charred Chinese scallions and golden chives. Although I'm not a big fan of lamb (usually I change a lamb course to beef or game) I just had to try it and for some reason it didn't feel right to ask for a beef course. The slow-roasted lamb was incredibly tasty and really spicy. The heat of the chillies was somewhat softened by the pickled vegetables and the Greek yoghurt (Pineau d'Aunis 2009, JP Robineau - alas served very warm)
After our main courses we were served a pre-dessert. Coconut and lime sorbet served caramel-curry popcorn. Simple but perfect. (Dolin Vermouth)
The final course, dessert. Peach and vanilla sorbet, buttermilk panna cotta, shortbread, caramelised white chocolate and spruce powder. As Momofuku means peach this was a perfect ending of this tasting menu. Lovely refreshing sorbet with perfectly made wobbly panna cotta. A light and harmonious dish with wonderful textures. (Banyuls Blanc, Coume del Mas)
David Chang and his team have created a unique restaurant that serves innovative and exciting food. Every single dish is constructed with lots of attention and understanding of flavours and textures and is prepared with finesse and skill. All dishes were very complete and showed great originality, Very often acidity and/or bitters provided vivacity and length. I haven't experienced this type of food and flavours before in Europe or at least not at this high level. The beverage pairings proved to be an excellent choice and certainly made the food even more interesting. The price tag of $ 95 a head seemed to be pushing it a bit however. Ko is also the perfect example that Michelin starred food is about the food and the food only. I may have found the "food bar(n)" of which I wrote in my
Wishin' and Hopin'
post last year.