Rating: 85.
Rating index:
Extraordinary (96-100)
Outstanding (93-95)
Very good to Excellent (89-92)
Above average to Good (86-88)
Below Average to Average (80-85)
Avoid (below 80)
More info >
Eighteen months, three visits. I first visited Tom Kerridge's The Hand & Flowers in July 2010. My husband and I had lunch there on probably the hottest day in England in 2010 and a lovely lunch it was too. A short impression of this lunch can be found
here
. Since this impression was not a proper review I wanted go back and not just for a review but for some lovely grub too! After the 2010 lunch I was also very interested to see how Tom Kerridge's cooking would evolve. It took me a while to return to Marlow, but there I was, back at the Hand & Flowers in May 2011 for dinner. That time however, I had a somewhat mixed experience.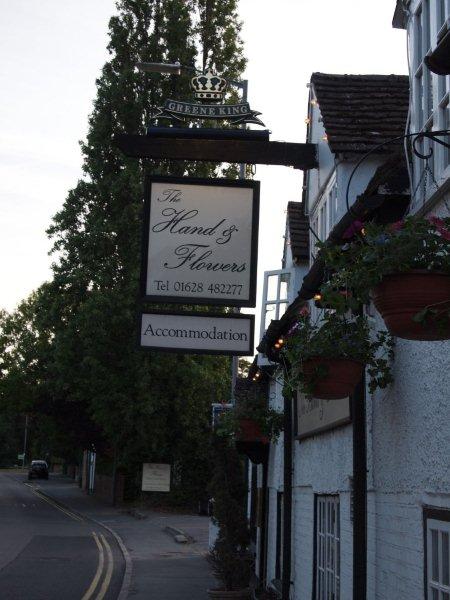 First of all I would like to point out that we (hubby and I, if I mention 'we' in any my of my reviews you can assume it's the two of us) had a lovely meal. With our drinks we were served the Hand & Flowers' customary and delicious snack: deep-fried whitebait with Marie-rose sauce. As a starter I had Parsley soup with smoked eel, bacon and Parmesan tortellini: intense and pure parsley flavours, wonderful meaty smoked eel, a simple but elegant dish. My husband had Truffled pork terrine with dill, pickles and toasted sour dough: lovely, tasty and rich terrine, well-balanced, nice pickles and great sourdough toast. My main course was Loin of Dingley Dell pork with belly, broad beans and mushroom fritters: perfectly cooked delicious pork loin, tasty belly and fritters, well-cooked vegetables. Hubby had the Fillet of Cornish plaice with English asparagus, morels and razor clams, an excellent well-seasoned piece of plaice served with chopped razor clams on top, lovely plumptuous morels and tasty asparagus. Obviously we also ordered Tom Kerridge's famous triple-cooked chips. I had had these chips on my first visit too and that time they were absolutely brilliant, but this time there was a snag: they smelled of fish. Chips are not supposed to smell of fish. We sent them back and got a fresh batch but these were fishy too. We didn't have desserts that evening.
Apart from the chips the food was very good but there was a further complicating factor on that particular evening. Eucalyptus. It seems that The Hand & Flowers uses eucalyptus scented wax or oil to polish their tables and clearly someone had been doing their job very enthusiastically that day. Consequently all the food and, even worse, the wine (a quite delicate Volnay 2007 from Comte Armand) was completely overpowered by the strong smell of eucalyptus emenating from the table tops. I decided not to write a review of this experience at the time because I was convinced that it was just an unfortunate incident.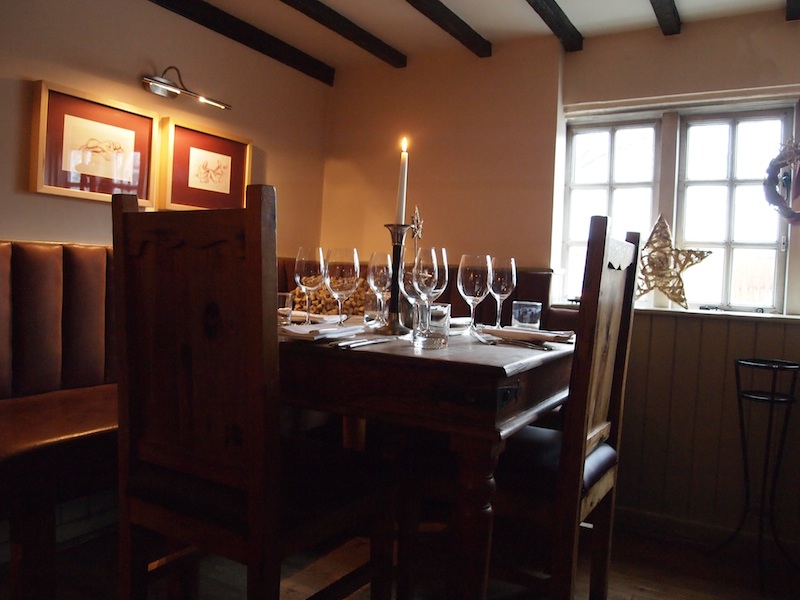 So, my third visit in December 2011. A lot has happened since my visit in May 2011. After participating successfully in Great British Menu (GBM) in 2010, winning the main course with his duck dish, Tom Kerridge took part in the 2011 GBM competition again, and retained his main course title with his fantastic pork dish. 2011 was also the year that Michelin awarded The Hand & Flowers a second star (having gained its first star in 2006), the first pub ever to be awarded two Michelin stars. Excellent news and the perfect excuse to go back to The Hand & Flowers, to discover for myself if and how Tom Kerridge's cooking had evolved since my previous visits. Was this second star a good news story for Michelin only or for The Hand & Flowers too?
The Hand & Flowers is open seven days a week for lunch and from Monday till Saturday for dinner. At lunch and dinner there's an à la carte menu and there's a set lunch menu, 2-courses @ £15 or 3 courses @ £19,50 and there is a special Sunday lunch menu. I had lunch at The Hand & Flowers with my husband and Jacqueline (@Bebejax on Twitter) and we all chose dishes from the à la carte menu.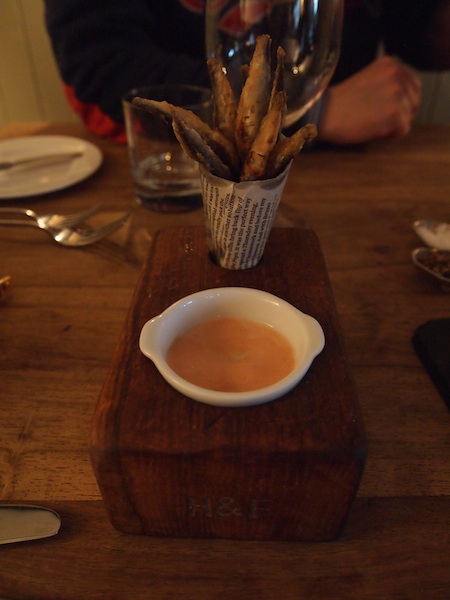 After the whitebait with Marie-rose sauce we were served our starters. As a first course hubby and I both had Braised pearl barley with Somerset hare, orange oil and foie gras. The rather large piece of foie-gras, which to my surprise was the main ingredient of this dish, was well-cooked. The foie-gras was served on top of the pearl barley and the hare and it dominated the dish. The morsels of hare were a bit tough and lacked the distinct and strong flavour hare should have. The braised pearl barley was lovely and had a nice bite. Lovely texture from the crispy pearl barley. Overall a rustic dish with full-on flavours that lacked refinement however.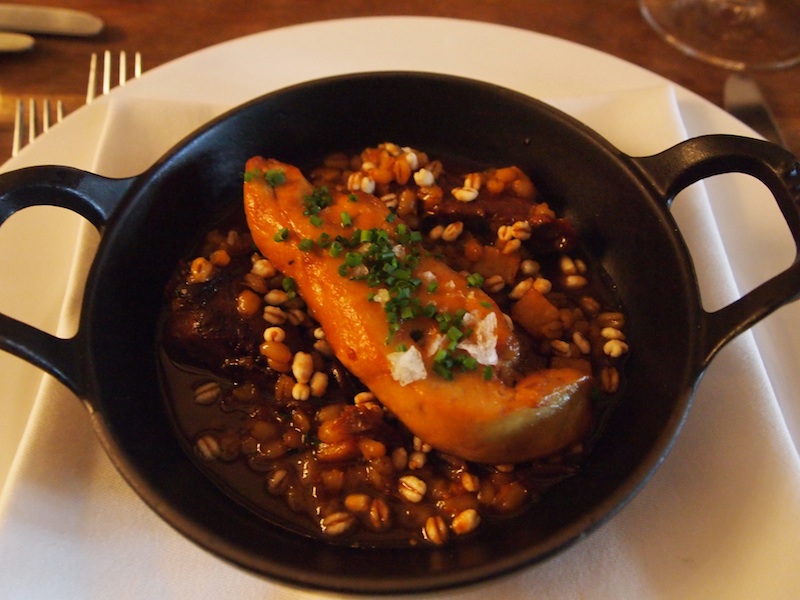 My main course was Breast of Suffolk chicken with pistachio crumble, gravy, lovage poached turnips, soft polenta and winter truffle. Excellent succulent and tasty chicken with a crispy pistachio, panko and lemon thyme topping served with a very strong and powerful gravy. The winter truffle was freshly shaved at the table. Lovely rich and buttery soft polenta served with some confit lemon. Nice turnips with a nice touch of lovage. With our main courses we had ordered the triple-cooked chips, which unfortunately had a slightly fishy aroma again, albeit much lighter than previously.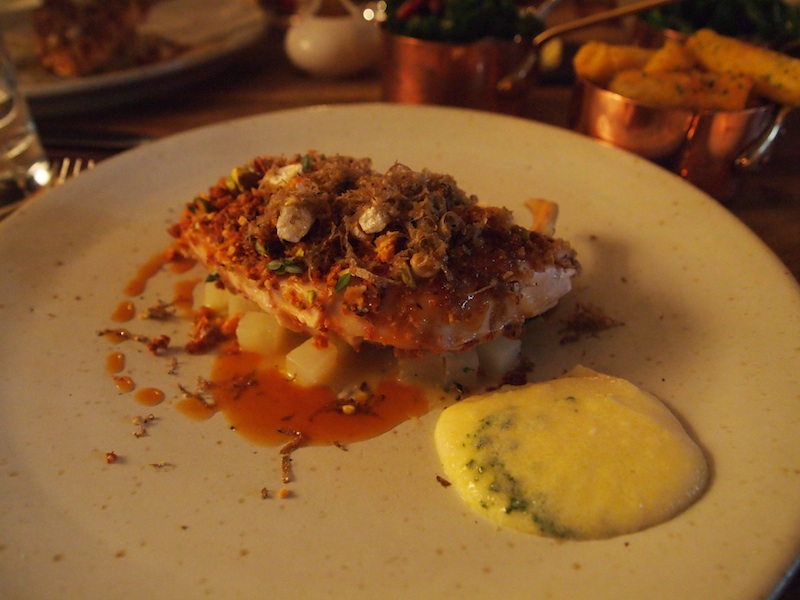 Last course, dessert: Hand & Flowers chocolate cake with salted caramel and muscovado ice cream. A rich beautifully made cake with fantastic dark chocolate flavours, but with quite a dense texture. Wonderful salty caramel and lovely ice cream. I tried the dessert of my table-companions too, Pear Soufflé with Poire William purée, sweet cheese and mace. The top of the soufflé was lovely but the inside had the consistency of scrambled eggs. The Poire William purée lacked depth of flavour and we all agreed the mace cream/cheese was unpleasant.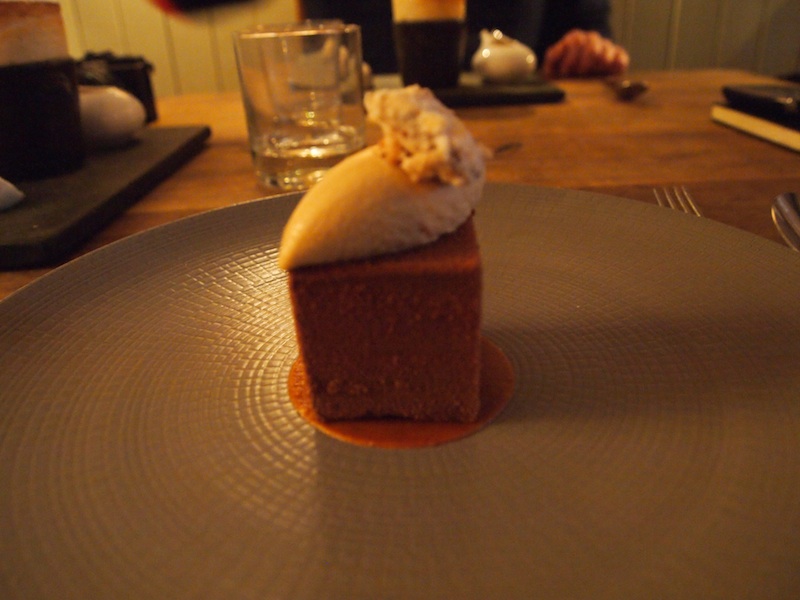 So where does this leave us? We all know Tom Kerridge can cook. You don't win GBM two years running if you can't. He is an ambitious and accomplished chef and he clearly has the skill to deliver excellent but rustic, tasty food that is full of flavour, both in his classics and in his more creative dishes. Based on my last experience however, some of the dishes he serves at The Hand & Flowers lack refinement and they do not always seem to be well-constructed. I found The Hand & Flowers' food convincing on my first and second visits (apart from the chips) but less so the last time.