I've been watching Great British Menu (GBM) since the first series in 2006. Because of this programme I really got to now more about British food and British chefs and of course about Jennie Bond. I really like GBM and it is great to see how many food traditions there are in the UK and how many talented chefs they have on the island. If it wasn't for GBM I would have never heard of Richard Corrigan, Tom Kitchen, Atul Kochhar, Galton Blackiston, Sat Bains, Glynn Purnell, the list is endless.
This season however is a wholly different story. The chefs weren't always that inspiring and neither was their food. But then there was Tom Kerridge. What a personality and what a chef. You could tell immidiately this man loves everything about food. His crayfish Scotch egg looked fabulous and his main, slow cooked duck with duck fat chips and gravy, gorgeous. Well it looked gorgeous on tv. My tweet that evening was: I want Tom Kerridge's duck + chips twice. I wasn't suprised he won the main course with his duck dish.
So after Le Manoir we spent a week in the Peak District. The Peak District is lovely but apart from a few good pubs and 1 or 2 restaurants it is a bit of a culinary desert. As I said after Le Manoir: spoilt for life. The last few days of our holiday we decided to spend in Hampshire and as it happens, whilst driving to Hampshire, we would pass the lovely town of Marlow. In Marlow is, as you might have guessed, Tom Kerridge's pub called the Hand and Flowers. Fortunately we were able to book a table for lunch on Friday, July 9.
Of course we had the crayfish Scotch Egg as a pre-starter. Then I had the terrine of Old Spot pork and Xavier had the Moules Mariniere with warm stout, which is a very different take on Moules Mariniere but fab. Then I had the English beef with chips and Bearnaise sauce and Xavier the famous duck and chips. The reason I decided against the duck is that I am a Bearnaise sauce addict. The beef was the best beef I've tasted since the beef I had at Le Gavroche earlier this year. And those chips ...... Well, here they are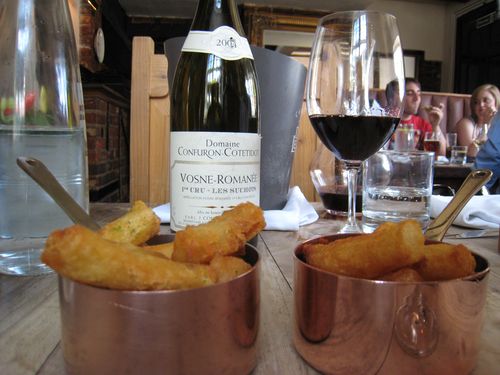 The Vosne-Romanée Les Suchots 2004 from Domaine Confuron-Cotetidot wasn't half bad either.
When we had finished our rhubarb desserts we asked the waitress if mr Kerridge was around that afternoon and, if so, if we could meet him. After a few minutes she returned and told us we could meet him in the kitchen.
The kitchen was boiling hot, the outside temperature that day was at least 28 degrees but we didn't care because it was so nice to meet Tom Kerridge. He's a lovely man and so talented. After meeting him I was even more convinced that his food is his personality on a plate. The Michelin Guide UK agrees with me because they gave him his first star in 2007.
Review of my lunch at the Hand & Flowers in December 2011