Rating: 92.
Rating index:
Extraordinary (96-100)
Outstanding (93-95)
Very good to Excellent (89-92)
Above average to Good (86-88)
Below Average to Average (80-85)
Avoid (below 80)
More info >
In the British fine-dining scene restaurant Le Gavroche is not just any other Michelin-starred restaurant. Albert and Michel Roux sr. opened Le Gavroche in Lower Sloane Street in Chelsea in 1967. They were not the first Frenchmen to run a restaurant in London of course. Auguste Escoffier for example presided over the kitchens at the Savoy from 1890 until 1898 and from 1932 until 1976 there was the famous restaurant Prunier in St. James's Street.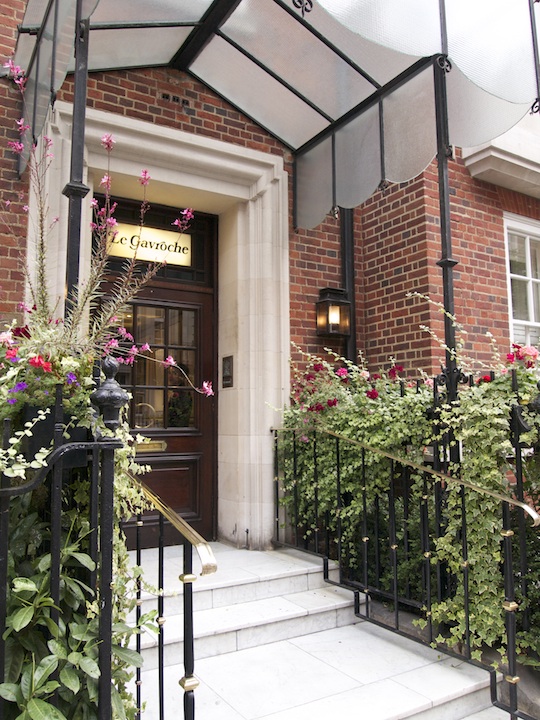 If I was to draw a family tree of the haute cuisine chefs of Britain in modern times however, Albert and Michel Roux sr would be at the top of at that tree. Their restaurant Le Gavroche has played a seminal role in the development of haute cuisine in Britain unlike any other. Some of the biggest names in the industry have worked at the kitchens of Le Gavroche and these include men like Pierre Koffmann, Gordon Ramsay and Marco Pierre White. But it's not just the kitchens of Le Gavroche that have produced great chefs.

In 1984 the Roux family launched its own culinary competition for chefs in the UK called "The Roux Scholarship" and this competition has yielded some excellent results. Winners of this competition have been (among others): Andrew Fairlie of two-star Restaurant Andrew Fairlie at Gleneagles, Sat Bains of the eponymous two-star restaurant in Nottingham, André Garrett of one-star Galvin at Windows in London and Simon Hulstone of one-star The Elephant in Torquay. Michel Roux jr. is of course also a celebrity in his own right as a judge on Professional Masterchef and as an author of numerous books - his way of continuing the family tradition of passing on culinary passion and skill to others.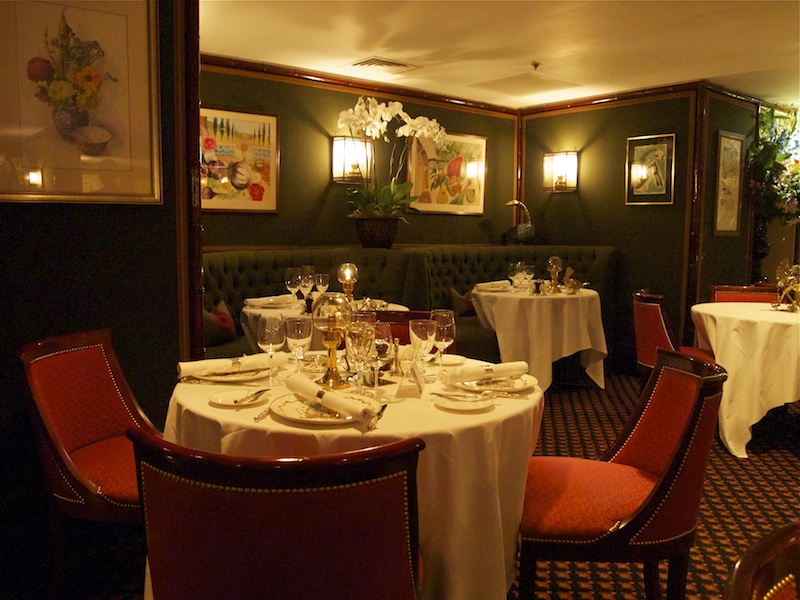 Le Gavroche was awarded its first star in Britain's first Michelin guide in 1974. The second star followed in 1977 and in 1982 Le Gavroche was the first restaurant in Britain to get three Michelin stars. By then the restaurant had moved to its current premises in Upper Brook Street in Mayfair. In 1993 Albert Roux retired as executive chef of Le Gavroche and his son Michel Roux jr took over. The restaurant has held two Michelin stars ever since.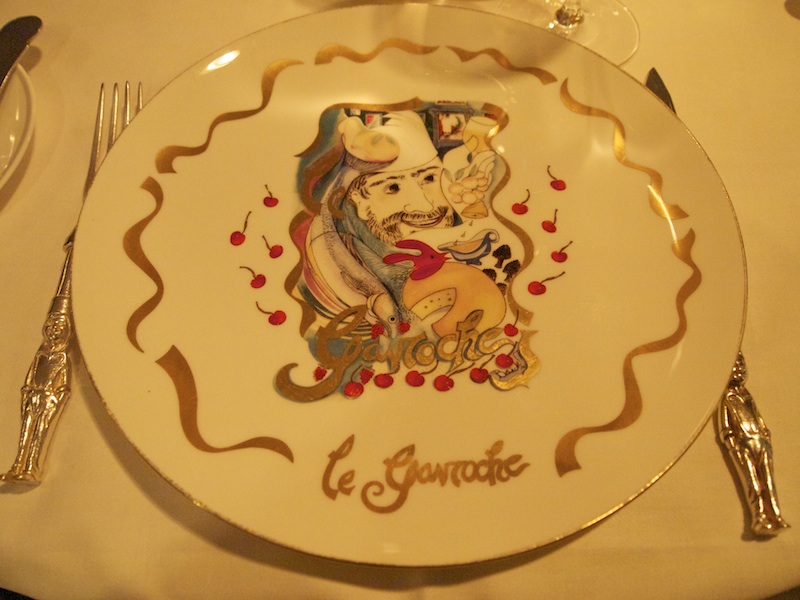 On Thursday 23 August 2012 I had dinner at Le Gavroche with my husband and two of my best friends. This was my third visit to the restaurant, after previous visits in 2008 and 2010; in 2011 I attended an Albert and Michel Roux weekend at Inverlochy Castle in Scotland. Le Gavroche is open for lunch and dinner Monday till Saturday (no lunch on Saturday). At dinner the restaurant offers an a la carte menu, an 8-course menu Exceptionnel and there may be other (seasonal) dishes suggested by the chef. On the day I was there one of these dishes was grouse (à l'Anglaise) - hubby was so happy. I had three dishes from the a la carte menu.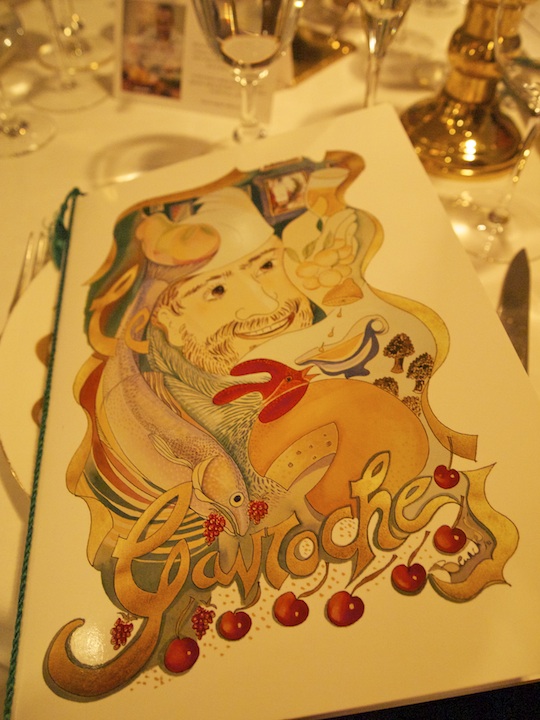 While we were studying the menu, which I always find quite a challenge at Le Gavroche because I basically want to order everything that is on it, two appetizers arrived: Crispy toast with a delicious creamy foie gras mousse and some quince on top and some crisp Sole goujons (no photograph).

Next we were served an amuse bouche, Lacquered pork belly with yelllow French beans. Lovely tender and flavoursome pork belly lacquered with a rich and sticky sauce. The yellow beans were nice and crunchy.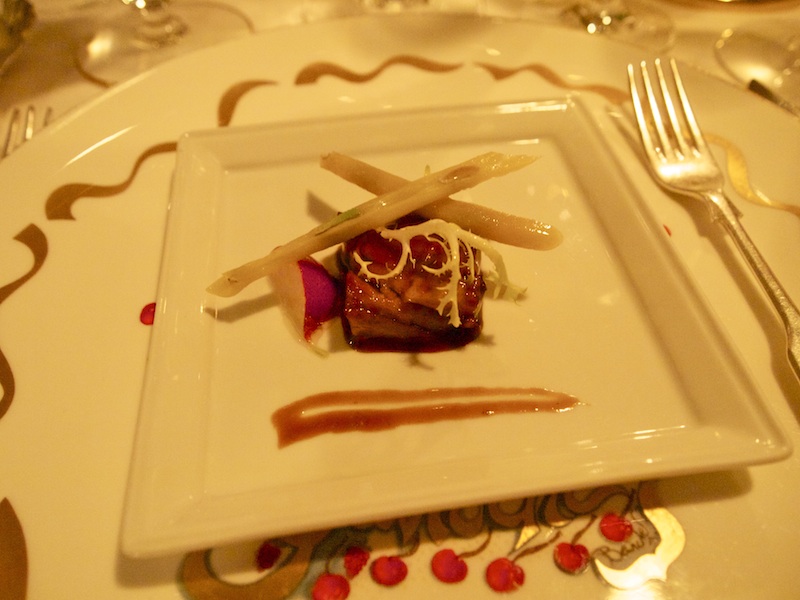 As a starter I had the Boudin Noir (black pudding), crumbed egg, crackling, asparagus salad and spicy tomato chutney. Terrific home-made black pudding which had a lovely soft texture, rich but not greasy, and a lovely warmth from the spices. Perfectly crisp and salty crackling and a wonderful breaded egg, lovely soft yolk and the breading was crisp and dry and had a fine texture. The tomato chutney had delicious intense tomato flavours and the perfect touch of heat. The richness of this dish was balanced beautifully by the thinly shaved asparagus and the salad of bitter leaves.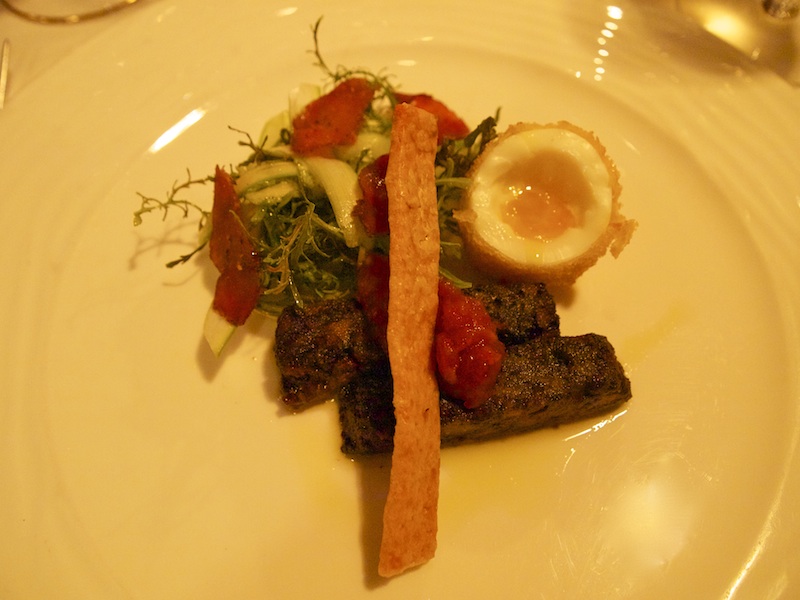 Main course, Roast suckling pig with crackling, peppered sauce, golden raisins, confit shallots and potato. A perfectly roasted rack of pork that was carved tableside into eight chops, four for me and four for one of my table companions. The meat was slightly pink and tender, delicious. With the pork came this marvellous well-reduced peppered jus with some lovely boozy raisins in it; nice elegant heat from the pepper. The confit shallots were meltingly soft and sweet and had a wonderfully sticky outside. Confit potato: well what can I say, what's not to like about potatoes slowly cooked in duck fat. Great crackling too. This was a truly divine pork dish that was perfectly executed.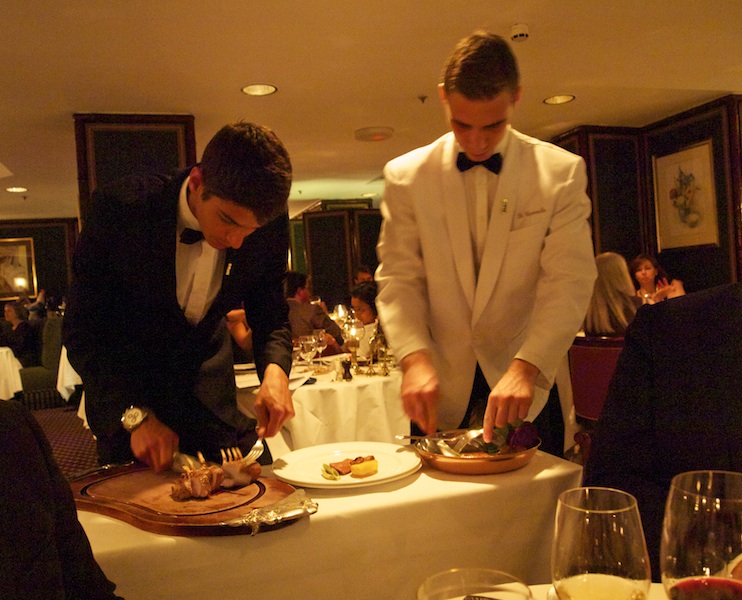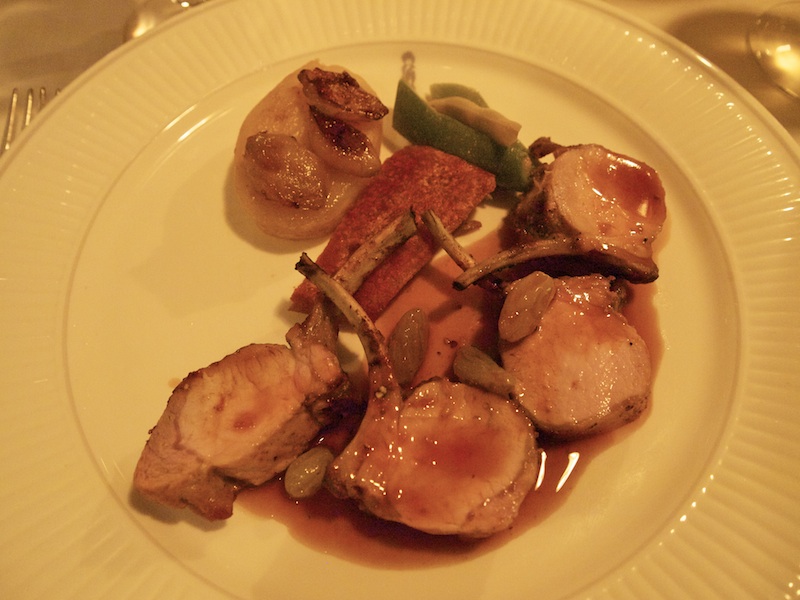 Before dessert we had two plates of cheese to share among the four of us. As you can see in the photograph Le Gavroche has an excellent selection of French and British farmhouse cheeses which we enjoyed thoroughly with a glass or two of Royal Tokaji Wine Company Aszú 6 Puttonyos 2007.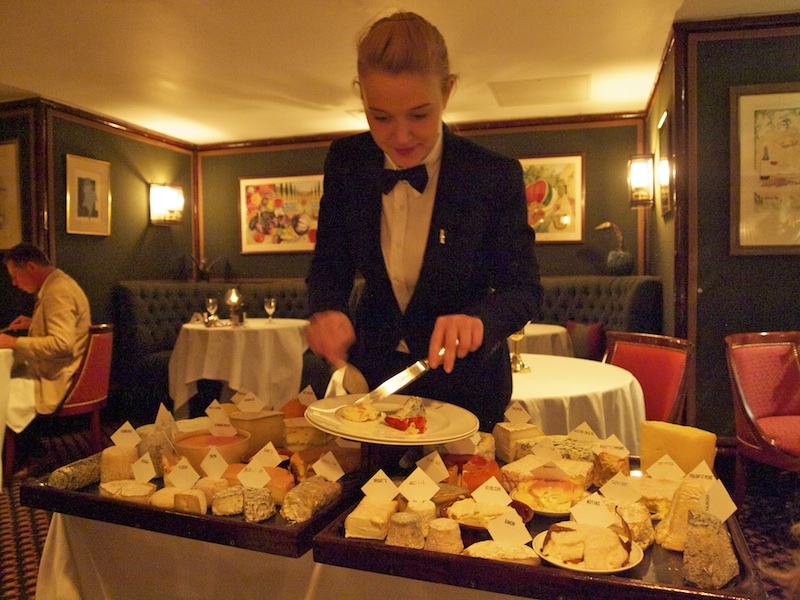 My dessert was Millefeuille with raspberries and Gianduja chocolate (praline-flavoured chocolate), raspberry coulis. Three layers of exquisite millefeuille with the perfect light and crisp consistency. Between the millefeuille was this fabulous filling of fresh raspberries and delicious rich Gianduja chocolate, arranged and/or piped with surgical precision. A scrumptious and rich dessert balanced beautifully by the tartness of the raspberries. Pure bliss.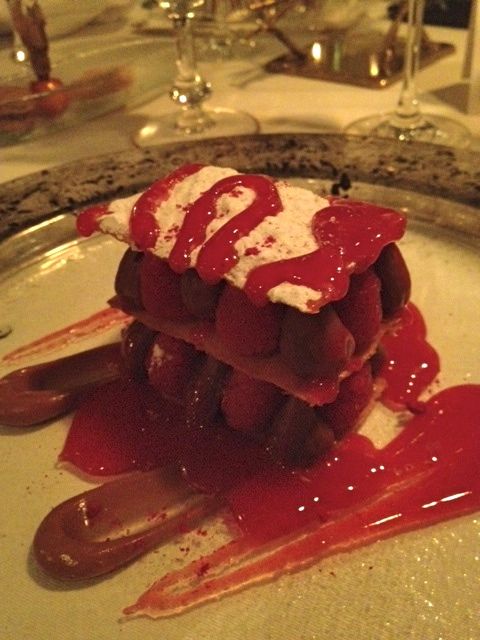 When I climb the steps to the entrance of Le Gavroche I always have this sense of excitement. It means I am about to enter the subterranean world of Le Gavroche, a haven of fine dining created by the Roux family almost half a century ago that is still among the finest establishments in the country. It is a world of tradition, rituals, classic and contemporary culinary excellence, exemplary service and warm hospitality. Maybe I am a romantic or prone to fanciful thoughts, but when the sommelier at Le Gavroche lights his candle to solemnly decant the red wine he is not merely transferring an alcoholic liquid from a bottle into a decanter; he is also a priest celebrating mass on the altar of a 1,000 year old tradition of French wine-making excellence.

These are the standards that Le Gavroche is well-known and loved for and which they always live up to. Michel Roux jr and his team, head chef Rachel Humphrey and senior sous-chef Monica Galetti, deliver impeccable food, usually classic French dishes with an occasional British touch. Some dishes are more creative than others but they are always perfectly executed. On the night I was there the restaurant was fully booked as always. It must be because sheer excellence will never go out of fashion.