Rating: 88.
Rating index:
Extraordinary (96-100)
Outstanding (93-95)
Very good to Excellent (89-92)
Above average to Good (86-88)
Below Average to Average (80-85)
Avoid (below 80)
More info >
Until January of this year, London used to have this wonderful place where young and talented chefs could present themselves to the discerning palates of the capital: Nuno Mendes' The Loft Project. If I understand correctly however, The Loft Project is only temporarily out of business. The venue (the loft) has been sold and the people behind the The Loft Project are in negotiations for a new venue. Among the guest-chefs at The Loft Project in 2011 were: Ben Spalding, former head-chef of
Roganic
; Marcus McGuinness, head-chef at two-star Hibiscus in London; Paul Foster, head-chef at
Tuddenham Mill
in Suffolk and Mark Poynton. Mark Poynton is the former head-chef of Daniel Clifford at his two-star restaurant
Midsummer House
and now is the chef/patron of Alimentum restaurant in Cambridge.
Alimentum is open for lunch and dinner Monday till Saturday. The restaurants offers a 10-course £85 'Surprise' menu, a 7-course £65 tasting menu, an a la carte menu and during lunch and before 7pm in the evenings the restaurants also offers a very-well priced menu-fixe (2 courses £16.50, 3 courses £22.50). I had dinner at Alimentum with my husband on Saturday 28 July 2012 and we both ordered dishes from the a la carte menu and an extra dish from the menu-fixe.
We started off with some pre-dinner drinks (I had a very nice Moijito and hubby a local beer) in the cocktail bar area of the restaurant. With our drinks we were served some cheese gougères and salt and vinegar popcorn. The cheese gougères had a delicious strong cheese filling and were gone in seconds - as was the popcorn.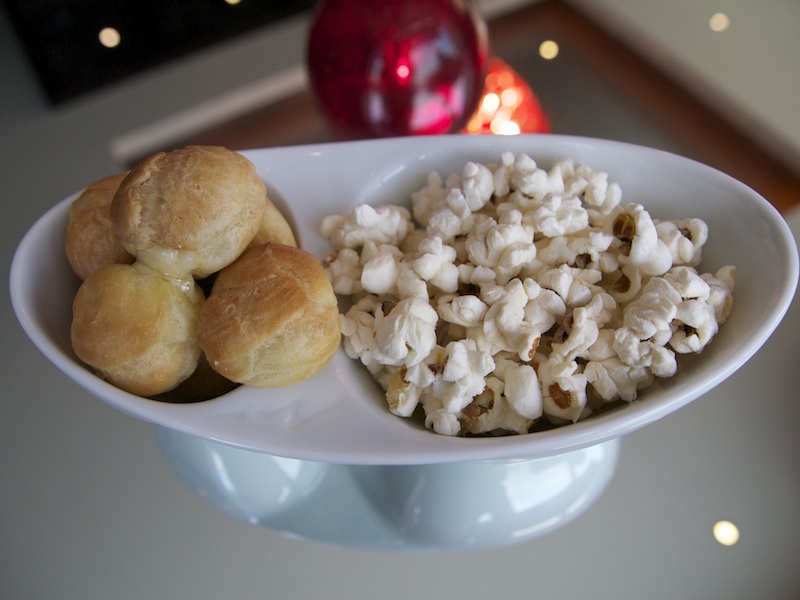 The amuse bouche served at the table was Chilled courgette mousse, feta cheese, black olives, basil oil, lemon zest. A wonderfully creamy courgette mousse which had a lovely fluffy consistency and combined very well with the salty crumbled feta cheese and finely chopped black olive. Lovely freshness from the lemon zest. An excellent amuse bouche.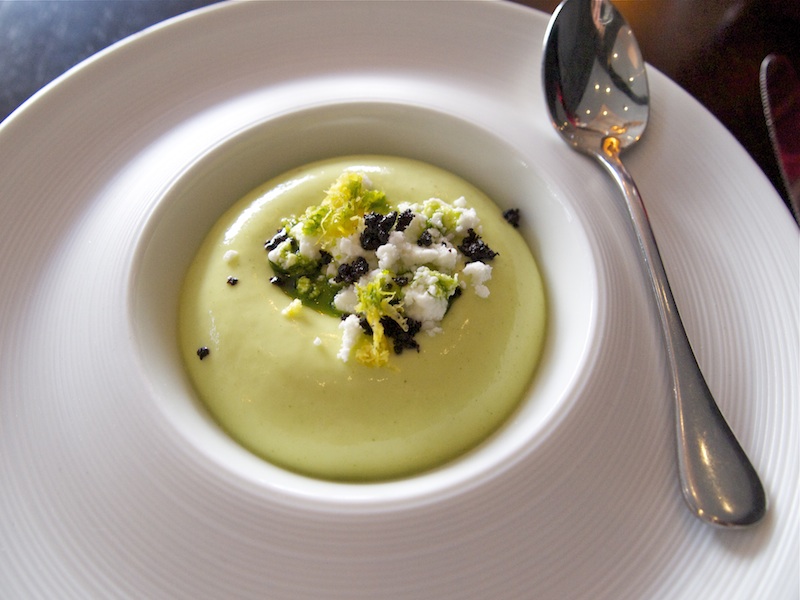 We were also served some delicious freshly baked breads.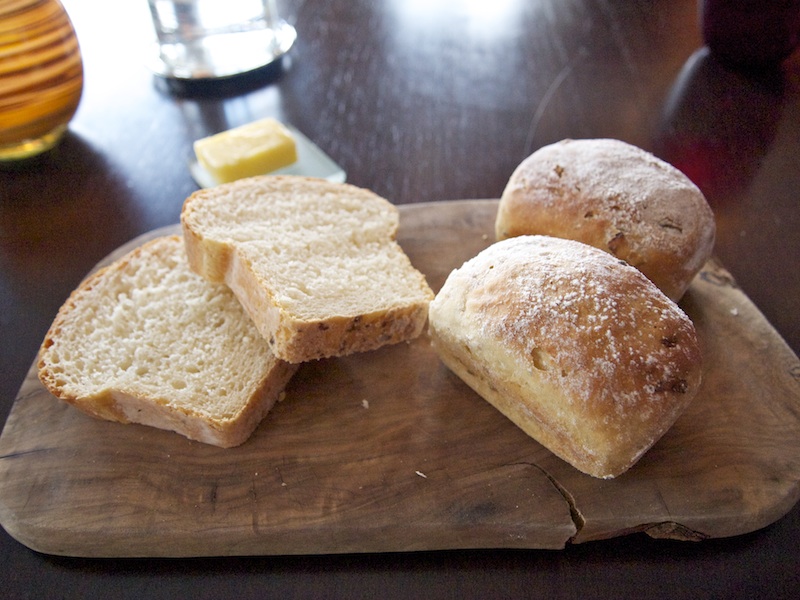 The first course was Mackerel, heritage tomatoes, black olive, goat's cheese. This was a dish from the fixed-price menu. Lovely barbequed mackerel served with texures of heritage tomato, some wonderful juicy and salty semi-dried tomatoes, a thin tomato crisp and some lovely fresh tomato. The goat's cheese (crumbs and cream) was nice and creamy and also provided a slight bit of acidity. A very attractive summery dish with lovely fresh flavours, very intelligently designed, and at £6.50 incredibly good value for money.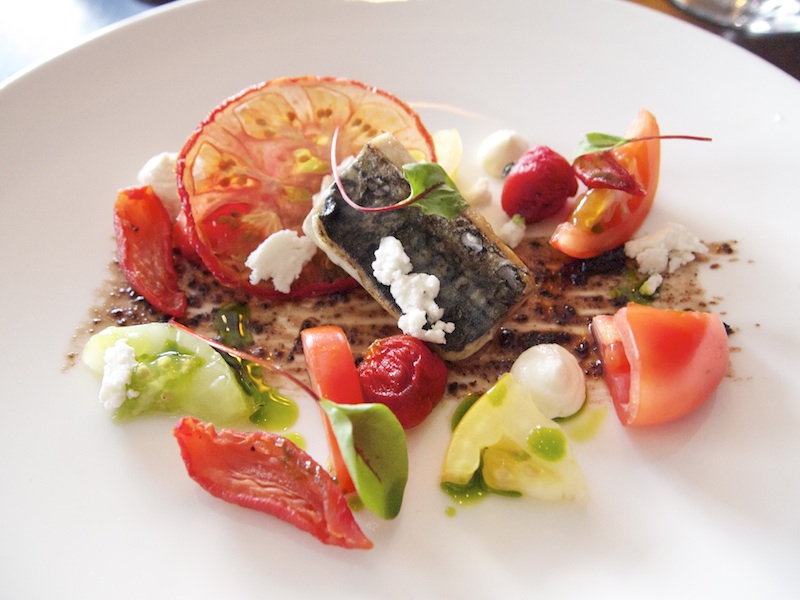 Second course, Pork (head and cheek), pineapple, peanut and chorizo. Very well-made and incredibly flavoursome braised pig's head terrine and lovely tender pork cheek served with peanut jelly, pineapple jelly and a mixture of finely chopped chorizo and pineapple. A wonderful and daring combination of flavours that worked really well together. Lovely depth of flavour from the peanut jelly, balanced by the pineapple jelly. Nice touch of spicyness from the chorizo.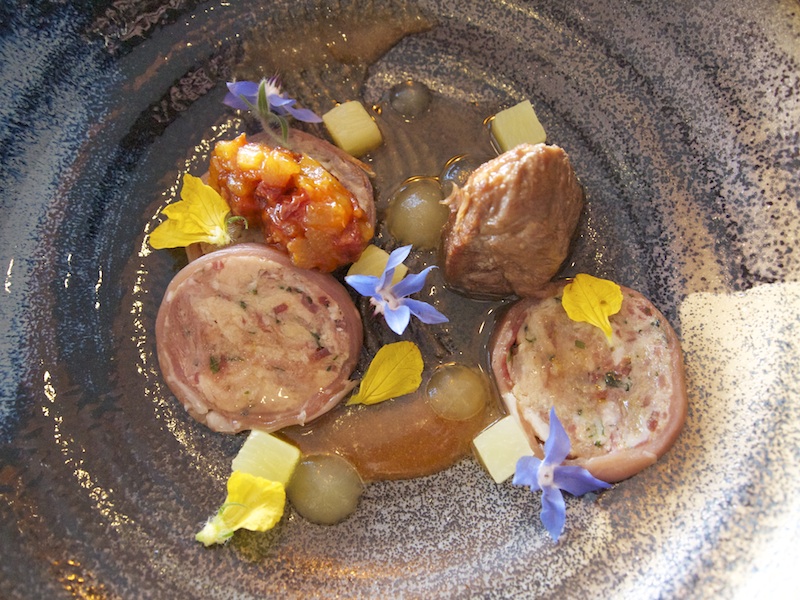 Third and main course, Stone bass, cuttlefish, pine nuts, cauliflower. A well-cooked piece of stone bass served with thinly sliced crisp cauliflower and cuttlefish in a rich cauliflower cream. The stone bass was accompanied by a very generous portion of squid ink risotto, or as I was later told a pine nut 'risotto' made from pine nuts? I have to be honest with you here: I still don't know what to make of it. I liked the stone bass. The cauliflower cream was quite rich but seductive. But what's with the 'risotto'? Do I love it or do I hate it or does it leave me uninterested? Overall a dish with very powerful flavours - but what was the point?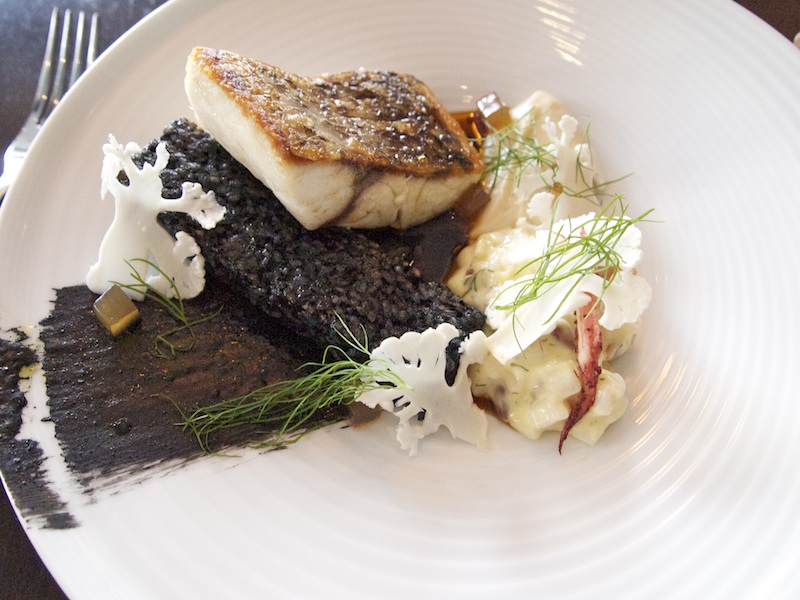 Next up was the pre-dessert. Apple and cucumber sorbet, fresh apple, rapeseed oil and a rapeseed crisp. A lovely and elegant palate cleanser. Perfect balance between apple and cucumber.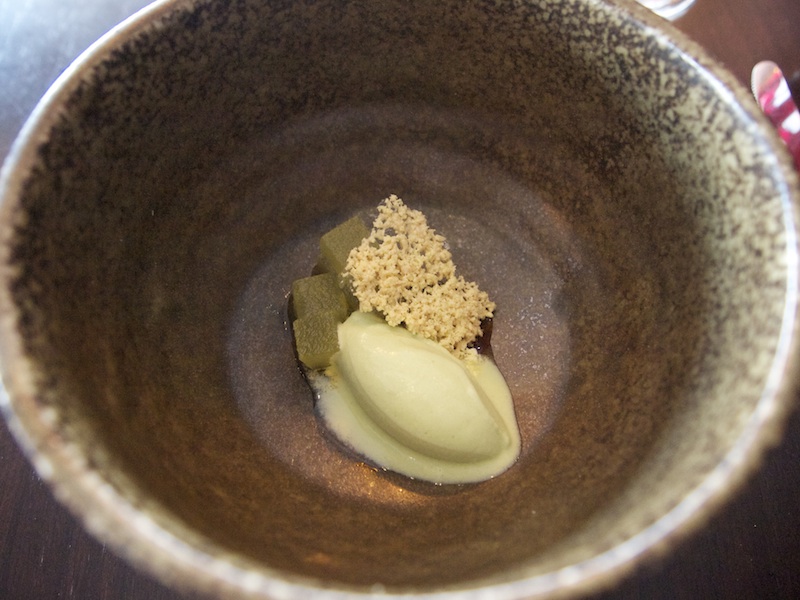 Instead of pudding (although the desserts on the menu seemed very tempting) we decided to go for cheese. A lovely selection of well-matured (local) cheeses served with home-made chutney.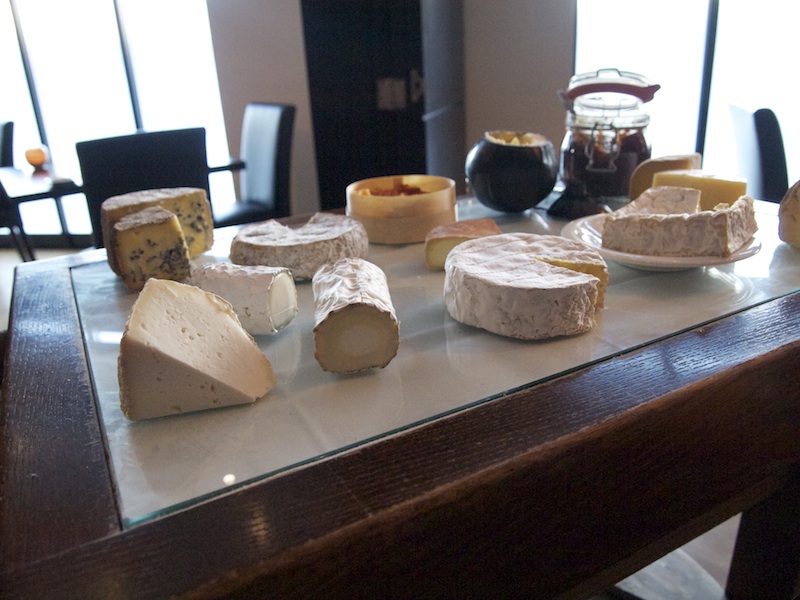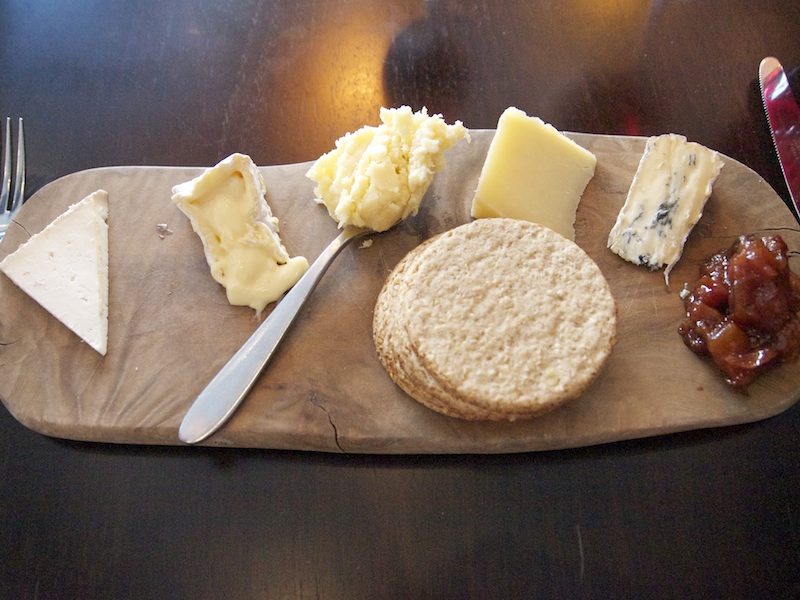 With our coffees we were served three delicious sweet delicacies: red gooseberry jellies, dark chocolate with a white chocolate and hazelnut filling and lemon marshmallows.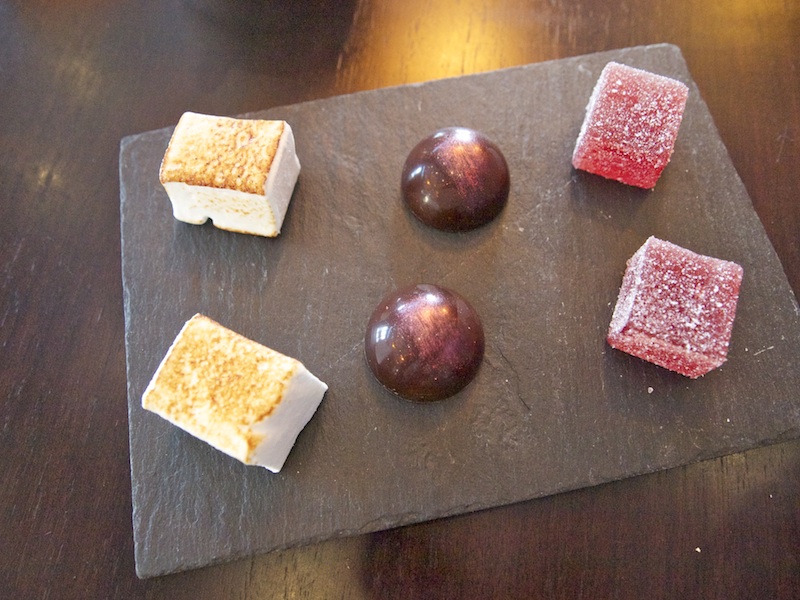 Mark Poynton has been at Alimentum for more than 4 years now, the first two years as head-chef and since 2010 he has been the owner too. When a former pupil of Daniel Clifford starts his own restaurant in the direct vicinity of the establishment of his tutor, one is easily inclined to compare the two, rather than evaluate the performance of the new kid on the block on its own merits. Make no mistake however, with Alimentum Mark Poynton has created a restaurant that his very much his own; there is a distinct flair to the place not only in the ambiance but also in the cooking. Mark Poynton is an accomplished chef who presents his guests with daring flavour combinations which are not afraid to err on the side of quirkiness but usually work very well and, to be brutally honest, sometimes don't. Service was attentive and informative. Alimentum is a restaurant that serves many purposes; you can have a fine-dining experience, you can have a quick business lunch and you can have a girls' night out - or just a cocktail in the bar. I will happily return to see how things evolve here.