Last week the results of the Great Britain & Ireland 2013 guide were leaked on the 'Viamichelin' website. The 2013 guide was scheduled to be released on 5 October 2012.
Three restaurants in England have been promoted from one to two stars, Michael Wignall at The Latymer (at Pennyhill Park Hotel) in Bagshot, Simon Rogan's l'Enclume in Cartmel and Pierre Gagnaire's Sketch (The Lecture Room & Library) in London.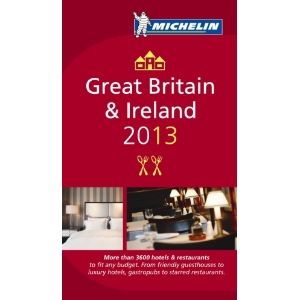 Editor, Rebecca Burr said: "These are three equally worthy recipients of our two star award but each restaurant is very different in nature. Michael Wignall's cooking offers a distinct sense of sophistication; Jean Denis Le Bras at Sketch has a much more ambitious style; and Simon Rogan's cooking has steadily evolved and is now much more aligned with nature".
With these new additions the 2013 guide will feature no fewer than 20 two-star restaurants; 18 in England (of which 8 are in London), and 1 in Ireland and Scotland each. The number of two-star restaurants in the UK has thus doubled in the last decade.
Eighteen restaurants have been awarded one Michelin star; 16 in England (of which 8 in London) and 2 in Ireland. Among the new laureats are Heston Blumenthal's pub The Hinds Head in Bray-on-Thames, Mark Poynton's
Alimentum
in Cambridge, Fergus Henderson's St John Soho (at the St John Hotel), Mikael Jonsson's
Hedone
in London and
Paul Ainsworth at No. 6
in Padstow. In London two restaurants got their Michelin star within a year after their opening, Dabbous and
Alyn Williams at the Westbury.
Seven restaurants lost their star. The 2013 guide features 138 one-star restaurants in total (130 in 2012).
The number of three-star restaurants in the UK still stands at four: Gordon Ramsay Royal Hospital Road and Alain Ducasse at The Dorchester in London and The Fat Duck and the Waterside Inn in Bray-on-Thames.
The 2013 guide also sees a small rise in the number of restaurants that have been awarded a Bib Gourmand (good cooking at moderate prices). Michelin awarded 38 restaurants this accolade in the 2013 guide bringing the total number of Bib Gourmands in this guide up to 137 (129 in 2012).
A full list of stars and Bib Gourmands in the Great Britain & Ireland guide can be downloaded here:
Great Britain/Ireland 2013